Holidays
Day 2 at Disney's D23 Expo – Behind the scenes
Today, Disney film fans went behind the scenes to explore the exciting roster of projects on the horizon at The Walt Disney Studios.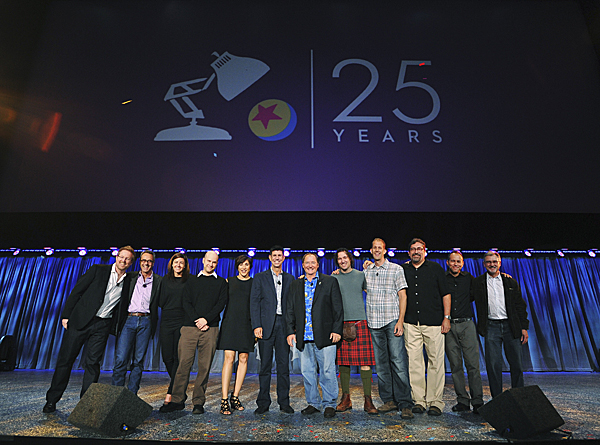 Pictured: (L-R) Andrew Stanton, Jim Morris, Lindsey Collins, Dan Scanlon, Katherine Sarafian, Rich Ross, John Lasseter, Mark Andrews, Pete Docter, Bob P
eterson, Jonas Rivera, John Walker
DisneyToon Studios' Planes It was announced that actor Jon Cryer (TV's "Two and a Half Men") will voice the main character in DisneyToon Studios' Planes. Jon joined John Lasseter on stage for the announcement and to introduce the teaser trailer of the film.
Disney's Wreck-It Ralph Director Rich Moore welcomed Jack McBrayer and Sarah Silverman on stage where the D23 audience was the first to see the opening sequence from the movie.
Disney•Pixar's Brave Filmmakers Mark Andrews and Katherine Sarafian were joined by actors Kelly Macdonald and Kevin McKidd to present footage from the film.
Disney•Pixar's Monsters University In a special surprise appearance, Billy Crystal, flanked by Mike Wazowski and Sulley, joined director Dan Scanlon to discuss the film and show some behind-the-scenes making of the film.
Untitled Pixar Film From Director Bob Peterson Joining Bob Petersen was producer John Walker to give fans never-before-released information about the untitled film.

Untitled Pixar Film From Director Pete DocterAlongside Pete Docter was producer Jonas Rivera to provide never-before-released information about their upcoming project.

John CarterProducer Jim Morris and director Andrew Stanton were accompanied by the film's stars Taylor Kitsch, Lynn Collins, and Willem Dafoe to present never-before-seen footage, introducing fans to the film's epic characters.
Tim Burton's Frankenweenie Producers Don Hahn and Allison Abbate gave fans a sneak peek at what's to come in next year's film, including a demonstration on how these fascinating characters come to life through stop–motion animation.
The Odd Life of Timothy Green The film's star Jennifer Garner was on hand to talk about the inspiring, magical film and her experience making the movie.
Oz The Great and Powerful Unable to join in person as they're currently filming in Detroit, the film's director Sam Raimi and stars James Franco, Rachel Weisz, Michelle Williams, Mila Kunis and Zach Braff provided fans with a first look at the making of Oz The Great and Powerful via a taped piece from the set of the film.

Disney's The MuppetsStars Jason Segel, Kermit the Frog and Miss Piggy gave fans an exclusive look at never-before-seen footage from their upcoming film.
Disneynature's Chimpanzee Walt Disney Studios Chairman Rich Ross presented the next Disneynature film, Chimpanzee.
Marvel's The Avengers The Avengers assembled at the D23 Expo, alongside producer and president of Marvel Studios, Kevin Feige. Stars Robert Downey Jr., Scarlett Johansson, Jeremy Renner, Tom Hiddleston, Cobie Smulders and Chris Hemsworth made an appearance to present their upcoming film.
Also, as part of the festivities, Buzz and Woody were onboard to help celebrate Pixar's 25th Anniversary – with enough cupcakes for the entire audience!
About D23 Expo 2011The D23 Expo—The Ultimate Disney Event for Fans and Families—brings the entire world of Disney under one roof at the Anaheim Convention Center, providing guests with unprecedented access to Disney films, television and theme parks.
About D23The name "D23" pays homage to the wonder and excitement that began in 1923 when Walt Disney opened his fledgling studio in Hollywood. D23 is the first official community for fans in Disney's 88-year history. D23 gives its members a greater connection to the entire world of Disney by placing them in the middle of the magic through its quarterly publication Disney twenty-three; a rich website at www.Disney.com/D23; a collectibles line, The Walt Disney Archives Collection; and special events for D23 Members throughout the year, highlighted by the D23 Expo in Anaheim, California, August 19-21, 2011.
Fans can join D23 at www.Disney.com/D23, select shops at Disneyland Resort and Walt Disney World Resort and www.DisneyStore.com/D23. To keep up with all the latest D23 news and events, follow us "DisneyD23" on Twitter, YouTube and Facebook.
Originally published on August 21, 2011. Last Updated on February 14, 2016 by Pattie Cordova