Travel
3rd Annual "When I Grow Up Day!" at Pretend City
Pretend City's 3rd Annual "When I Grow Up Day!" is this Friday, August 24th.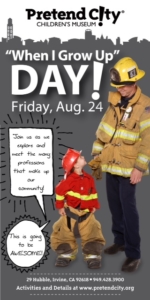 "When I Grow Up Day!" at Pretend City is a great way to encourage kids to discover new professions and discuss how they can be whatever the want to be when they do grow up (might not be a bad idea for *almost* grown-ups either). There will be professionals there to talk with the kids about their profession, what schooling was needed, etc. Professionals confirmed for tomorrow include:
Angels Baseball Player (he's now retired)
Doctor
Personal Trainer
Shoe Designer
Dentist
Firefighter
Policeman
Lifeguard
Chef
Hairdresser
But there will be more and I hope to see you there tomorrow. I'll be there with my two kids. Maybe my oldest kid will get an idea of what he wants to do. Right now he just wants to do whatever Daddy does so he can "buy something for you, Mommy". I'll have to get him to write down those words and then get it notarized. That should count as an official contract, right?
Pretend City Children's Museum
29 Hubble
Irvine, CA 92618
Phone: 949.428.3900
Fax: 949.428.3908
@PretendCity