I love buying clothes and with a toddler at home who actually needs clothes a few times a year, I often have to get a little creative with purchasing our wardrobes. So today I'm sharing ten tips that I use for being fashionable on a budget. Check them out and leave a comment with your favorite tip!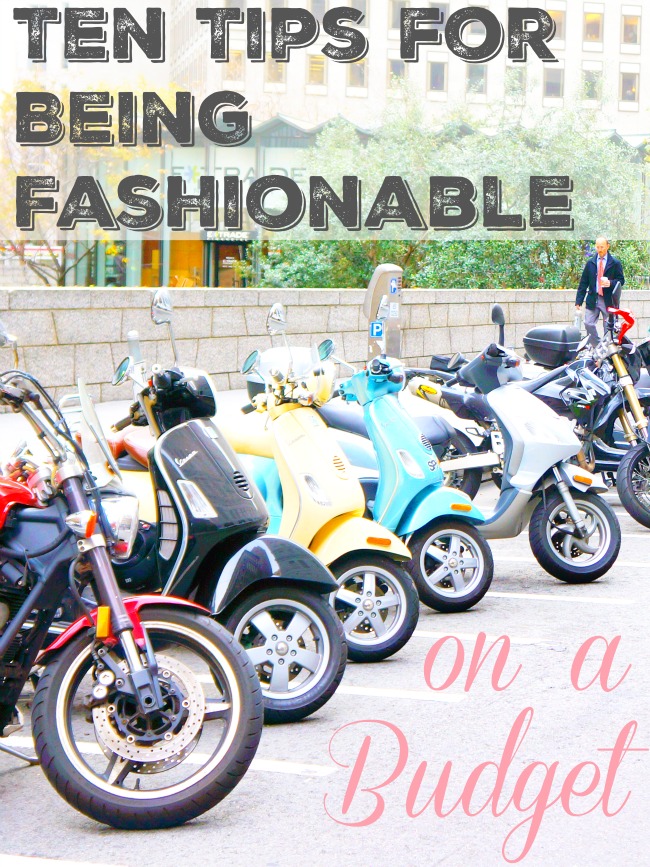 Shop thrift stores. I love shopping thrift stores and buying vintage clothing. Some stores, like Goodwill, have high-end thrift stores attached that sell high-end clothing and shoes. I've seen Juicy Couture shirts for $5 and Gucci shoes for $20!
Shop swap meets. Swap meets are loaded with designer clothing at ridiculous prices. Chip & Pepper jeans for $15? Heck yeah!
Off-priced retailers. Check out off-priced retailers like Nordstrom Rack. These stores have their stores' merchandise and crazy discounted prices. Stop by the clearance rack for bigger discounts.
Coupons. Sign up for your favorite store's email list and be notified of upcoming sales. Many times, you'll also get special deals as well. I've scored $4 jeans for my toddler at The Children's Place by doing this.
Re-fashion your clothes. This works especially well when you've lost weight but don't want to purchase an entire new wardrobe. A little tuck here and there and your favorite shirt will continue looking awesome on you. I have had dresses were the straps ripped off, but I love the pattern so I re-fashion them into skirts. I have also made super hero capes for my little one out of my husband's old dress shirts.
Clothes swap. Gather a bunch of your girlfriends and have everyone bring in clothes they no longer wear. Put out some pastries, coffee, cocktails, finger foods and have yourself a great swap!
Accept hand-me-downs. This works especially well with maternity clothes.
Trade in your child's clothes for credit at a consignment store. We've done this a few times at a place called Children's Orchard and walked out with new (to him) shoes, toys and of course, clothes.
Shop online. Many times you can find free shipping codes and pair them with other discount codes as well. I love sites like Overstock that only have a $2.95 shipping charge.
End of season shopping. I purchase solid colored items at these sales and wear them year round. It doesn't hurt to have California weather where you can wear tank tops year long.
Originally published on May 17, 2010. Last Updated on February 14, 2016 by Pattie Cordova