It's been a heck of a ride and I've learned so much along the way as I navigated the waters of my new breast implants. I feel like I learned so much that I just HAVE to share all my tips for faster recovery from breast implants with you! So that if you too decide to get it done, you'll have a few tricks under your sleeve to make your recovery even faster.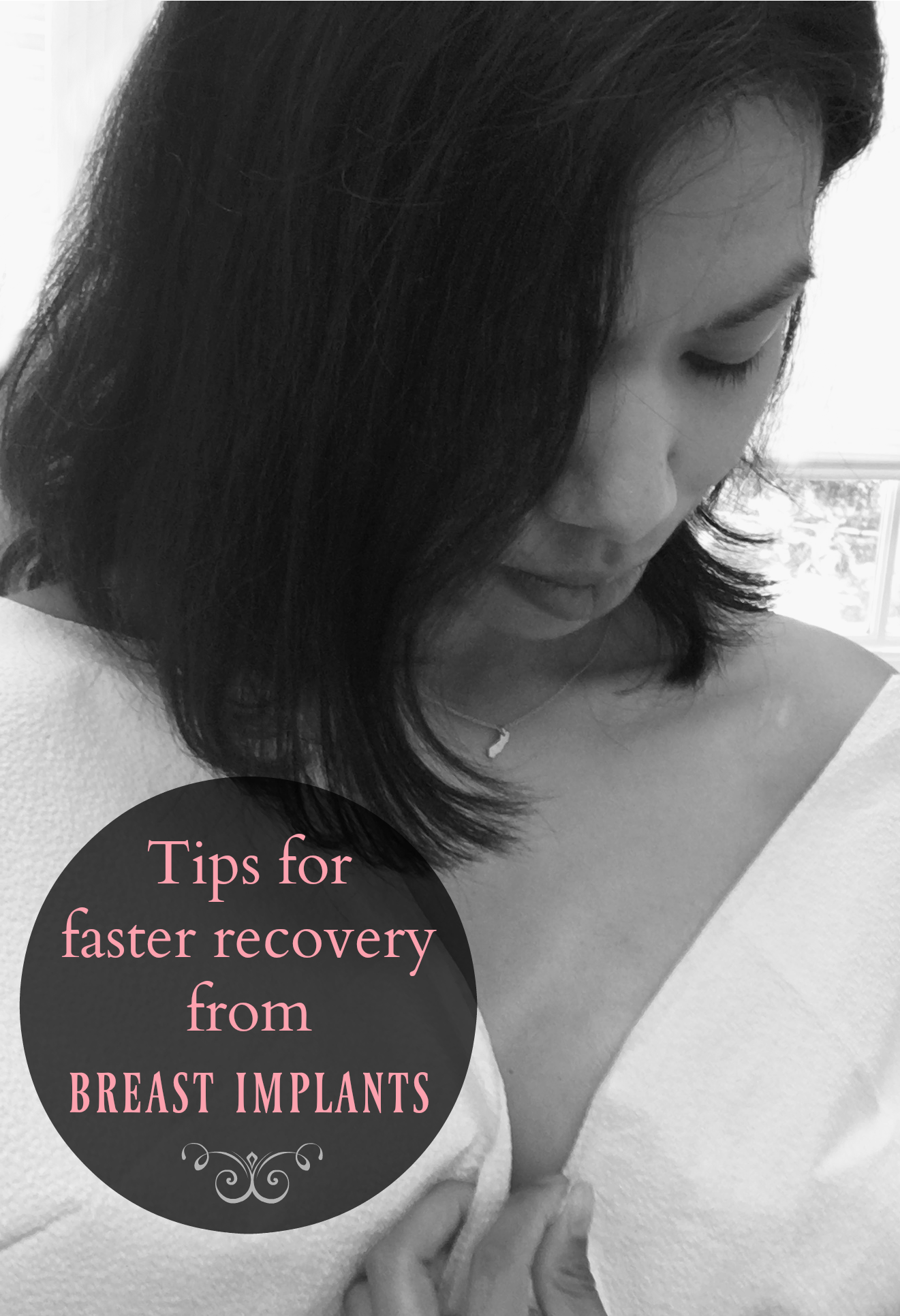 Tips for faster recovery from breast implants
Before your breast augmentation surgery
Before you get home
Make sure to have water and bendy straws. It's frustrating to go for a drink of water and see that the cup is just an inch too far from you. Also – it'll hurt to reach for it and tip the glass.
Create a nest of pillows for comfort and support. I recommend a bed rest pillow because it holds you in one place like a cocoon.
Set up an appointment at a hair salon so you can get your hair washed the week after your surgery.
Have button shirts available, or if you're running low, then grab men's shirts.
Buy a puzzle or create a list of ways to keep busy
Switch to Dove Dry Spray in place of your regular deodorant because this aerosol deodorant will help you apply deodorant quickly and painlessly.
Get your underarms waxed because you won't really be able to do that the weeks following the surgery, and even shaving will hurt.
At home breast implant recovery
Sleep well elevated to avoid swelling.
Place your pills in pill planner box because opening the pill containers will make your chest hurt.
Use a safety pin to keep the breast wrap in place (if you're asked to use one).
Your breast will hurt when you get too cold. Keep them warm by crossing your arms as you go through the grocery store or wear breast pads in your bra.
Keep your breasts clean with Garnier Skinactive Micellar Cleansing Water, especially because you cannot use the shower head to do so. Wipe off with a cotton ball.
Use bar soap to wash your hands and body because the soap pump will strain your chest muscles.
Use the cool setting on your blow dryer to dry off the bandages. this way they won't fall off before they're supposed to.
Get a visual on some of the tips mentioned above in my week 4 video update below!
Watch: Breast augmentation Week 4 update
Read the series
CosmetiCare
1101 Bayside Drive, Suite 100
Corona Del Mar, CA 92625
949.537.2368
Visit cosmeticare.com for a FREE virtual consultation.
This is a sponsored post in partnership with CosmetiCare. All thoughts and ideas remain my own.
Originally published on December 29, 2016. Last Updated on April 2, 2019 by Pattie Cordova