My seven year old son has been going to a dual-immersion school since Kindergarten (he's in second grade now). Unfortunately, for him that means that he's not encouraged to read in English until he reaches third grade. And yes, we worried about that when we signed the school contract. We worried because we thought that he would struggle to read in English by the time third grade happened. Thank goodness that he figured it out himself. He learned to read in Spanish a few months in Kindergarten, and last year, he picked up reading in English on his own. Since then, he's been reading whatever books we have at home. But when the new Captain Underpants book arrived at our home as part of our partnership with Scholastic, I figured that I would have to be reading it to him because it was very much a "big kid" book. He surprised me yet again.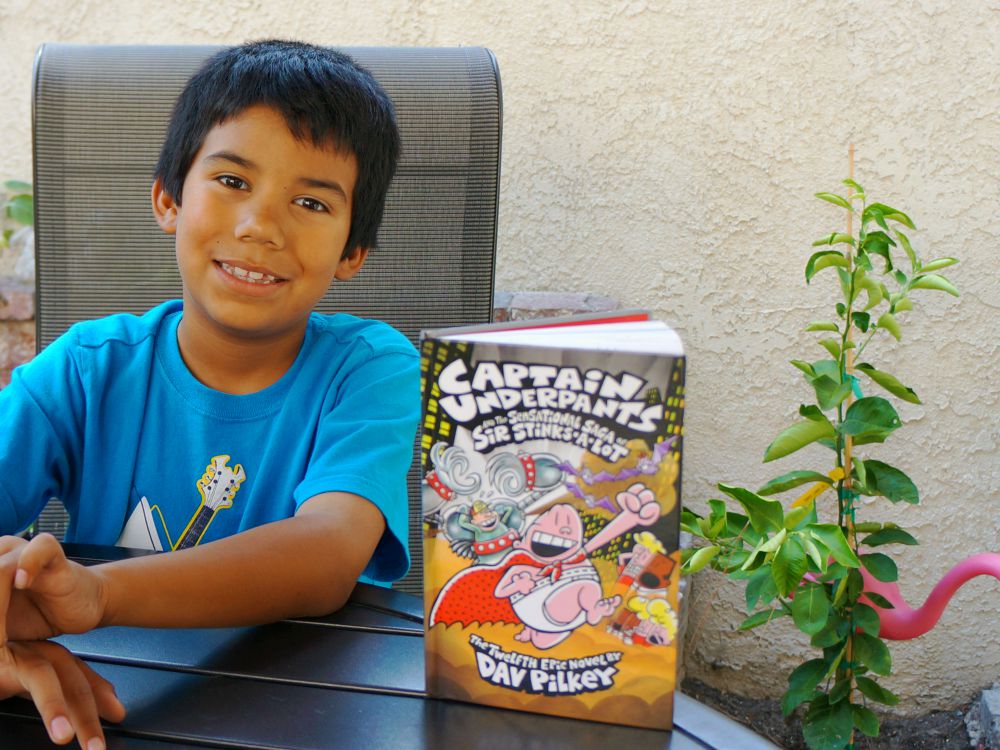 He picked up the book, Captain Underpants and the Sensational Saga of Sir Stinks-A-Lot, and started reading it on his own. In four days, he came to me and said, "done!" Chicas, I gotta tell you. I doubted him. I asked him, "Are you sure you read it?" "Did you skip parts?" "Okay, if you read it, what is it about?" I felt horrible after grilling him with questions, but I was in disbelief that he had actually read it! AND enjoyed it! Weeks later, he can't get enough of the series. We've since bought novels one through four in the series, and it's all because we came across Captain Underpants and the Sensational Saga of Sir Stinks-A-Lot.
About Captain Underpants and the Sensational Saga of Sir Stinks-A-Lot
by Dav Pilkey
In stores August 25
There's something rotten in the state of Ohio, and it's smellier than a pile of putrid gym socks! Steer clear–it's Sir Stinks-A-Lot!

George, Harold, and their doubles, Yesterday George and Yesterday Harold, have a good thing going. Two of them go to school, while the other two hide in the tree house and play video games all day–then they switch! But when their malicious gym teacher, Mr. Meaner, creates a method of mind control that turns their fellow students into attentive, obedient, perfect children, the future of all humanity will be in their hands!
Video: Captain Underpants and the Sensational Saga of Sir Stinks-A-Lot Book Review
About the Captain Underpants series
Best friends George Beard and Harold Hutchins are the unofficial class clowns of fourth grade. There's nothing they love more than making comic books about a silly superhero named Captain Underpants. But now they've accidentally transformed their mean school principal, Mr. Krupp, into Captain Underpants himself! Join George, Harold, and the Waistband Warrior as they fight for Truth, Justice, and all that is Pre-Shrunk and Cottony – and save the world, too!
He thought the book was hilarious, and the comic book-style pictures in the book gave him a nice little break in between the chapters. I talked to him about how reading gives him superpowers. I know that when I was a kid, reading gave me the ability to escape to different worlds. So that's exactly what I told him. His superpower is the ability to transfer himself anywhere and make the characters come alive in his head. He quickly understood what I was telling him, and since then, I've never seen him read so much. He travels everywhere with his Captain Underpants series and soon we're going to have to pick up the rest of the novels in the series. Like my kid, I highly recommend Captain Underpants and the Sensational Saga of Sir Stinks-A-Lot. It's the perfect mix of graphic novel and chapter book that keeps kids interested, and the names in the books are super hilarious. The kids relate to the characters in the book and they'll quickly discover their favorite.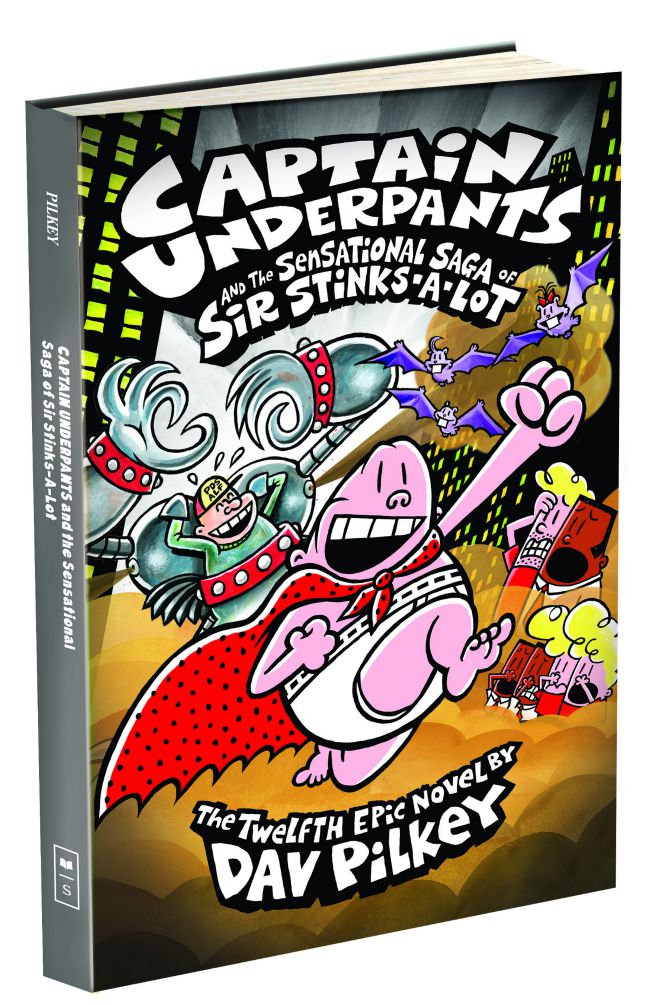 You can check out scholastic.com/captainunderpants to learn more about the series.
This is a sponsored post in partnership with Scholastic. All thoughts and ideas remain our own.
Originally published on September 17, 2015. Last Updated on September 6, 2018 by Pattie Cordova