My 7 year old chiclet just started reading in English about a year ago. He goes to a dual-immersion school where reading in English is not encouraged until third grade. Thankfully, all his schooling in Spanish helped him pick up reading in English very easily. However, for the longest time it felt like he was stuck in between reading levels. He wasn't quite to the chapter books yet, but the other books made for younger kids weren't cutting it either. That's why we were super happy partnering up with  Scholastic Branches.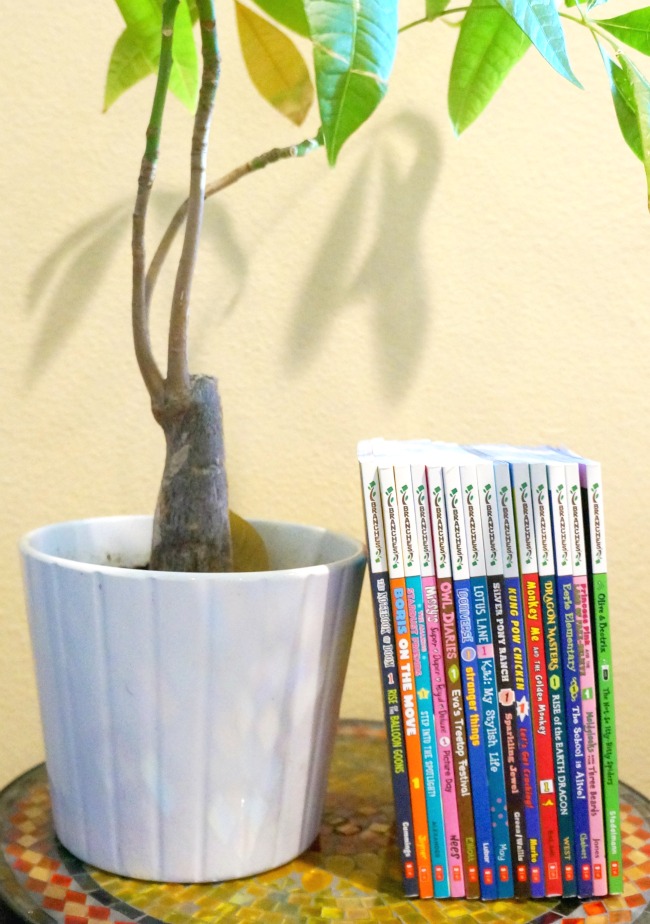 Branches is a unique line of books specifically designed for newly independent readers, typically kids ages 5 to 8. The Branches line is here to help you foster a love of reading in your kids and give them the tools they need to become life-long readers.
Using our Branches books helped my kid get a head-start with his reading. It was the stepping stone that he needed to make the jump into chapter books full-time (now he can't stop reading the Captain Underpants series).
What makes Branches so different is the format of the book. It's a great mix of easy-to-read text, simple plot lines, plenty of context cues, cliffhanger chapter endings, and purposeful illustrations (on every page!) that aid in reading comprehension. Each book is part of a series so that readers will want to keep reading about their favorite characters.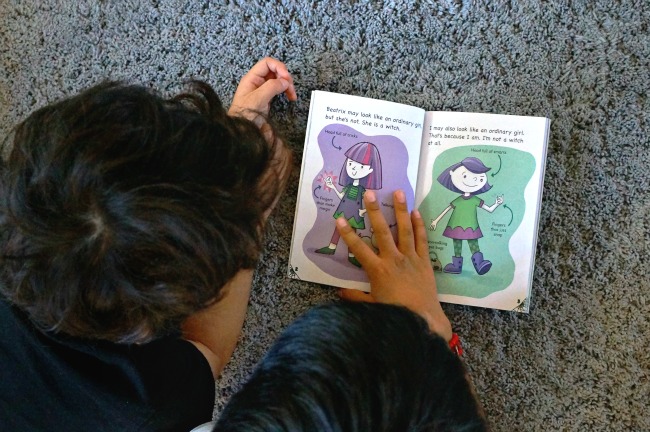 Branches has 14 different series so it provides plenty of choices for kids. They vary from comedy (which my kids LOVES) to fantasy to spooky, and everything in between. My kid went straight for Kung Pow Chicken, probably because of the name, and then kept going with Eerie Elementary. He even talked about how he wanted to read every book in the series, before knowing that there were more books.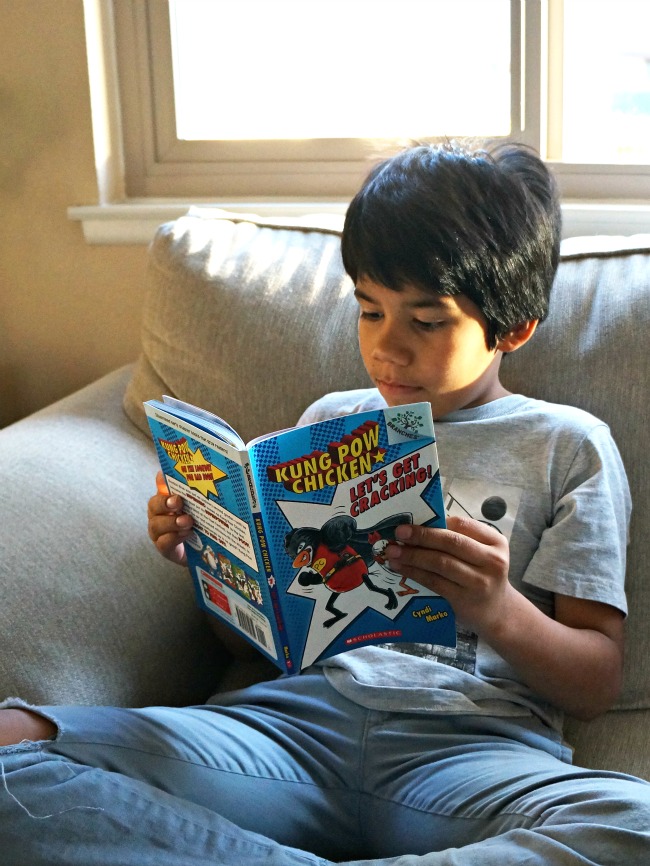 Branches is recommended for kids ages 5 through 8 who are dipping their toes into chapter books. They're great transition books, and they also make great books for older siblings to read to the littler ones.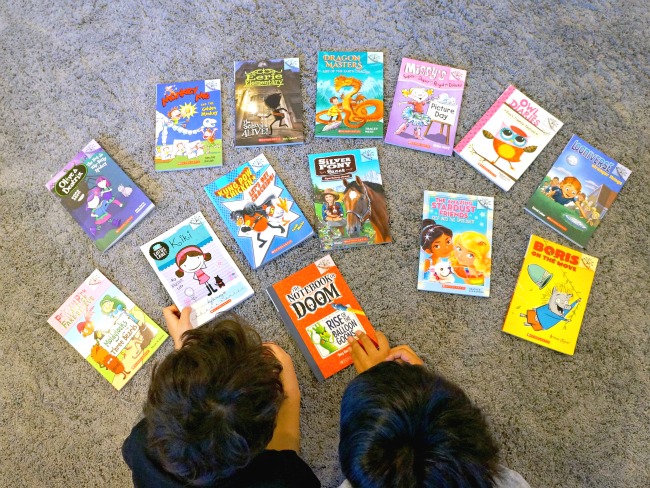 We caught up with Katie Carella, Senior Editor who oversees Scholastic's Branches, and asked her a couple of questions about Branches, if we can expect a series in Spanish and tips for getting children to read more. Take a look: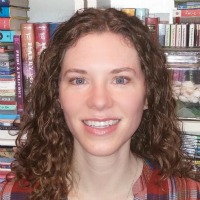 My son just started reading in English earlier this year and he loves books that are part of a series. Are you planning on adding more chapters to the series you've established?
Yes, more books (and more series) are on the way! We are working as fast as we can to add books to many of the existing Branches series. For example, we have thirteen books signed up so far in The Notebook of Doom series.
The Branches line is solely made up of series books. This is intentional, because we want young readers to return to their favorite characters again and again. When a child finds a favorite series, it can be reading magic! Progressing steadily through a particular series will help children build reading stamina and confidence. And Branches truly has a series for every reader!
It can be challenging for us to decide which series to extend, as it often comes down to how well the early books in a particular series are selling. Please help spread the word about the series your child loves! Fan mail and book reviews are also helpful because we get to see your feedback (i.e. Write that you hope there will be more books soon!). So, please continue to let us know which series are your favorites!
Are there any plans of adding a Spanish-language "Branches" collection?
I'm delighted to let you know that Spanish editions of the first book in each of the following Branches series will be available in January 2016: The Notebook of Doom, Eerie Elementary, Princess Pink and the Land of Fake-Believe, and Owl Diaries. Our hope is to publish even more Branches books in Spanish as momentum for the line continues to build.
What tips can you give to parents who have children who don't like to read?
Choice is key to growing engaged, confident readers so the most important tip I can give is this: Let your child choose what he or she wants to read. All book choices are good choices because when your child chooses a book, he or she wants to read it. If the book is too easy, your child will gain reading fluency and stamina as they read. If the book is too hard, your child may struggle, but he or she will also learn decoding skills to pull meaning from what he or she can read. Both of these experiences ultimately grow your child's vocabulary and reading skill set. Never underestimate the power of choice!
I'd also recommend making regular trips to your local bookstore or library so that your child frequently has the opportunity to choose new books. Once the trip becomes routine, your child will hopefully look forward to discovering new books each time.
And now, last but not least, one of the most important things you can do is model good reading behavior. Turn off the TV, put away the phone, and spend time with a book. Your child will see that books offer their own enjoyment. You could even read your separate books side by side… Just add a cup of hot chocolate, and doesn't that sound like a perfect evening? Remember, children look to the grown-ups in their lives for support and approval, so anything we can do to encourage a love of books early-on helps grow lifelong readers!
We invite you to learn more about Scholastic online, and enter for a chance to win a Scholastic Branches prize pack!
LEARN MORE
Visit the BRANCHES Official Site
Follow Scholastic on Twitter, Facebook, Instagram, and Pinterest
[disclaim]This is a sponsored post in partnership with Scholastic. All thoughts and ideas remain my own.[/disclaim]
Originally published on November 17, 2015. Last Updated on August 1, 2017 by Pattie Cordova