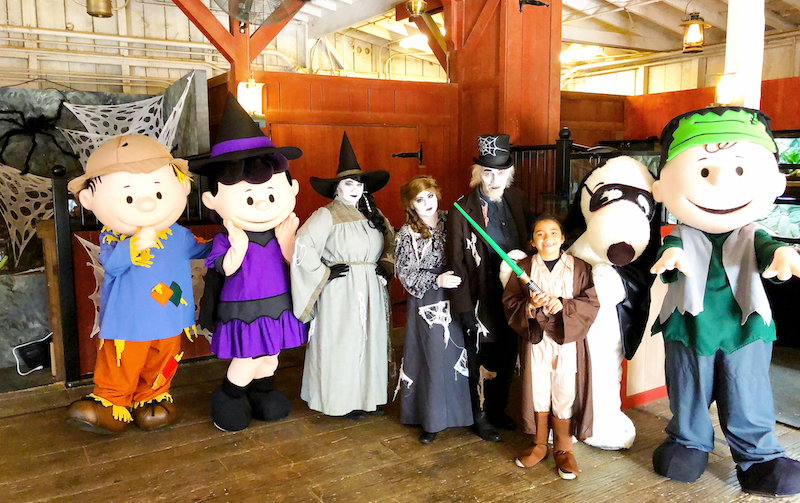 Travel
Knott's Spooky Farm 2019
Going to Knott's Spooky Farm 2019? Here's everything you need to know about this family-friendly Halloween time event at Knott's Berry Farm.
A guide to Knott's Spooky Farm
Knott's Spooky Farm 2019 dates and hours
Knott's Spooky Farm runs weekends September 28 – October 27 from 9:00am to 5:00pm and on Halloween Day from 10:00am to 5:30 pm.
Trick-or-treating at Ghost Town
Kids ages 3 -11 can participate in the newly expanded trick-or-treating experience available through Ghost Town's Main Street and Schoolhouse Road. During trick-or-treating, kids will interact with an array of spooky but friendly shopkeepers as little ones have the opportunity to show-off their festive Halloween costumes. Pick up a complimentary purple trick-or-treat bag at the front entrance along with a map of the different stations.
Visit the creepy crawlers petting zoo
In Ghost Town, Stanley Scarecrow has opened the Livery Stable for guests of all ages to get close and personal with the Creepy Critters of Calico. Inside the stable, guests can take a picture with a skeleton horse, pet white rats, watch a bearded dragon eat hissing cockroaches and see many other creepy reptiles.
Take a picture with the PEANUTS gang in Halloween costumes
Charlie Brown, his best friend Snoopy and the beloved PEANUTS Gang will all be celebrating the spooky holiday with their own Halloween costumes and will be available for special meet & greets and fun photo encounters in Camp Snoopy and Calico Park.  
Enjoy arts and crafts at Calico Park
Whimsical jack-o-lanterns adorn Calico Park's surroundings as it transforms into an enchanting Pumpkin Patch location for families to enjoy the atmosphere of the season with photo ops, crafters and strolling magicians. Miniature pumpkins or Halloween cookies are available for decorating, for a nominal fee. 
Linus will also be on hand at the pumpking patch to help little ones pick out the perfect pumpkin. Don't forget to take a picture in front of the stage.
Listen to kid-friendly spooky stories at Birdcafe Theatre
The Spooky Story Time at the Birdcage Theatre is where kids will sit back, relax and become entranced by the semi haunting tales told by charismatic storytellers throughout the Halloween storylines. There might even catch a glimpse of the elusive haunted calliope player.
Halloween time at Camp Spooky
At Camp Snoopy, families can hop aboard the Grand Sierra Railroad to experience a one-of-a-kind adventure with A Trip to Camp Spooky as riders travel with the PEANUTS Gang® and spot 2D and 3D Halloween themed characters and effects along the trail. 
Then at the Camp Snoopy Theatre little ghouls and gals are encouraged to show off their Halloween costume at the Peanuts Costume Contest, after the contest families will also have the opportunity to participate in the PEANUTS Dance Party.
Additionally, families can watch the Peanuts Gang in The Monsters Are Coming, Charlie Brown, where they'll have guests of all ages singing and dancing along to classic Halloween tunes.
Seasonal rides at Knott's Spooky Farm
The residents of the Timber Mountain Log Ride will celebrate the Halloween Hootenanny which, adds a family friendly seasonal twist to a park favorite.  Mysterious creatures of Timber Mountain that live out in the woods and caverns join the citizens as they honor the season at the Halloween Hootenanny. 
The ride's interior will feature fun surprises as guests venture past the Calico Coffin Creeper band, the town's green witch and splash down Skull Mountain through a labyrinth of jack-o-lanterns.  The seasonal ride will also feature an original song performed by Krazy Kirk and the Hillbillies. It is the perfect family experience for all to enjoy this Halloween season.
For more information on all the exciting things that are going on at Knott's Berry Farm, visit them online at knotts.com and follow the conversation using #KnottsSpookyFarm.
Knott's Berry Farm Events
There are many yearly events happening at Knott's Berry Fun. They are known for "Seasons of Fun" with these park-wide events lasting weeks, sometimes months, and each season brings specialty foods, new shows and fun things to see and do around the park. Read our post on these Knott's Berry Farm events for complete breakdowns and insider tips to make the most of your visits.
Nearby Knott's Berry Farm Hotels
Knott's Berry Farm Hotel – our first choice because it's literally within the resort. Your hotel stay also includes parking and if you book the Snoop room, Snoopy himself tucks you in (plus, you get two Snoopy plushies).
Courtyard by Marriott Anaheim – within walking distance to Knott's Berry Farm (only half a mile away). Hotel stay includes free self-parking.
Fairfield Inn & Suites Anaheim Buena Park – one mile away from Knott's Berry Farm. Hotel stay includes breakfast and free self-parking.
Knott's Spooky Farm 2019 Tickets
Goldstar offers discounted Knott's Berry Farm tickets and discounted Knott's Soak City tickets.
Groupon offers discounted Knott's Berry Farm tickets.
Travelocity offers discounted Knott's Berry Farm tickets and discounted Knott's Soak City tickets.
Also, after 4pm, the general public may purchase tickets at the jr/sr price. Only available at the front gate & valid on day of purchase
NOTE: Prices increase throughout the year. Visit Knotts.com for updated pricing.