I just had a "first" in Orange County that I was able to share with the kids – visiting Farrell's Ice Cream Parlour in Buena Park. I agree with everyone else on this one too, Farrell's lives up to the hype. It's entertaining, their food is delicious, the ice cream es lo mejor and their staff is as upbeat as I've seen and heard. Buena Park is a lucky city to be getting such a fun family-friendly restaurant.
Located on Beach Boulevard, just past Knott's Berry Farm and right before hitting Stanton, Farrell's Ice Cream Parlour is the spot to be when you want a good ol' fashioned, family-friendly restaurant that is perfect for kids of all ages. It's a total cliché – but it fits right in with Farrell's image! It's a step back in time as soon as you walk through the doors. The red, blue and white theme resonates throughout the restaurant and its clean vintage look creates a stage for its cast members and drool-worthy food.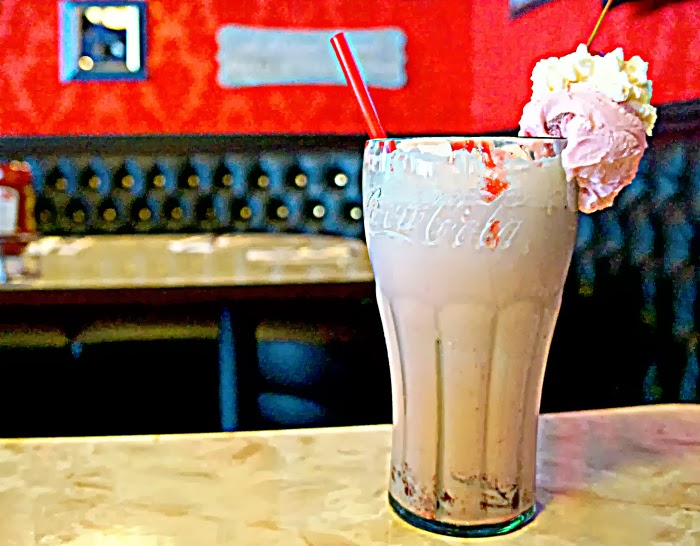 Strawberry Ice Cream Soda
The kids, hubster and I visited Farrell's for lunch and let loose with what we ordered. We each ordered whatever looked good saving plenty of room for ice cream, and even making sure to include ice cream whenever possible. Case in point: strawberry ice cream soda. It was my first time enjoying such a treat. The cast mixes cream, soda water, syrup, strawberries and then adds a scoop of strawberry ice cream and whipped cream to the glass. When it gets to your table, you tip it into the glass and then mix it all together. So very, very good. I suggest letting the ice cream melt a bit to give it a stronger strawberry flavor.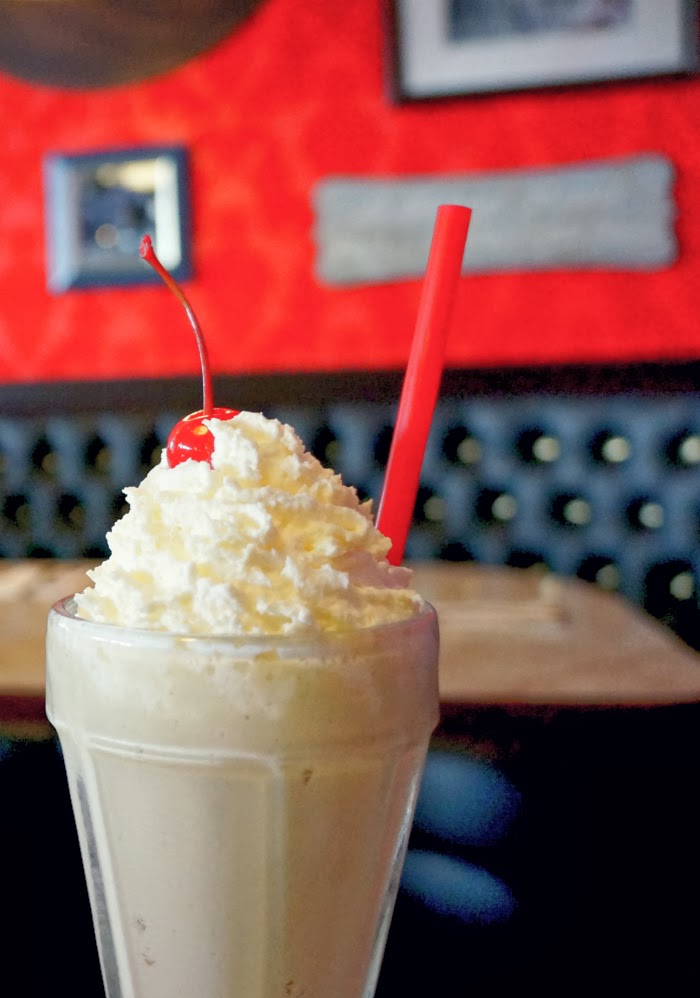 Rainbow Sherbet Ice Cream Shake
The kids and I shared a rainbow sherbet ice cream shake that totally hit the spot. It went perfect with my grownup grilled cheese sandwich (to which I added avocado and tomato), and with their olive-topped pizza. We finished off the shake before dessert, including the extra that they give you on the side. The ice cream at Farrell's is top-notch and we couldn't wait to dig in to one of their specialities – the Ice Cream Nachos.
The Ice Cream Nachos is one of their "Rebels" items because it doesn't really fit into any of their other categories. This delicious dessert is composed of waffle cone pieces and your choice of ice cream flavors (we chose mint chip, coffee and strawberry). It's topped with hot fudge, caramel, blueberries, whipped cream, almonds and a cherry. As a family of four, this was a great choice for us. We were all able to enjoy enough of the dish to satisfy our taste buds and go home rubbing our bellies because we were so incredibly satisfied and full.
Our server, Steven, was amazing. He was super nice, just like the rest of the cast. I also spoke to Erich Heileman, the general manager of the Buena Park location and he told us to keep an eye out for Pot 'O Gold that comes out in March. It's a mint chip ice cream sundae and looks super delish. He also shared with us a fun fact – there were over 1,500 applicants for this new location. Their application process is rigorous because of their high standards and they really focus on their customer's satisfaction. It works!
We had a wonderful time at Farrell's Ice Cream Parlour and we're patiently waiting for reservations to open up so we can make a trip back. It's also on our radar for an upcoming birthday party thanks to their Farrell's Ice Cream Party options – parties start at $13.99 per person.
Hubster wanted to make sure that I mention the special fact that Farrell's serves Mr. Pibb soda. If you're a fan of this soft drink, you know just how rare it is for a restaurant to carry this brand. Check out everything we enjoyed during our visit in the video below or our Farrell's photo album on our Facebook page, and make sure to make plans to attend if you're in the area.
[disclaim]This is not a sponsored post. I was invited to review their new location in Buena Park as a member of the press. All thoughts and ideas remain my own.[/disclaim]
Originally published on February 24, 2014. Last Updated on August 1, 2017 by Pattie Cordova