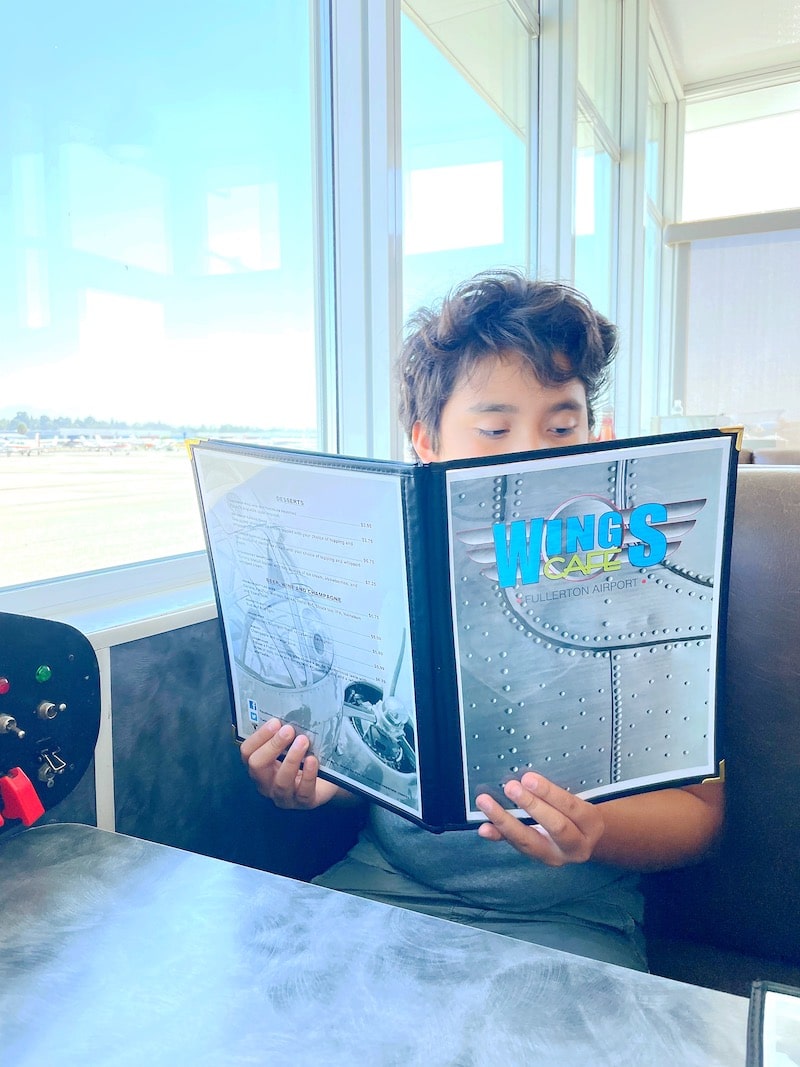 I finally took the chiclets to Wings Cafe at the Fullerton Airport. Wings Cafe is a cute (and small) airplane theme restaurant at the Fullerton Airport that offers breakfast and lunch. The main focus though, is that you can enjoy your meal while watching planes and helicopters take off and land!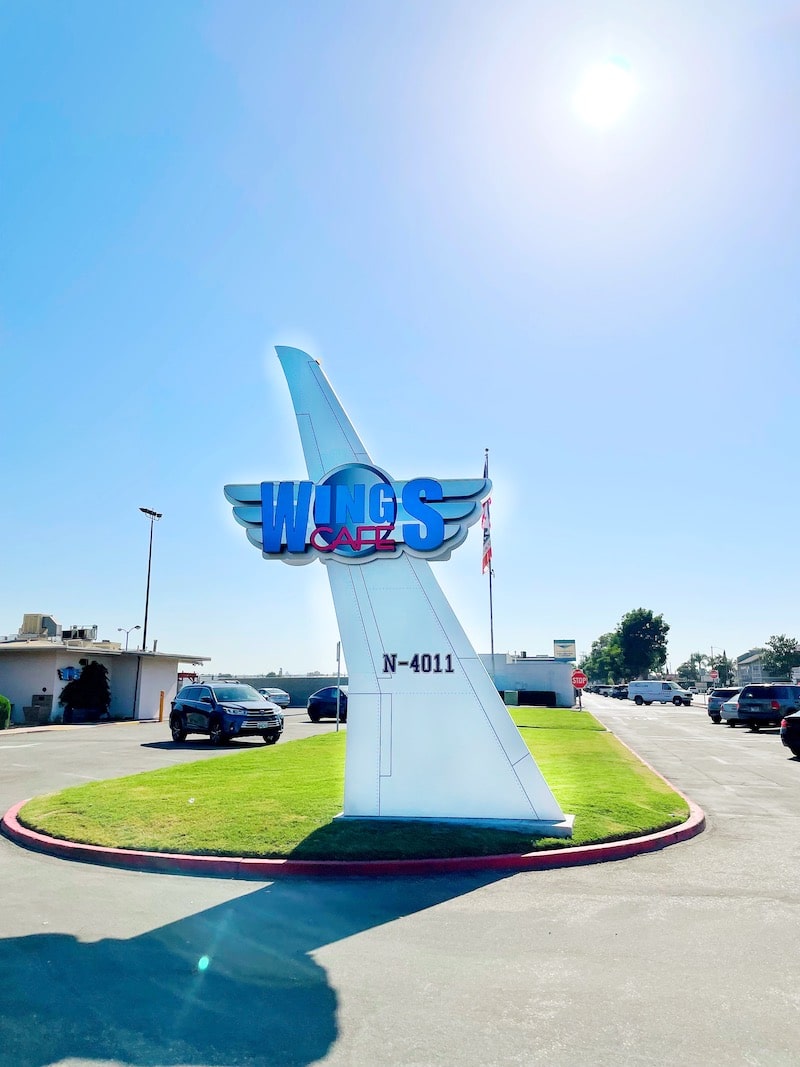 The airplane theme is super appropriate and you get a Top Gun kind of feel as soon as you see the sign to the restaurant outside. It's shaped just like the fin of the airplane!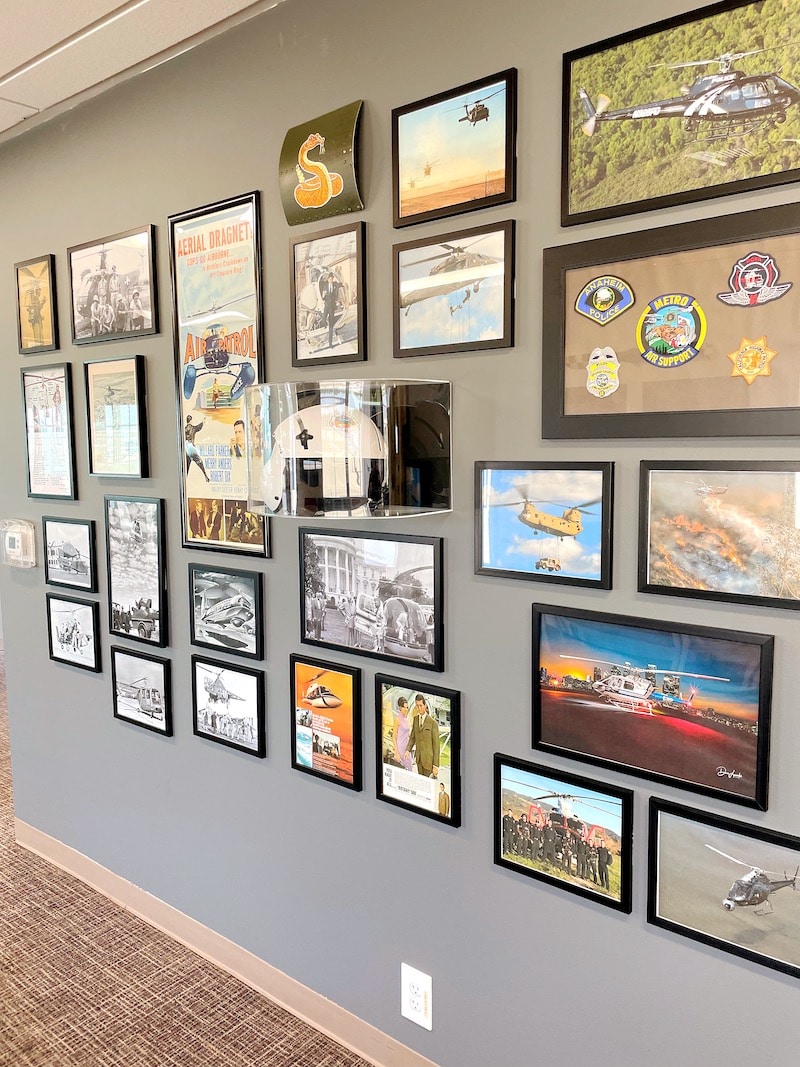 Once you park, you walk through the automatic doors – this leads you into a building that has a small lobby, memorabilia, an office on the left hand side, and Wings Cafe on the right hand side.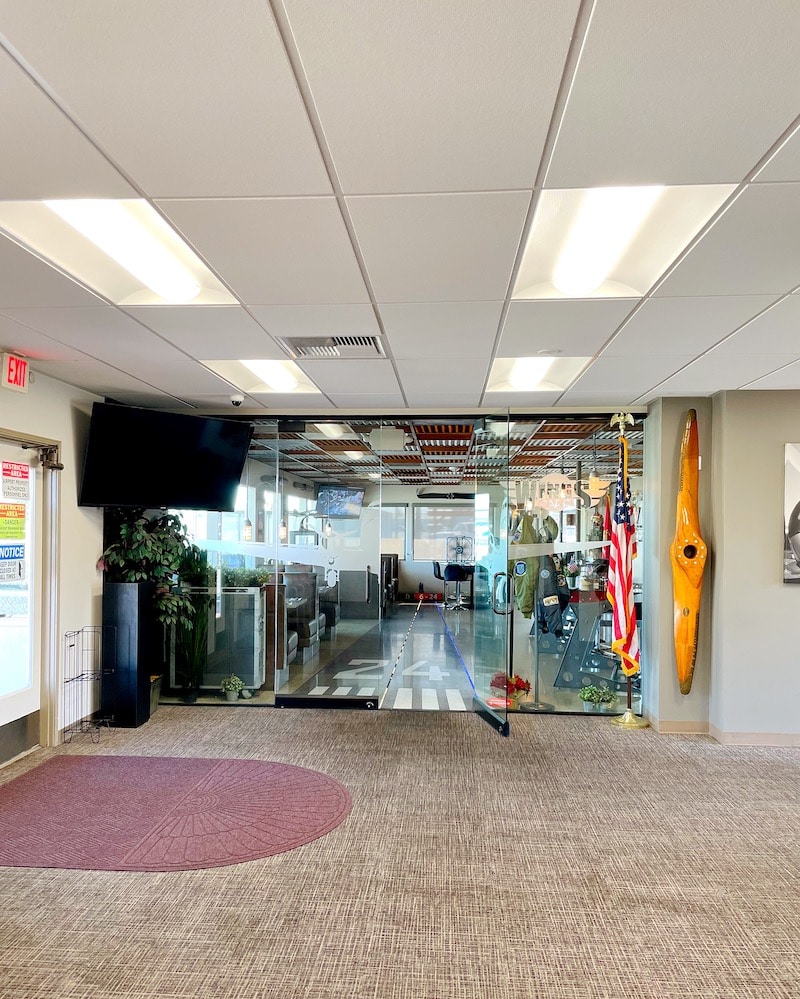 The tarmac flooring lets you know you've arrived! Give your name to the host and wait for seating.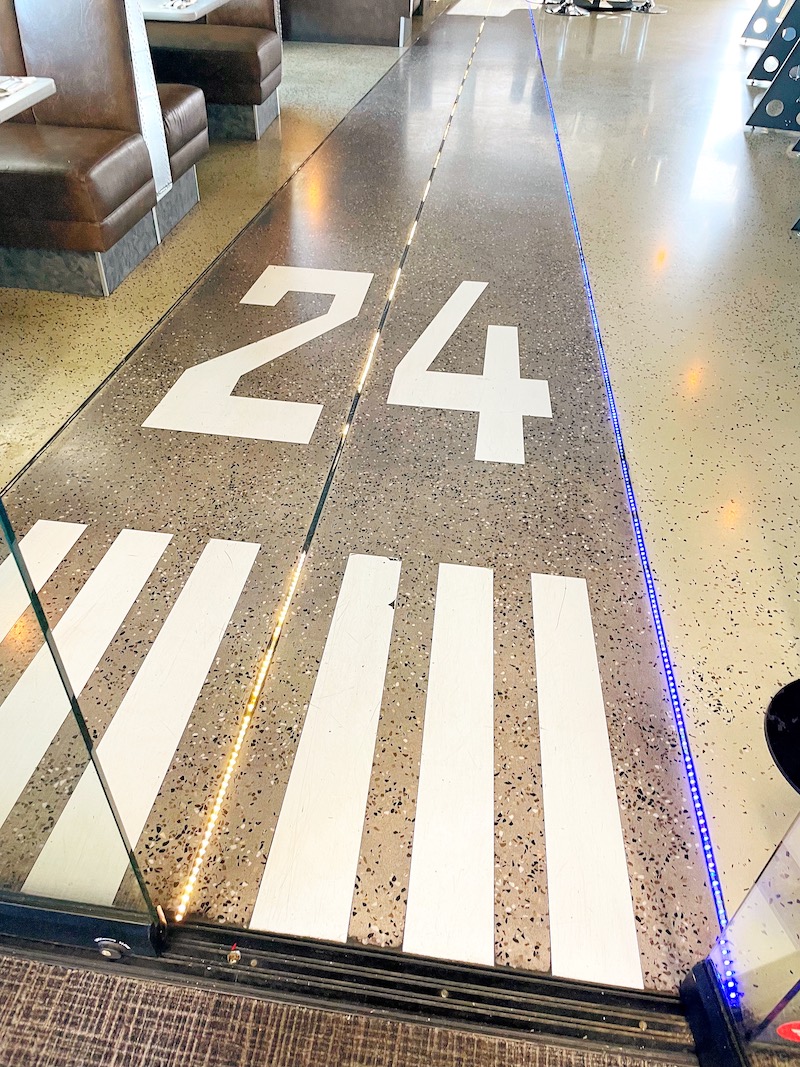 We highly suggest grabbing a booth with a window that allows you to look outside and watch the airplanes and helicopters land and take off.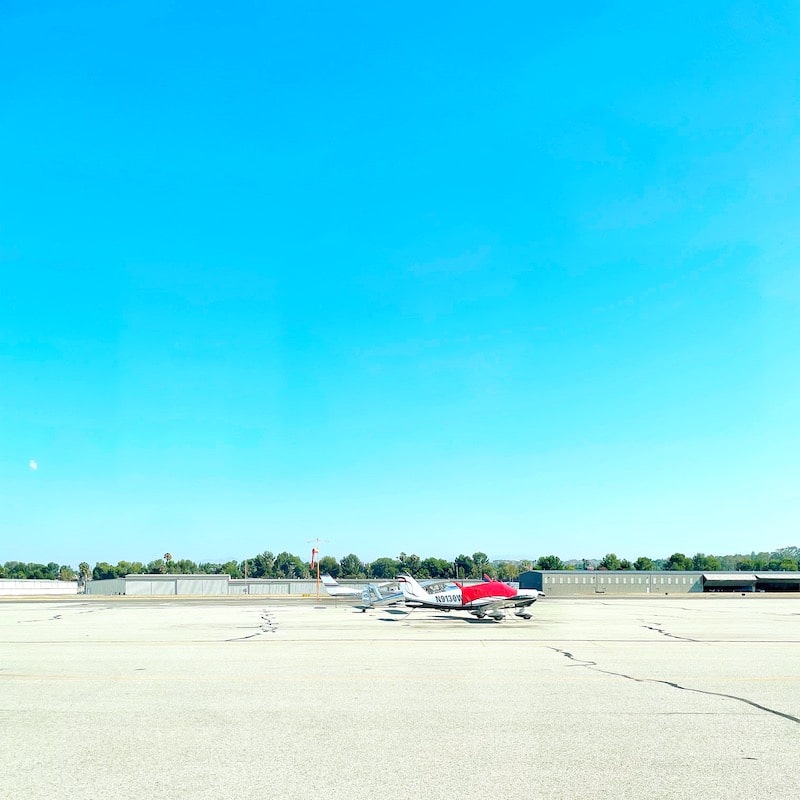 Each table also offers a "cockpit instrument panel" with gauges and switches that you can play with while you wait for your meal.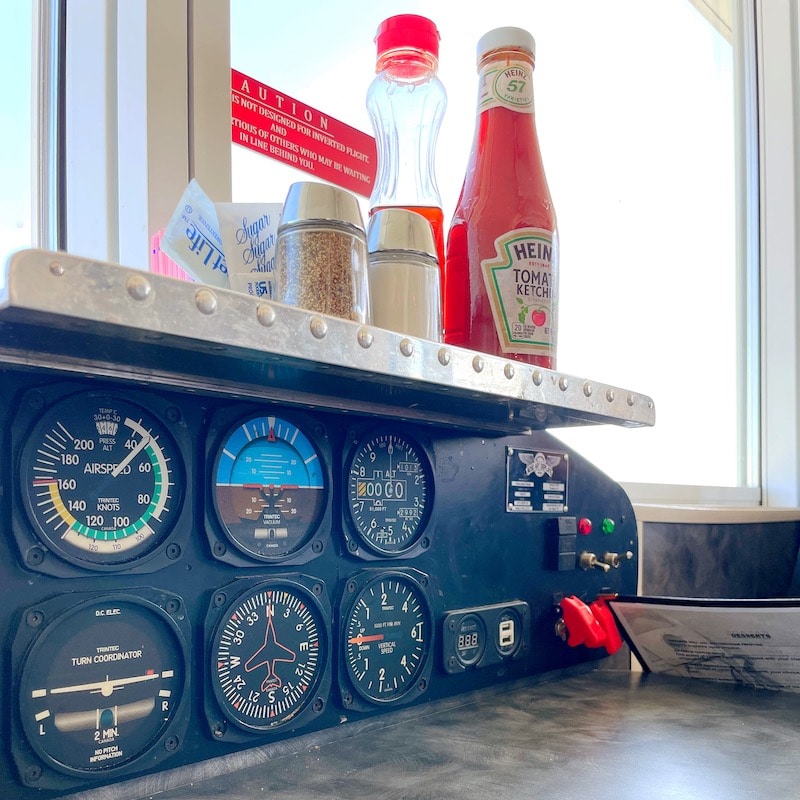 The entire restaurant has a vintage cafe feel to it – and it's right down to the condiments. Glass Heinz ketchup bottles can be found at each table.
Tip: Visit at the top of the hour to get the most action on the runway
We visited August 4, 2021, during the pandemic. At the time of this post, staff was not wearing masks. Hand sanitizer was available at the entrance to the restaurant.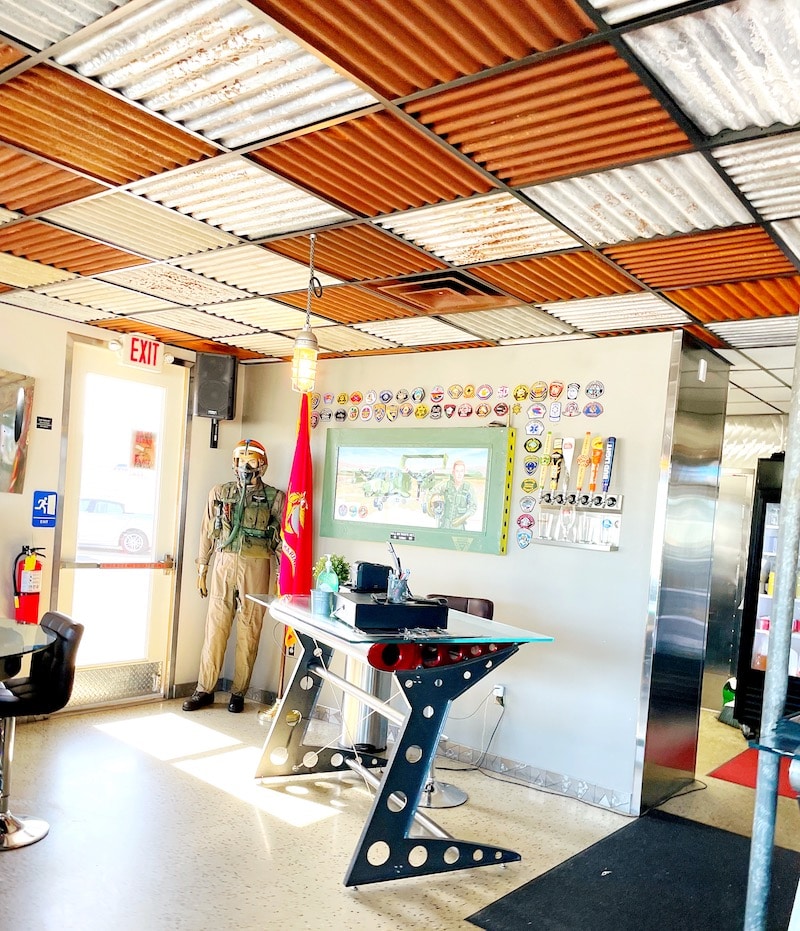 What to order
We enjoyed eggs benedict, pancakes, corned beef hash and a Mediterranean omelet as our meal and added apple juice and coffee to round it out.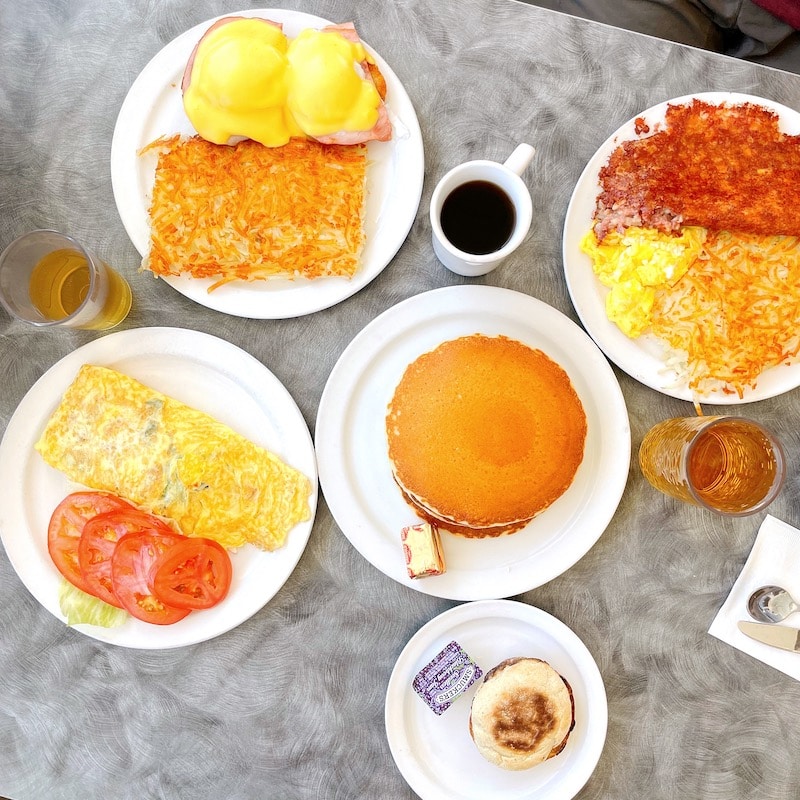 First of all, we thoroughly enjoyed our meal. It was delicious and the pancakes were just the right amount of sweet. They are offered as a single, two or three pancake stack.
My only complaint was the coffee. It was severely watered down. I asked our server if this was normal and she let us know that it wasn't the first time someone had mentioned it. She brewed another batch and it was the same. I would recommend bringing your own coffee, or skipping it altogether – unless you like coffee-flavored water.
Where to see planes and helicopters at the Fullerton Airport
After our meal, we walked back out to the lobby and through a door that led us outside.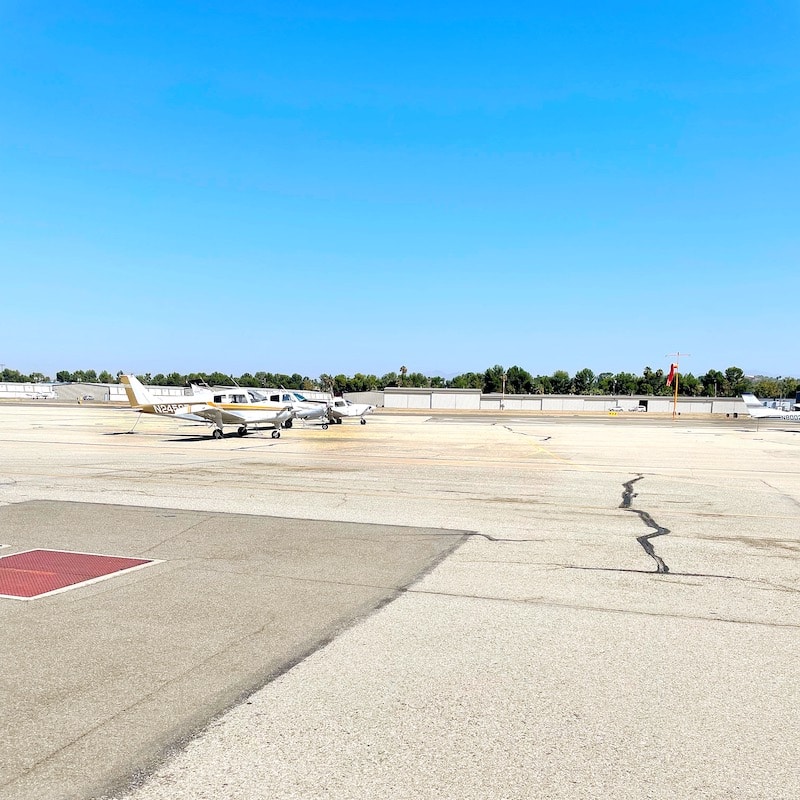 The building has a bench for people to sit down and watch planes and helicopters.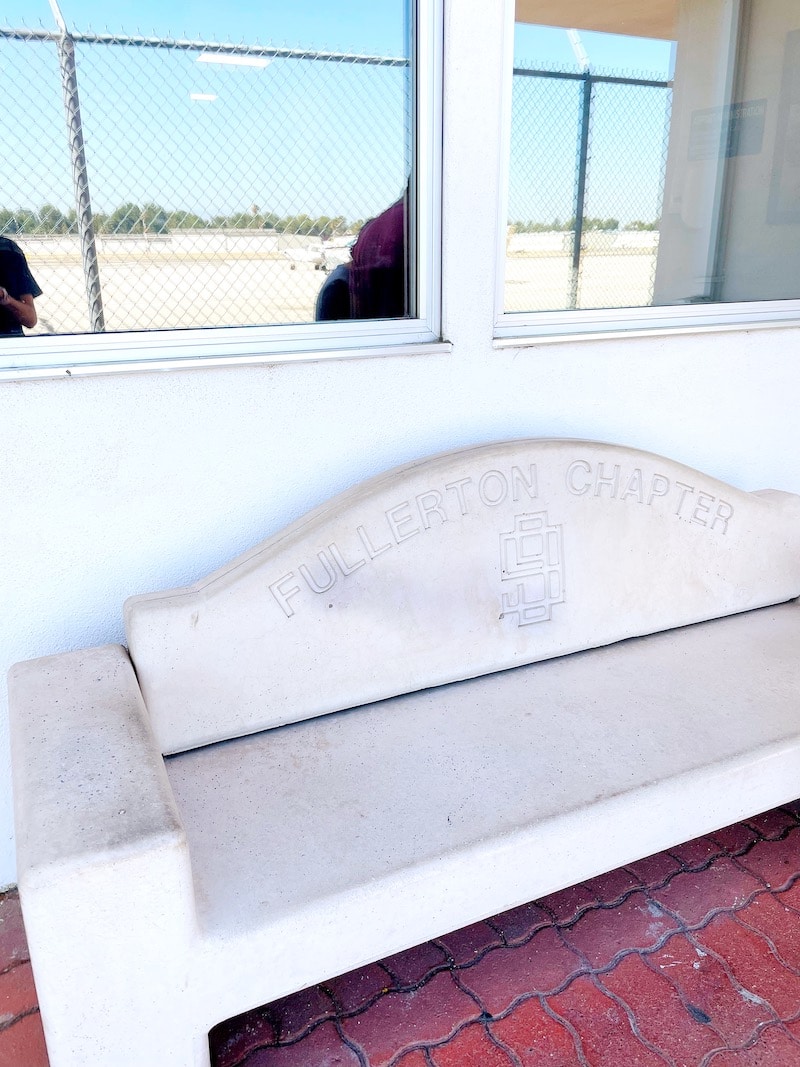 Guests can also stand and enjoy the view.
This space to view the planes can also be accessed without going through the automatic doors.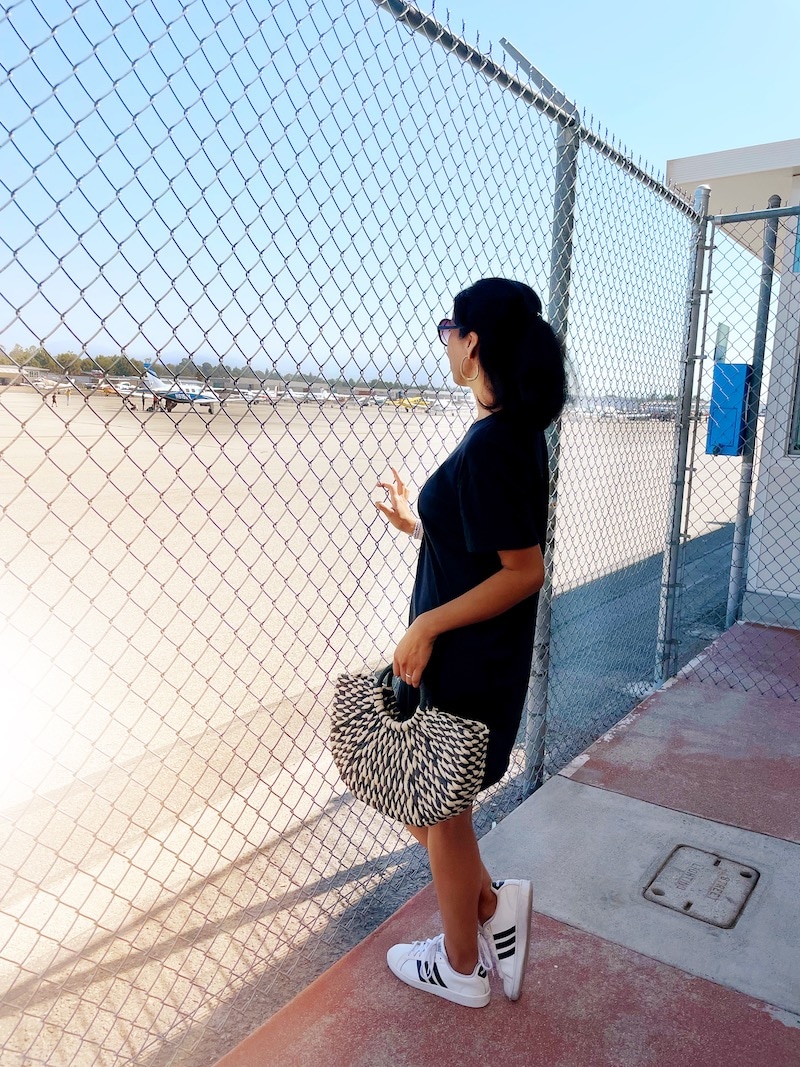 To get to this area, walk to the left side of the building and enter next to the chain link fence. It's completely open and would make for a fun visit for plane and helicopter fans.
Where to park
Parking for Wings Cafe is conveniently located right outside the restaurant. There's a long parking lot that offers free parking. No overnight stays.
Hours
7am – 2pm, seven days a week.​
Location
4011 W Commonwealth Ave Fullerton Airport Fullerton, CA 92833
We'll definitely be back, maybe try out lunch? We hope you'll visit this hidden gem and let us know what you think.
Have you taken your family to Wings Cafe in Orange County? We would love to hear your favorite meal to order! Share them in the comments below.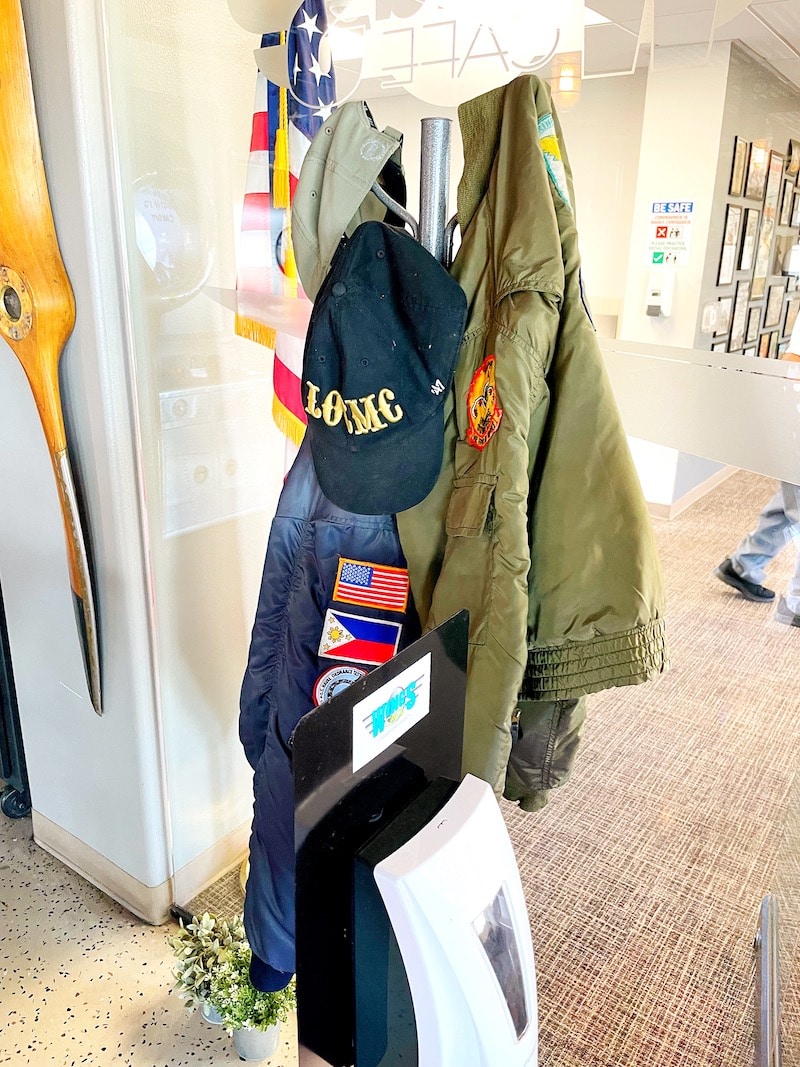 Originally published on August 7, 2021. Last Updated on October 25, 2022 by Pattie Cordova