We had the opportunity to attend a special advanced 3D screening of the new Toy Story 3 at the El Capitan Theatre in Hollywood and it was one of the best things that we have experienced as a family. We walked in, got our buckets of popcorn and drinks and took a seat just in time to listen to Disney tunes being played on an electric organ. Soon enough, we put on our 3D glasses and watched the best (I think) of the three Toy Story movies.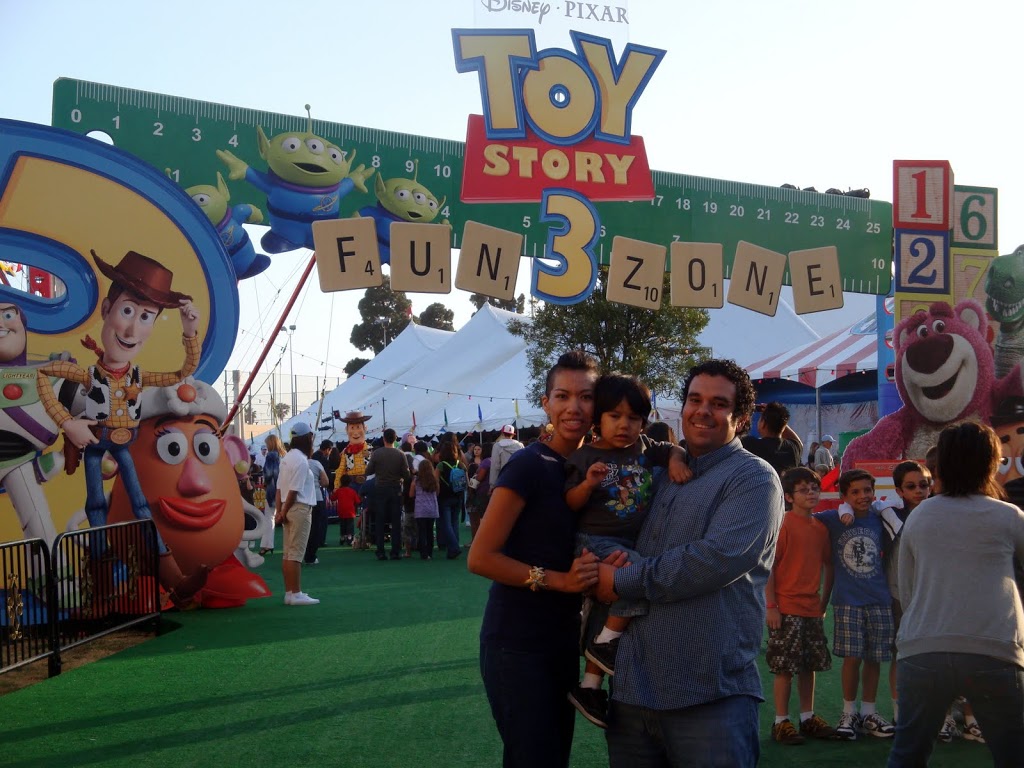 I'm not going to spoil the movie for you. I will say, however, that this movie is very funny, poignant and extremely touching. It's most definitely a must see and I'm sure your kiddo(s) will love it like ours did. He's 2 and a half years old and he watched the whole thing without getting antsy and/or getting out of his seat. You definitely won't be disappointed. If you're in the LA area, I would definitely recommend that you watch it at the El Capitan Theatre where you can get more out of your experience than just watching the movie. You'll get to experience the Toy Story 3 Fun Zone!
The Toy Story 3 Fun Zone is located directly behind the theatre and a great way to keep the fun of Toy Story 3 going. Going in you'll get a free photo op with Woody and Buzz. There are lots of different Toy Story 3 movie scene inspired games and displays as part of the Fun Zone including carnival games, a bounce house, an obstacle course and a ferris wheel. There is also a Dancing with the Toys show that features Buzz, Woody and Jesse. These start at a scheduled time but there are plenty of announcements beforehand to make sure that you don't miss out on the fun.
The older kids will get a kick out of the video game arcade where plenty of Xbox 360's have been set up for their enjoyment. They'll get to try out the new Toy Story 3 video game for free! The tent that houses the video game arcade also has the Kodak Fun Zone Photos spot where you can get your picture taken and digitally add a fun Toy Story background. It's free and your photo will be available for download at home.
One of the best parts of the Fun Zone was being able to play with all the toys! The Fun Zone has toy stations with all the new Toy Story 3 toys on it for you to play with including Lego and Mr. Potato Head tables. It's a great way to tell which toys your kiddos are going to like. I thought our little one was for sure going to love the remote controlled Buzz Lightyear… nope! We waited a couple of minutes for the chance to play with it and he wasn't the least bit interested. Oh well… he did love the Buzz Lightyear wings though. By the way, the "Lotso" Bear really does smell like strawberries!
There is food for purchase available at the Fun Zone as well as a craft tent where the kiddos can color and make a sun visor. Balloons are walked around for sale ($5) and there are plenty of photo opportunities so make sure you bring your camera with you.
All in all, the movie and Fun Zone make for a great family night. You can easily spend an extra 2-3 hours at the Fun Zone after the movie. If you're not able to attend the Fun Zone, make sure you watch the Toy Story 3 movie. It's awesome and you won't regret it!
I've posted pictures here and videos here.
I was not paid for this review, however, I was given tickets to attend the Toy Story 3 screening and Toy Story 3 Fun Zone free of charge. My opinions remain my own.
Originally published on June 19, 2010. Last Updated on May 7, 2019 by Pattie Cordova