Are you heading out to see the coolest trucks on Earth? Here are a few tips I've picked up along the way to truly enjoy this experience.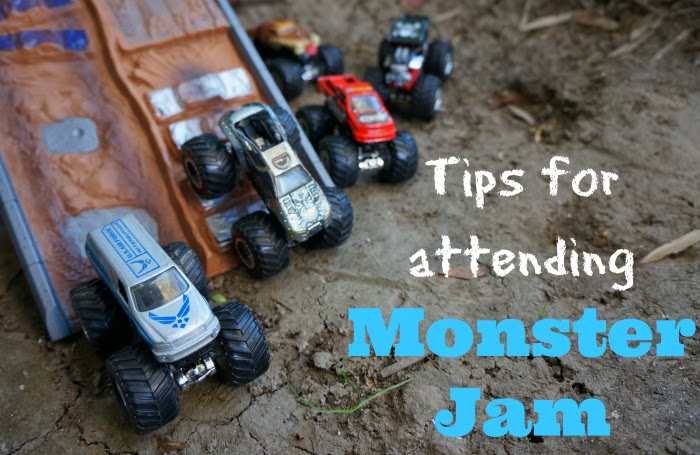 Pack a blanket.
This is number one on my list because it gets very, very cold outside. The Angels Stadium is open and when the sun sets, the coldness comes along. Don't worry – you won't be the only ones with a blanket.
What should you wear to Monster Jam
Bring a jacket, gloves, beanie. The works! If you decide to go against bringing along a blanket, bring along all your winter clothing instead. You're going to need it.
Earplugs.
It doesn't matter where in the stadium you are, it is going to be loud. The noise won't just be coming from the trucks either. The crowd cheers non-stop so it is likely that you'll want to protect your eardrums from the screaming and yelling coming from your neighbor. It's also a must if you're bringing kids with you.
Bring cash.
Sure, you say you're not going to buy anything but the fact is, you will. The nachos and beer are pretty popular and the merchandise is pretty cool. I would suggest you purchase something that can be autographed, just in case you want to meet the drivers after the show. Also, cash is essential if you don't want to get out of your seat during the show as vendors will make their way down the stands for your convenience.
Monster Jam age requirements.
There are no age requirements for Monster Jam. Having said that… but I'm sorry parents, babies won't get anything out of this experience. It'll probably throw them into crying fits because it can get really loud, crazy and fun – and the baby just won't understand what is happening. Wait a year to bring the little ones because then the baby will be able to cheer right along with the rest of them.
Tailgate.
Pack your dinner and bring it with you to enjoy before the event in the parking lot. It's a great way to start the night and meet other fellow Monster Jam fans. The kids love this!
How long is Monster Jam?
The show begins on time, and after the Monster Jam Pit Party. It runs for about two hours with a 15-minute intermission – great time to pick up some Monster Jam souvenirs to get signed after the show! During the intercession, they'll also have some light entertainment out on the field.
I really hope that if you're in Southern California that you can make it out to see the monster trucks this weekend in Anaheim at the Anaheim Angels stadium, if not next year. They are loads of fun, and what's great is that you can go out to Target the next day, buy a bunch of Hot Wheels Monster Trucks and the kids can keep the fun going at home.
Earlier this month, we had the opportunity to meet Menace and its driver.
Monster Jam Anaheim
Angel Stadium of Anaheim
2000 Gene Autry Way, Anaheim, CA 92806
Saturday, January, 12th at 6:30 pm
Saturday, February 2nd at 6:30 pm
Saturday, February 9th at 6:30 pm
Sunday, February 10th at 2:30 pm
Saturday, February 23th at 6:30 pm
Sunday, February 24th at 2:30 pm
Monster Jam Pit Pass
In 2018, the Pit Party Early Access Pass was introduced for stadium events only and available for purchase with an event ticket. for Saturday Pit Parties. The upgraded pass provides early entry in to the Pit Party from 1:30 – 2:30 p.m. and the opportunity to get up close and personal to the Monster Jam trucks and drivers. It also will serve as a regular Pit Party pass from 2:30 – 5:30 p.m. with the general public. Monster Jam drivers are only in the Pit Party signing autographs until 5 p.m.
Cheap Monster Jam Tickets
Prices start from $25 for Adults; Kids (age 2-12) tickets are only $10 (for select seating).
Monster Jam Goldstar Tickets
Visit Goldstar for discounted tickets
Monster Jam $5 Discount Code
Use code MJMOM19 at MonsterJam.com and save $5 on tickets!
Pit Passes are available for $10 online at http://www.ticketmaster.com or by phone at 800-745-3000. Same day event ticket along with Pit Pass required for entry
Make a qualifying purchase at a participating America's Best and get a FREE Monster Jam ticket:
America's Best Contacts & Eyeglasses is proud to partner with Monster Jam® to offer you the opportunity to redeem one (1) free event ticket, when you spend $69.95 on contacts or eyeglasses at a participating America's Best (offer in California varies; see below). Test out your new glasses or contacts by witnessing the adrenaline-charged family entertainment of Monster Jam. More info, see here: https://www.monsterjam.com/americasbest
VIDEO: Monster Truck driver
Follow Monster Jam online
on Facebook https://www.facebook.com/mjonline
on Twitter https://twitter.com/monsterjam
on Instagram http://instagram.com/monsterjamlive
For more information on all Southern California dates, visit MonsterJam.com.
Originally published on January 1, 2019. Last Updated on January 2, 2020 by Pattie Cordova