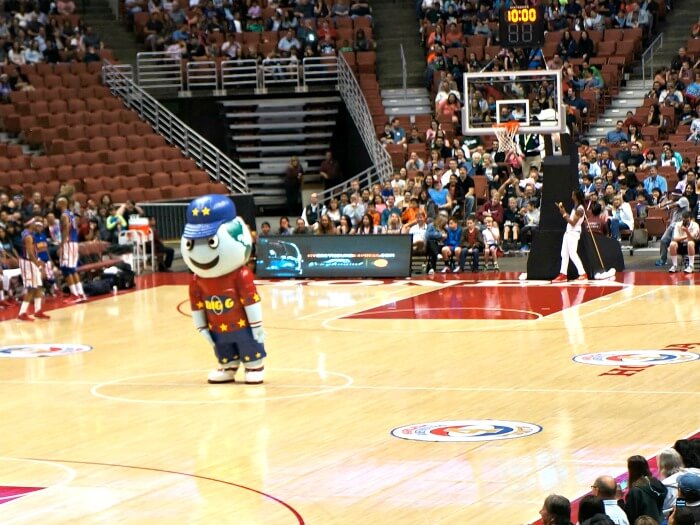 Travel
9 Great Moments with the Harlem Globetrotters
The Harlem Globetrotters is the perfect event for the whole family to enjoy. Read more about our nine unforgettable moments with the Harlem Globetrotters that we enjoyed the last time they were in town and enter for a chance to win tickets to see them at the Honda Center on February 23rd!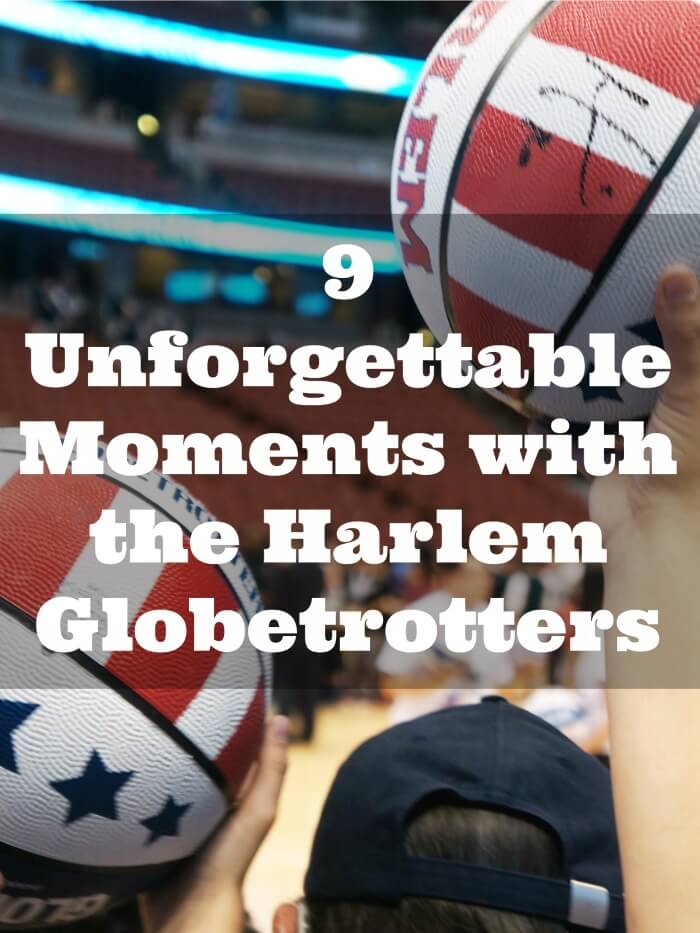 Family fun, basketball, entertainment, comedy, and cool basketball tricks – all wrapped up in red, white and blue at the Honda Center in Anaheim. We are excited to share our top nine unforgettable moments with the World Famous Harlem Globetrotters.
1. Family Night Out – It's always a blessing to spend an afternoon or evening out with the kids. The Harlem Globetrotters is the perfect show that grabs and holds the attention of the everyone in the family.
2. "Introducing… Your Harlem Globetrotters" – Lights, music, dancing… applause as each player came out to the floor and showed their super cool basketball trick. Yes, before the games even started everyone was already cheering and amazed at each trick.
3. Dancing, dancing, dancing – The players not only ran up and down the court, but they danced the night away. Break-dancing, dancing with the audience, or dancing to distract the referee, it was a happening throughout the entire game.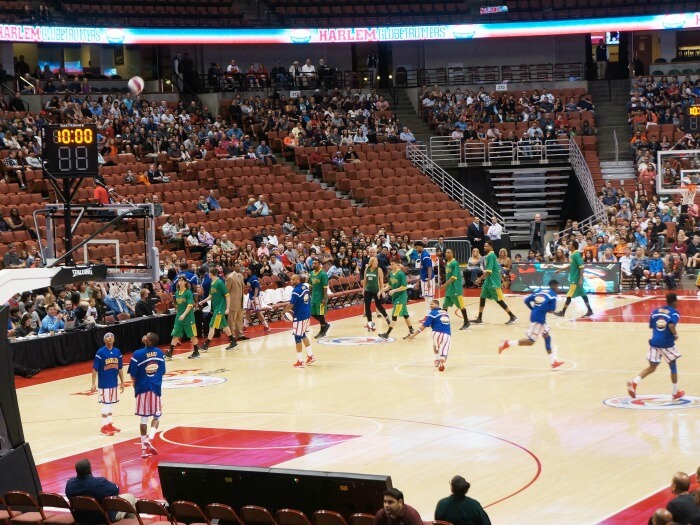 4. Honoring Our Heroes – Special to us, but also special to our kids, The Harlem Globetrotters honor a hometown hero at every game. This was a special moment for families. Nominate your hero on the Harlem Globetrotters website.
5. The Big Come Back – The infamous Generals lead the game in points, but not without the help of a questionable referee. It was down to "sudden death" and our Globbies won! Phew, how exciting.
6. Player Diversity – It's so cool to see when short basketball players are on the court. It's also delightful to see a woman sporting the red, white and blue jersey of the Harlem Globetrotters.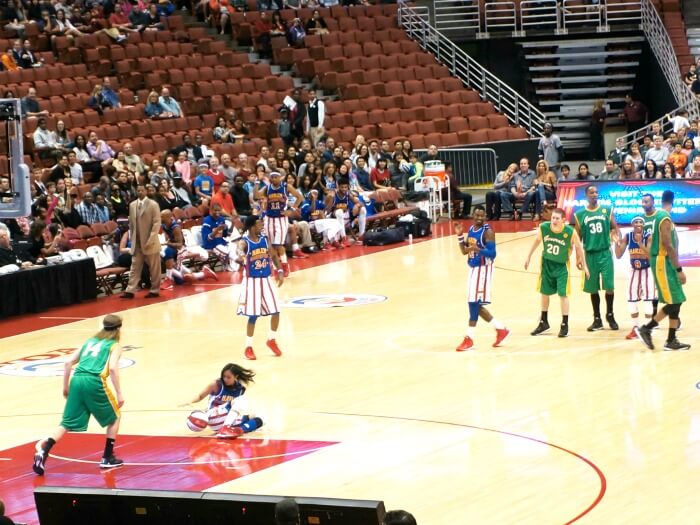 7. Ball Signing – The players stayed on the court so that everyone had the opportunity to meet and/or get a signature. Everyone is super nice and made an effort to sign and smile for everyone. Awesome!
8. Globie – The Globetrotter's mascot got the crowd going with his crazy dance moves and antics.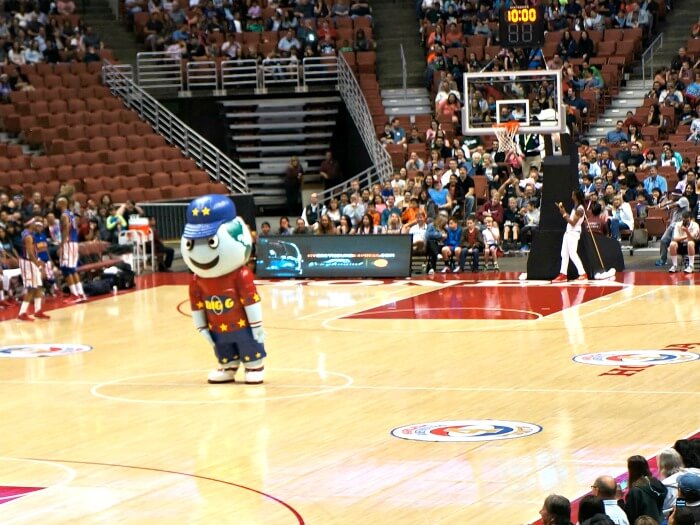 9. World Vision – The Harlem Globetrotters has partnered with World Vision to get the word out there to let us know that we to can "join the team and sponsor a child."
Follow the Harlem Globetrotters on Twitter and on Facebook.
What to expect at Harlem Globetrotter's Fan Powered World Tour
At each Globetrotters game, there will be more than 20 opportunities before, during, and after each event where fans will get a chance to directly interact with the team's stars – that's a 30-percent increase over any previous Globetrotters game.
The Harlem Globetrotters roster showcases some of the most thrilling athletes in the world, including Big Easy Lofton, Ant Atkinson, Hi-Lite Bruton, Hammer Harrison, Thunder Law, Bull Bullard, Firefly Fisher and, Cheese Chisholm – plus female stars TNT Lister, Torch George and Hoops Green.
Prior to every performance, fans can secure a ticket to Magic Pass, the Globetrotters' exclusive pregame event. Magic Pass gives fans unprecedented access to the stars of the team, an opportunity to learn tricks, shoot hoops and take pictures on the court. After each game, fans can participate in a free autograph session.
An additional exciting new element fans can look forward to this year is a new interactive mobile app with exclusive features, including an augmented reality (AR) basketball toss game and one-of-a-kind image filters that can be shared on social media.
Also back by popular demand, fans will also get a chance to see the Flying Globies, an amazing acrobatic trampoline dunk team that will defy gravity during breaks in the game action.
Tickets are available for purchase at https://www.harlemglobetrotters.com/socal and respective box offices. For information on group and scout tickets, visit harlemglobetrotters.com.
Discounted Harlem Globetrotters Tickets

Use code FUNFAM and save 25% on tickets at https://www.harlemglobetrotters.com/socal. You can also purchase discounted tickets on these sites:
Goldstar offers discounted Harlem Globetrotters tickets.
Groupon offers discounted Harlem Globetrotters tickets.