So here's the thing, I'm not very good at camping. By that I mean that I grew up poor so the idea of camping outside in nature and sleeping on the floor was just one step away from how I grew up (so… never a big fan). Then Ventura Ranch KOA invited us on a weekend getaway and changed EVERYTHING.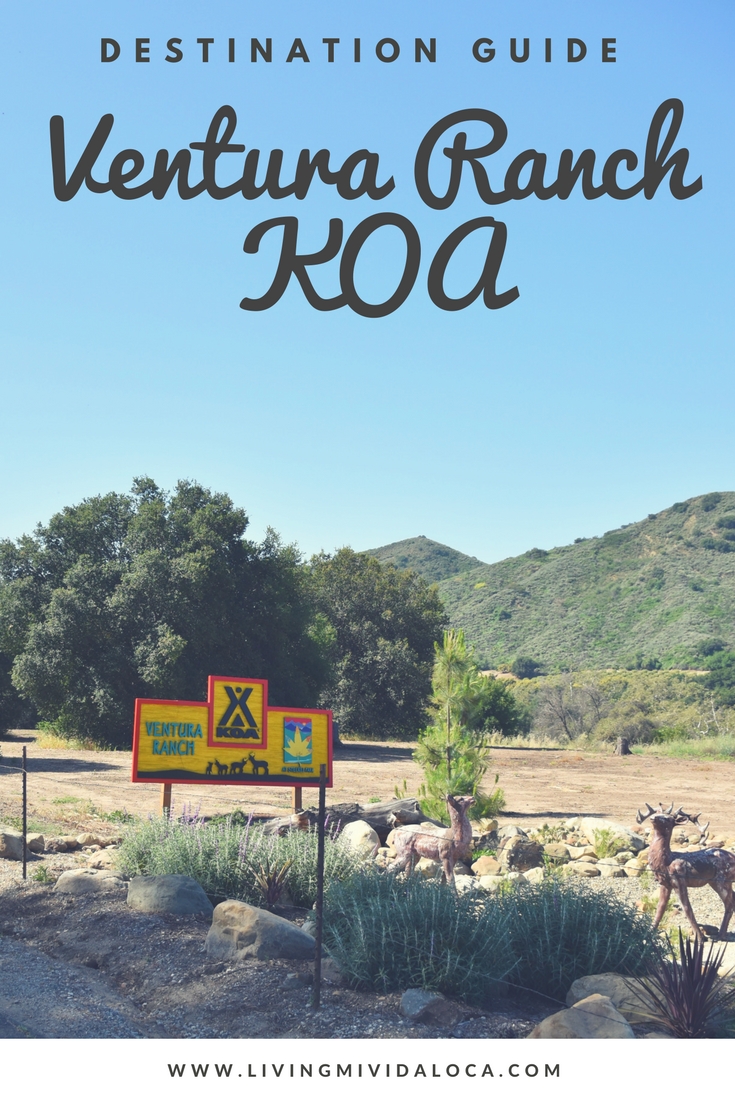 We visited Ventura Ranch KOA in Santa Paula for a weekend stay. Somewhere to get away from it all as they say. About two hours drive from our home took us from the city into the country where we were surrounded by hills, enormous trees and wildlife. We drove into the campground, checked into the office at the front and pulled up in front of our spacious 400 square foot cabin. And that's where I fell in love with camping.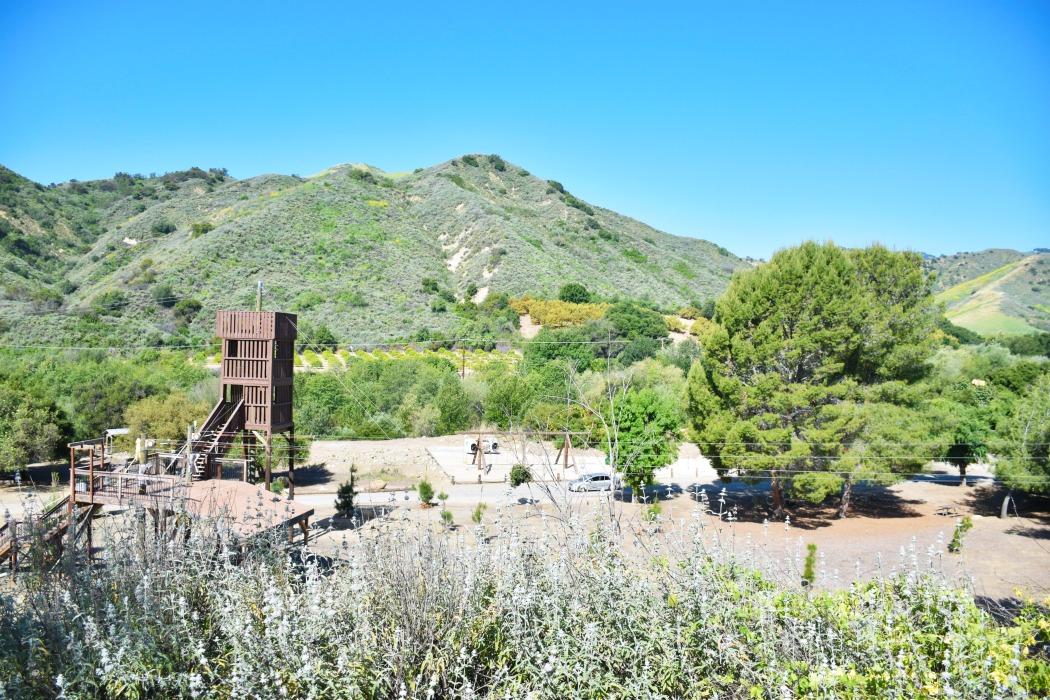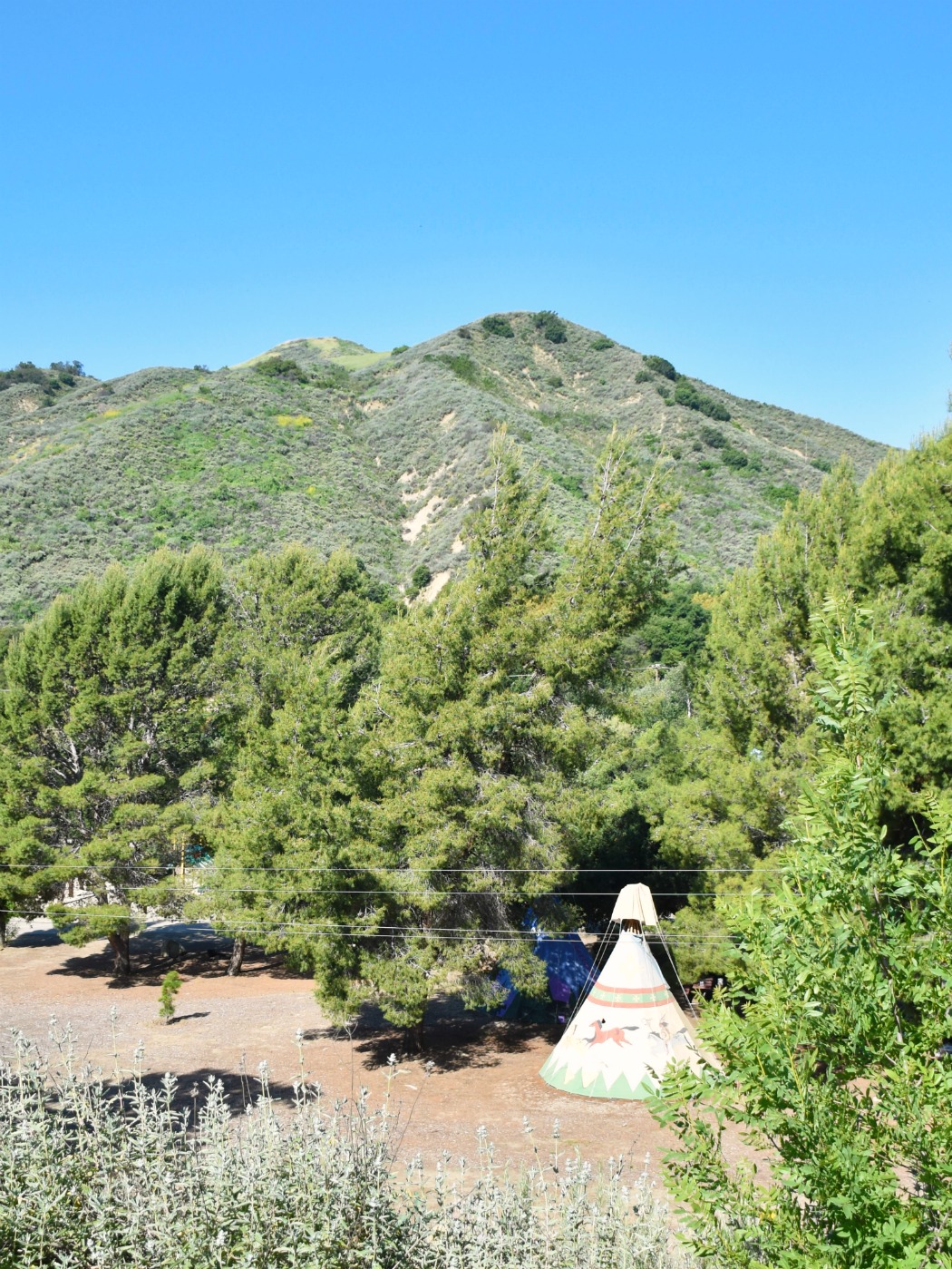 Ventura Rancho KOA campground
The campground itself is gorgeous. It's a little bit of a drive in, and when you get there you are surrounded by trees and it gives you the feeling of getting away from the rush of city life. It smells amazing and the campground offers all the amenities you need (especially if you rent one of their cabins). We walked around during our stay and saw all the different accommodations available at the campground, including teepees!!! Yup – you and la familia can stay in the cutest teepees with a playground just outside your door.
At the top of a hill you'll also find a clubhouse that is available to rent for large parties. It has a kitchen, dining area inside and outside, and a BBQ grill. We had a few of our meals here because we were traveling in a large group.
WATCH: Ventura Ranch KOA Tour
Deluxe Cabins at Ventura Ranch KOA
My favorite accommodations, the cabins, are located towards the front of the campground, while the RVs and such as spread out throughout the area. You can also tent camp or go "glamping." There is literally something for everyone.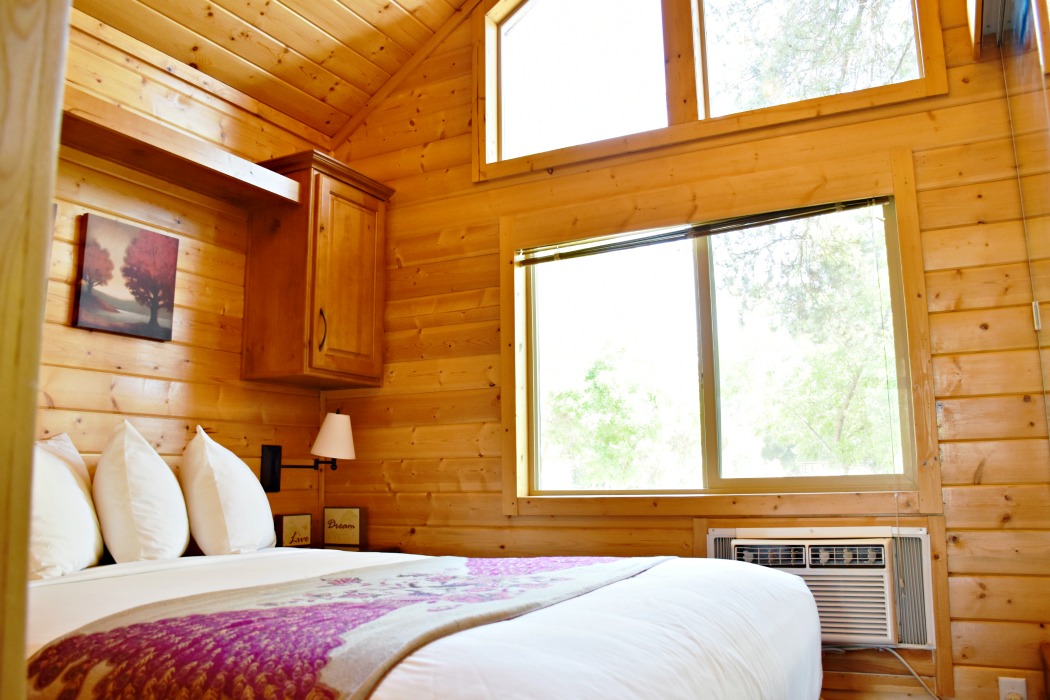 Our deluxe cabin was 400 square feet and it had a loft inside that allowed all six of us to be in the same area without going crazy. The Hubster and I stayed in the one bedroom at the back of the cabin that also housed a queen size bed, a large closet and air conditioning unit. Yup – there is AC in the deluxe cabin. And linens. We didn't have to bring anything else!
Outside our room was a restroom with a shower – and it was fully stocked with towels and washcloths. There was also another closet outside of the restroom giving us the feeling of a home way from home.
[warning]Plan your own adventure by visiting GoRVing.com. Get info on how to choose the campground that's right for you, search for campgrounds that offer park model cabins like the one we stayed in, ideas on what to bring and so more![/warning]
The kitchen came fully stocked and included a refrigerator (a full size one, not one of those mini fridges), a sink, a stove, a microwave, a coffee maker and every utensil and dish you could possibly need. It's a great way to save on money because you can bring along all your own food and cook your meals at home instead of ordering or eating out. There will literally be no reason for you to leave the campground during your stay if you bring enough food.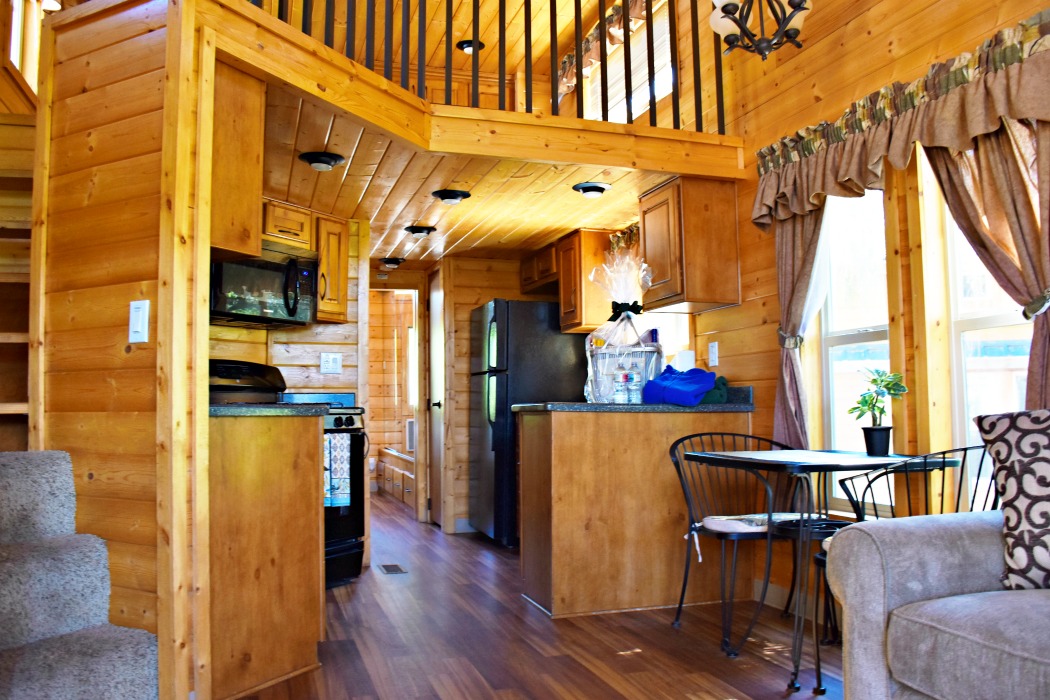 Just outside the kitchen is a small table to eat at and then there's the living room. The living room has a sofa sleeper and a television. We brought our Apple TV to stream movies at night (the KOA offers free WiFi), though we hardly used it because we spent much of our time just hanging out playing card games.
The loft also had a cot and additional linens so at least two people could sleep up there too. Though ideally, you could probably fit up to four people if they don't mind sleeping on the floor.
Outside the cabin there was a grill, a patio dining set, a fire pit… and a gorgeous view. It makes for the perfect spot to take your coffee, and basically every single meal. The cabins are far enough apart that you won't feel like your encroaching on someone else's cabin either. This type of lodging is absolutely perfect if you're looking to camp, but the idea of camping scares you. Or if you like to be comfortable but still want nature outside your doorstep.
WATCH: Deluxe Cabin Tour
What to do at Ventura Ranch KOA
So you get to the fabulous KOA and now what? Well we have an itinerary for you that will ensure that you get the most out of your stay. Here we go… vamonos…
S'mores around the campfire
Bring along your s'mores supplies and spend your evenings around the campfire making old-fashioned s'mores. If you forget to pack these materials, no worries. They also have them at the gift shop/check-in office by the cabins.
Tie-Dye T-Shirts
Check with the front office when you check in to see if this activity is available during your stay. As of the date of this post, this activity is available on most Saturdays for $10. Once you pick out your t-shirt, camp leaders will help you from beginning to end. It's a bit messy activity, depending on how old the chiclets are, but it makes for a great souvenir. My kids wear their t-shirts every week!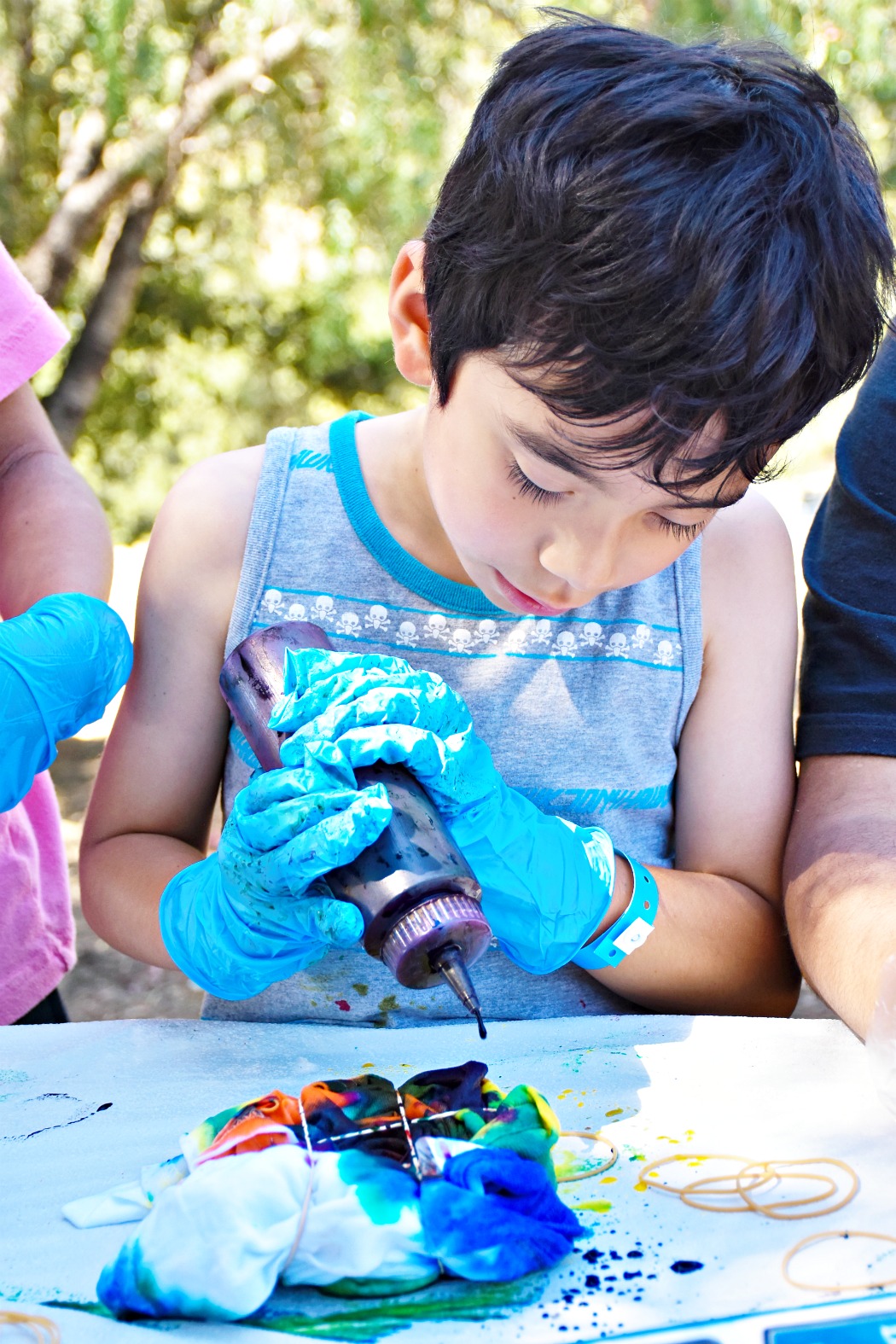 Zip-line Pavilion
My favorite activity at the campground was the zip-line pavilion. Schedule your adventure during your visit (currently available every Saturday) and choose whether you want to do line 1 (where children can ride tandem with an adult), and/or line 2 (where you must be between 80 and 250 pounds, no tandem riding allowed). Line 1 will cost you $15, while riding line 1 and 2 will cost you $25.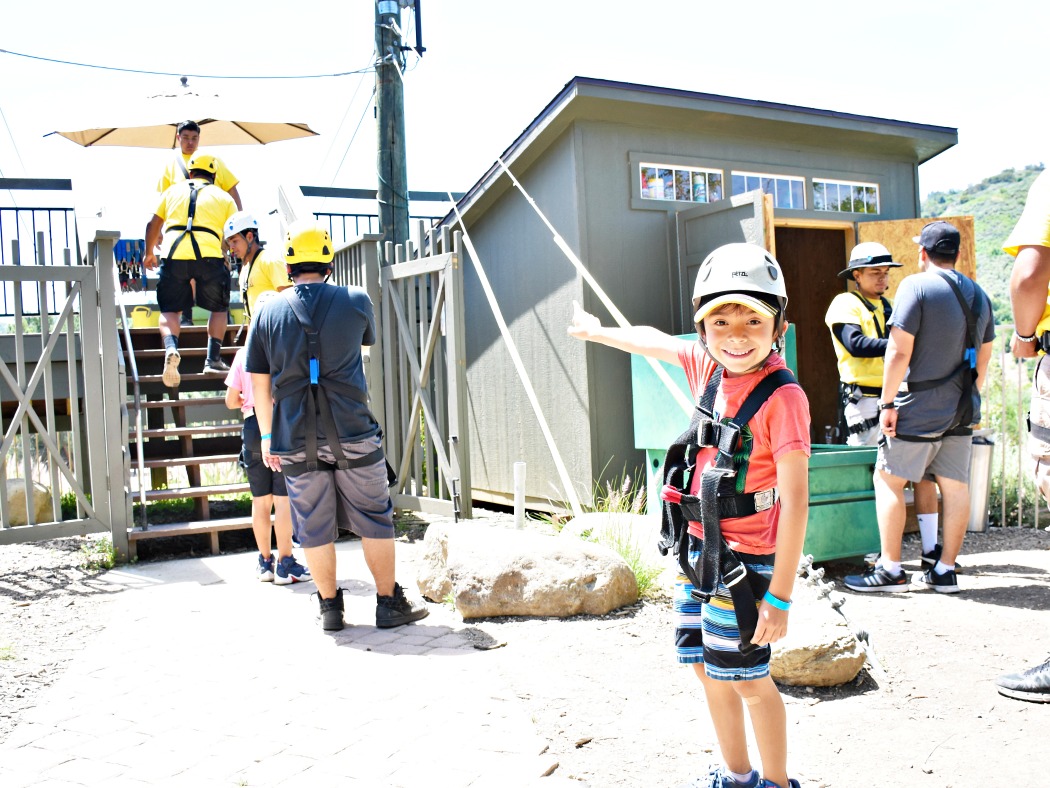 So the way it works is that you show up at the zip-line pavilion at your scheduled time. There are picnic benches there so you can enjoy your lunch, or it also makes for a good meeting place after zip-lining. Make sure you wear closed-toe shoes for this activity.
You'll get suited up by one of the instructors then you'll walk up to the platform. The first line will take you to the beginning of line 2. If you've committed to doing this zip-line, then go all out and ask the instructors to tell you how to flip upside down. It's a lot of fun!!!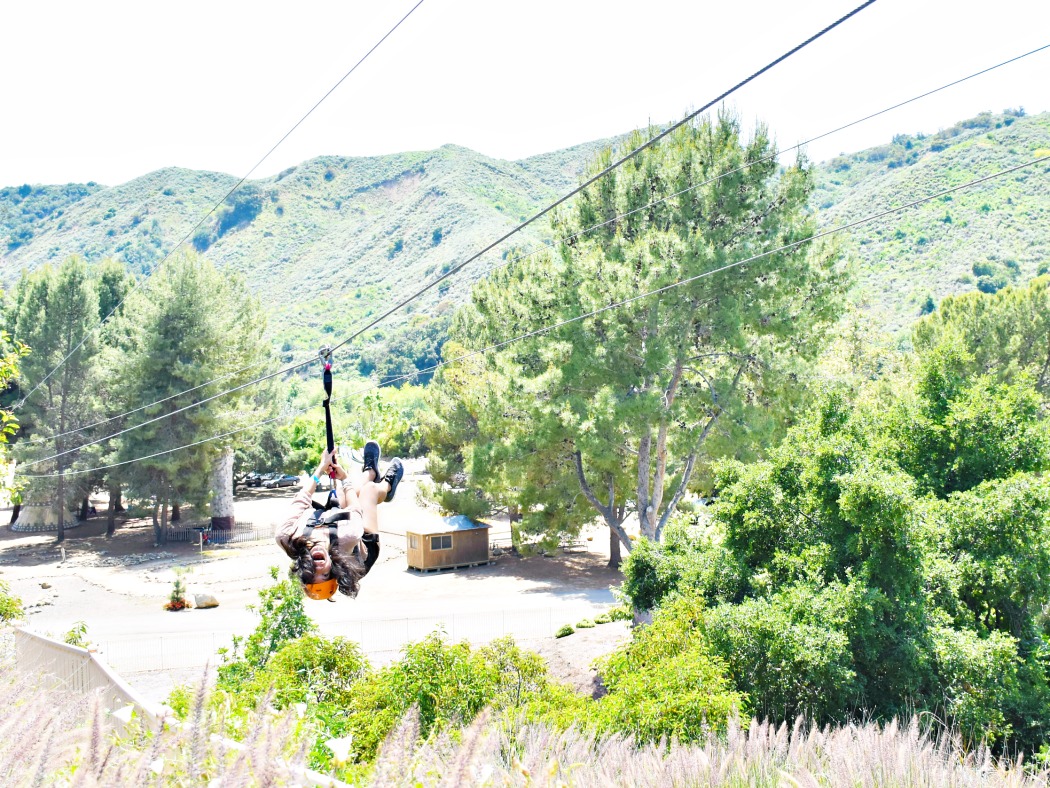 Once you get to line 2, you'll be unhooked then led to a ladder that you'll climb up to get to the beginning of line 2. This one is slightly longer and higher than the first line. This activity is definitely one that you'll want to try at least once.
>> Click here to watch my zip lining Facebook Live video <<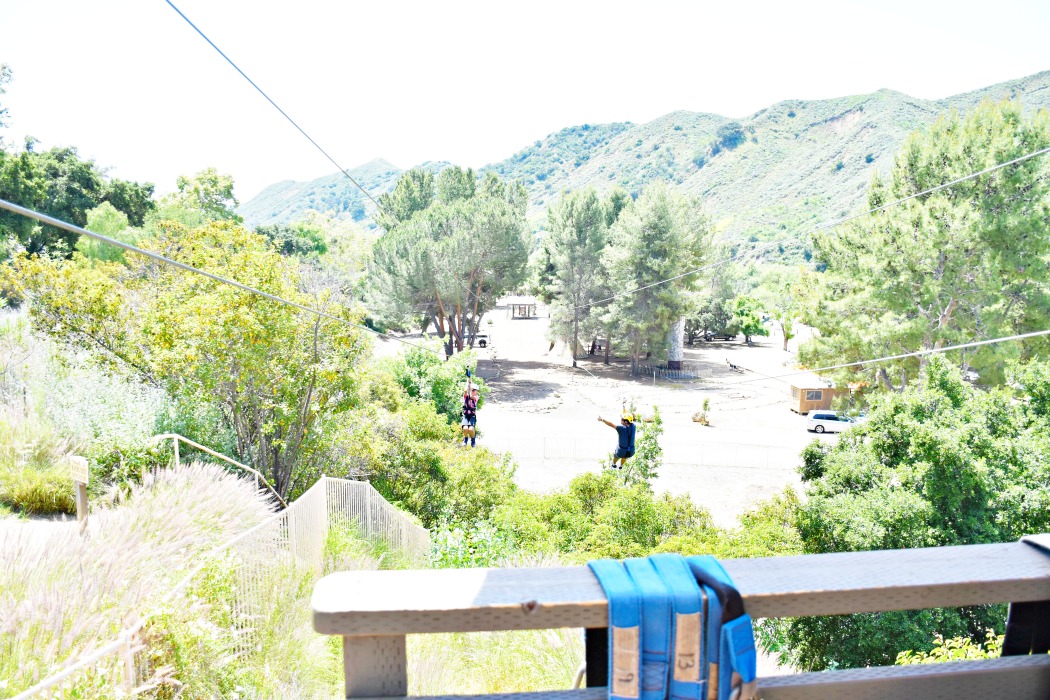 Pool
Unfortunately the pool was closed during our visit, but if you visit between May 27th and October 1st, you'll find that it's open to visitors. There are lounge chairs and sofas scattered throughout the area making it a great spot to beat the heat.
"Gem and Fossil Mining" at the Gem Mining Area
My kids LOVE gems, and I was so happy to see that it was offered during our stay. The instructors there take cash and you can have the chiclets choose which type of bag they want. The cheapest bag was about $7 and it contained handfuls of pretty gems and rocks. A large amount of water runs through the gem mining area where the kids mine for their gems. It's a pretty quick activity – about 15 minutes long if the kids don't pick at every single little piece of rocks. The largest pack is about $25 and it includes a bucket to store your treasures. Make sure to ask for the pamphlet that tells you about the rocks and gems that you find.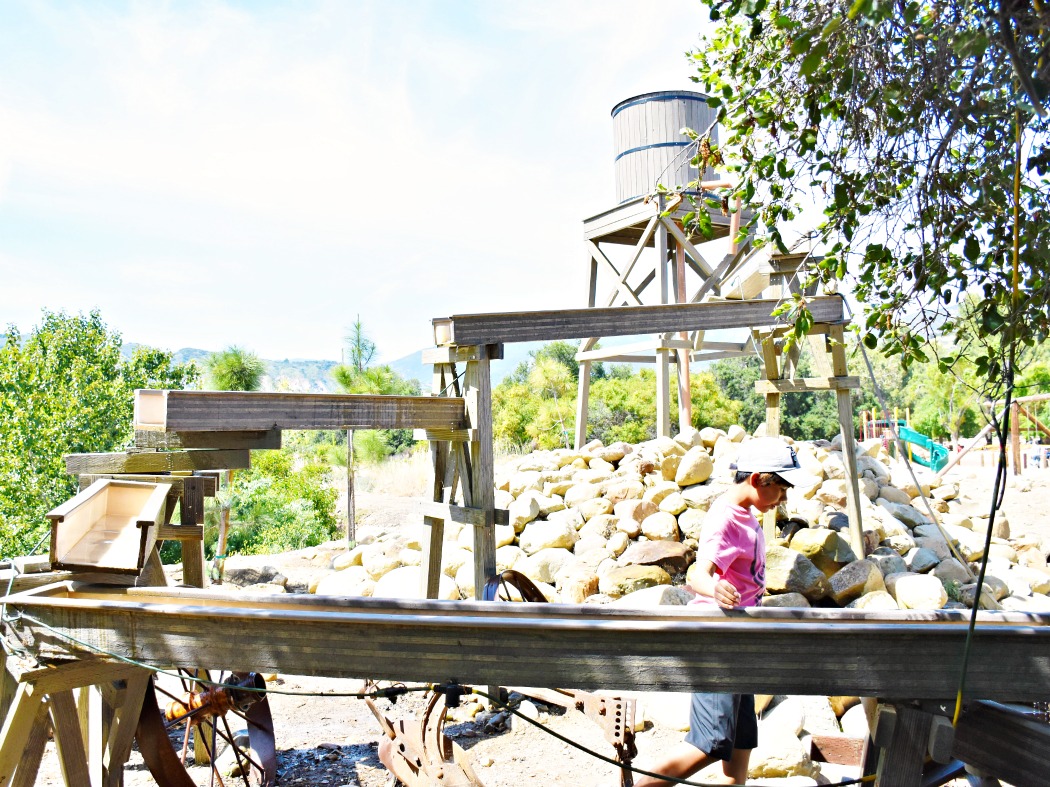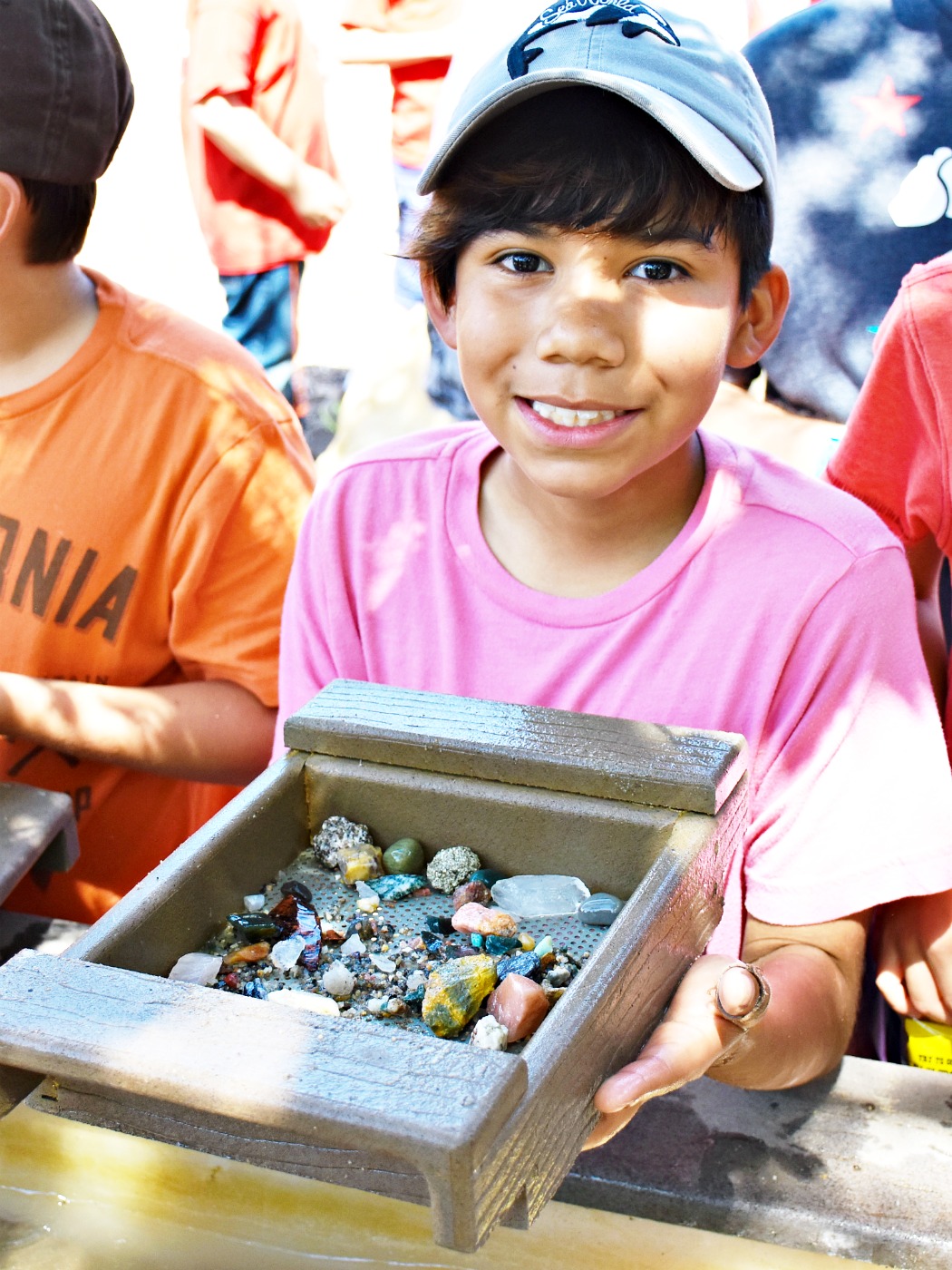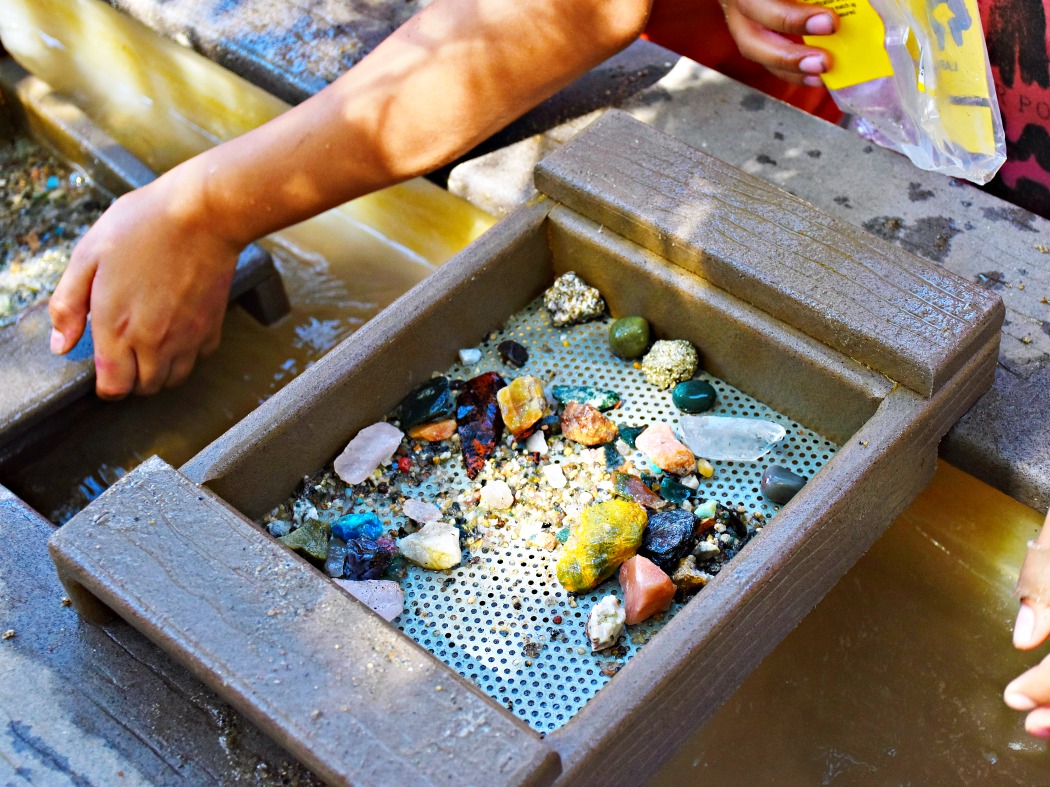 Rock Climbing
The rock climbing area is open on Saturdays and costs $10. Kids (and adults) can climb up the wall and ring the bell at the top. This one was a bit harder for my five year old chiclet because the rocks were so far apart, so it might be better for older kids and adults.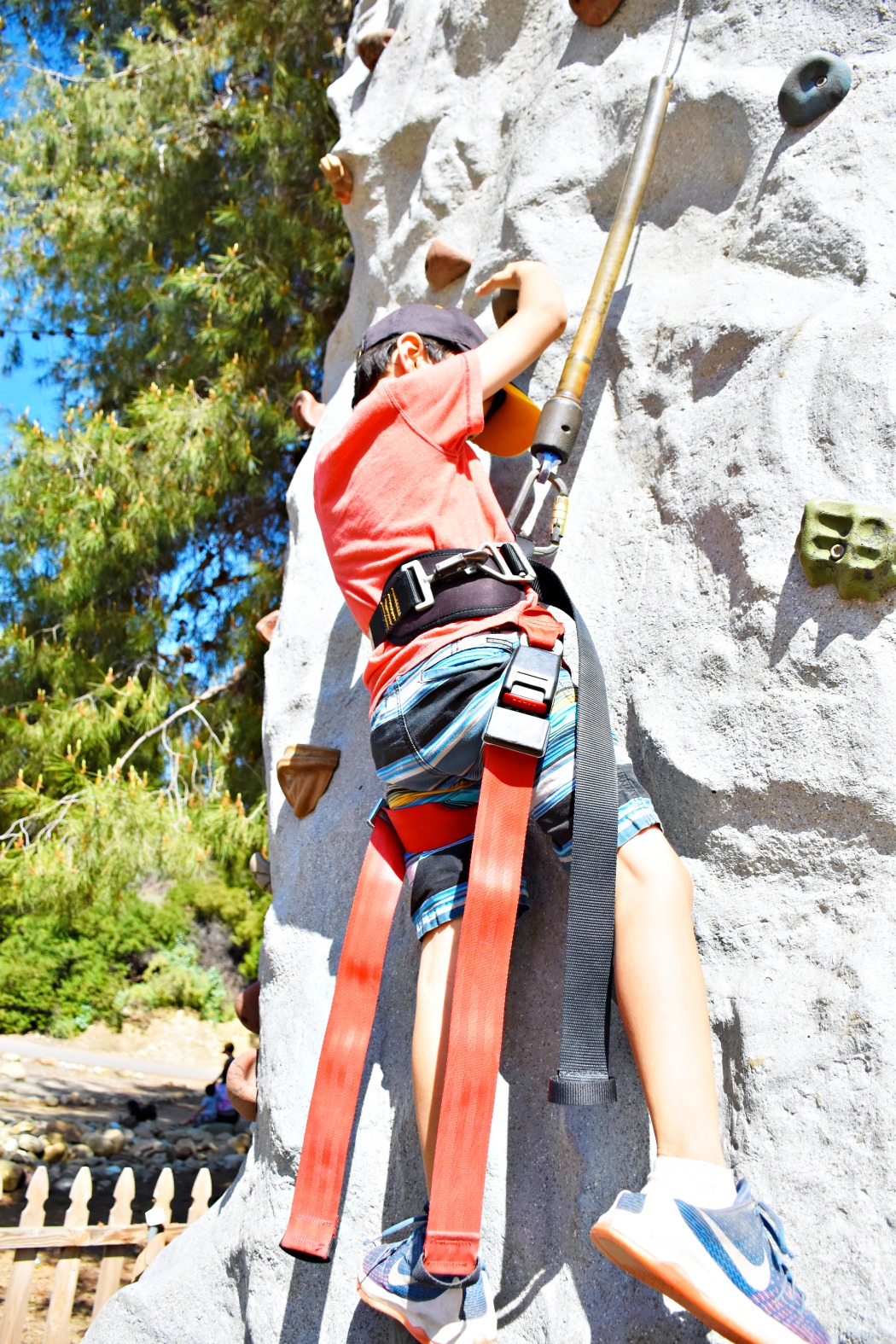 Watering Hole
The chiclets had such a fun time playing in the creek. It was rocky, it was shallow and the water was cold – it was perfect! They didn't do much in there except find rocks, try to stand on them and then laugh when they slipped off. As a parent, I loved just watching them be kids and play in the water.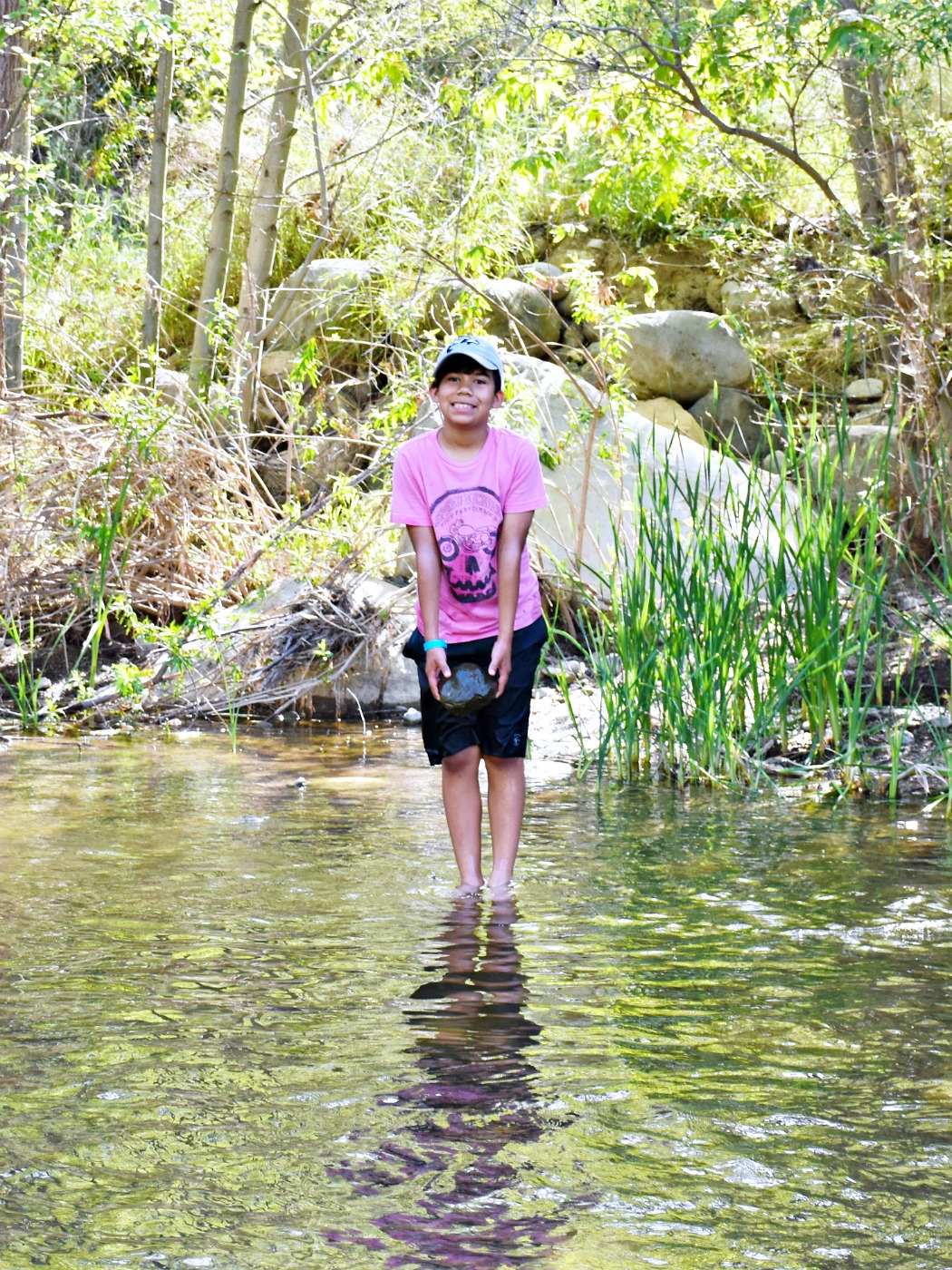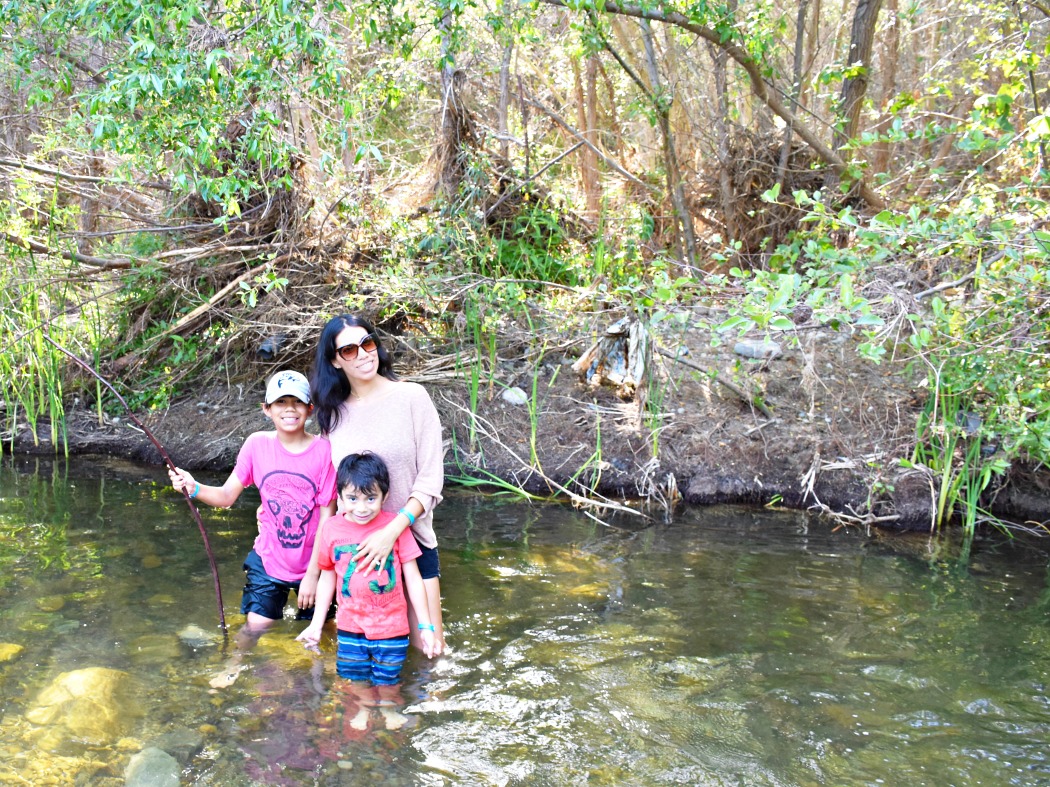 Playground and Jumping Pillow
The large community area also houses a playground and a gigantic jumping pillow. The pillow is open every day from 10am to late afternoon and during the summer time they mist the pillow while you jump. It was SO much fun to jump up and down on this and even more hilarious to see everyone falling down and then try to get up. There are a couple of benches nearby so parents can just hang out and watch the kids play.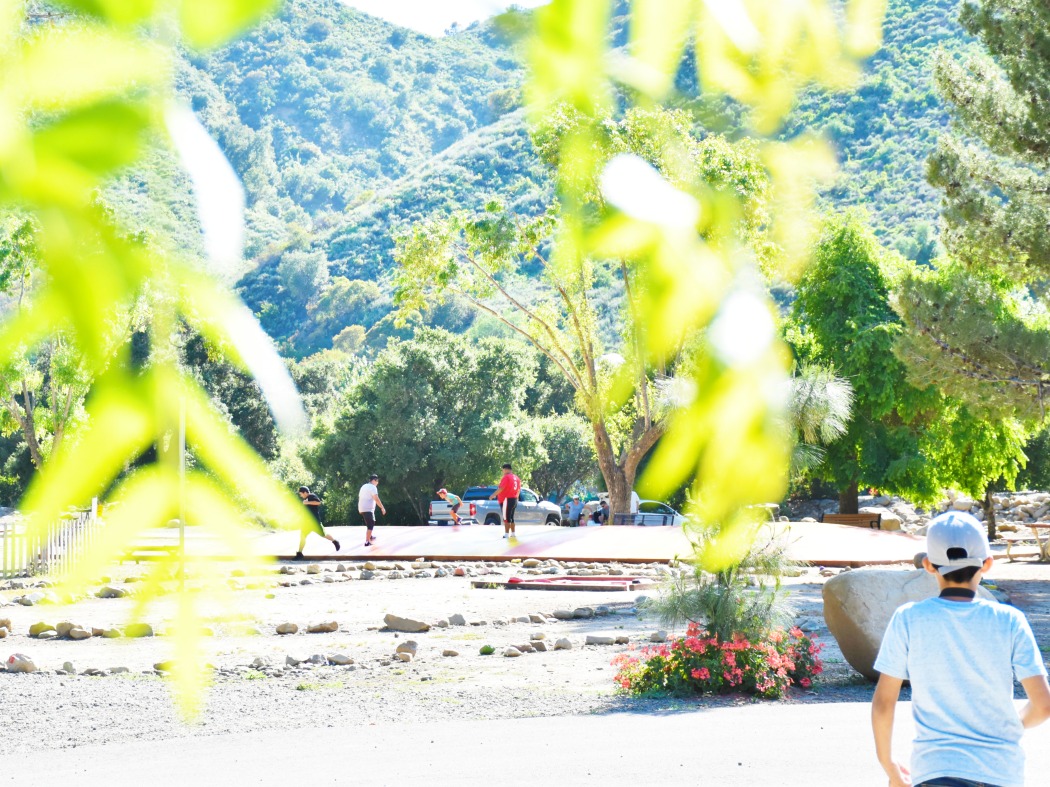 The playground is located near the gem mining area and fun for kids to play in and meet new friends.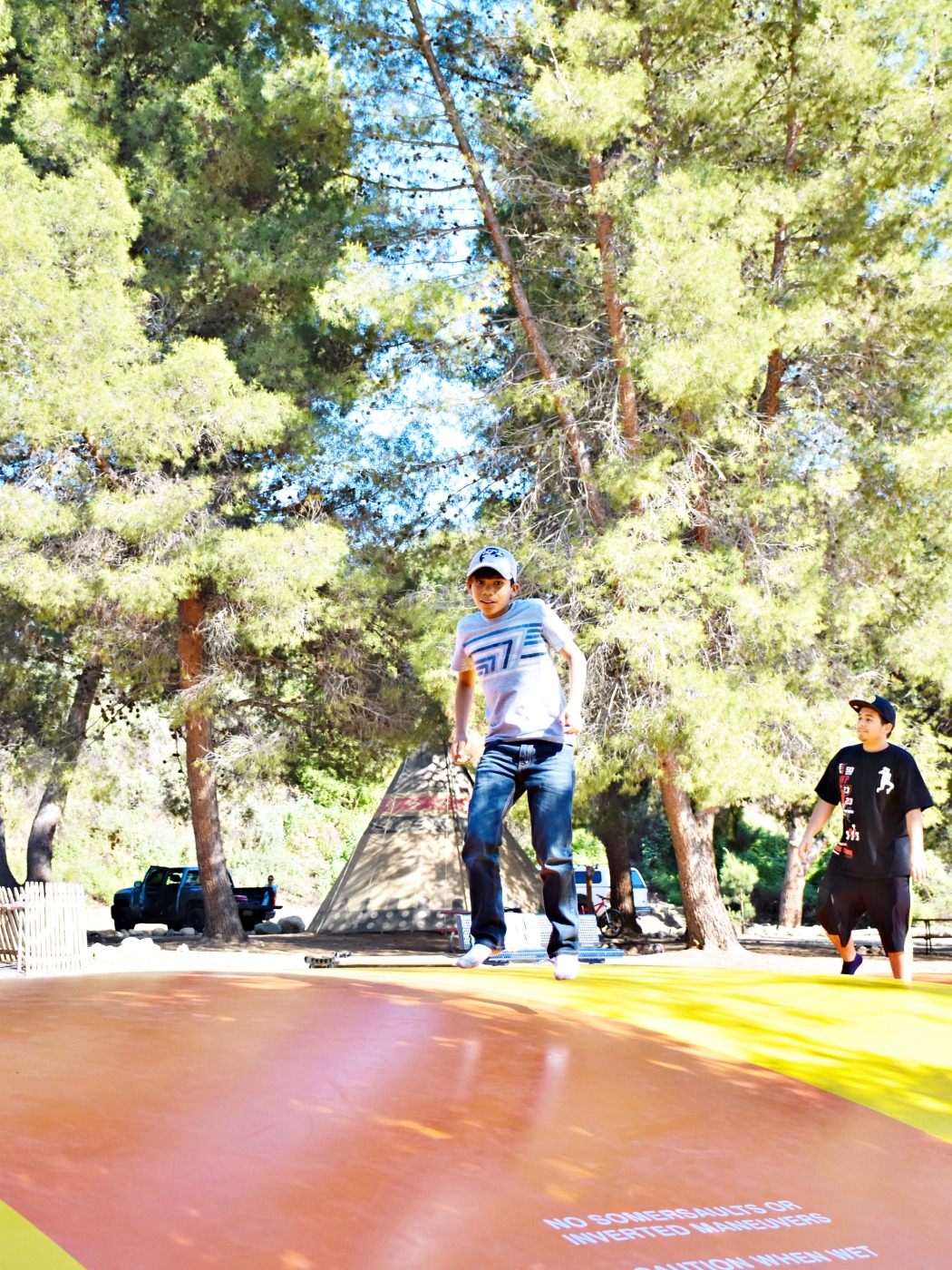 Bigfoot Adventure Walk
The kids were super excited to do the Bigfoot Adventure Walk because they still believe. The guy leading it did a great job of setting up the story, and because it took place at night it made everything seem as though it was possible for Bigfoot to actually be in the woods. I recommend you walk closer to the leader so you can listen to his story. Bring your flashlights and see if you can spot Bigfoot.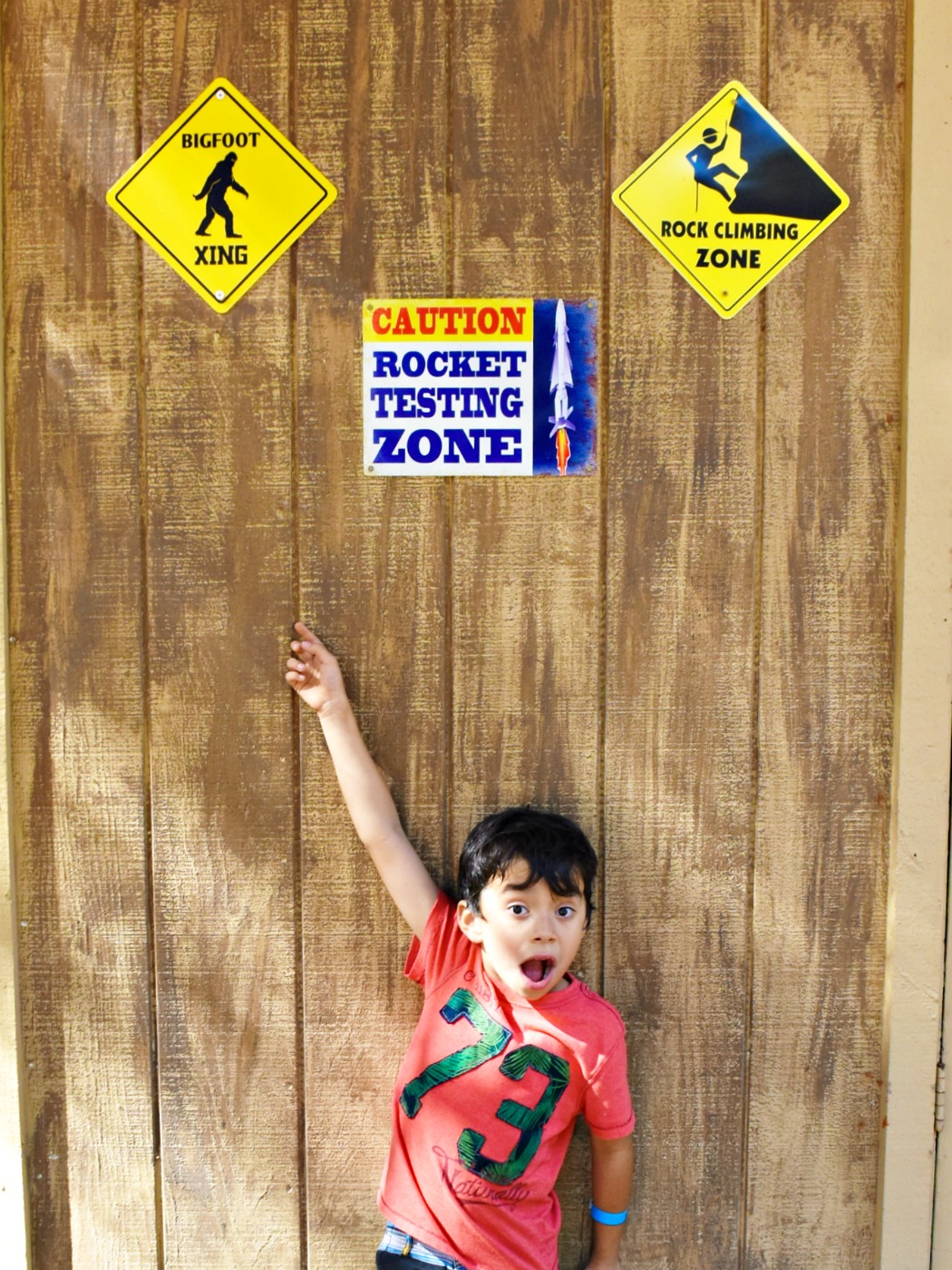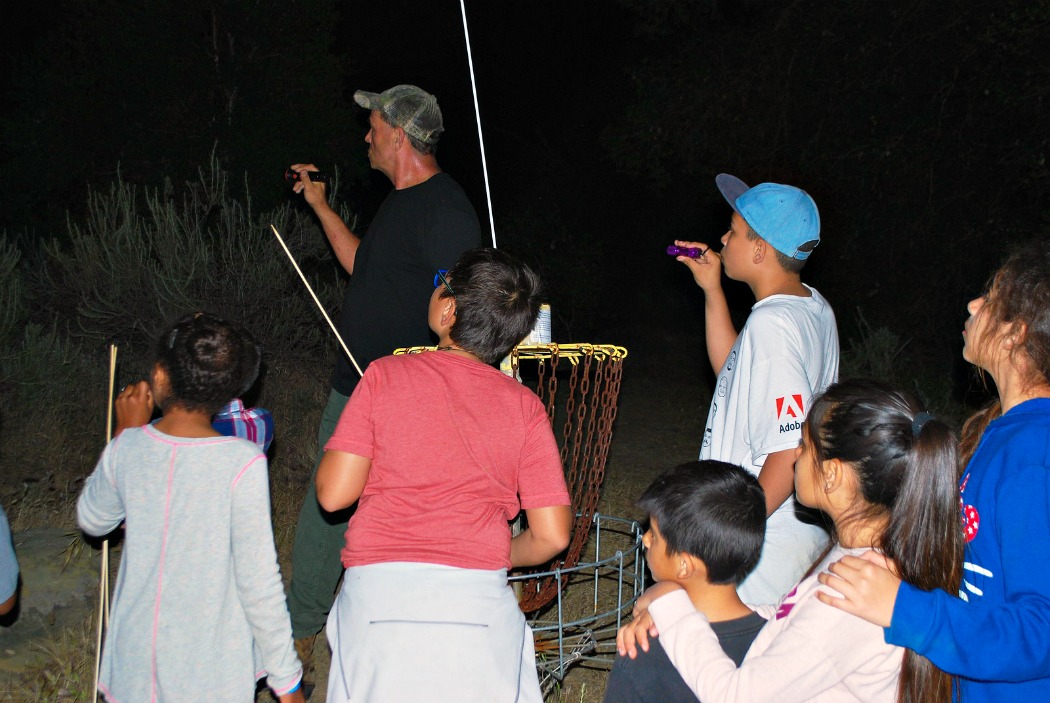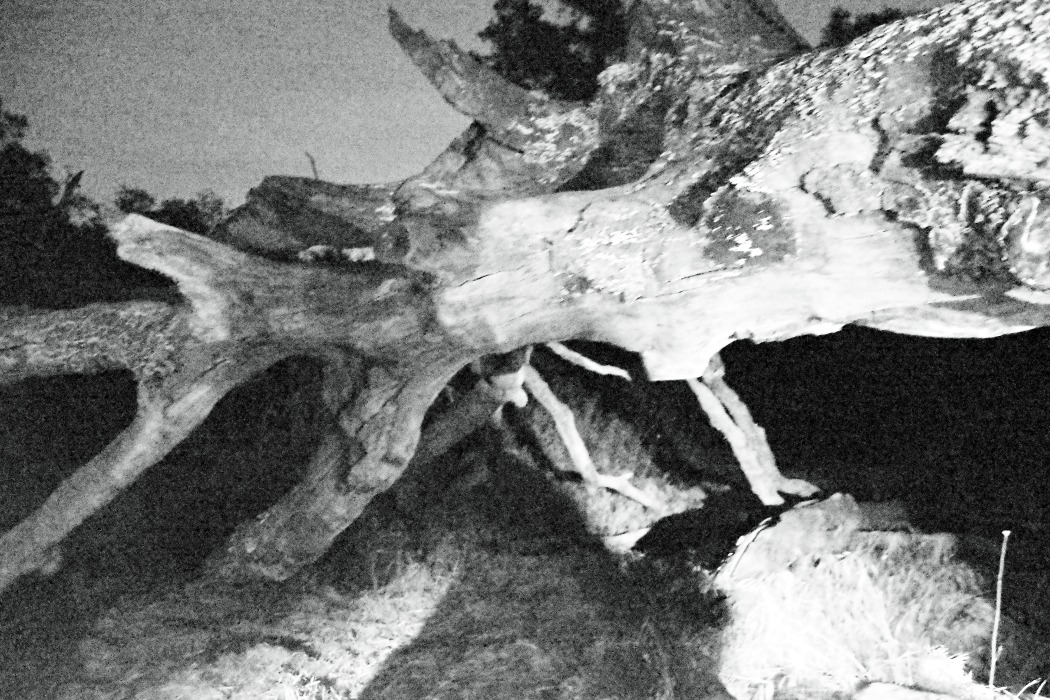 If you have a large group, you can also request a hayride. There's an additional charge, and usually only available during Halloween time – but it can be arranged for you if your group is large enough.
We had the best time visiting Ventura Ranch KOA and cannot wait to go back. It's a super great deal for all the amenities that it offers.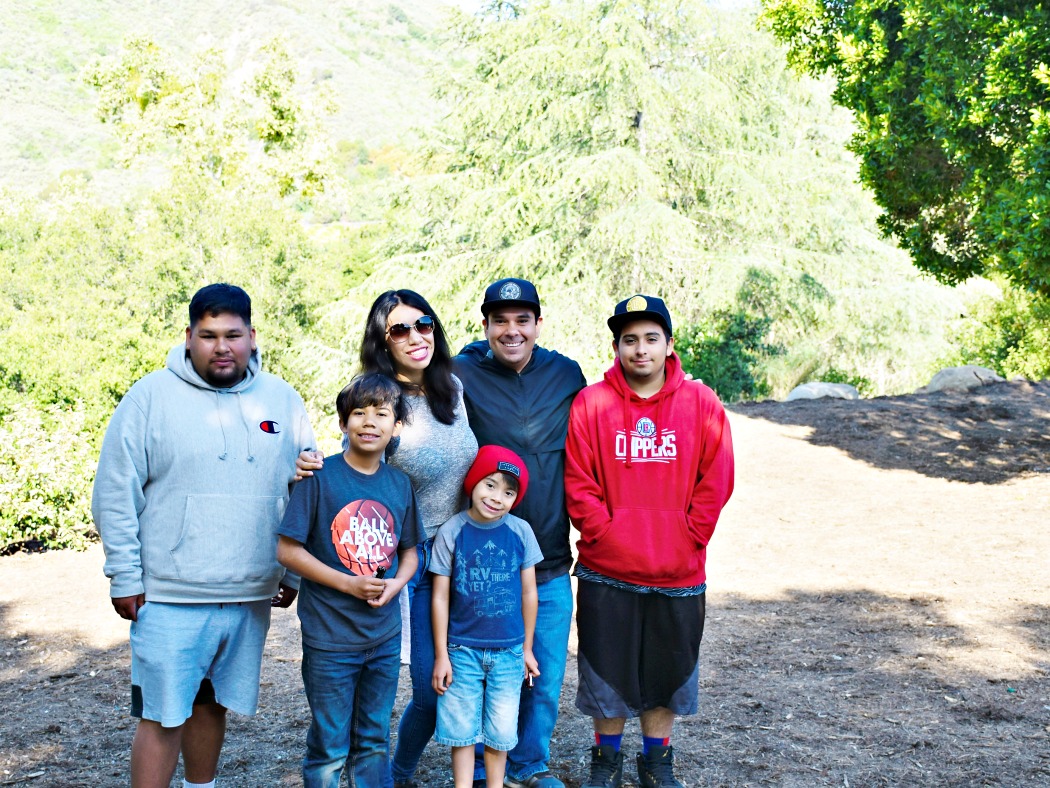 Packing List
Bring along a manual juicer and make fresh squeezed juice every morning.
A Hershey's S'mores kit, roasting sticks and a warm blanket.
Closed-toe shoes for zip-lining.
Hat and sunscreen for every day use.
Mini flashlights and lanterns for the Bigfoot Adventure Walk and for lodging without electricity
Insect repellant
Card games (we love Spot-it, UNO and a classic deck of cards).
Streaming device if you're in a camping unit with a television.
Bicycles if you like to take advantage of the trails
Swimsuit
Detergent pods (laundry facilities are available on-site)
A hand vacuum – It's the easiest way to clean up
Sanitizing wipes and hand sanitizer
First Aid Kit
Glow sticks for evening play with the kids

About Ventura Ranch KOA
The Ventura Ranch KOA is a 76-acre campground nestled in Heritage Valley at the foot of Ventura County's highest mountain, Topa Topa. Our guests enjoy clean, fresh air as well as a forest setting close to the creek side. Little noise to distract; just lots of wildlife, gorgeous views, clear star-lit nights and only 15 miles from the beach! We are just off the scenic highway, 150 miles between Santa Paula and Ojai.
Address: 7400 Pine Grove Road, Santa Paula, CA 93060
Reserve: 800-562-1899
Info: 805-933-3200
Email: [email protected]
Website: http://koa.com/campgrounds/ventura-ranch/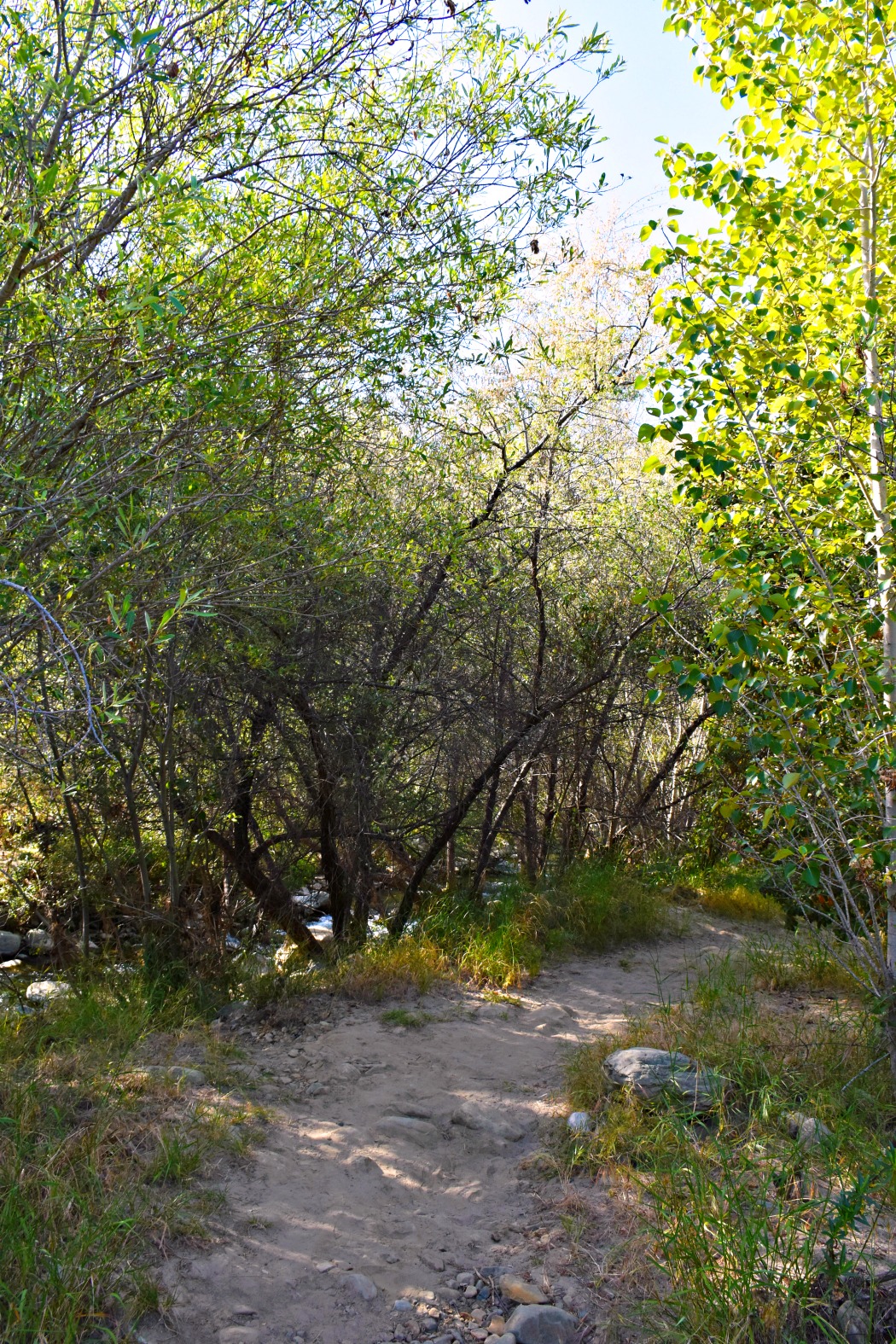 Originally published on May 16, 2017. Last Updated on January 10, 2019 by Pattie Cordova