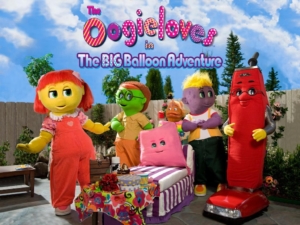 In theaters Oogust 29th

About The Oogieloves in The Big Balloon Adventure
The Oogieloves in The Big Balloon Adventure is a simple story of a loving friendship, a surprise birthday party and a BIG adventure…It's a beautiful day in Lovelyloveville. It's Schluufy's birthday and the Oogieloves (Goobie, Zoozie, and Toofie) along with their friends J. Edgar, Windy Window and Ruffy, are organizing a party (Ssshh! It's a secret). Everything is going along just perfectly until J.Edgar trips and loses the last five magical balloons in all of Lovelyloveville – OH NO!!!
The Oogieloves immediately take action and set out to find the magical balloons in time to save their friend's party. Along the way they meet some very interesting characters indeed, including Dotty Rounder (Cloris Leachman); Bobby Wobbly (Carey Elwes); Milky Marvin(Chazz Palminteri), Rosalie Rosebud (Toni Braxton) and Lola and Lero Sombero (Christopher Lloyd and Jaime Pressly). Can these new friends help them recover the magical balloons and get back to the cottage in time to celebrate Schluufy's surprise birthday?
Movie Review

We had the opportunity to see The Oogieloves in The Big Balloon Adventure earlier last month during an event they hosted in Los Angeles. I took my mom, my kids and my nieces. We had a total of four kids ages 6 and under and 3 out of the 4 really, really liked the movie.

At first glance, these characters reminded me A LOT of the Teletubbies. My kids aren't old enough to have watched Teletubbies, but I remember very much what a trend they were back in the day. There is a vacuum cleaner who talks, a mirror who gives guidance, a pillow who is celebrating a birthday and a fish who is the grumpy traveler. The balloons also talk, but not very much. The characters' names are like tongue twisters (sometimes the movie feels like a long tongue twister) and very cutesy. It also makes it a little hard to remember their names because they sound so familiar – Goobie, Zoozie, and Toofie. Kenn really understands his audience though because the kids in the theater were going crazy for the characters, especially when Toofie's pants slip down.

Throughout the movie, there are butterflies that float across the screen signaling the beginning of a dance number and inviting the kids in the audience to dance along with the characters in the movie. The moves they demonstrate do not require a lot of space to do them in, so it's perfect for kids to just jump out of their seats and do the moves. My 14 month old LOVED these parts the most. He is a huge fan of music and dancing and this movie was right up his alley. My 4.5 year old son, however, is very much like an old man in a little kid's body. He wasn't crazy about the interaction they asked for and was quite content to sit there and watch the movie without dancing along with everyone else.

I enjoyed this movie because my kids liked it. I do like that Kenn made a great effort to engage the parents too by bringing in some star power like Christopher Lloyd, Toni Braxton, Jamie Pressly and others. The movie seemed to be about 15 minutes too long for my 14 month old, but that's probably just because he's so young. My nieces loved watching Toni Braxton's character (probably because she is ultra-girly and diva-ish). My favorite scene was watching Christopher Lloyd and Jamie Pressly close out the main story line with their Spanish dance number. It's great to see such great actors step out of their comfort zone for the kids. It's also great to see a movie like this one that introduces different types of music to kids (Spanish, 50's, R&B, etc.).

I do encourage you to get out there and see this movie. It's best for young kids (8 and under) who like music and dance. You won't be worried about having the kids sit still for the movie because they'll be encouraged to get up and dance, and when the movie is done you'll have kids who will be ready for a nap! Win-win.

Quotes
"Goofy Toofie pick up your pants" – said to Toofie every time his pants fall down.
"Your name totally sounds like candy" – said to the characters by a "real person"
"But they flew away due to their helium density" – said by Goobie

Connect with The Oogieloves here:
Facebook: FB.com/The-Oogieloves-in-the-BIG-Balloon-Adventure
Twitter: @TheOogieloves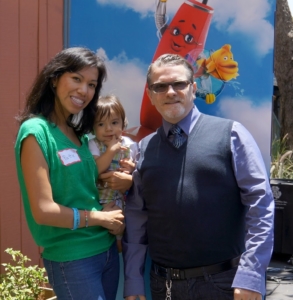 With Kenn Viselman
This is not a sponsored post. I was invited to see The Oogieloves in the Big Balloon Adventure as a member of the press. All thoughts and opinions remain my own.
Originally published on August 29, 2012. Last Updated on January 2, 2019 by Pattie Cordova