Our LEGO toy sets are enjoyed over and over again, and sometimes in digital form too! We play the LEGO video games, we watch the LEGO movie cartoons, we play with the LEGO apps and now we've added watching the first-ever, full-length theatrical LEGO adventure – The LEGO Movie.
The LEGO Movie brings me back to my childhood. And as a parent, there is something so awesome about your kids playing with a toy that you once played with as a child. I had the same love for LEGOs that my kids have for them now. And well, it was hard to tell who was more excited about The LEGO Movie when it was first announced. Believe me, it lives up to the hype and I wouldn't necessarily put it under the "kids movie" category.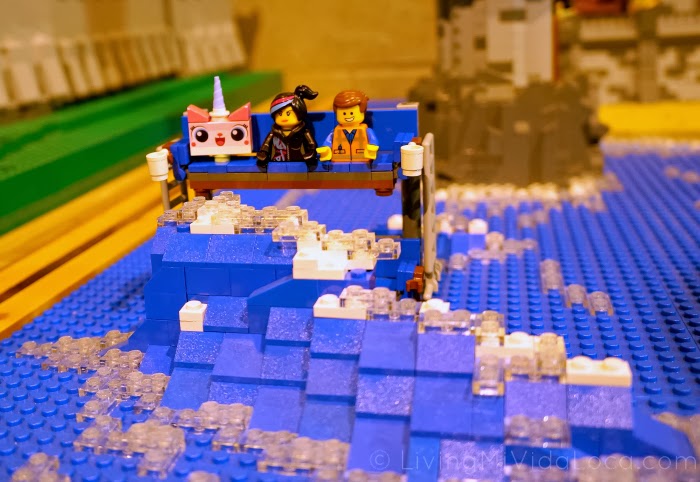 The LEGO Movie debuts at a theater near you on Friday, February 7th, and I'm sharing my top eight reasons why you should watch The LEGO Movie (with or without the kids). They're also the reasons why I'll be back in theaters this weekend to watch it again with my family. Although this time I'll have plenty of fun facts to whisper to the hubster while the movie rolls.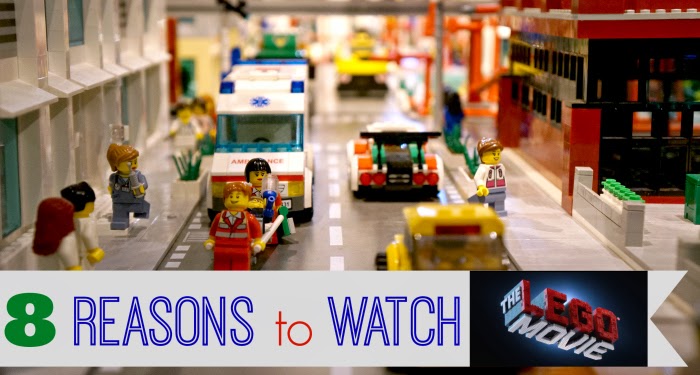 Lots of clever puns. There were so many times when I would turn over to the hubster after hearing the characters say a clever line. The LEGO Movie was clearly not made with just kids in mind because we found ourselves laughing throughout much of the movie and quoting lines from the film.
WYLDSTYLE
I have a boyfriend, so don't get any ideas.
EMMET
I never have any ideas
It's Made for the Entire Family. Producer, Dan Lin, wanted to make a movie that he could enjoy with his kids, and this film fits the bill. It's rated PG for "mild action and rude humor," but in all honesty, it was perfect for even my two year old to watch. Best of all, it has a great theme – there is something special inside of everyone.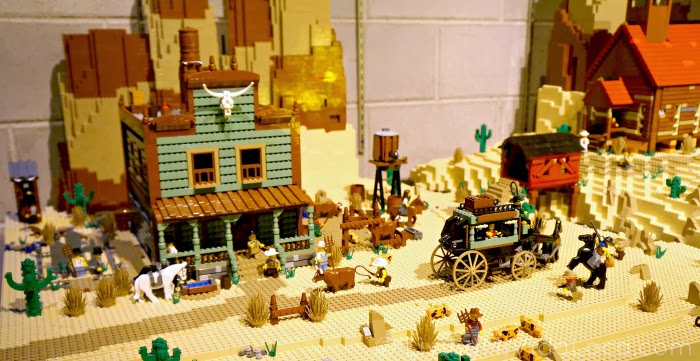 LEGO worlds. Now, you know there are many, many different LEGO sets. These "realms," as they are described in the film, are featured as the characters develop the story of the Piece of Resistance. There's a scene where we see Emmet and Wyldstyle go from the city, to the Old West, and then on to another realm. The transition is flawless. If I had to choose a favorite realm, I would vote for Cloud Cuckoo Land where Unikitty rules.
Fast moving sequences. To generate the awesome fast-moving sequences, screenwriters, Phil Lord and Christopher Miller, asked for a photo-real, non-traditional computer animation style resembling stop-motion. The animators lived up to their request by virtually building every scene brick by brick. Later on, the animators used this technique to create the amazing sequences that involve high-speed vehicles, weapons and exploding scenes. You'll definitely have this movie on rewind when you bring it home later on Blu-ray and DVD.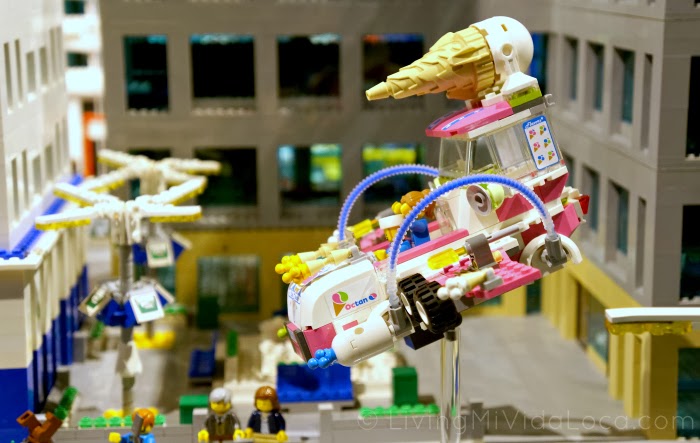 Clever use of LEGO pieces. The film contains 3,863,484 unique LEGO bricks. Some are reused and reconfigured in multiple scenes, making up sets, characters and tops for a total of 15,080,330 bricks. It also uses 183 unique mini figures! Best part of all is how the LEGO pieces are used. You and your kids will get so many ideas to recreate at home!
Tip: Download LEGO Digital Designer for FREE. It's what production designer, Grant Freckelton used when they hagen designing and building set based on their own drawings.
New LEGO vehicles. You'll see the LEGO Batwing in the film, but you'll also catch new vehicles including some that dive, others that go into outer space, but my favorite ones are the ones that you'll see when the characters face the enemies on the city streets.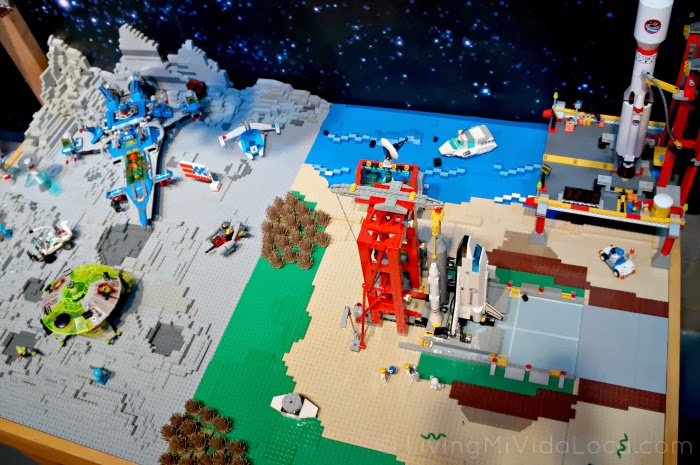 It has the catchiest song ever! "Everything is Awesome." Trust me – you'll be singing it all day.
Great parallel between the the LEGO world and the human world. In the end, this movie made me re-examine how I play with my kids and what I'm teaching them. It was an eye-opener as I came to realize that I forgot what it was like to just play and make-believe. This film also helped me get back on the road to recapturing some of my imagination that I seem to have lost as I moved on to adulthood.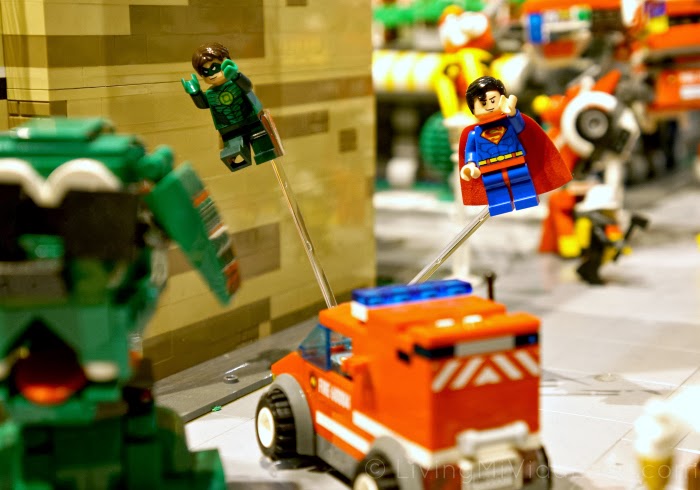 Fun LEGO Movie Basement Set Pieces Facts
It took LEGO Master Builders 5 weeks to design models that make up the worlds that appear in Finn's basement in the film.
It took a team of 10 LEGO Master Builders 2,000 hours (full-time over 5 weeks) to build all of the models.
The finished models contain approximately 1.5 million LEGO bricks and elements.
Tip: Stay and watch the credits. They're super entertaining!
About The LEGO Movie
The original 3D computer animated story follows Emmet, an ordinary, rules-following, perfectly average LEGO minifigure who is mistakenly identified as the most extraordinary person and the key to saving the world. He is drafted into a fellowship of strangers on an epic quest to stop an evil tyrant, a journey for which Emmet is hopelessly and hilariously underprepared!
WYLDSTYLE
…The only thing that can stop the Kragle is the Piece of Resistance and, according to prophecy, whoever finds it is The Special. The Special is supposed to unite the remaining Master Builders, storm Lord Business' Octan Office Tower, put the Piece of Resistance onto the Kragle and disarm it forever.
EMMET
Great. I think I got it. But just in case, tell me the whole thing again. I wasn't listening.
This is not a sponsored post. I was invited to screen the movie as part of The LEGO Movie press junket. All thoughts and opinions remain my own.
Originally published on February 7, 2014. Last Updated on January 2, 2019 by Pattie Cordova