Summer is upon us, and I know in my family that means the kids at home constantly saying, " What are we going to do today?" They love getting their hands on everything and as a mom finding a place they can do that is perfect. Last week my four year old and I got a chance to do just that at the Aquarium of the Pacific during their Summer of Wonder showcase.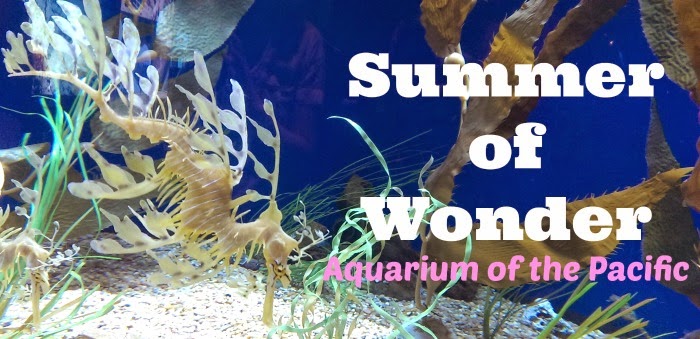 The new exhibits offer a look into some endangered species that live in our coast. It's a great chance to teach our kids about conservation and being conscience of our effect on the ocean. The California Steelhead exhibit features a great way of learning about this local fish that has historically spawned in our local rivers. They came close to extinction in 1997 because of our drought and pollution. The steelhead is a great example of what the Aquarium is trying to do by making its visitors visually see what our pollution does and make a change.
Another great story of what the Aquarium is doing for endangered animals is the Guam Kingfisher. These birds can no longer be seen in the wild and only 130 exist in the world and 2 are at the Aquarium. They are hoping the pair will mate and be able to one day release them into the wild.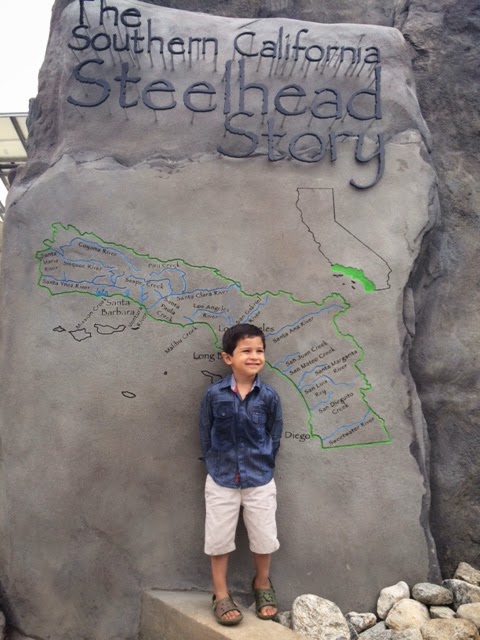 I loved learning how marine life has a positive role in our medical advances. A beautiful exhibit of the sponge and coral reefs teaches us about how their endurance in menacing environments has much promise for our advances in fighting cancer. Here's a fun fact – an animal that has lived for 20-million years is the horseshoe crab, whose blood is used for medical care.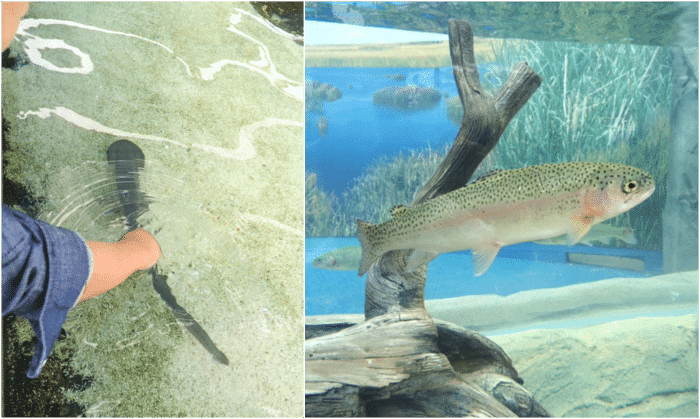 There are also new additions to existing exhibits. My kids' favorite is the Shark Lagoon, where they get a chance to touch sharks and rays, has a new bonnethead shark and cownose ray. A cool feature is the new 3-D microscope that gives you a chance to see plankton in live action. Make sure your SpongeBob fans don't confuse them for the evil Plankton of the cartoon. The Great Hall also has a new video that showcases exhibits from the Aquarium. The video is projected onto the walls and is a great way to take a break after all the activities.
We had a great time learning and experiencing these new exhibits for the Summer of Wonder. My four year old didn't want to leave and there was more than plenty to do in one day. As a mom of four under eight, the Aquarium is a fun place to visit where I don't have to spend my time saying, "Don't touch that," and for me that's golden. Summer of Wonder is already in full effect and goes through September 1st. With all these and more new activities, there's plenty to learn and do at the Aquarium of the Pacific.
Visit Aquarium of the Pacific
Cost: General Admission–$28.95 adult (12+), $25.95 senior (62+), $14.95 child (3-11), and free for children under age 3 and Aquarium members.
Hours: Open 9:00 a.m.–6:00 p.m. Every Day of the Year, Except Christmas Day and During the Grand Prix of Long Beach (April 17, 18, and 19, 2015).
Location: Aquarium of the Pacific, 100 Aquarium Way, Long Beach, CA 90802
Info/Tickets: 562-590-3100 or www.aquariumofpacific.org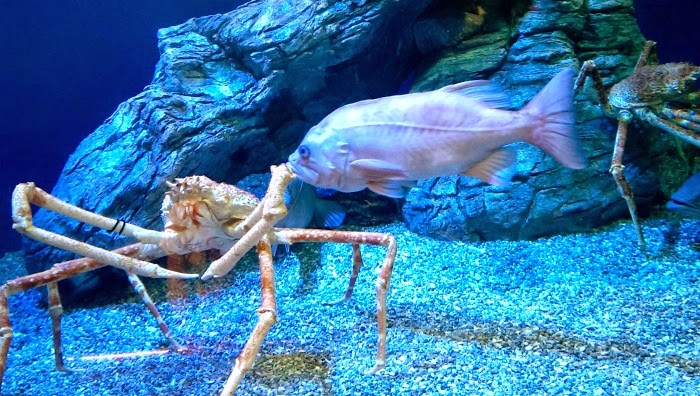 [disclaim]This is not a sponsored post. I received complimentary entrance into the aquarium to facilitate this post. All thoughts and ideas remain my own.[/disclaim]
Originally published on June 2, 2014. Last Updated on December 14, 2018 by Pattie Cordova