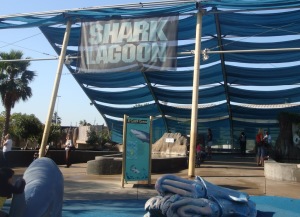 We had a superb morning yesterday. We got up early and headed up to Long Beach to take in a few hours of fun and education at the Aquarium of the Pacific with other Mamis and their kids. We've been there a total of two times before. The first time was my son's first birthday in 2008. We took most of our extended family over there for a fun-filled morning and then to lunch afterwards. This is where their group ticket discount really came in handy. The second time was this past March. My son was crazy about the touch pools like the ones outside in the Shark Lagoon (pictured above) as well as the water play area. This third time around, there wasn't much difference except that we discovered that two of their classrooms also have touch pools! He got up close and personal with starfishes, slippery slugs and prickly sea urchins.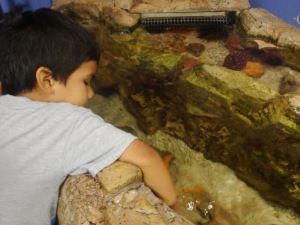 My 3.5 year old with his hand inside a touch pool in one of the classrooms
Our highlight of the day was visiting the new Ocean Science Center. It's this room with a HUGE sphere suspended from the ceiling. When the show starts, the lights go out and this wonderful presentation is projected on it. It's a five minute show so it's short enough to keep the kids' attention. I took a one-minute clip so you get the basic idea of it. It's really interesting to see it up close.
Originally published on August 25, 2011. Last Updated on January 10, 2019 by Pattie Cordova