We shop at Westminster Mall throughout the year, but never as much as the days leading up to the holidays and Black Friday. They have so many events going on throughout the month of November and December that we always try to plan ahead. This year's holiday events at Westminster Mall offers something for everyone… check them out!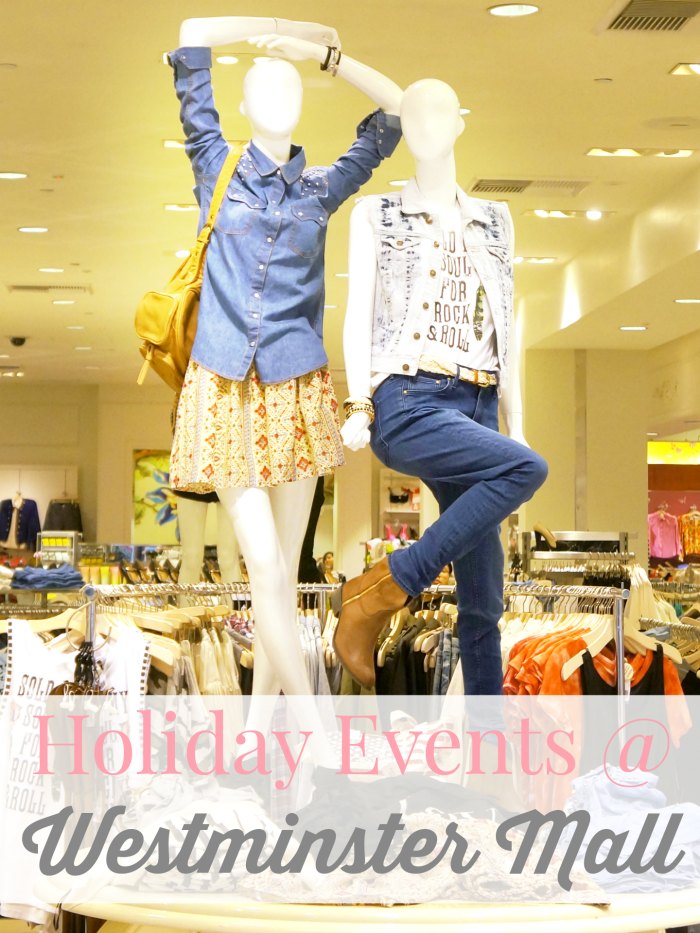 Santa Photo Experience
Eager children and their families can experience the joy and magic of the holiday season with a visit to the Simon Santa Photo Experience at Westminster Mall. Children can visit and be photographed with Santa every day until December 24 in his winter wonderland in Center Court. Visit http://www.simon.com/mall/westminster-mall/stores/santa-photo-experience-by-the-noerr-programs for a list of dates and times.
Save time, avoid the line with Santa by Appointment! Now you can reserve your magical moment with Santa online at http://simon.noerrsanta.com.
Caring Santa
Westminster Mall also provides children with special needs and their families with an opportunity to enjoy a carefully managed Santa photo experience through the Caring Santa program. Caring Santa will occur on Sunday, December 7, from 8:30 a.m. to 10:30 am. Guests can register in advance at simon.com/caringsanta starting November 3.
Pet Photo Nights
For local pet owners, the popular Pet Photo Nights with Santa will occur on Sunday, November 16 and Sunday, December 14 from 6 p.m. to 7 p.m. Pet Photo nights are hosted after regular mall closing and the set gets an extensive cleaning following the event to remove any potential risk to allergy sufferers.
Kidgits Holiday Celebration
Westminster Mall will be hosting their annual Kidgits Holiday Celebration on Saturday, December 6 from 10 a.m. to noon in Target Court. Kids can get festive with various crafts and activities including making their own ornament, writing a letter to Santa and decorating a gift box to celebrate The Boxtrolls, available this Holiday Season!
Amenities at Westminster Mall
During the holiday season, Westminster Mall will be offering several amenities including complimentary wheelchairs and strollers, complimentary Wi-Fi, Simon gift cards, a play area, and mobile charging stations. Westminster Mall will have two lounge areas for guests. The DirecTV Lounge, located near Macy's on the lower level, will have TV, Wi-Fi, desks, soft seating, and magazines. The lounge near Guest Services will be stocked with refreshments and magazines. A gift wrap station will be available near JCPenney on the lower level. Proceeds from the giftwrap station will benefit the Girl Scouts of Orange County.
Westminster Mall Instagram Takeover
If you're looking for me on Black Friday, you can find me at Westminster Mall. It's where I'll be doing all my shopping! Follow the Westminster Mall Instagram account as I takeover their account while I shop and photo-document the experience. It'll be awesome! and you can give me me shopping tips.
Visit Westminster Mall on Facebook at https://www.facebook.com/WestminsterMall on Twitter at https://twitter.com/ShopWestminster or on Instagram at http://instagram.com/shopwestminster.
[disclaim]I am a Simon Mall Correspondent. This post do not necessarily represent Simon Property Group's positions, strategies or opinions.[/disclaim]
Originally published on November 18, 2014. Last Updated on February 14, 2016 by Pattie Cordova