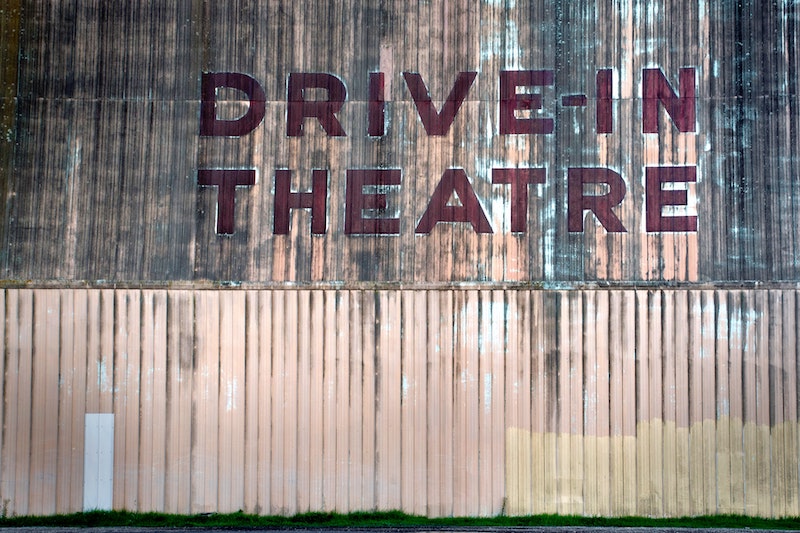 Travel
Drive-In Movies in Orange County for Summer 2020
Drive-In Movies in Orange County for Summer 2020
It's the year of Summer drive-in movies in Orange County – and we are here for it!
We've put together a growing list of places who are offering drive-in movies this Summer. If we missed one – please let us know! We'll continue updating our list as the season goes on.
And if you're looking for fun ways to keep your kids entertained through the Summer, check out our Summer Camp list where we share virtual camps! Stay safe!
List of Summer Drive-in Movies in Orange County
Orange County Great Park – Irvine
Space for this special event is limited, and guests must register in advance. The drive-in will be set up in parking lot 2 at the Great Park: Concert gates open at 4:30 p.m. and start at 5:30 p.m.; movie gates open at 6:45 p.m. and movies begin after sunset, approximately 8:15 p.m. Guests will be able to listen through amplified sound or tune in through their car radios via a special FM station for the events.
Summer Drive-In Series Schedule
Saturday, August 1: Southland Mega Groove concert (Rocking the Decades), with an intermission performance by Irvine High School Youth Team Akustikoff finalists Haley Tran & Nathan Nguyen
Saturday, August 8: The Secret Life of Pets 2 movie screening (Rated PG)
Saturday, August 15: Tijuana Dogs concert (Dance Party Rock), with an intermission performance by Irvine High School Youth Team Akustikoff winner Ana Carvalho
Saturday, August 22: Sonic the Hedgehog movie screening (Rated PG)
Saturday, August 29: Yachty by Nature concert (Groovy Soft Rock)
Due to limited space available, these events are open to Irvine residents only. Admission is free and advanced registration is required. Tickets will be available at yourirvine.org beginning July 1.
The Orange County Great Park is located at 8000 Great Park Blvd., in Irvine. For more information, visit cityofirvine.org/specialevents or call 949-724-6606.
Movies at the Hangar – Tustin Hanger
This year's summer movies have officially moved to the Tustin Hangar! The first ever drive-in movies will be starting Friday, July 24th. Pre-registration will open on Monday, July 20 at 9:00am, so call to get your spot. SPACES ARE VERY LIMITED!
www.tustinca.org/movies | (714) 573-3326
Summer Drive-In Movie Schedule
July 24th – Zootopia
July 31st – The Princess Bride
August 7 – Toy Story 4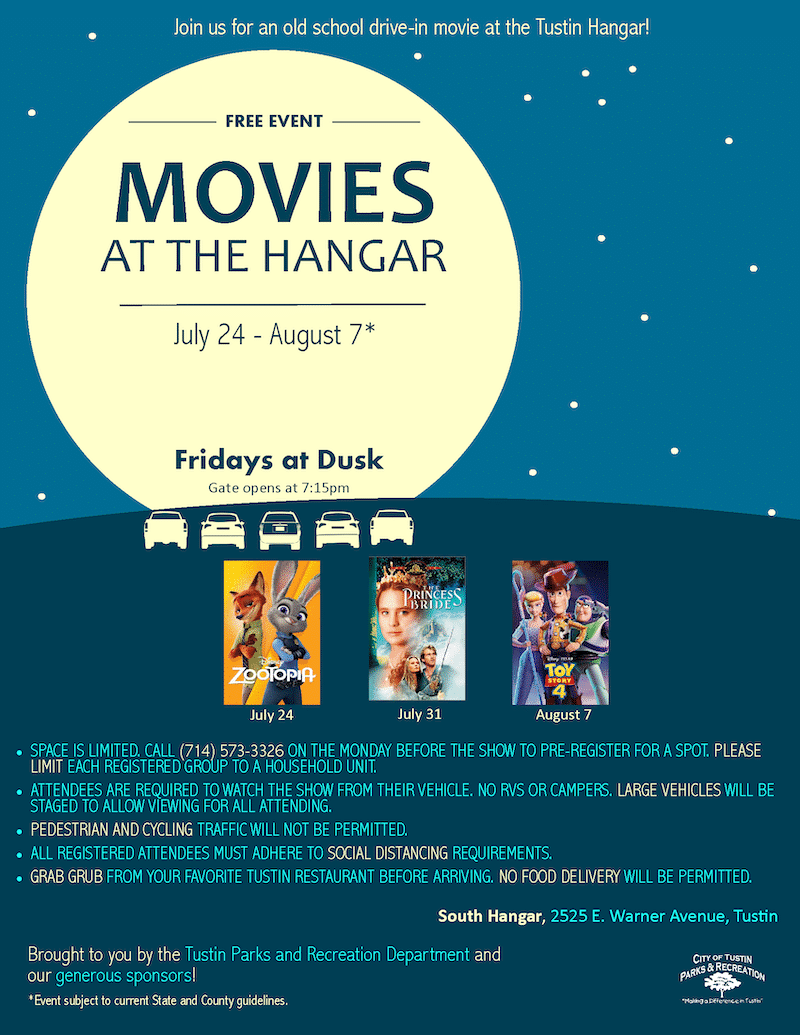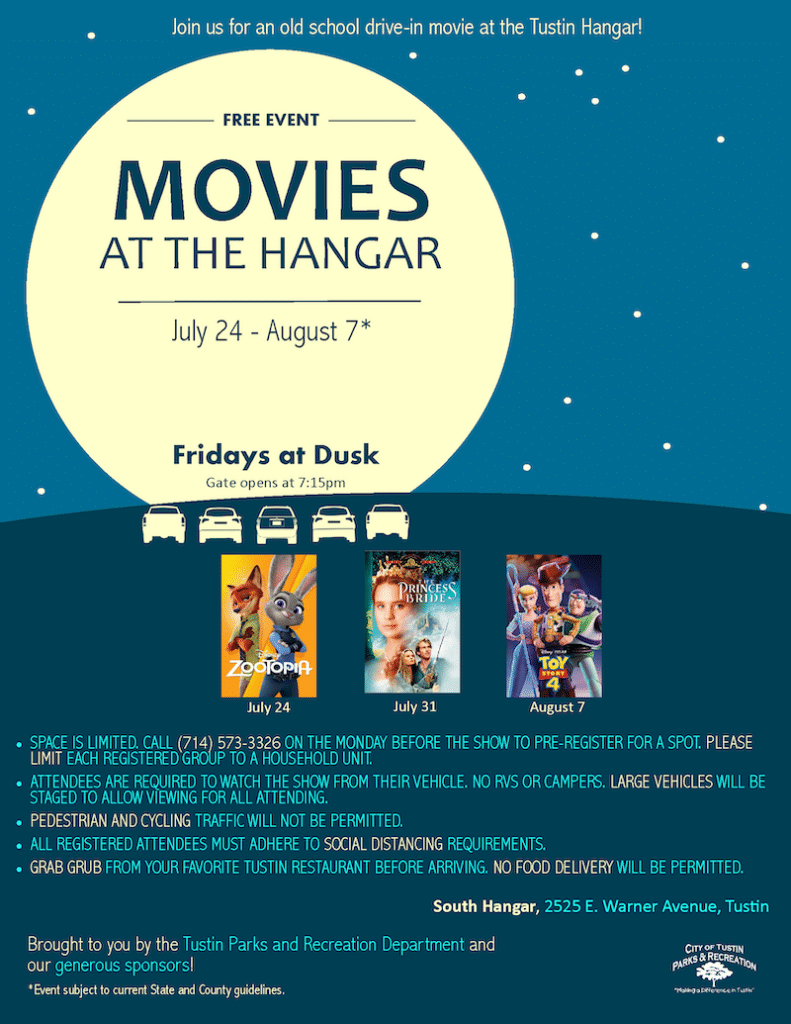 Zion Lutheran Church & School – Anaheim
The Frida Cinema' Summer 2020 Pop-Up Drive In series continues!
Tickets are $28.16 per car including service fee, regardless of number of people in your car, and will be available exclusively at this link until sold out!
Summer Drive-In Movie Schedule
July 8th – Grease
July 9th – Labyrinth
Zion Lutheran Church & School is located at 222 N. East Street, Anaheim, CA 92805. Click here for map & directions. Gates open at 6:30pm, and Film begins at 8:30pm!
OC Parks Drive-In Movie Nights
In an effort to bring this event to as many moviegoers as possible, the same movie will be shown for three consecutive nights.Ticketing information, can be found by clicking on the corresponding date on our events calendar, www.ocparks.com/events.
July 17th – Jurassic Park
July 18th – Jurassic Park
July 19th – Jurassic Park
Mile Square Regional Park is located at 16801 Euclid St., Fountain Valley, CA, 92708. Enter on Euclid St. for best route to event site.
Tickets are $10 per vehicle and must be purchased online for the appropriate date.
Event site opens at 7 p.m. Movie begins after the sun has set and it is dark enough to see the screen, around 8:30 p.m.
Worth the drive
Starlite Movies – GOONIES
Each ticket purchased is valid for ONE car and all passengers inside. The number of passengers just must not exceed the number of safety belts /seats in your vehicle.
Silverlakes Sports Complex, 5555 Hamner Avenue, Norco, CA 92880
---
Drive In Concert at The OC Fair and Event Center – Costa Mesa
The Fab Four returns for their annual summer shows in a brand new venue! All you need is 1 ticket per vehicle and each vehicle can have up to 4 people.
Summer Drive-In Concert Schedule
July 31st: 7:00 & 9:00 PM
August 2st: 7:00 & 9:00 PM
Please check the dimensions of your vehicle in order to purchase a ticket in the appropriate zone for your vehicle size.
Visit www.autosonicconcerts.com for ALL DETAILS, PROTOCOLS, ENTRANCE & PLANNING.
VEHICLES smaller than 7′ wide or 5'6″ tall or 17′ long are welcome to purchase tickets in any zone.
OVERSIZED VEHICLE with any dimension over 7′ wide or 5'6″ tall or 17′ long MUST purchase tickets in the OVERSIZED PREMIUM or OVERSIZED BACK ROW zone.
Drive In Concert at Grove of Anaheim – Anaheim
The Orange County by way of South Pacific four-piece band, Common Kings will perform two shows at City National Grove of Anaheim's Drive-In OC.
July 17th – 7:00 pm
July 18th- 7:00 pm
---
Drive-in Movie Theaters near Orange County
Pacific Theaters Vineland Drive-In
443 N. Vineland Ave, City of Industry, CA
Van Buren Drive-In Theatre and Swap Meet
3035 Van Buren Blvd, Riverside, CA 92503
10798 Ramona Ave, Montclair, CA 91763
THANKS FOR READING! ❤ SAY HELLO TO US ON FACEBOOK. WE'RE @LIVINGMIVIDALOCA