It's always nice to add a must-see destination because you saw it featured in a film. That's kind of what happened with our family. We kept seeing family movies filmed in NYC at home over and over again until we decided to book a trip to New York City and let the kids see it for themselves. When we return we'll make sure to watch our favorite movies filmed in NYC… just to relive the fun.
Movies Filmed in NYC
Empire State Building
Remember the classic, King Kong, and its many remakes? Kids and parents alike know what's going to happen to Kong once he climbs to the top of the Empire State Building with Ann … yet we intently stare at the screen and watch him try to fight off the Navy planes to no avail.
Take two elevator trips up to the top of the Empire State Building and get closer to the action where Kong was hanging on before he fell. The inside of the building is still very much as it appeared in the films. Best time to visit? After midnight. The lines will be short or inexistent. Plus, you'll get a great view of New York City at night.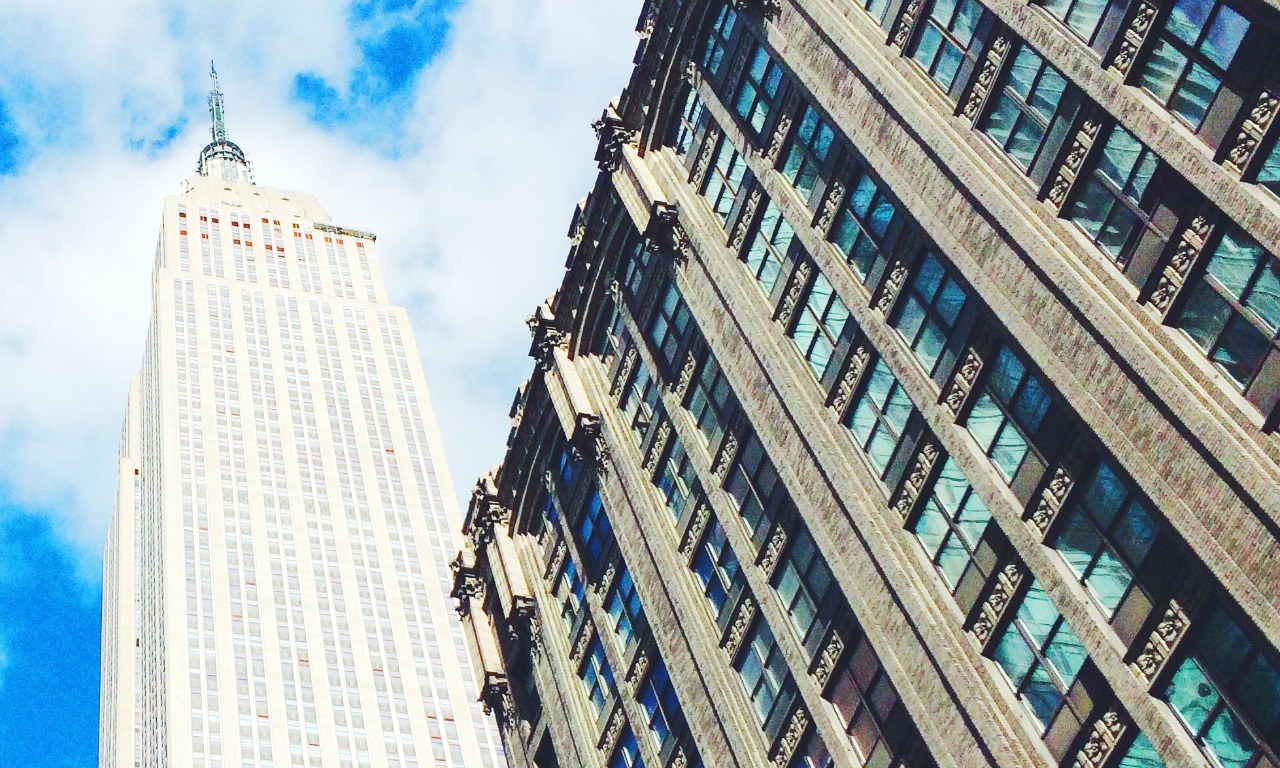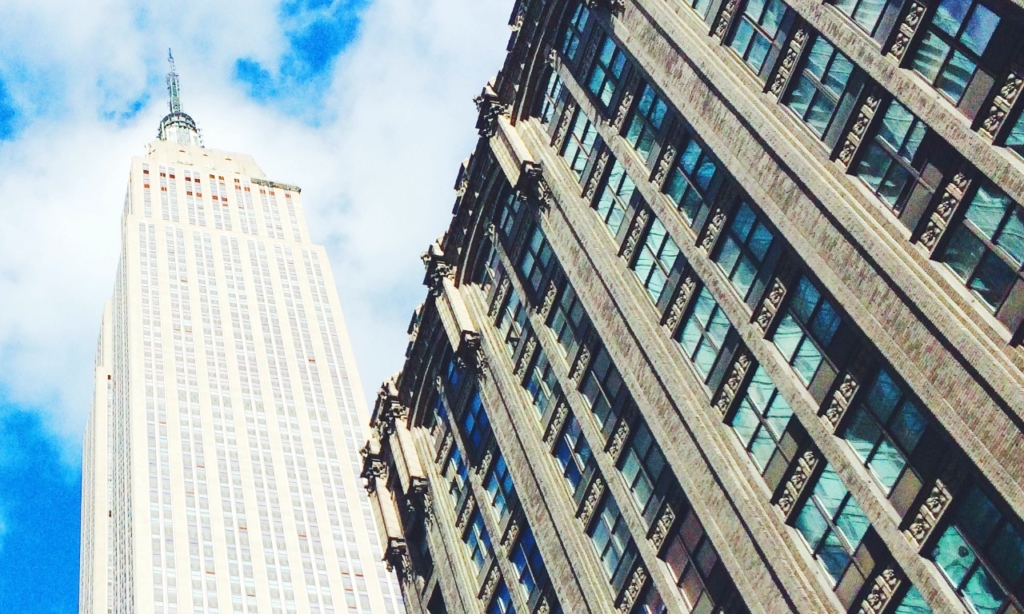 New York City Library
My four-year-old loves Ghostbusters. He can recall the scene in the first movie where the popular parapsychologists are led to the New York Public Library to investigate paranormal activity. It was a great way to kick off the saga, and now with the new Ghostbusters reboot, it might not be such a bad idea to stop in and check out the popular location.
Macy's
Miracle on 34th Street is a holiday favorite featuring a little girl who doesn't quite believe in Santa, and a mother who works tirelessly at Macy's. Macy's, located on 34th street on Herald Square, is a must-visit, not only for its history, but also for its store events and first-class selection of top fashion brands. And if you're visiting in November, don't forget that they also host the popular Macy's Thanksgiving Day Parade.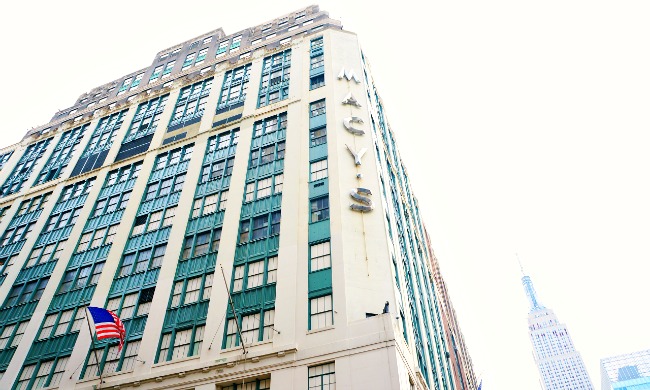 Times Square
Frank Sinatra and Marlon Brando strolled throughout New York City in Guys and Dolls in between song and dance. We see them struggle and then finally come to terms with marriage in the final scene during the double wedding that takes place in Times Square.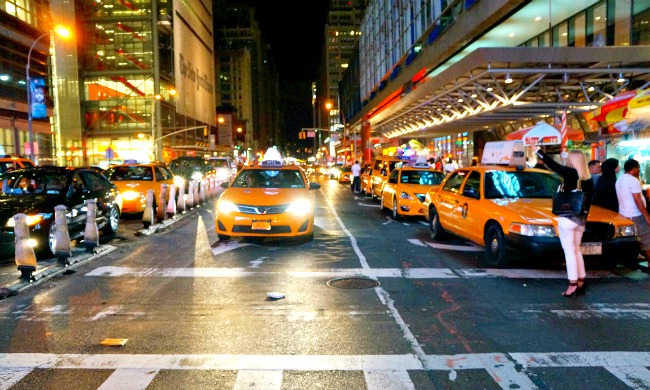 Though Times Square appears in numerous films, I'm particularly fond of it in Guys and Dolls because it showcases its busy intersection as romantic and amorous.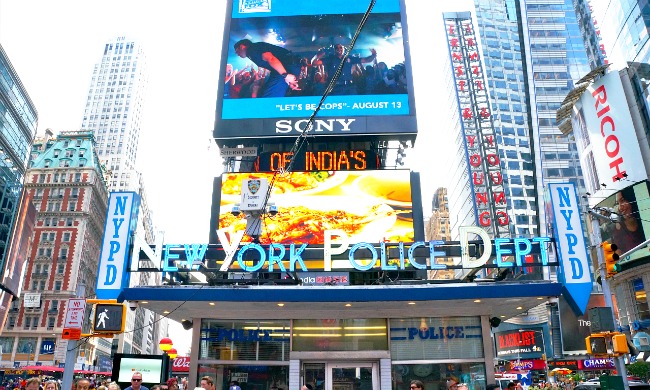 Tiffany & Co
Who can forget the beginning sequence of Breakfast at Tiffany's when Holly steps out of the cab in last night's Givenchy dress with a cup of coffee and pastry in hand? She showcases New York City in a different light – before the hustle and bustle of the day. When one can casually stroll through the streets of Manhattan and take in the beauty of the buildings, the sounds of the city coming alive, and people filling the streets. As it so happens, when this famous shot was filmed, the streets weren't empty on purpose. There just happened to be an unexpected letup of traffic.
Metropolitan Museum of Art
One of my favorite books (later created into a film), From the Mixed-Up Files of Mrs. Basil E. Frankweiler, takes place in the Metropolitan Museum of Art.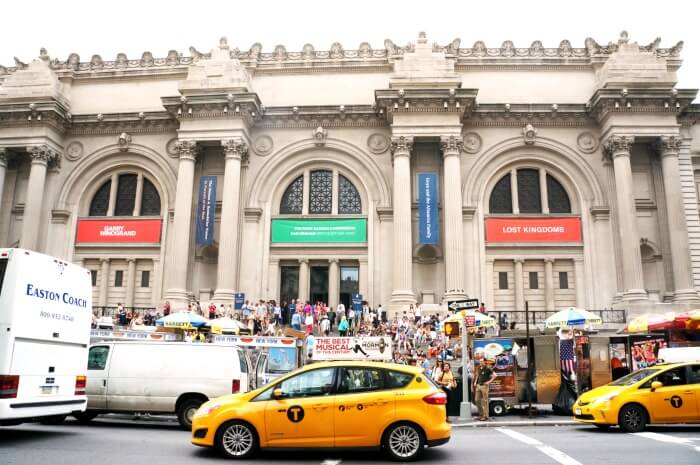 In fact, this very book brought The MET to the top of my must-see list because I found it completely fascinating that kids ran away to live in a museum.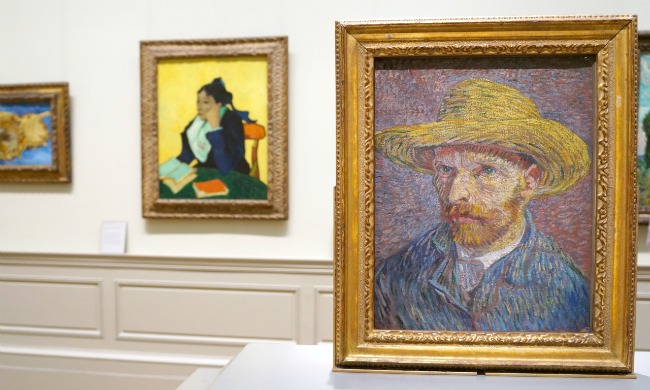 This vast museum is located near Central Park, though if you're visiting with children, you might want to prepare before stepping inside. I would suggest you visit the mummies and artifacts from Egypt, along with stops in halls featuring popular paintings including those by Van Gogh and Picasso. Kids will love to see their history lessons come alive as they see some of these artifacts up close and personal.
Subway
I grew up watching the Teenage Mutant Ninja Turtles franchise, and many remakes and cartoons later, my kids have also become fans of these heroes. So it won't come as a surprise to learn that the Teenage Mutant Ninja Turtles were just named NYC's Official Family Ambassadors, especially with their new film out in theaters.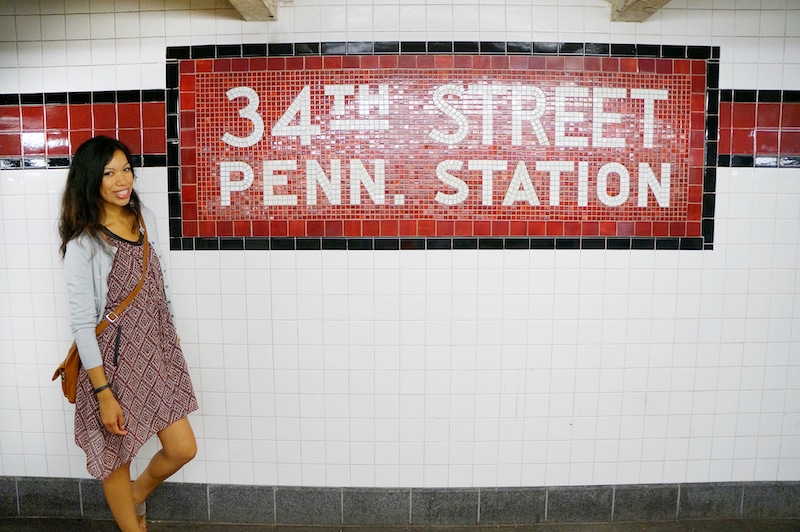 One of the most popular settings in their films and cartoons is their home, the sewer. But since you don't want to take your family there, take them to another underground location – the subway.
Go up and down the island of Manhattan on your daily travels and grab a slice of pizza at any stop. You'll find that the dollar slice pizza is the perfect treat and homage to the ninja turtles.
Central Park
Enchanted, a fairy tale set in modern-day New York City, was largely filmed in Central Park. The different settings in the park gives you an idea of just how large the park really is, and how much you can actually do on your visit.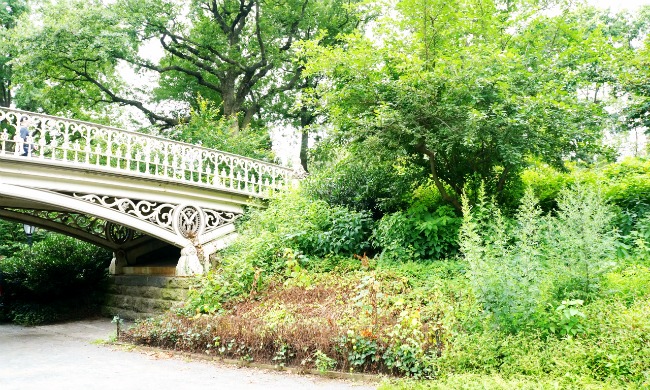 Think of your visit like a walk in the park with a lot of twists and turns thrown in. You might find yourself on a boat going under Bow Bridge, or running across Reservoir Bridge. Maybe a stop at the Central Park Zoo or the Conservatory Garden?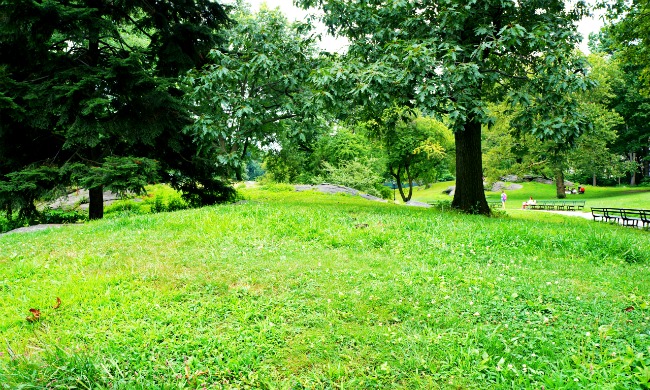 Whatever the case, set aside plenty of time to get distracted and go off course while you're in this vast space.
Statue of Liberty
Ellis Island and the Statue of Liberty have all been featured numerous times in films, but one of my personal family movie favorites is X-Men. The kids and I get a kick out of watching superheroes fight for the good of the people as they climb up the Statue of Liberty.
If visiting Lady Liberty isn't feasible on your trip, know that you can still see the Statue of Liberty from Battery in Lower Manhattan. Get there by taking the South Ferry or Bowling Green. Likewise, you can also hop on the Staten Island Ferry, it will take you right past the statue for free.
Grand Central Station
Another family movie favorite, Men in Black, manages to be both quirky and funny while giving us a tour of New York City as we follow J and K around the big apple.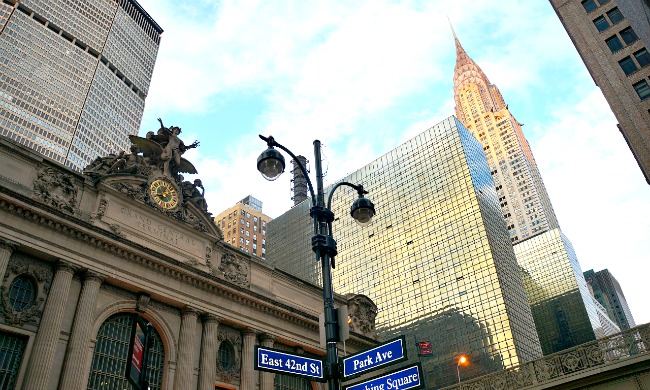 At one point in the film, Agent J, played by Will Smith, is led to Grand Central Station where he uses a key to open up a locker filled with tiny aliens. While this may not happen on your trip, I do suggest you step in to take a look at the grandiose terminal and treat yourself and the kids to a Junior's cheesecake.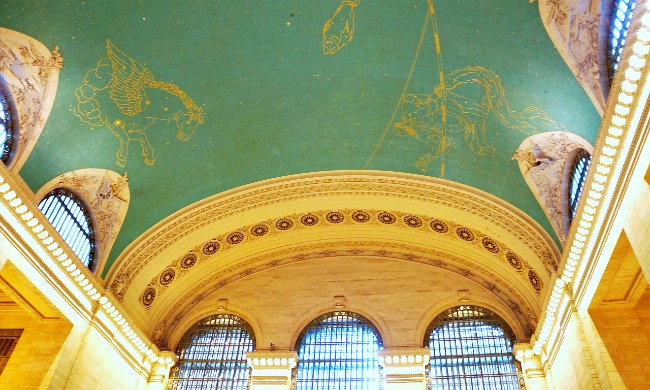 No doubt that at least one of your favorite family movies is set in New York City. It makes the perfect setting for any type of film.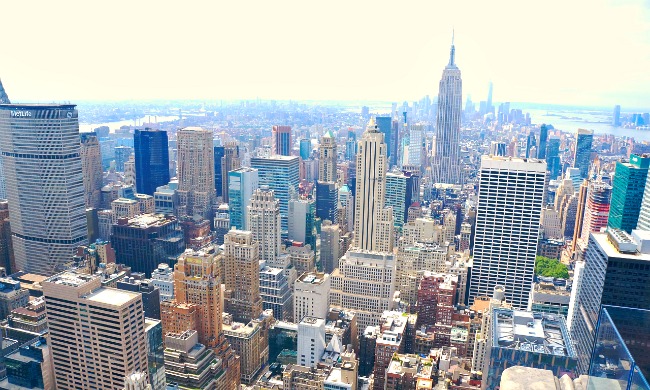 If you plan on visiting soon to check out some of these movies filmed in NYC locations, I highly suggest you pick up a CityPass for each member of the family. Each CityPass booklet has admission tickets to a few of the hottest attractions and museums in the city. It will make it easier on you and your family as you go about discovering the city.
And if you're looking for a delicious place to eat, try EAT on Madison Ave. It's so delicious. A bit pricey – but so good.
Originally published on July 3, 2020. Last Updated on March 15, 2021 by Pattie Cordova