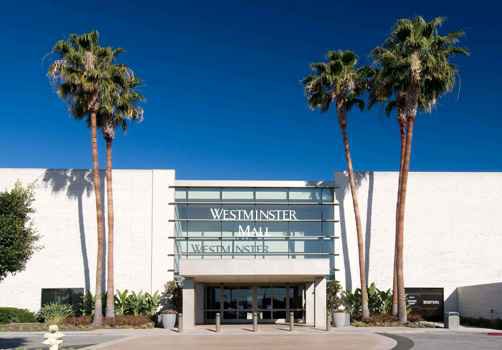 We took our kids with us to our annual Black Friday shopping trip. This time, we headed into the Westminster Mall because 1) it has tons of shops that we frequent, 2) it has a Target which is a must-visit shop on Black Friday and 3) we had valet parking along with complimentary entrance into the Rejuvenation Station.
It was my five month old son's first Black Friday and he took it like a champ. We walked into the mall at around 7 a.m. Knowing that we would be walking around for hours, we took our stroller in with us and it turned out to be a double-blessing because not only was he able to take a nap while we shopped, it also turned out to be the easiest way to tote around our goodies.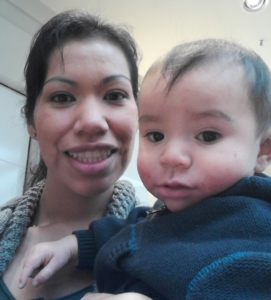 My five month old son and I – waiting outside of The Children's Place
Our first stop was Guest Services. My son showed the man working the counter his Kidgits card and spun for his prize. Since his birthday is next week, he also received his annual Kidgits birthday gift. This year he received a reusable Kidgits bag, some sticky noodle toy, a jump rope and bubbles. This is why I cannot emphasize enough why their $5 Kidgits membership is a MUST-HAVE if you shop at any Simon mall. It was at guest services where I also pulled up the Simon Mall app on my phone. Having their directory at our fingertips was a lifesaver (and timesaver)!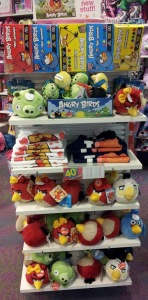 Justice's Angry Birds display
We headed into our Black Friday shopping spree with only one goal in mind – purchase gifts for ourselves. Yes, it does sound a little selfish but I am of the frugal kind so I shop for Christmas gifts year round. We had but a few people still on our Christmas shopping list so we decided to take this opportunity and spoil ourselves. As it turned out, we used a good portion of our budget on Angry Birds merchandise which will come in handy this Saturday when we host my son's Angry Birds birthday party.
Justice was offering 40% off their entire store. We purchased Angry Birds gummies to be used as prizes. Having two boys, this was my first time in this store. I was personally in love with all the pink and the girls in there were fun to talk too.
We also stopped by Amy's Hallmark where they had Angry Birds plushies on sale – buy one, get one 50% off. What luck! We let our son choose two out and just like that, our Angry Birds plushies collection was started.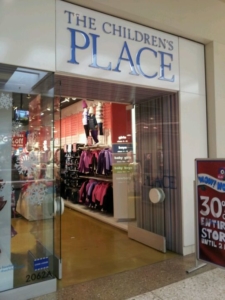 Like last year, we had The Children's Place on our list to visit because they offer 30% off their entire store – including clearance. My four year old is in desperate need of some pants. He has outgrown all of his jeans and I love buying from The Children's Place. Their adjustable waist is awesome and their pants always seem to run longer than other brands. Having even one extra inch means that he can wear them longer. So anyway, we walked out of there with some pants, a Darth Vader shirt and a pair of shoes. My favorite buy? The shoes. They were on clearance and so I ended up paying only $6 for them! What a score.
It was around this time that we all started getting kinda cranky. It was time for the Rejuvenation Station. We strapped on our VIP bracelets and settled into some comfy chairs with our Coke (for me), coffee (for the Hubster) and water (for our son). We snacked on donuts, bananas and yogurt bites. It's AMAZING what a little food in the belly does. I nursed the little one and minutes later, we were pumped up and ready to give the mall another go.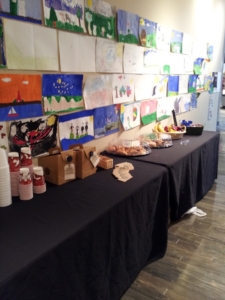 Rejuvenation Station
We shopped a few other stores and ended with Target. We were expecting a madhouse, but it was pretty tame. We picked up a few necessities, as well as a pair of throw pillows ($10) and a rechargeable Oral-B toothbrush ($30 after a $10 coupon and Black Friday deal). The toothbrush was on the Hubster's wish list and originally priced at $79. Another good score.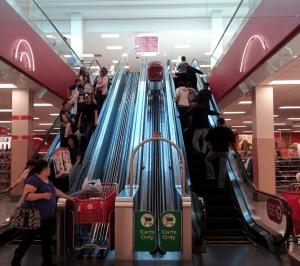 An escalator for the carts at Target
We had a fabulous Black Friday. The fact that so many stores opened late the day before meant that the crowd had thinned out by the time we headed out in the morning. It was stress-free experience and shopping at the Westminster Mall made it convenient. We parked the car once and shopped at tons of stores.
I received a gift card from Westminster Mall, valet parking and access to the Rejuvenation Station to facilitate my back-to-school shopping. This post do not necessarily represent Simon Property Group's positions, strategies or opinions.
Originally published on November 27, 2011. Last Updated on August 8, 2018 by Pattie Cordova