If you have zero Photoshop skills (like I do), then you'll want to jump all over this awesome new site – iCaughtSanta.com. Easy to use and if your kids are doubting the existence of Santa (like my 4 year old is), then this is all the proof they'll need.
How to use:
Take a picture of the background you want (the fireplace perhaps?) and upload to iCaughtSanta.com.
Choose your Santa, and adjust Santa's size and/or brightness. Background can also be adjusted if needed.
Add border (optional)
Click "Process Image" and your digital creation will be created! Download, email or print your photo, automatically, for quick pickup at a store near you. Plus you can share it instantly to more than 30 popular web sites.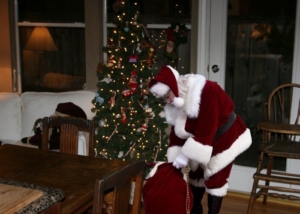 Sample picture using iCaughtSanta.com
Santa poses available: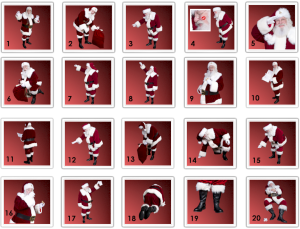 Cost
A single photo is only $9.99, or you can upgrade to a bundle (4 photos) for just $10.00 more – and you can redeem the photos on any CatchACharacter™ site. Gift Cards and eGift Certificates are $9.99 for the first and $4.99 for each additional gift.
About iCaughtSanta.com
Imagine the look of wonder and surprise when a child receives a photo of Santa caught in the act in his or her very own home. iCaughtSanta.com is a unique website that helps visitors create those memorable keepsake photos.
In three simple steps anyone can upload a holiday photo, add Santa Claus and print it as proof… or share it via Facebook and Twitter. Last-minute shoppers can purchase Gift Cards and eGift Certificates for loved ones with children, making iCaughtSanta.com a great gift idea even if you don't have kids yourself.
This is not a paid post. I received a coupon code to facilitate my review. My thoughts and opinions were not compromised in any way.
Originally published on December 21, 2011. Last Updated on July 1, 2018 by Pattie Cordova