Holidays
Angry Birds Birthday Party decorations
We had such a great time at the kid's Angry Birds birthday party! And while it was a lot of work, it was all worth it because I know that it's one that will go down in the books with two major thumbs up from him.
Angry Birds Birthday Party Decorations
My favorite part of the party was the Angry Birds birthday banner. I made it using my Cricut (though it could easily be done without it). I started by installing the Angry Birds font found here. Then I printed out the letters, glued them to ovals I cut and then strung them onto yarn. The huge Angry Birds on the end are stickers that I glued to black card stock.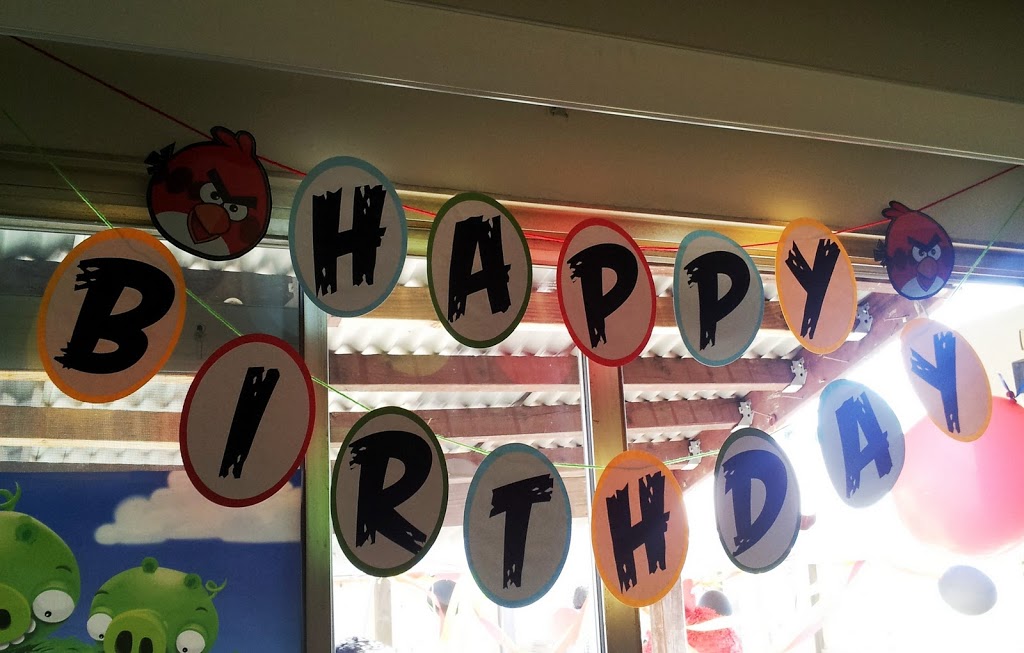 Seeing as how there are ZERO Angry Birds party supplies, I went out and made my own by purchasing solid-colored cups (at the 99 cent store) and adding Angry Birds stickers I purchased at the swap meet ($1 for 6 sheets). Easy-peasy.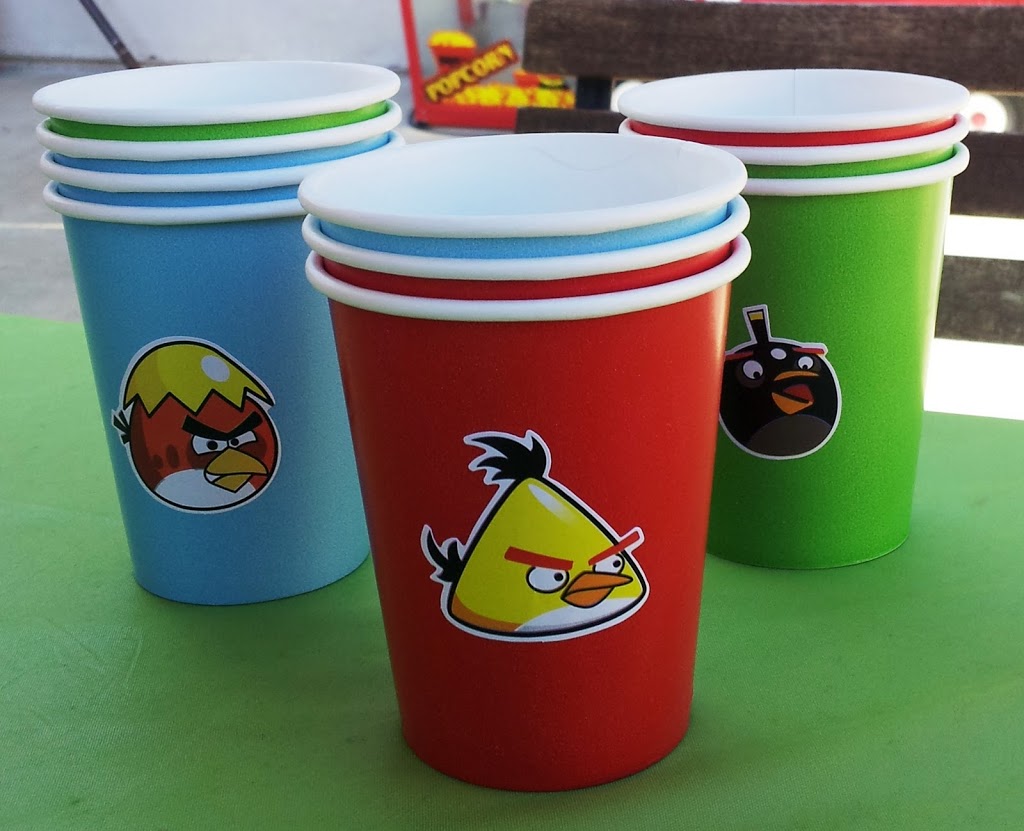 I would have gone a little crazier decorating outside but it ended up being uber-windy (darn the Santa Ana winds)! The decorations that were up I ended up tearing down before the party ended because they were getting in everybody's faces.
I also added Angry Birds stickers to the solid-colored tablecloths.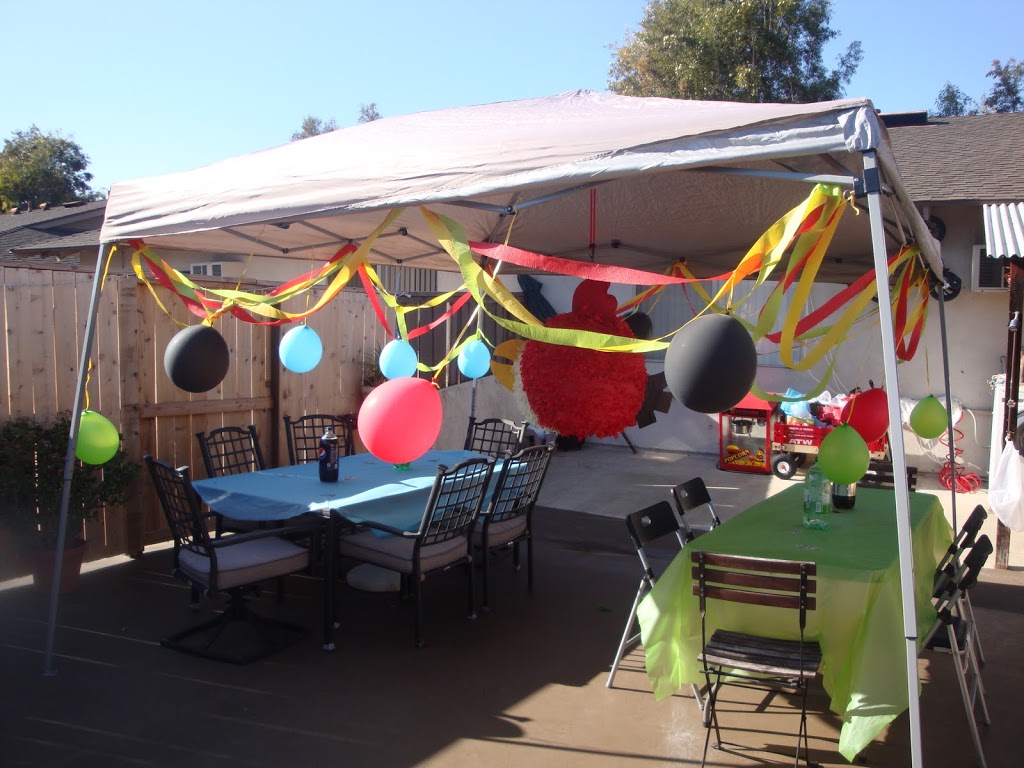 Angry Birds Birthday Party Games
You can't have a party without games! We had three in which the prizes were Angry Birds gummies (purchased at Justice for a little over $3 each).
First up was "Hot Angry Birds" – played like hot potato only to the Angry Birds tune and with the red Angry Bird instead.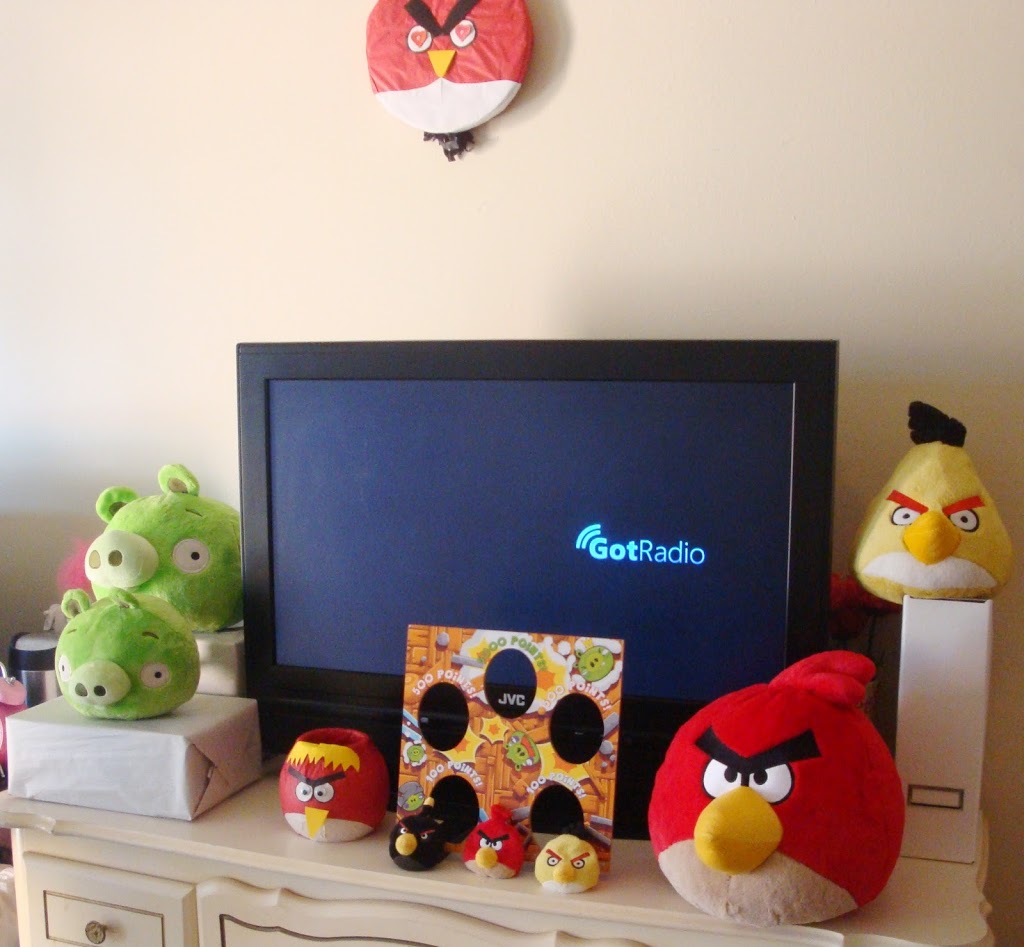 Next was the Angry Birds Toss Game. This one was fun because it also got the adults involved. We set it up at a table and then had the kids toss the small Angry Birds and see who got the highest score.
Lastly, we played Angry Birds via the Roku 2 on our television. It plays similar to playing on a Wii so it was easy enough for both kids and adults to play. Everyone took turns and the highest score won. I highly recommend getting the Roku 2… not just to play Angry Birds, but because it can save you tons on your cable bill because you can stream television shows, novelas, movies and music.
Read all four parts in the Angry Birds Birthday Party series
Food: Livingmividaloca.com/2012/01/angry-birds-birthday-party-for-our-four
Goody bags and donut tower: Livingmividaloca.com/2012/01/angry-birds-4th-birthday-party-part-2
Angry Birds Piñata: Livingmividaloca.com/2012/01/angry-birds-4th-birthday-party-part-3
Decorations and Games: Livingmividaloca.com/2012/01/angry-birds-4th-birthday-party-part-4
Originally published on January 17, 2012. Last Updated on March 25, 2016 by Pattie Cordova