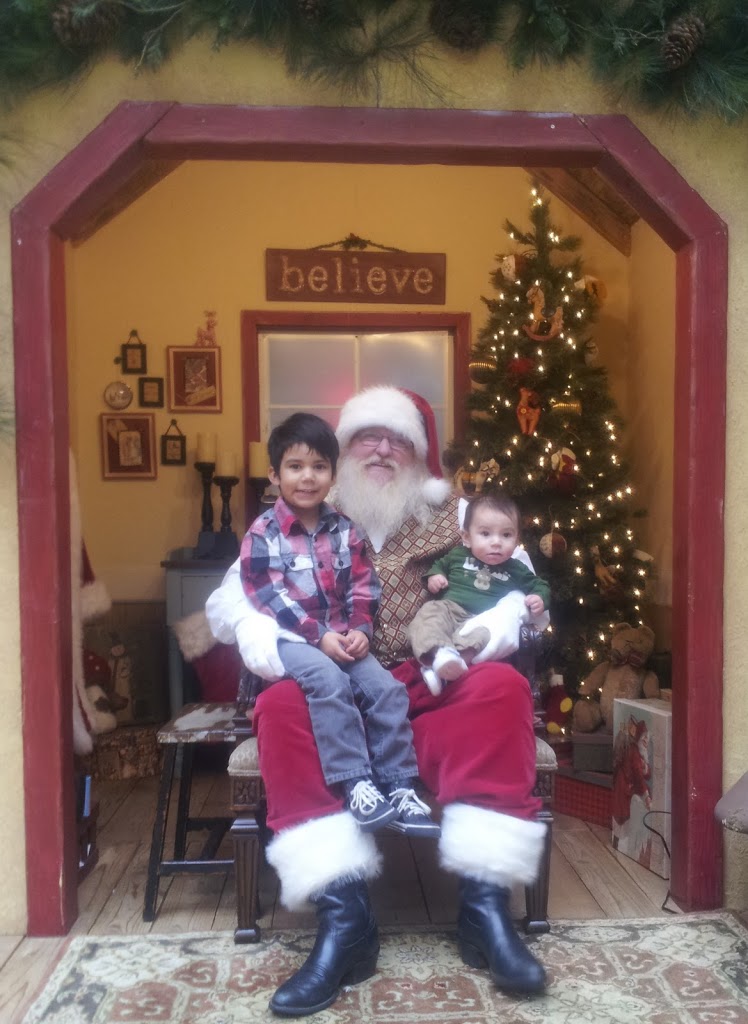 This was our first time visiting Santa Claus at Westminster Mall. I figured my son was old enough now to truly get into Santa and this seemed like such a classic thing to do. I myself never visited Santa when I was little so I missed out on all these great experiences. Anyhow, not having done this before, I was expecting huge lines, crying and screaming kids and most unfortunately, a Santa who didn't look like Santa. Boy was I surprised at our experience!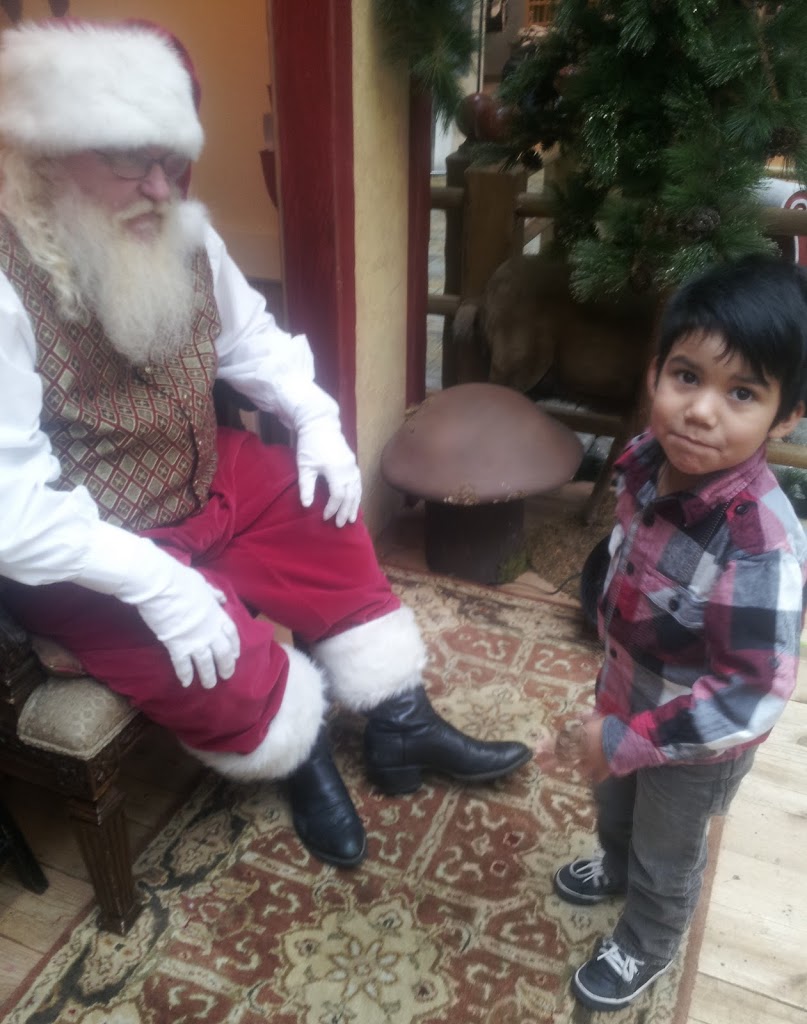 We walked up to Santa's cottage in front of Macy's around 11:30 and there was no line. We walked up to Santa's cottage and my four year old got a chance to talk to Santa and tell him what he wants for Christmas – a Fisher-Price Batman GeoTrax. Very specific, right? This Santa was very authentic looking – including a long white beard and long white hair. And to tell you the truth, it didn't look like he had to work too much on the stuffing. He looked GREAT!
His helpers were dressed in red shirts and black pants so it's easy to find them if you need any help. I should also let you know that you don't need to purchase pictures in order to visit Santa and every kid who chats with him will get a small candy cane.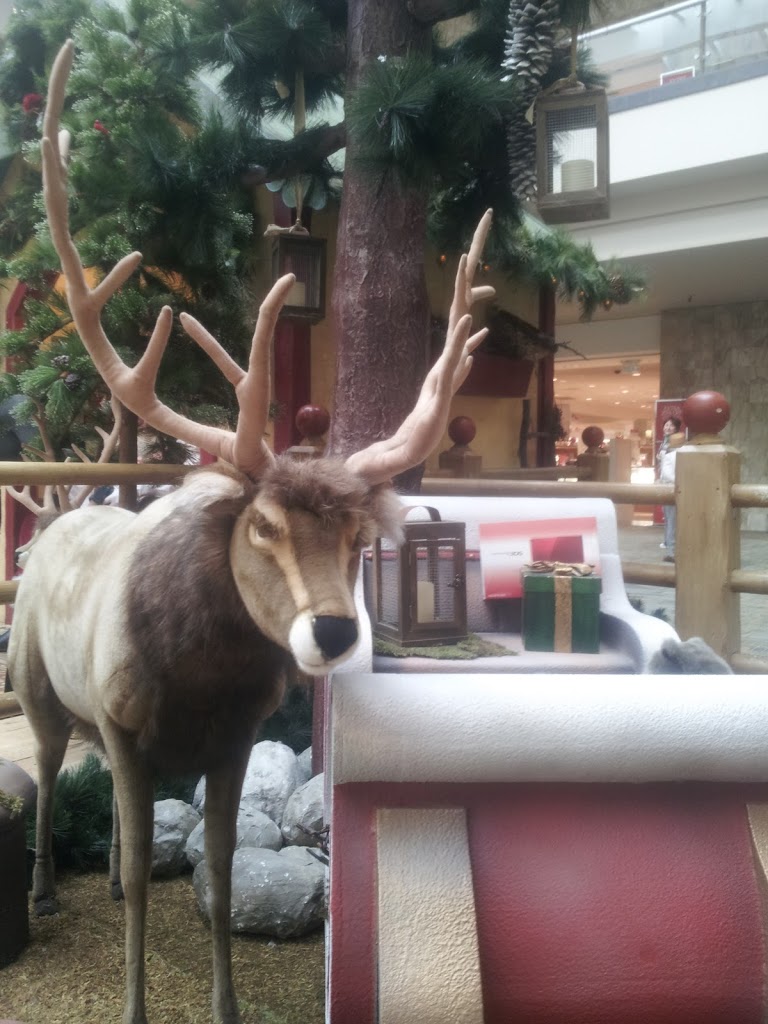 The photographer took about ten pictures until we finally got one where both the kids were smiling, no one was blinking and looked very traditional. The photographer really worked with the kids to get a good picture and Santa was picture perfect the entire time. Also, because we purchased pictures I also got a chance to take a few with my camera phone. The nice part was that I got the chance to take the pictures with my phone before the photographer started taking his. This eliminated the kids being confused as to where to look.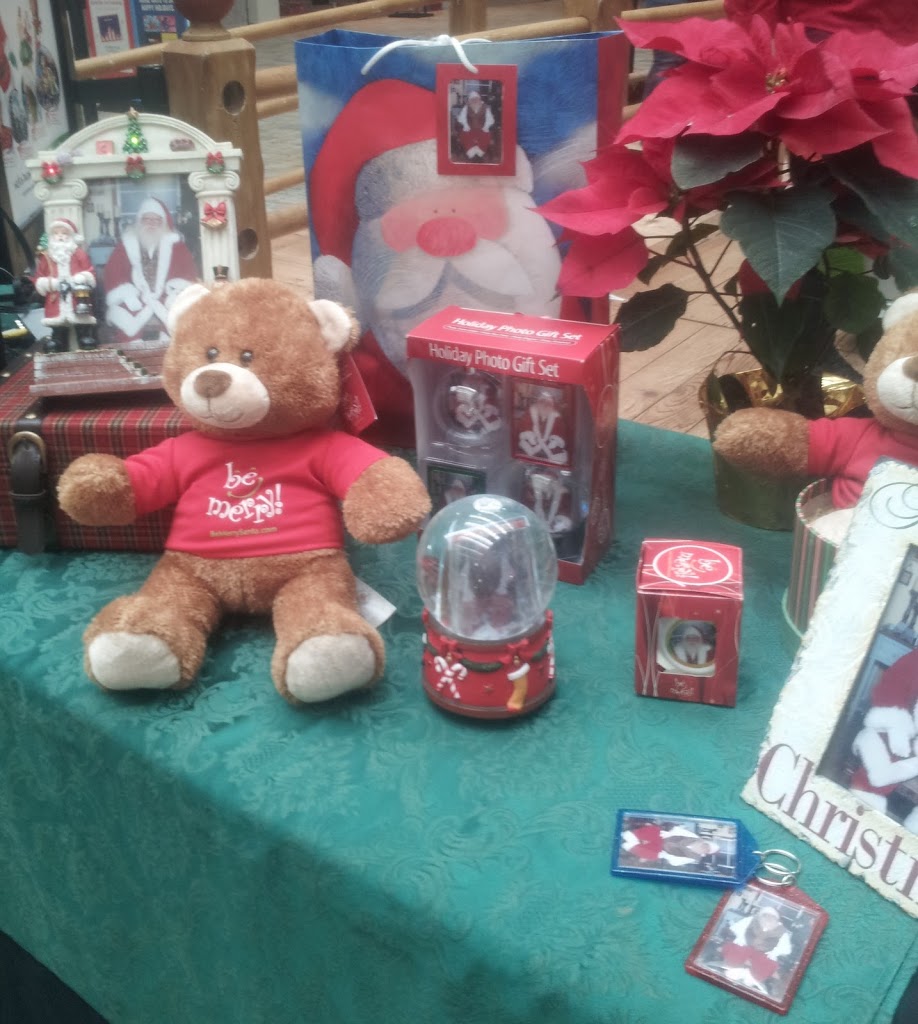 We received our pictures super quick. Our package was composed of four wallets and one larger picture (a 4×6, I think) and it came out to $26.93 after tax. There was a nice display (see above) at the front by the cash register with other goodies that you could purchase to enhance your portraits.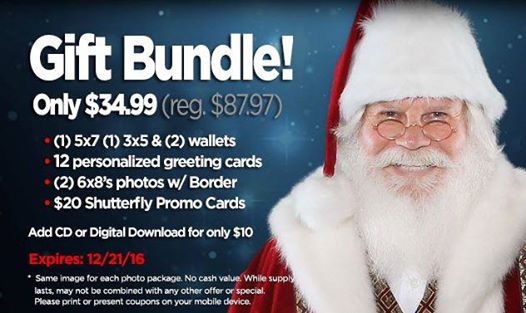 We had a great first experience visiting Santa. We loved the attention that we received, how accommodating the staff was and how great Santa looked. We'll be back next year to take pictures again. Also, can I also just say that I much prefer the traditional Santa as opposed to "surfer" Santa? You know which one I'm talking about, right? The Santa dressed in board shorts and has a surfboard with him. So not traditional and so not my style.
If you're interested in visiting Santa this year, I highly recommend visiting him at the Westminster Mall.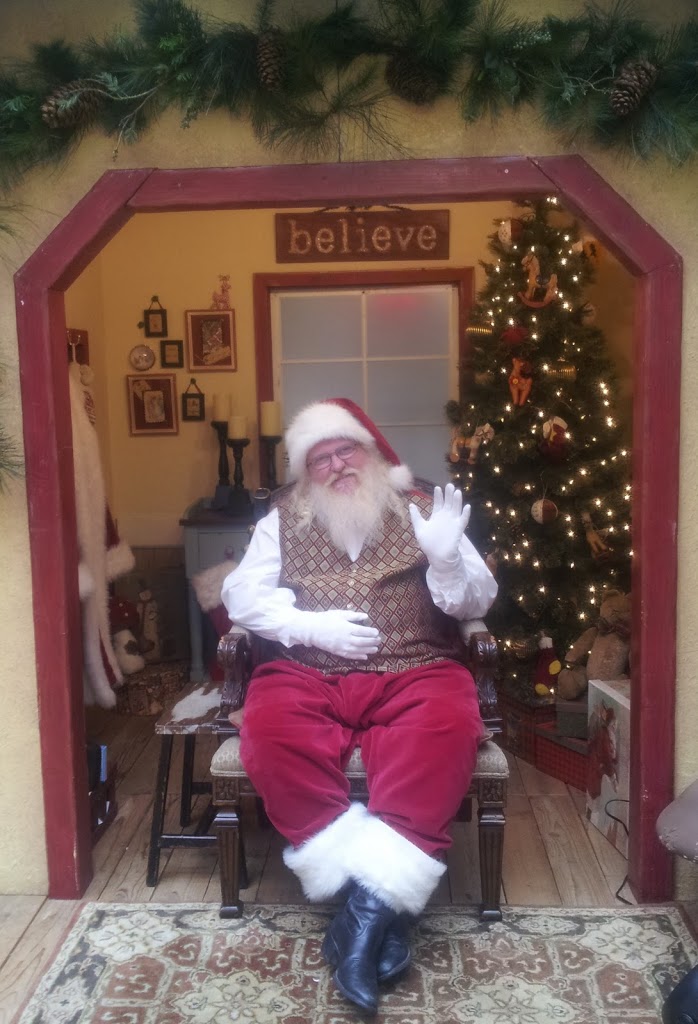 Santa Hours 2018
Santa's making his way to Westminster Mall soon and he'll be welcomed with a a parade, a celebration, and a whole lot of fun on Saturday, November 17 at 10:00am. Come to the TGI Friday's Parking Lot for a fun festive party for the whole fam.
Santa will be in the mall from November 17 until December 24 for photos in Macy's Court, Lower Level.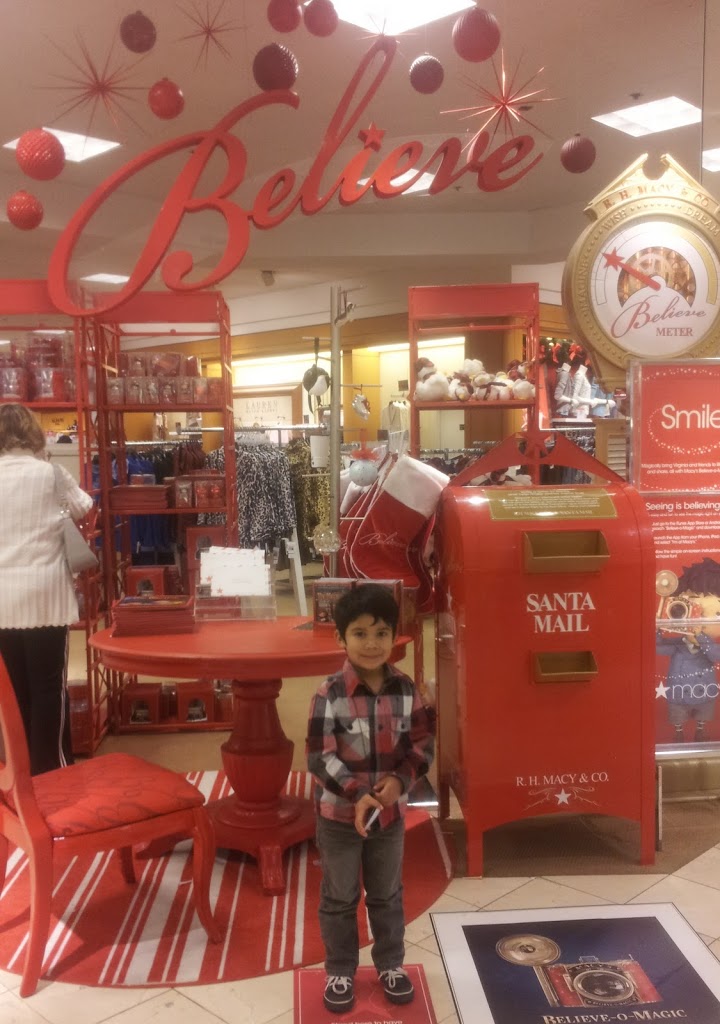 While we were there, we also stopped by Macy's to write to Santa and ensure that he knew that our son had been a good boy and that he was crossing his fingers for the new Geotrax set. There were free postcards available at the red desk with the Santa mail box conveniently located right next to it. So easy-peasy to do. I hope Macy's does this again next year.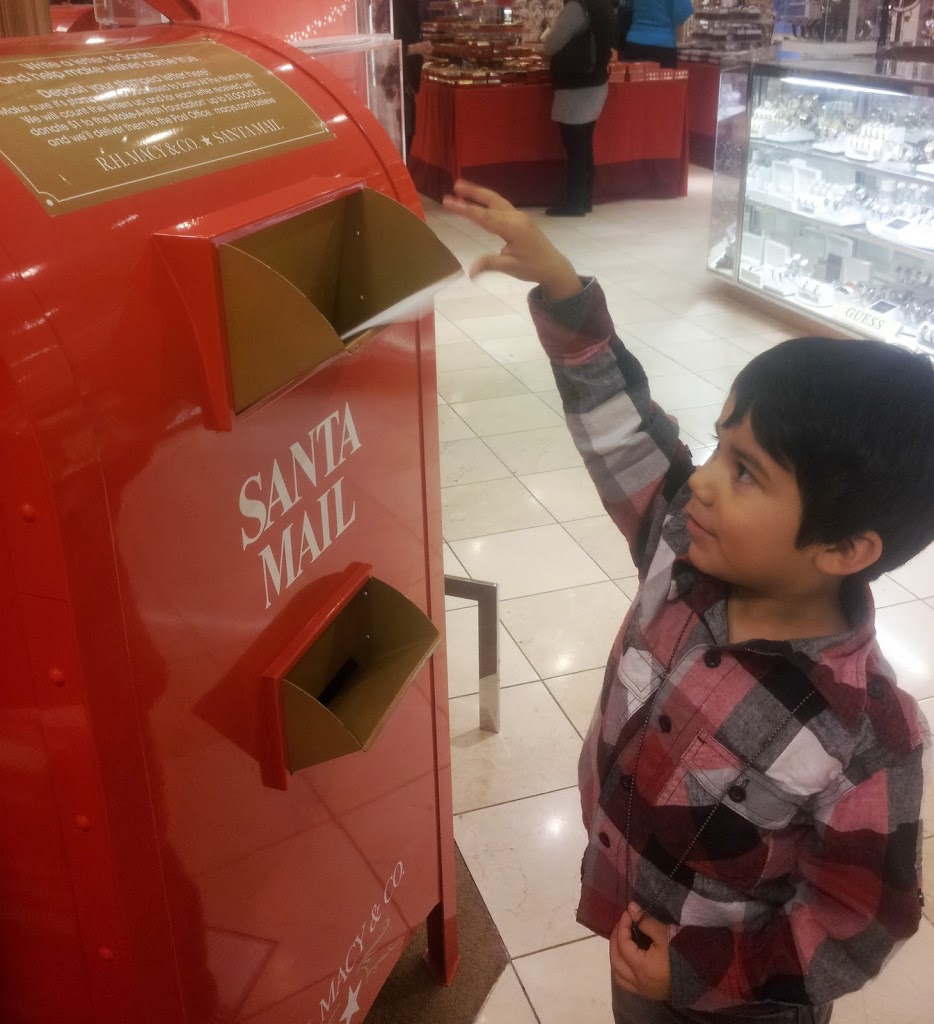 Sensitive Santa
Santa is for everyone. But for children and families with special needs, seeing Santa can bring on stress, anxiety, and even panic. That is why we have joined forces with Autism Speaks to create a sensory-friendly experience that welcomes guests with all types of special needs to enjoy a magical morning with Santa before regular center activities begin. To make a photo reservation, please visit the following link: https://pages.e2ma.net/pages/1796052/11654. Thank you!
Upcoming Santa Events
Storytime with Santa is coming up on Sunday, December 2 at 11:00am! Cookies + Mrs. Claus…probably the best pairing ever! Come have treats and take pictures at the lower level JC Penney court on Saturday, December 1 from 12pm-2pm.
Cookies + Mrs. Claus…probably the best pairing ever! Come have treats and take pictures at the lower level JC Penney court on Saturday, December 1 from 12pm-2pm.
About Westminster Mall
The Westminster Mall is a modern shopping center whose unique symmetrical exterior is surpassed only by its beautiful interior. Its anchors Macy's, JCPenney, Sears and Target rank in the top percent of their companies' regional stores.  Westminster Mall also has more than 180 specialty stores, including Ann Taylor Loft, Bath & Body Works, a flagship Charlotte Russe, The Disney Store, Gap, and Old Navy, just to name a few.
Visit http://westminstermall.com/events-news/event/photos-with-santa for more information.
Originally published on December 12, 2011. Last Updated on November 12, 2018 by Pattie Cordova