We had an amazing time at Knott's Berry Farm today. The Hubster, my five year old niece, and our two boys were there bright and early for Snoopy's Costume Party at Camp Spooky where we started our day with a delicious breakfast at Lucy's Lunchbox. We were surprised to find that our kid meals came in a plastic Snoopy lunchbox. So cute!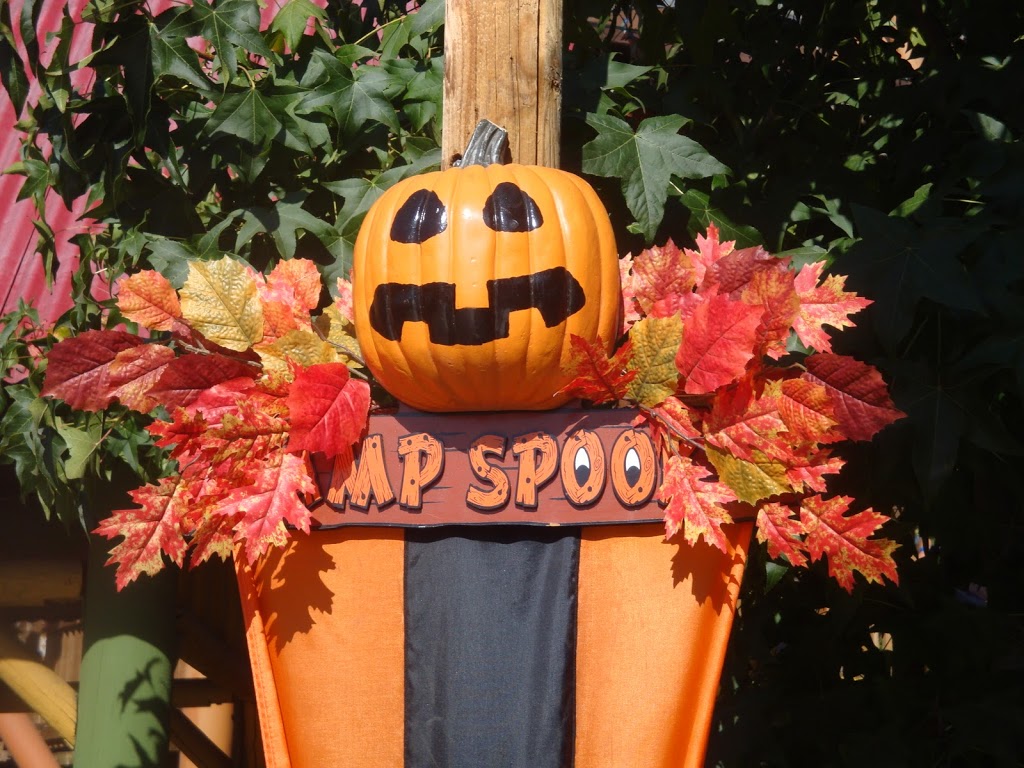 The last time the Hubster and I visited Knott's was pre-kids so we never went through Camp Snoopy nor did we stop by there to eat. Now, as a Mami, I can tell you that this restaurant is the perfect spot to take the kiddos to eat. They have little yellow picnic tables on the second floor that are perfectly kid-sized. On the first floor, you'll also find mechanical rides, arcade games and even a photo booth featuring the Veggie Tales. Not a bad place to take a rest.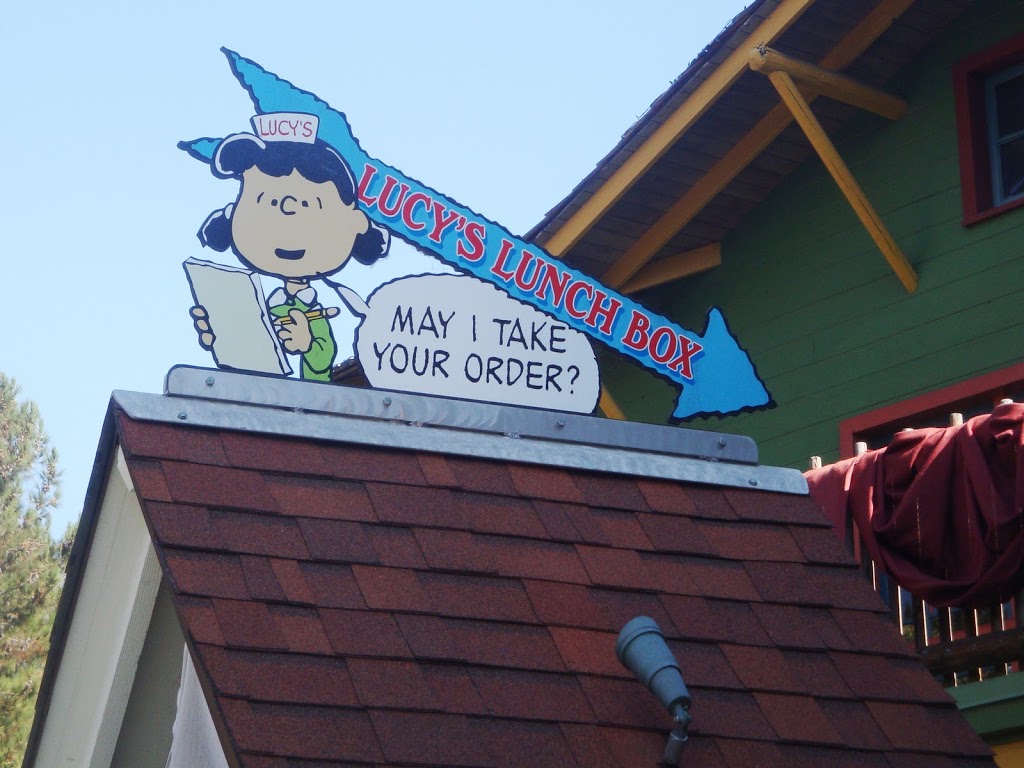 After breakfast we walked Camp Spooky and ran into a few characters in costume. There was a hunchback character that had all these kids crying… that one might of been a little too much. It wore a black cloak and had huge red eyes. Kinda freaked me out too.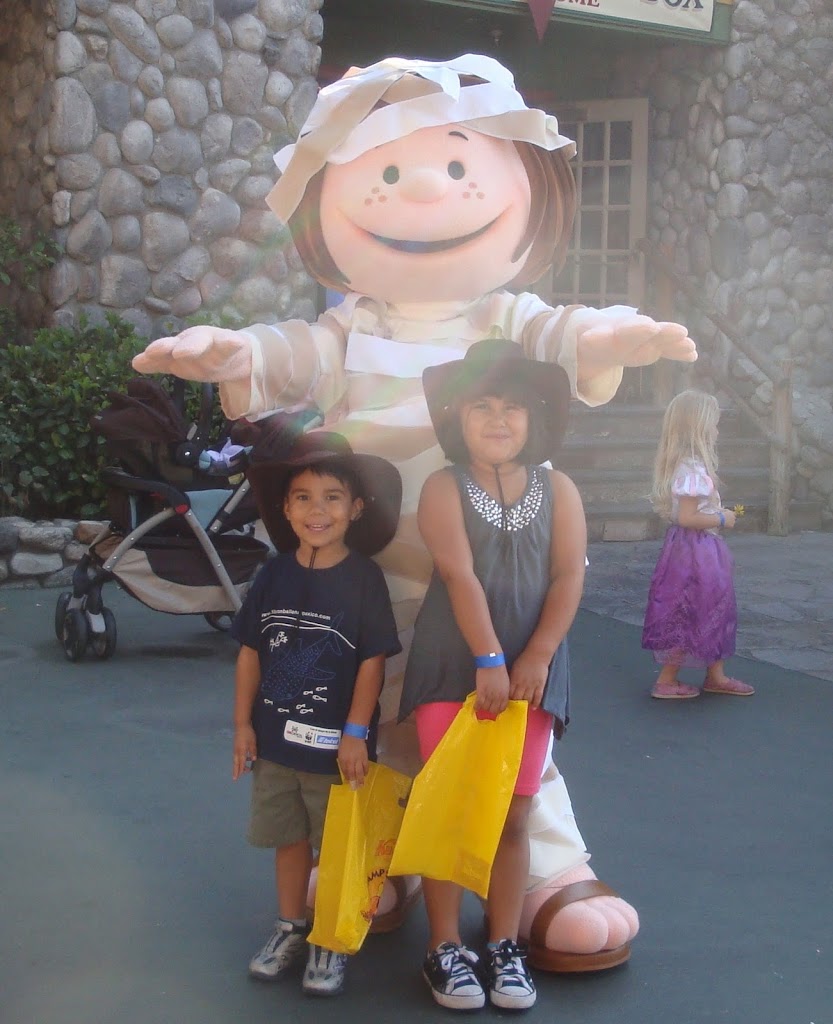 In between getting on all the rides, we took in all the cool decorations that are on display. This one here is a skeleton with a crazy machine gun. Our son got a kick out of it. Everywhere you look, you'll come across a Halloween decoration. The log ride even has decapitated heads hanging in the openings around it.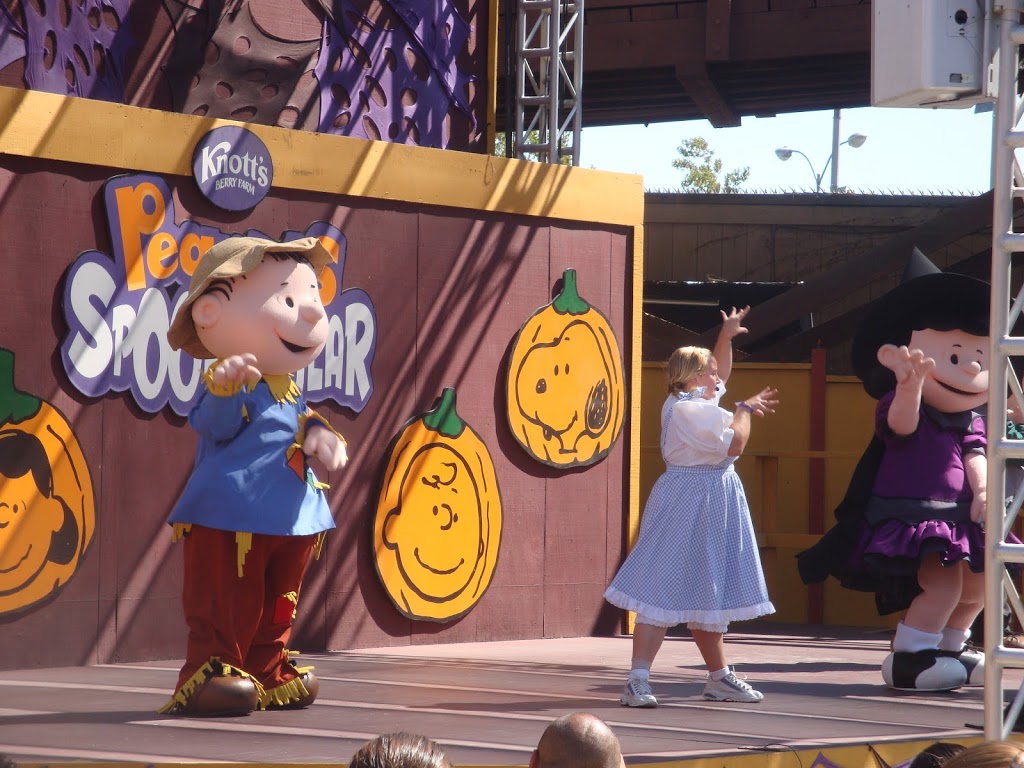 We also walked through the Haunted Harvest and came across a few friendly scarecrows. I'm telling you, Knott's has the friendliest employees. They take the time to have conversations with the kids and really make them feel welcomed.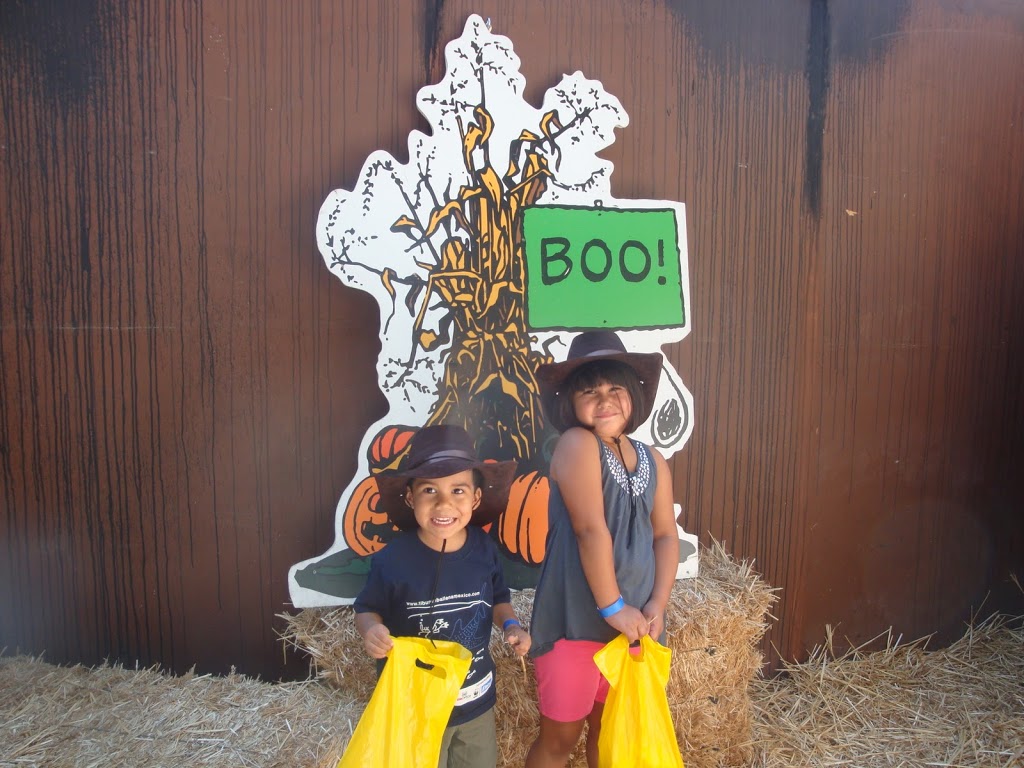 We caught some of the high-energy Spooktacular show put on by some of the Peanuts gang too. They sang popular songs and even did the whole Thriller dance. It was fun watching all the kids dance around. The characters walked down into the crowd and boogied down with everyone. Such energy! Although, the entire time I was watching them I couldn't help but wonder just how hot the cast members inside the costume were. I mean, I was hot and I was standing in the shade!
Finally, we grabbed a yellow bag and went trick-or-treating. There are five different locations at Camp Spooky where you can stop and grab some candy. It's all very organized and not the crazy-fest you'd think it would be. We got a few pixie sticks, lollipops, Skittles and a pack of cookies. And I am totally doing the mommy thing and taking the candy for myself. My son can have the cookies.
p.s. I rode the Wind Seeker. Yes… I went up 301 feet! It was so much fun!!!
p.p.s. Quick story: I sat down to feed the baby and left my two-week old phone behind on the bench. It was about a half hour until I realized that I didn't have it on me. I ran back and of course, it wasn't there. You know where it was? At the Information Center! Yes, a Knott's employee or some very, very nice Knott's visitor turned in my phone. I couldn't believe it. I'm such a lucky girl. I would have been devastated if it hadn't of turned up.
[disclaim]This is not a sponsored post. I was invited as a member of the press and received complimentary tickets and breakfast for the event. All thoughts and opinions remain my own. [/disclaim]
Originally published on October 2, 2011. Last Updated on March 25, 2016 by Pattie Cordova