I've mentioned before how much I love Segerstrom Center in Costa Mesa. One of my favorite features about this performing arts center is its family theater series. This weekend they showed The Intergalactic Nemesis Book Two: Robot Planet Rising and I was fortunate enough to take them to opening night.
I took three kids with me (ages 5, 6 and 7) and all three of them loved the show, sat through the entire performance without disturbing anyone and left knowing that they had just experienced something awesome.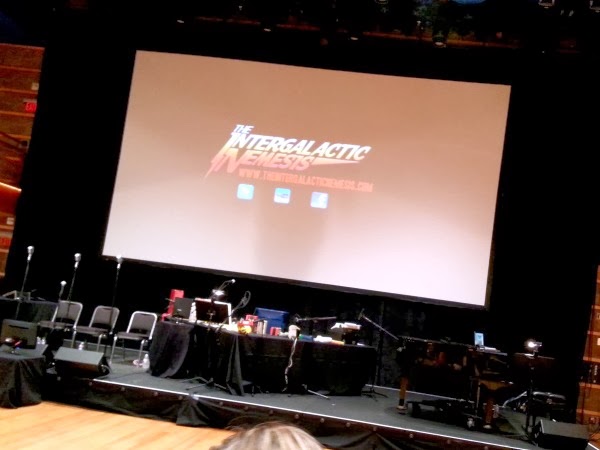 We got there about 45 minutes before the show to take advantage of the pre-show activities. These activities included voice lessons by Jamieson K. Price and photo opportunities with an awesome backdrop and lots of props.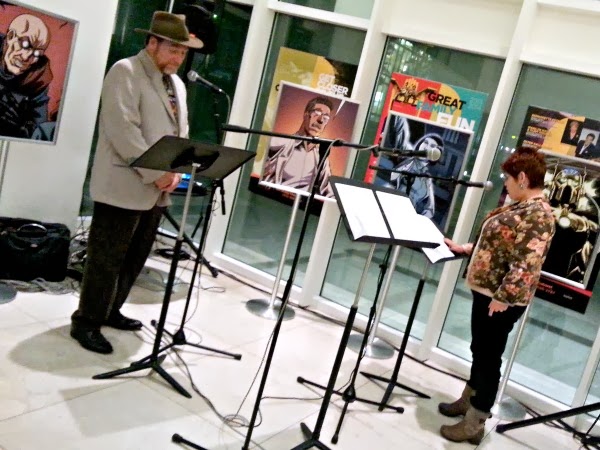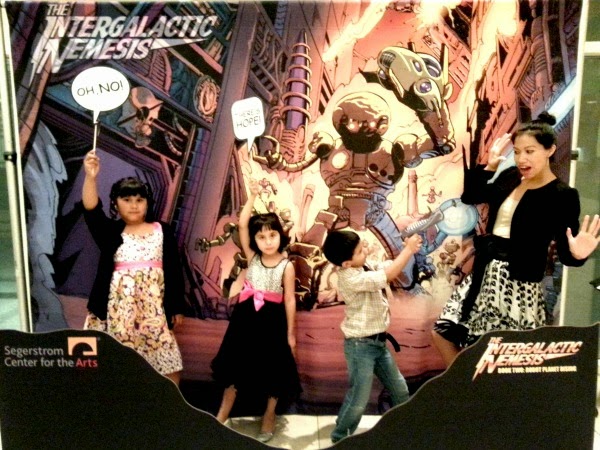 The performance is The Intergalactic Nemesis Book Two: Robot Planet Rising graphic novel come to life. Don't worry if you haven't read/seen the first book though, not necessary.
This show is different than anything I have ever seen. It consists of three actors voicing the different characters in the book. Then you have all these awesome sound effects, old time radio style. And then you have a piano player setting the scene with music. Lastly, all the images on the book are displayed as a backdrop on a huge screen. It's really brilliant and really cool to see.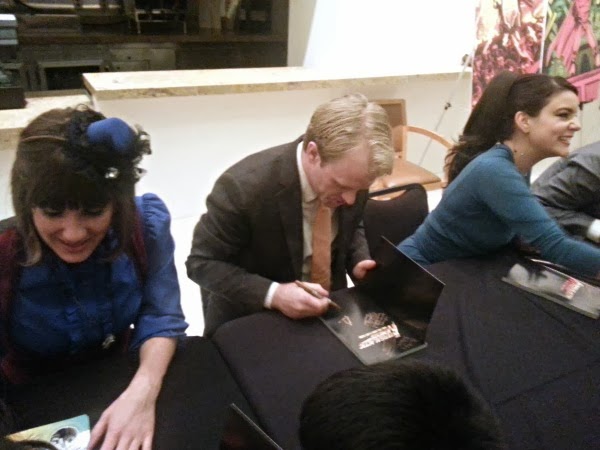 (from L to R: Cami Alys, David  Higgins, Danu Uribe)
We followed along some of the story in the book (book is available for purchase before, during and after the show). Afterwards, we stayed behind to meet all the talent and we got our book signed. My son has been going over it since the show and tries to mimic the sound effects that he heard during the show.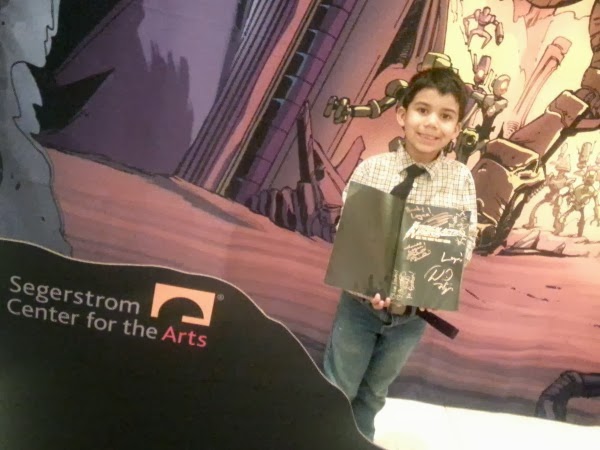 The Intergalactic Nemesis Book Two: Robot Planet Rising at Segerstrom Center will be showing November 8th through November 10th. Tickets start at just $20 and there are no bad seats in the house.
About The Intergalactic Nemesis Book Two: Robot Planet Rising
The sequel to the 2012 – 2013 Season show, The Intergalactic Nemesis – Book Two: Robot Planet Rising takes audiences on another epic journey of danger and adventure. This one-of-a-kind theatrical experience mashes up radio drama with more than 1,000 blow-your-mind comic-book images. Join three live actors and a foley artist as they unravel the mystery of Elbee-Dee-Oh's disappearance in deep space. Featured on CONAN and NPR's All Things Considered, The Intergalactic Nemesis is a spectacle unlike any other and it's for the kid in everyone.
Running time (approximate): 1 hour and 50 minutes
For more information on the show, visit The Intergalactic Nemesis website. To purchase tickets visit SCFTA.org.
Segerstrom Center for the Arts
600 Town Center Drive
Costa Mesa, CA 92626

This is not a sponsored post. I received press tickets to see the show. All thoughts and opinions remain my own.
Originally published on November 10, 2013. Last Updated on January 2, 2019 by Pattie Cordova