Last night I was invited to check out some of the new foods and drinks for Knott's Spooky Farm and I've gotta say – I am not disappointed!!! The chefs at Knott's Berry Farm had a lot of fun with this year's Knott's Spooky Farm treats and I'm already mapping out my day in accordance to where I'll be stopping by to eat with my chiclets. First up, Papa Loca. This year, they have "Dante's Asada Fries." These fries are their delicious shoestring fries topped with nacho cheese, jalapeños, carne aside and Flaming Hot Cheetos!!! I'm all about Flaming Hot Cheetos and I'm happy to see Knott's Berry Farm jumping on the bandwagon by offering them on their new foods. If you're a fan of FHC too, check out the bakery because they have a candy apple topped with these bits of heaven too. And it's big enough to feed at least two!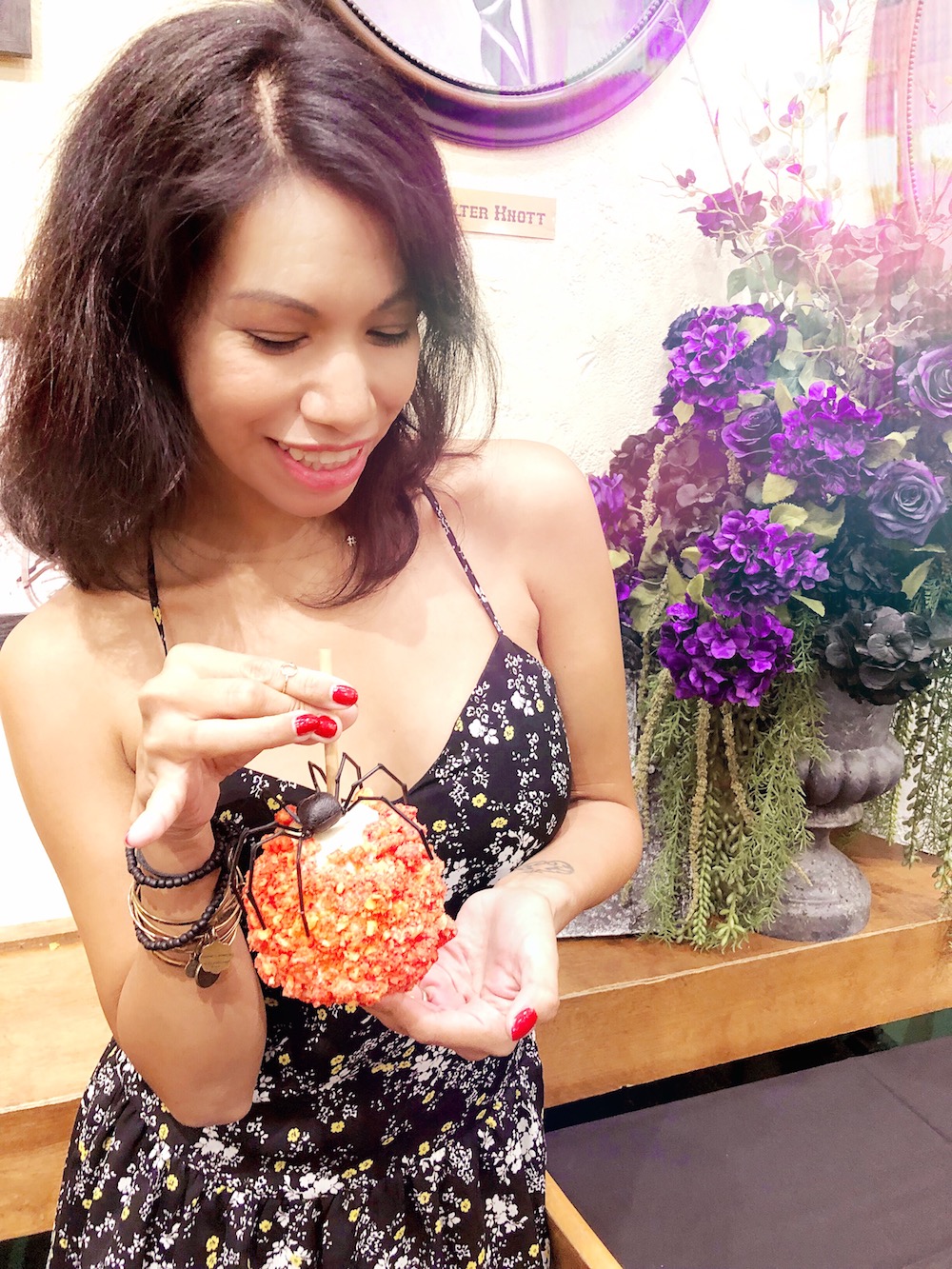 Knott's Spooky Farm treats for the 2018 season
Below is a full list of all the new Spooky Farm treats available during the season.
Lights-Out Monster Burger at Ghost Town Grill
Served on a black bun and great for spooky pictures!
Ghostly Bundt Cake ($3.99) at the Coffee Hut
This bundt cake is pumpkin flavored and topped with white chocolate. Pairs great with boysenberry lattes (also at the Coffee Hut).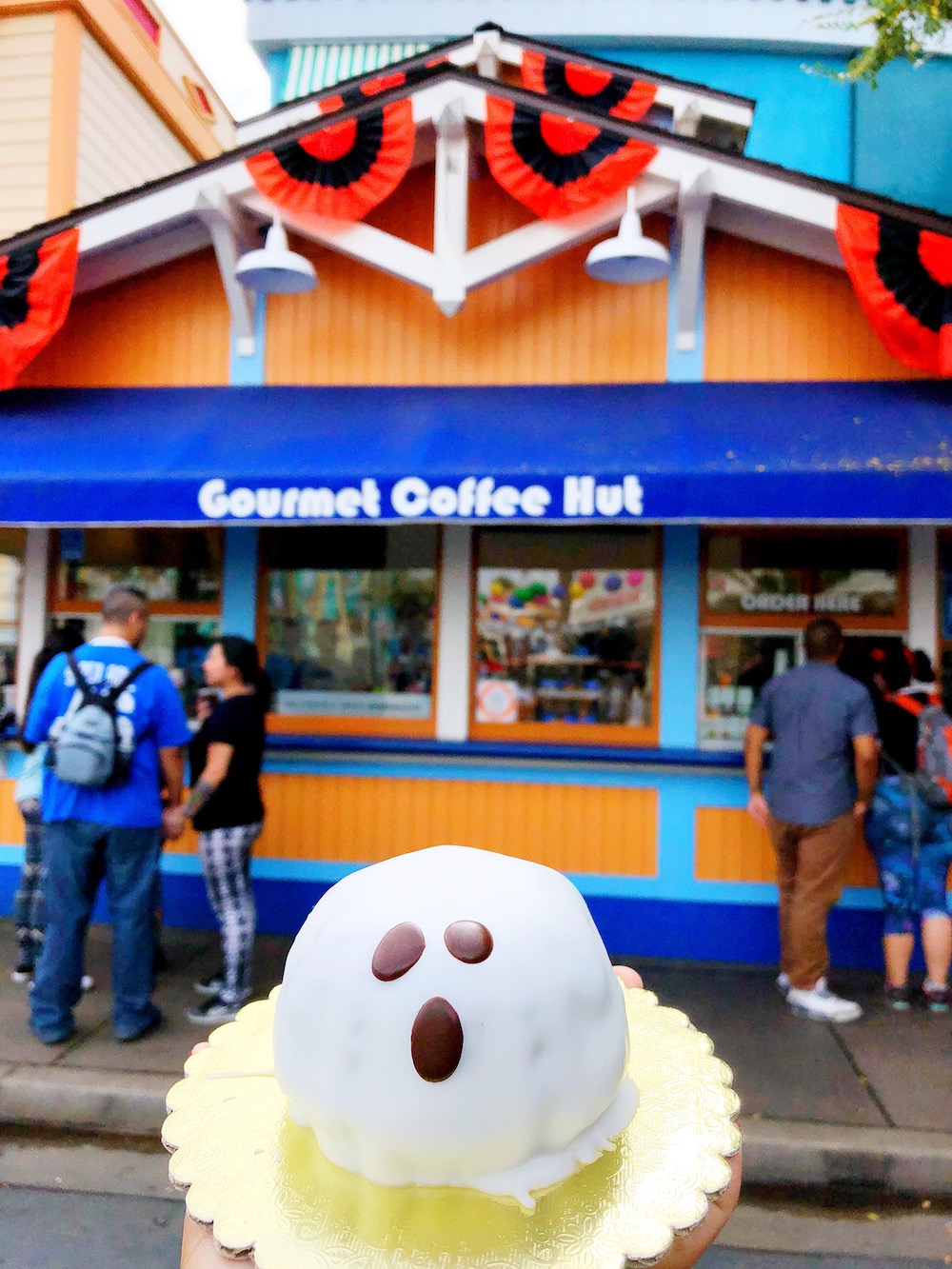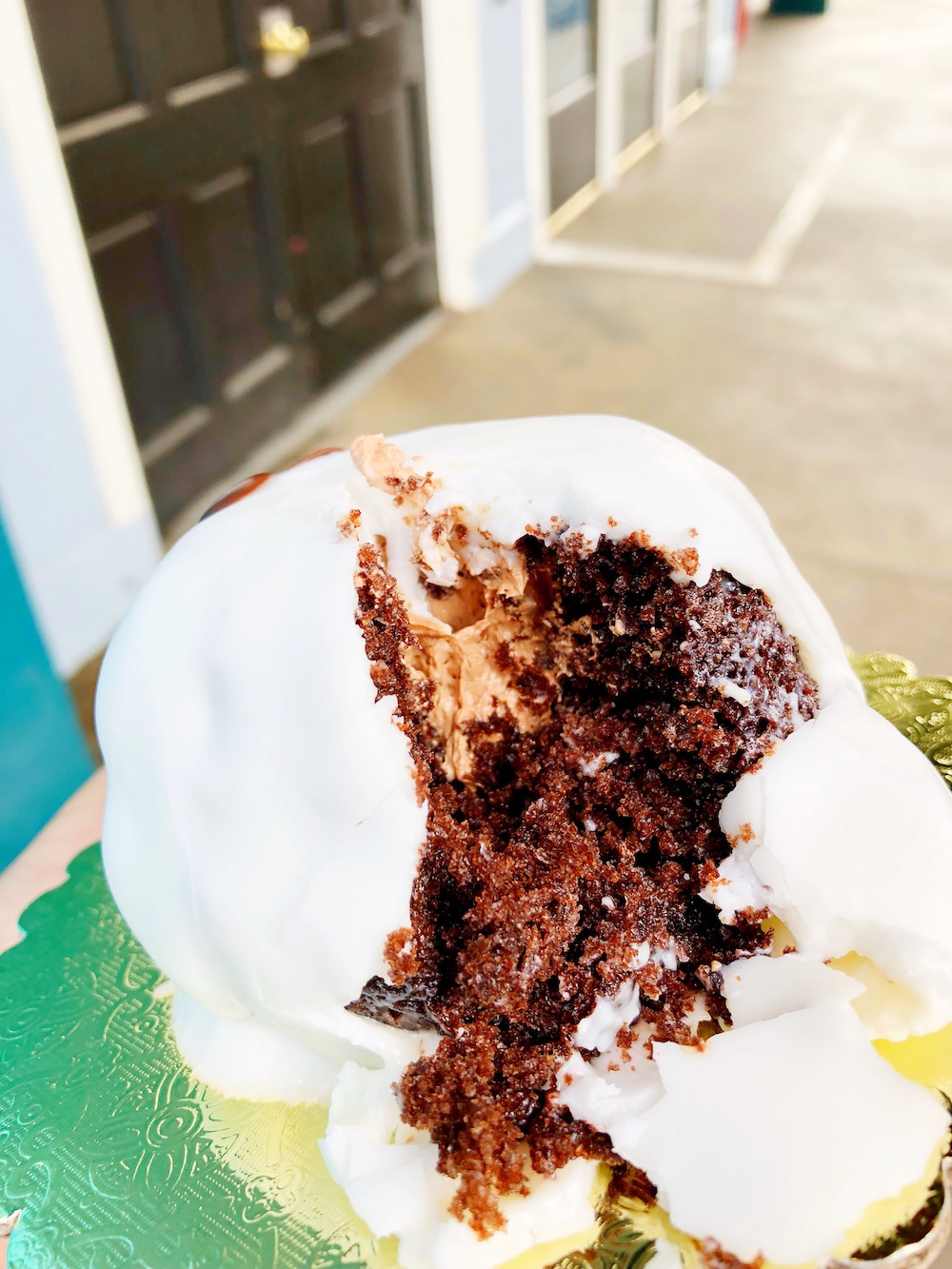 Beneath the Surface Popping Boba ($7.99) at Mrs. Knott's Bakery Express
The eyeball is stuffed in a lychee… which makes it even creepier.
Cuckoo Nest's Candy Corn Funnel Cake ($12.49) at Cable Car Kitchen
Don't let the color scare you. It still tastes like their delicious funnel cakes that they're famous for.
Inferno Churro ($6.59) at the Churro Factory
This churro is topped with fire hot sugar. Taste a bit like a Big Red gum it's filled with cream.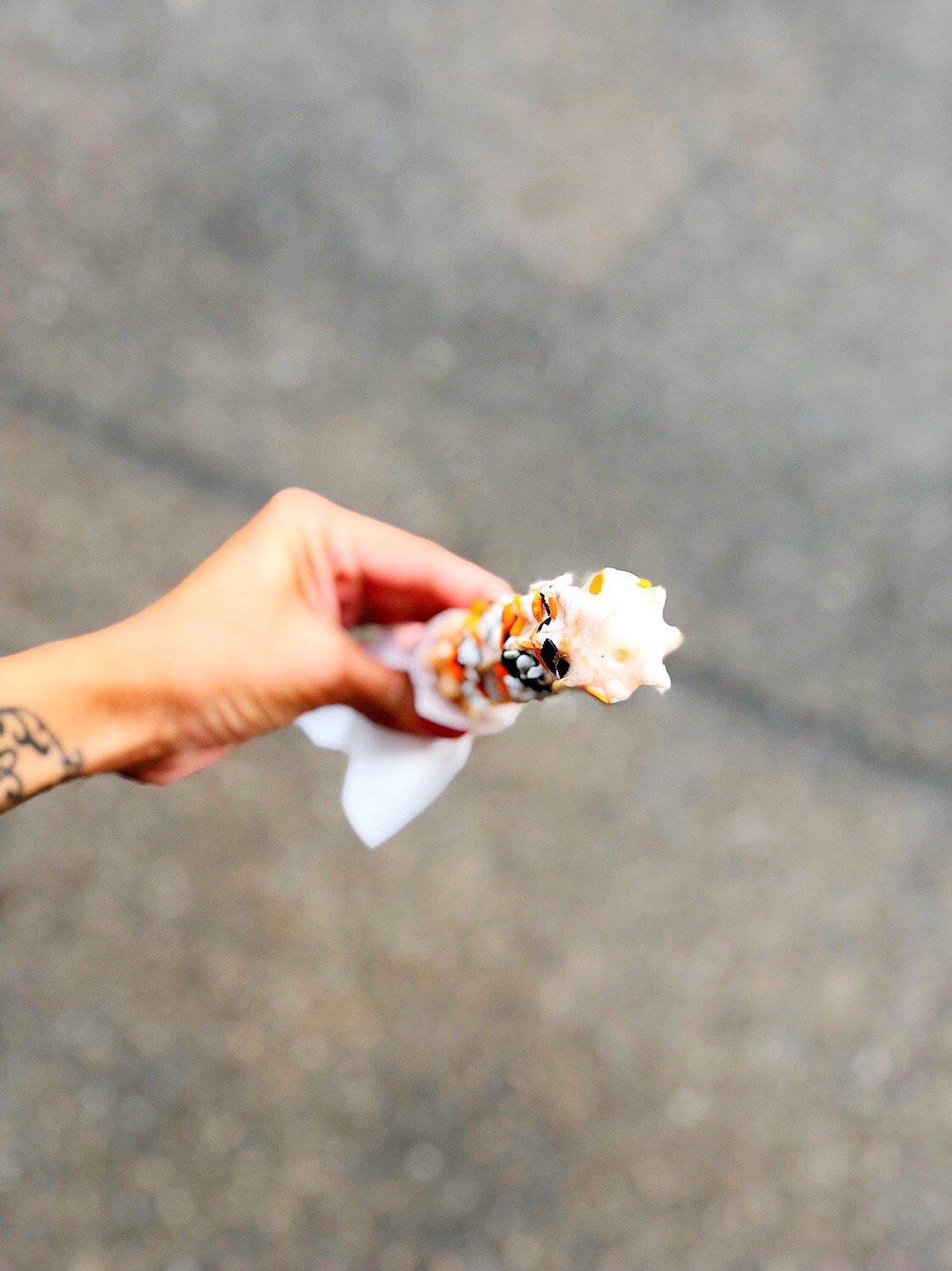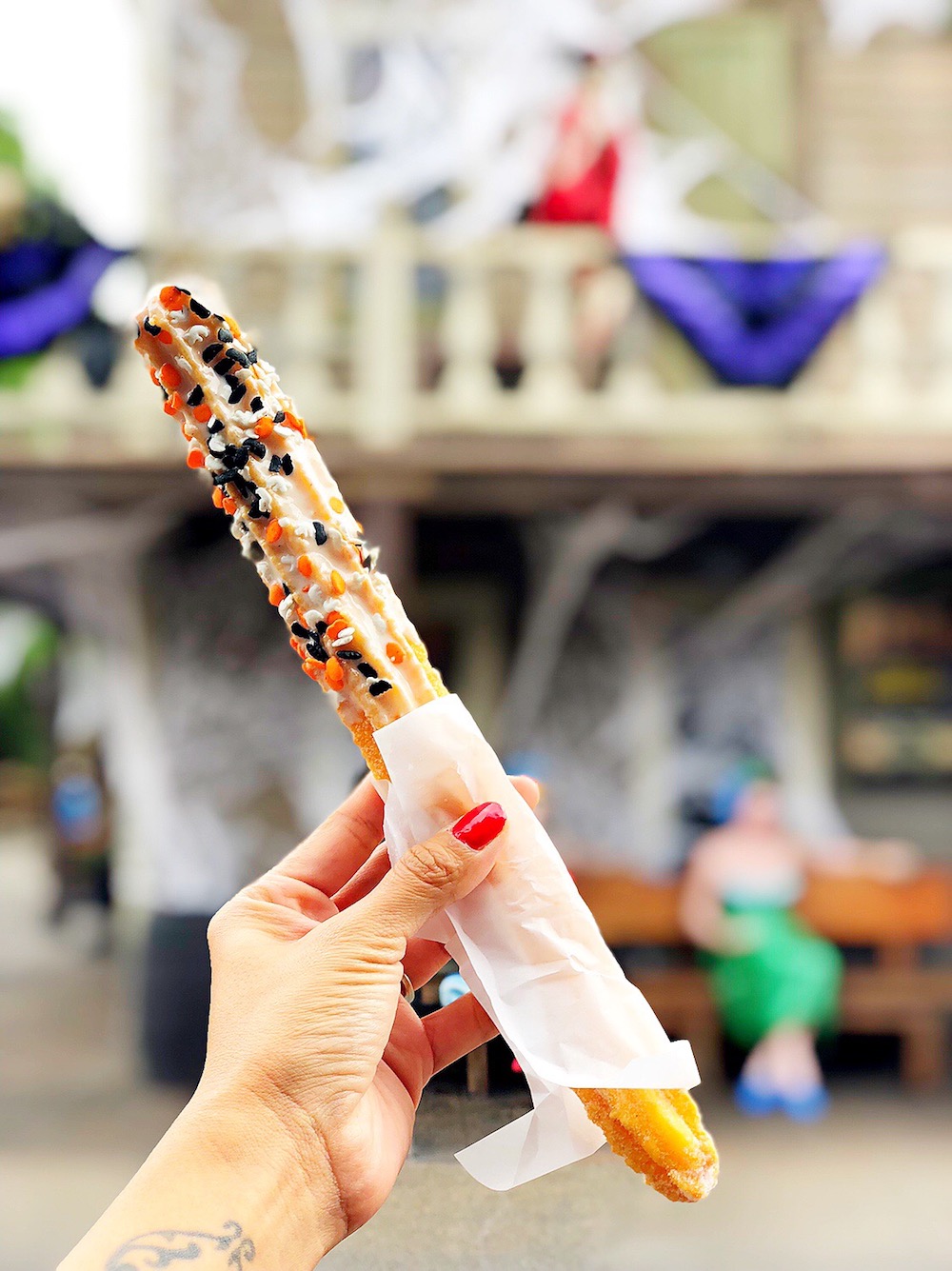 CarnEvil Sausage ($9.99) at Boardwalk BBQ
Peter Pumpkin Eater Chili ($11.99) at Ghost Town Bakery
Dante's Asada Fries ($9.99) at Papa Loca
I tried these, without the carne asada and they were just as good! In fact, I would have probably asked for more jalapeños. Make sure to mix everything together before devouring it.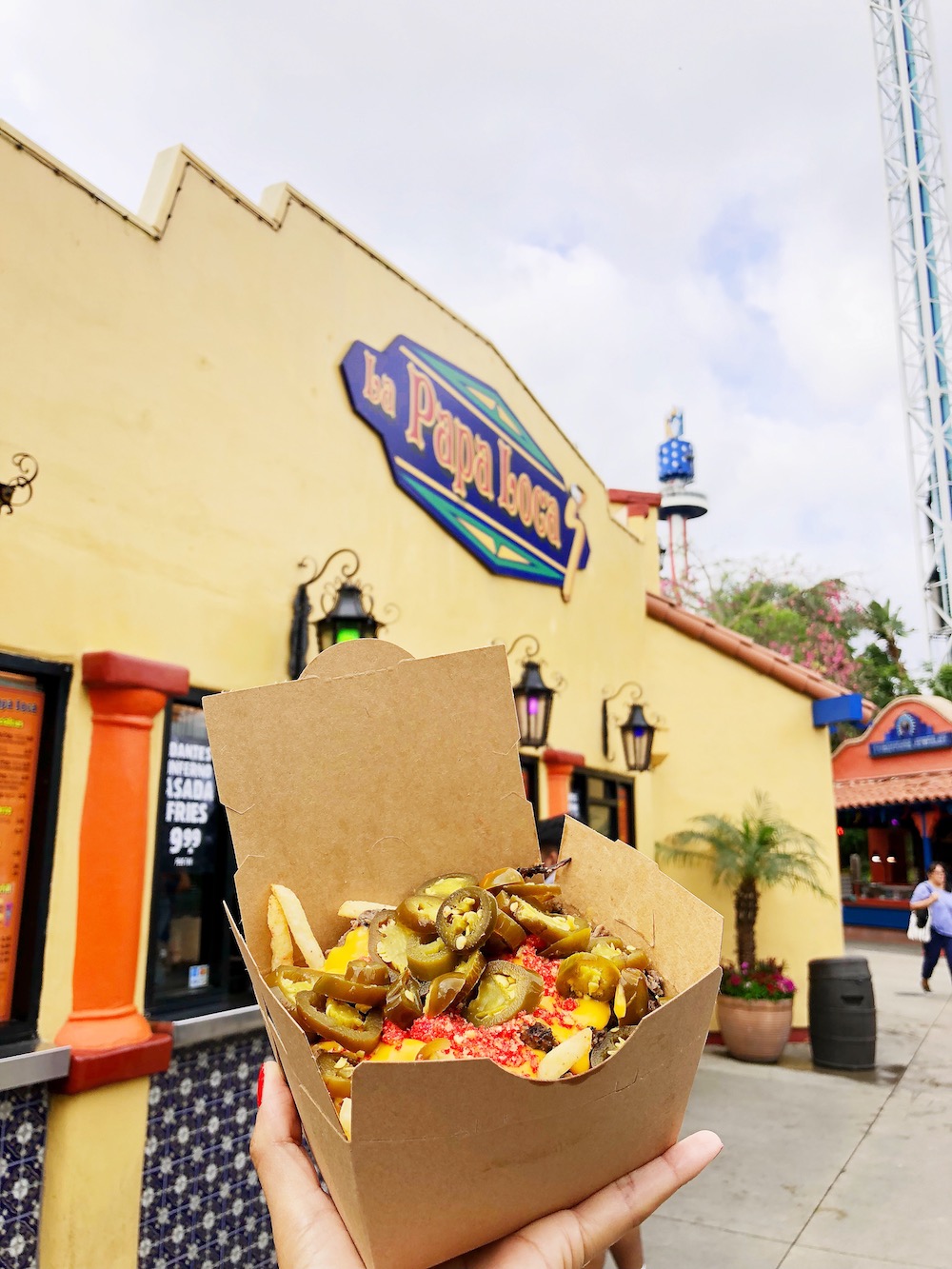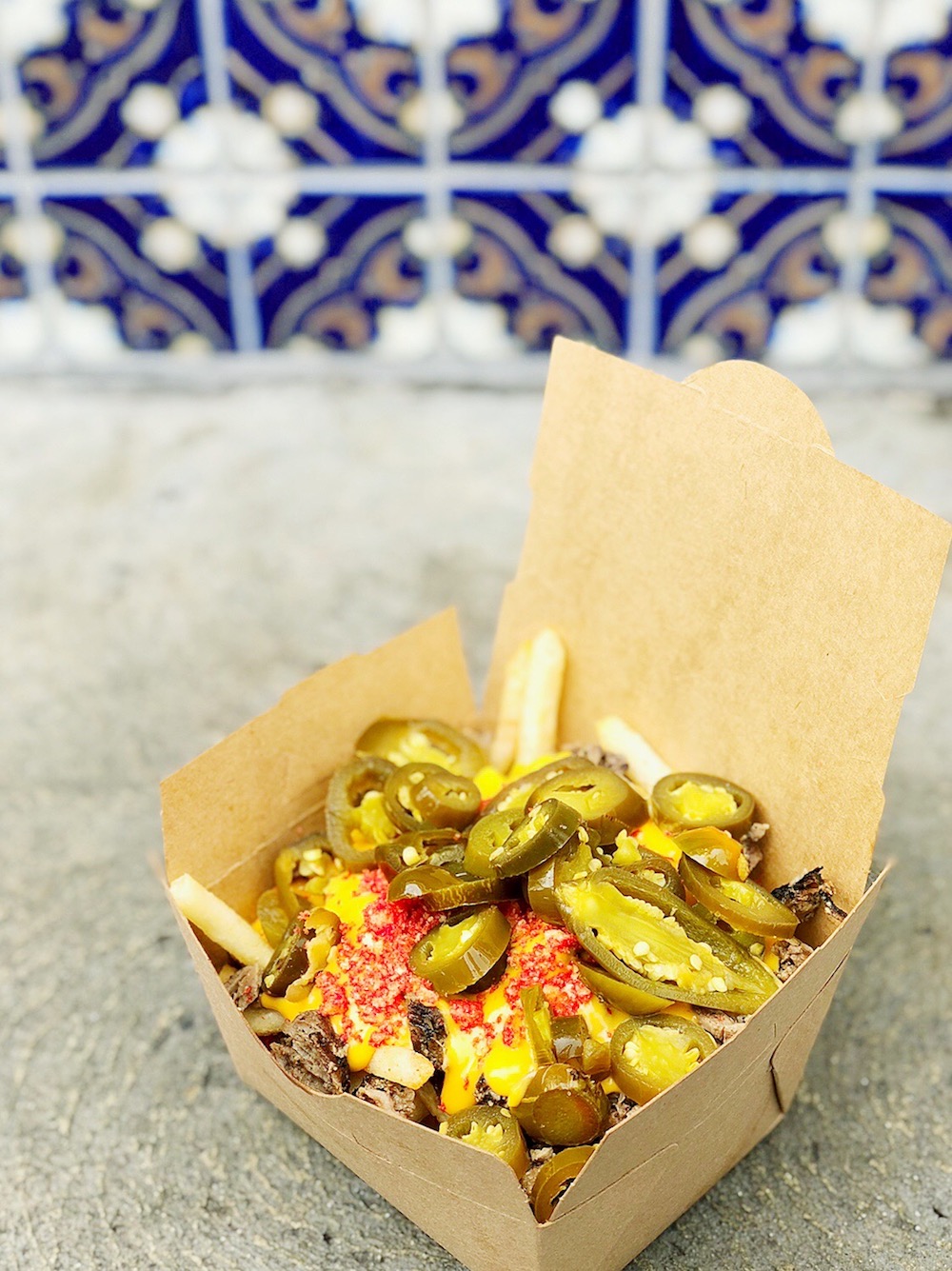 Dark Entities Dole Whip ($7.99) at Beachy Keen Pizza (formerly Hollywood Hits)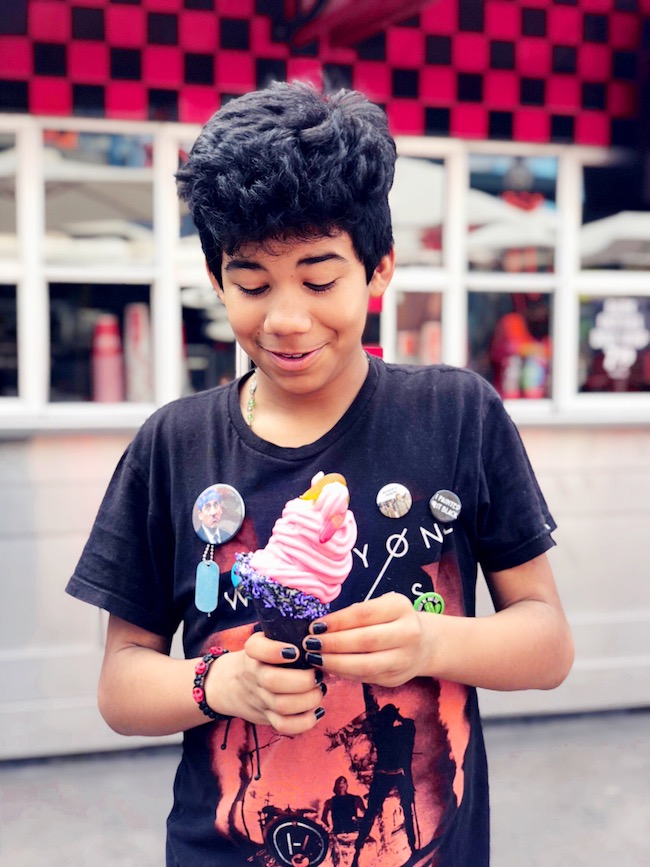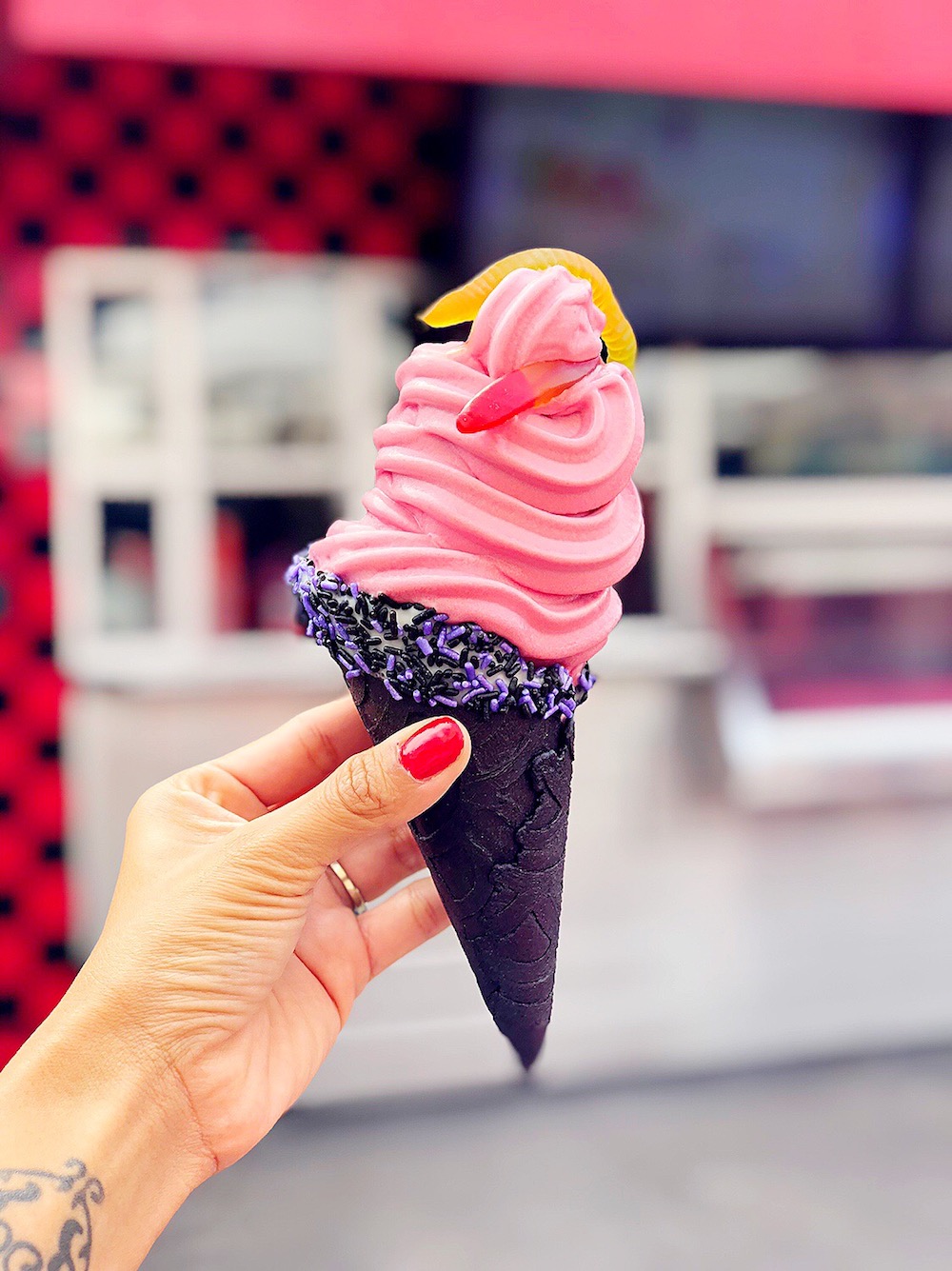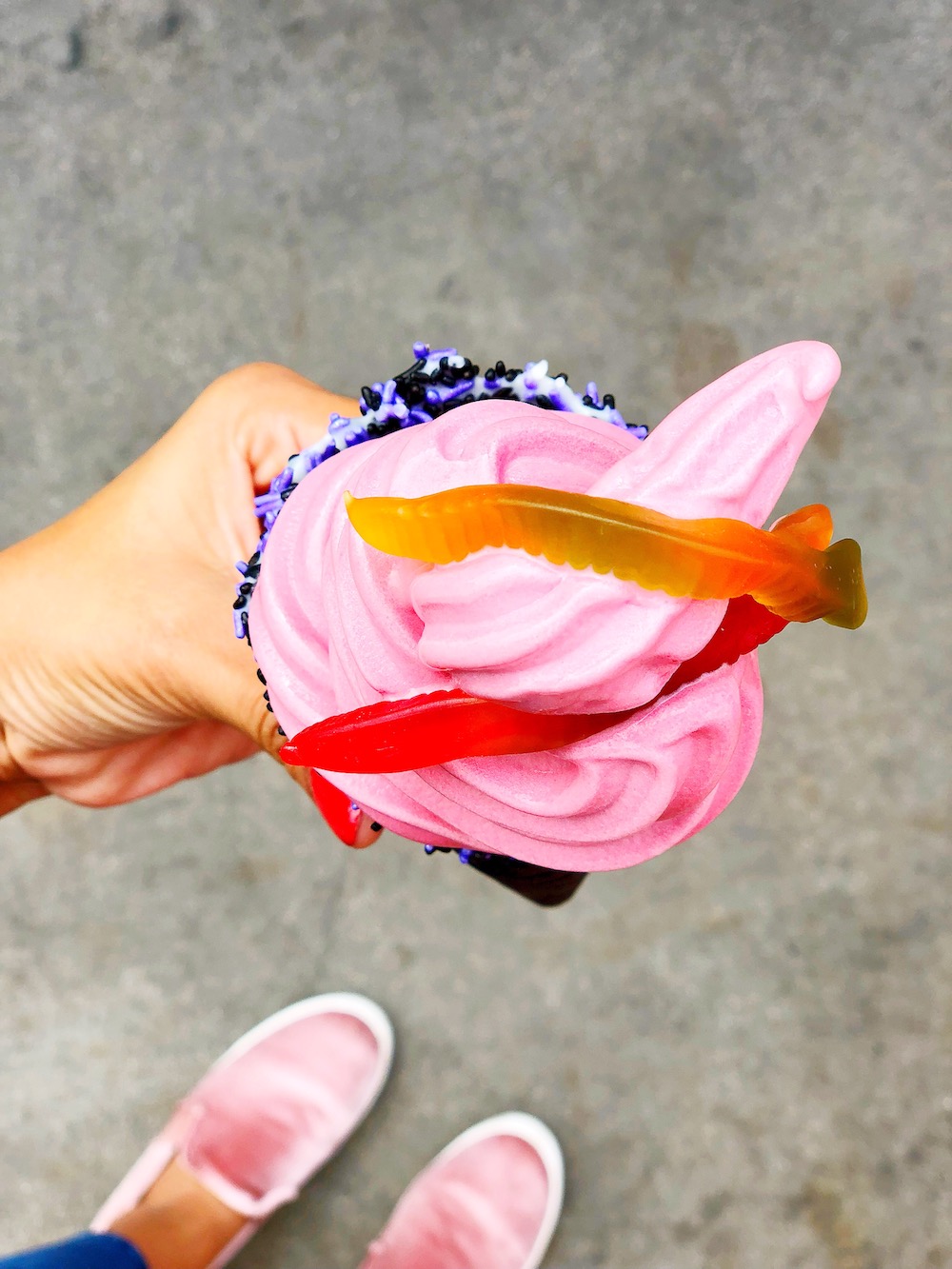 Goblin's Grub ($7.59) at Strictly on a Stick (across from Log Ride)
This is the perfect treat for kids because it's filled with snacks they love, including gummy worms, chocolate covered pretzels, caramel popcorn and chocolate candies. It comes in an edible cone so there's virtually no mess afterwards!
Chaos Carmel Apple Shake ($7.59) at Coasters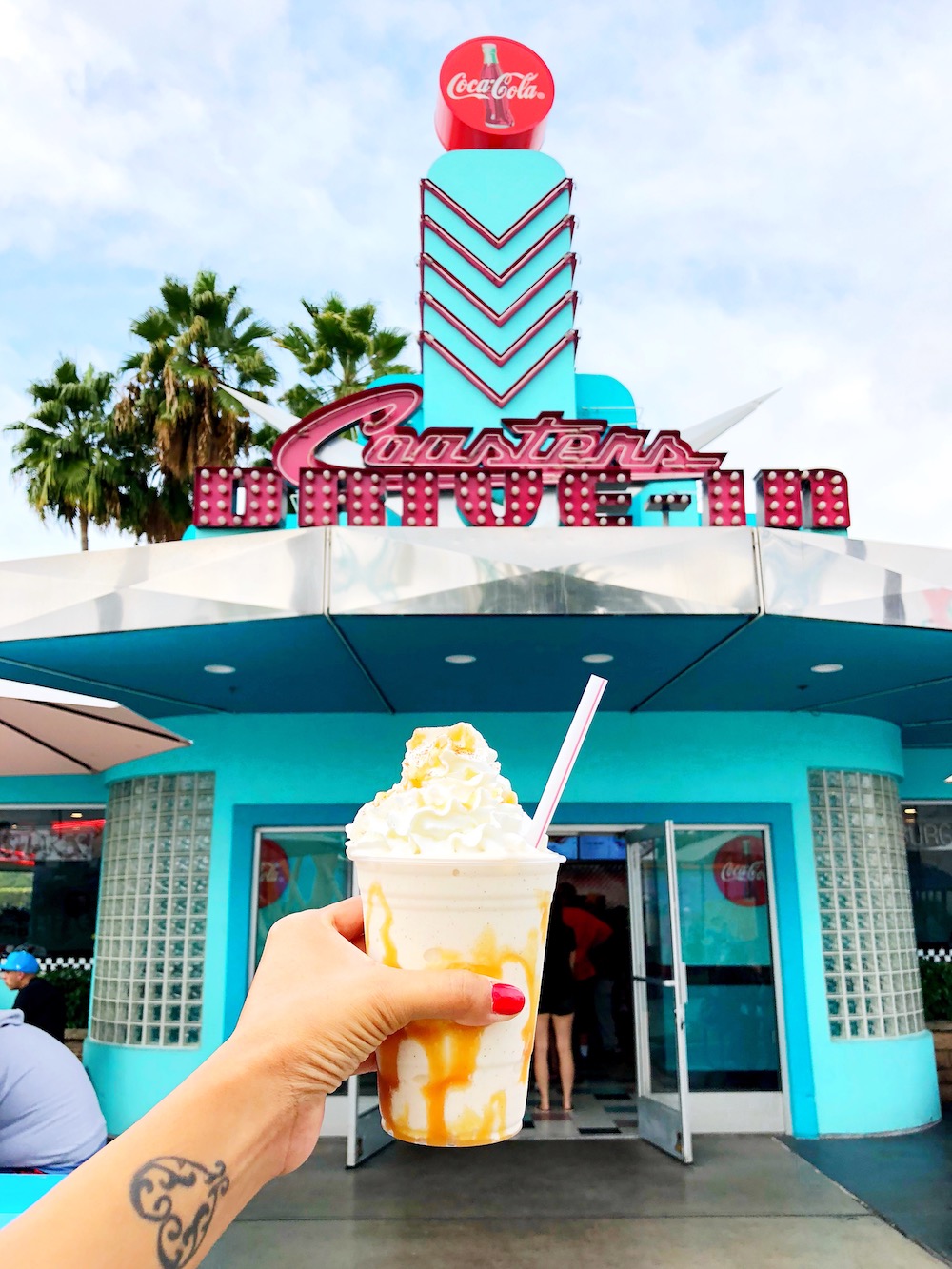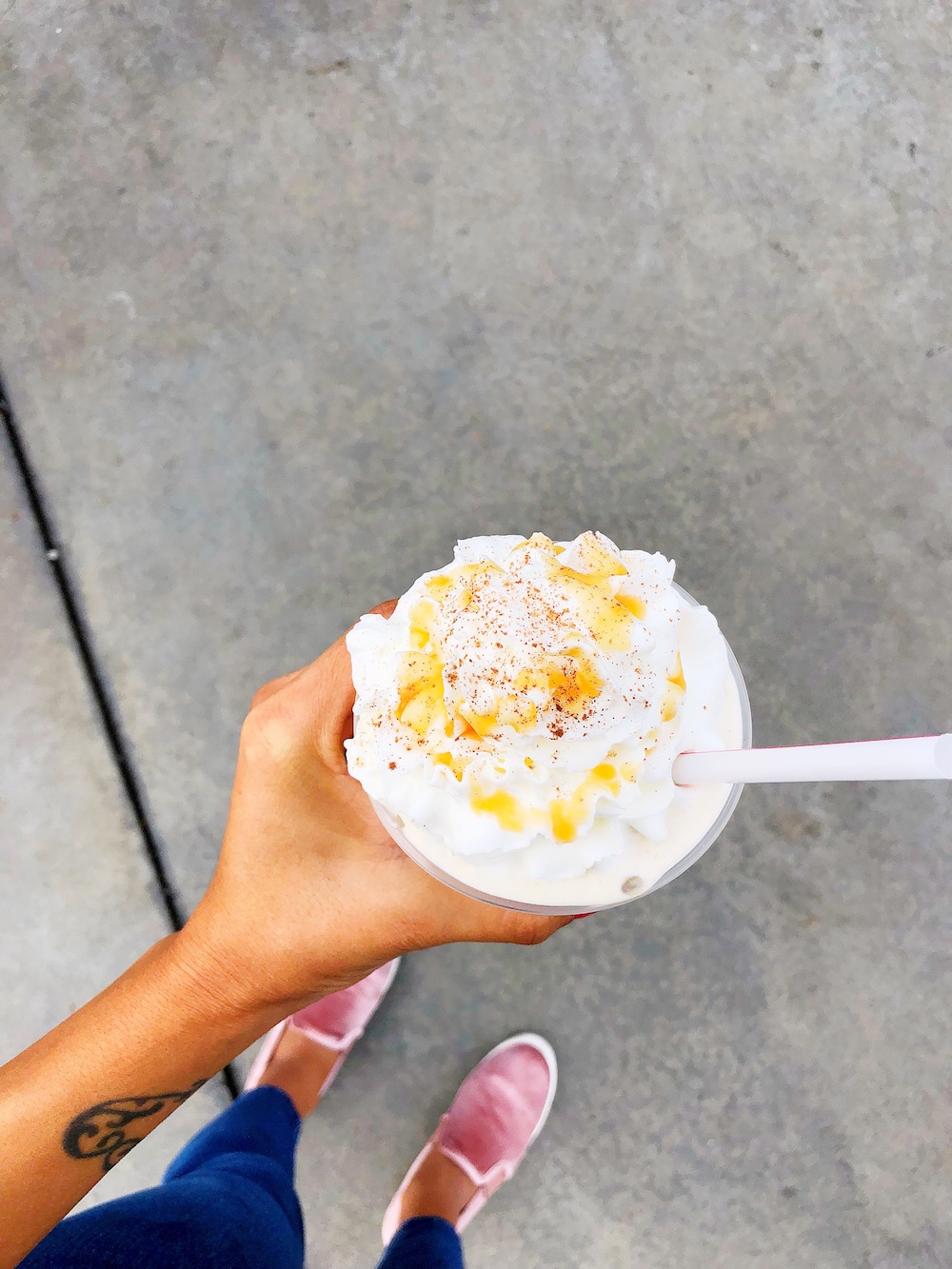 Paranormal Chicken & Carne Asada Burritos ($9.99) at Ghost Town Food Cart
Make sure to stop by the other dining locations at Knott's to feast on other festive foods like the Flaming Hot Cheetos candied apple, chocolate bundt cakes, themed cupcakes and my other personal favorite, their cronut.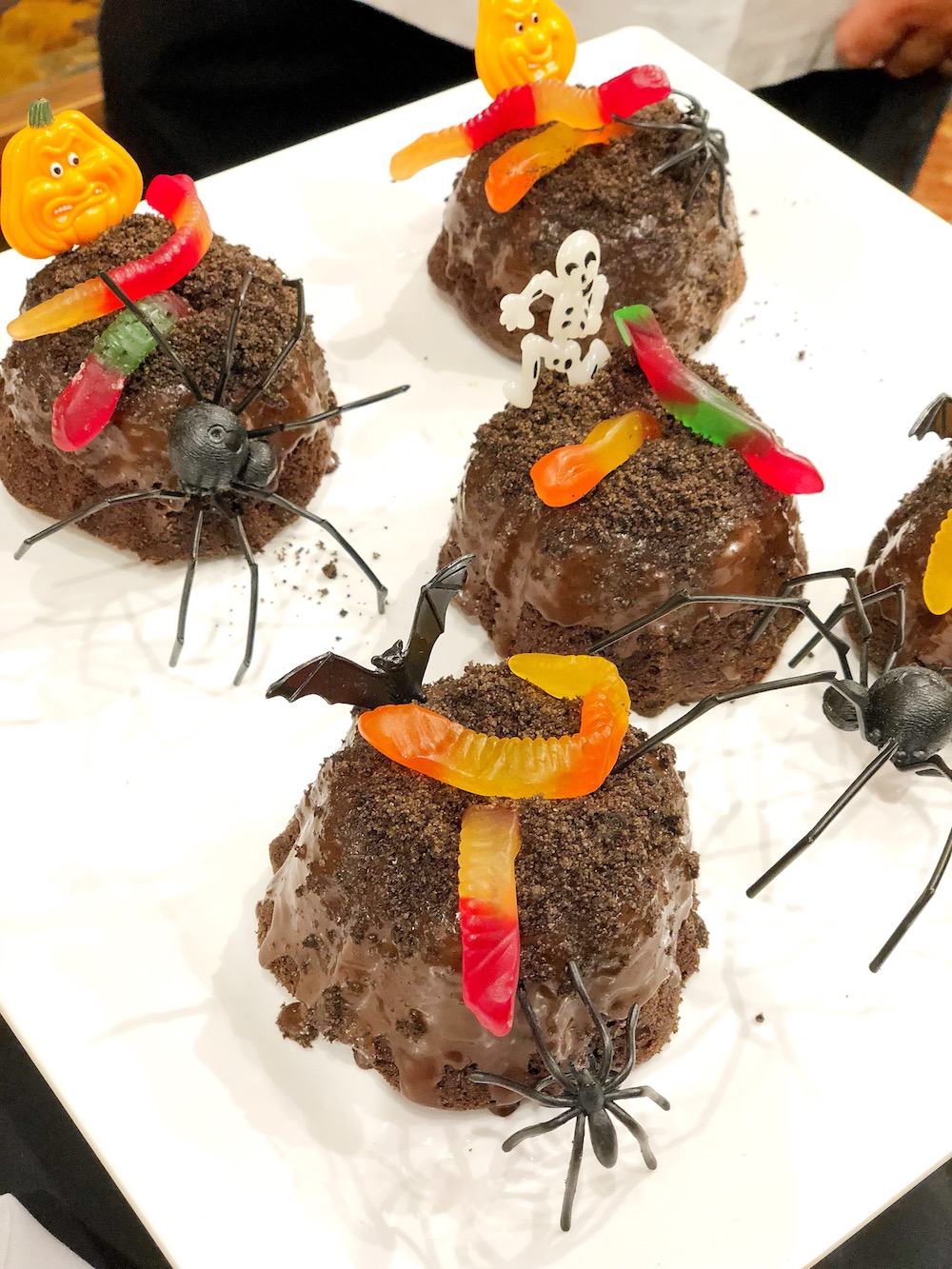 And, as always, the best way to enjoy Knott's Berry Farm and their Knott's Spooky Farm treats is with a Knott's Season Pass. If you get one before the year is over, you'll be able to visit once during the current year at no additional charge! Use our ultimate guide to choosing a Knott's Berry Farm season pass to get the best pass for yourself (and your family) and to see what kind of add-ons they offer.
Knott's Spooky Farm runs Saturdays and Sundays, Sept. 29 – Oct. 28, and Wednesday, Oct. 31, 2018. Stop by the farm and enjoy the spooktacular Halloween season at Knott's Spooky Farm, a family-friendly Halloween celebration geared for kids ages 3-11. Newly expanded trick-or-treating through Ghost Town, little ghouls can stop thorough Calico to collect sweet Halloween treats.  Fun Halloween-themed shows are in store as a friendly magician mystifies little ones with spell-binding tricks. Camp Snoopy Theater plays host to the "Monsters are Coming" show where children are encouraged to participate in the daily costume contest. The Halloween Hootenanny returns as The Timber Mountain Log Ride transforms with spooky but family-friendly surprises. The fall daytime Seasons of Fun event is included with regular park admission or your 2018 Season Pass.
Where to stay in Buena Park
Knott's Berry Farm Hotel – our first choice because it's literally within the resort. Your hotel stay also includes parking and if you book the Snoop room, Snoopy himself tucks you in (plus, you get two Snoopy plushies).
Courtyard by Marriott Anaheim – within walking distance to Knott's Berry Farm (only half a mile away). Hotel stay includes free self-parking.
Fairfield Inn & Suites Anaheim Buena Park – one mile away from Knott's Berry Farm. Hotel stay includes breakfast and free self-parking.
Discounted Knott's Berry Farm Tickets
Goldstar offers discounted Knott's Berry Farm tickets and discounted Knott's Soak City tickets.
Groupon offers discounted Knott's Berry Farm tickets.
Travelocity offers discounted Knott's Berry Farm tickets and discounted Knott's Soak City tickets.
NOTE: Prices increase throughout the year. Visit Knotts.com for updated pricing.
Originally published on September 18, 2018. Last Updated on January 5, 2019 by Pattie Cordova