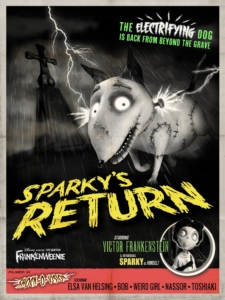 We had the opportunity to see Frankenweenie at the El Capitan Theatre a few weeks ago and we all really liked it (yes, even the 1 year old). My kid loves everything Tim Burton so Frankenweenie was a natural movie to take him too. I wasn't worried about it being too scary and didn't give the fact that it was in black and white a second thought.
Right off the bat, I liked the setting. It looks like it takes place in the 70's (from the looks of the clothing and such). It was a little bit graphic when the dog dies (no spoiler there, he comes back as Frankenweenie). Weird Girl with her kitty, Mr. Whiskers, was a little bit creepy but I think the kids got used to her so she didn't freak them out after the second appearance.
At times it seemed like the movie was made for adults too, and not just kids. The music was spot on, and I could tell that a lot of thought was put into the scenes and the music that overlapped during the scenes. The logic behind bringing a dog back from the dead made complete sense and the hurt that the little boy, Victor, had made me wish that he would be able to keep his dog Sparky around for the rest of his life.
So about 3/4 of the movie was fine. Nothing too scary or traumatizing (even in 3D). The last 1/4 though, is a different story. Especially if you have kids that scare easily. My four year old was fine, loved all the creepy characters that come out at the end and thought they were cool. My six year old niece was a different story though. Her nails would dig into my arms whenever something popped out of the screen. She was fine in the end though. The creepy characters don't make that much of an appearance and a little bit of scare is more than worth it to watch this movie in its entirety.
Like Nightmare Before Christmas, Frankenweenie will become a must-see during the year, and especially during Halloween. It's a great family movie that EVERYONE will enjoy – not just the kids.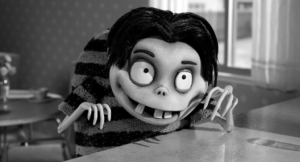 Here are a few activities to bring some of the Frankenweenie spirit to your home.
Frankenweenie Masks
These Frankenweenie masks are meant to be printed and cut out for the kids – but I'm thinking it would be cool to do a whole Frankenweenie room. Just print out a bunch of these and put them up around the room.

Frankenweenie Pumpkin Carving Cutouts
Use these Frankenweenie Pumpkin Carving Cutouts to create a family of Frankenweenie-inspired pumpkins to display outside your home.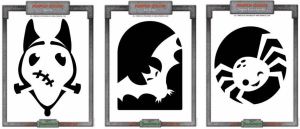 Frankenweenie Sparky Maze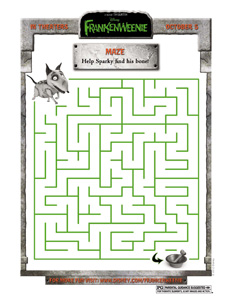 Frankenweenie Hidden Objects
Like "I Spy",
Frankenweenie Hidden Objects
will keep your kids occupied for at least 10 minutes because the picture is in black and white and the objects are harder to find because of that. Score!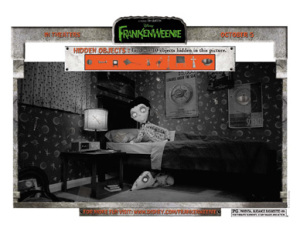 Follow everything Frankenweenie here:
Originally published on October 9, 2012. Last Updated on January 2, 2019 by Pattie Cordova