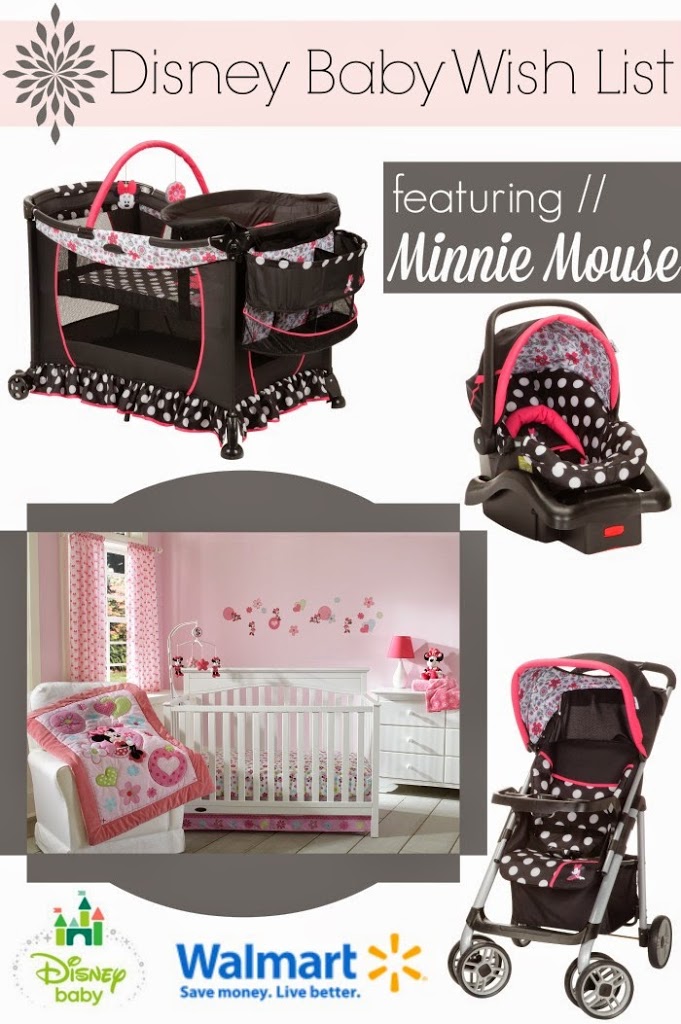 I am a mom of two boys who has recently decided to not have any more kids. That leaves me in a house full of males. I won't have the opportunity to douse everything I see in pink, nor will I be able to pull off polka-dots and bows in my decor. I am left with a large amount of wish lists that I will never fulfill. That doesn't stop me from creating them though, and one of the wish lists I recently created was thanks to Walmart's newest Disney Baby product line additions. They feature Minnie Mouse – one of my favorite Disney characters!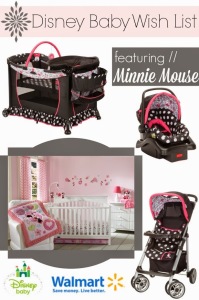 The new super cute Disney Baby Minnie Mouse product line includes baby gear with matching fabric prints and color scheme. Pink is the accent color of choice (of course), but it is modernized with black and white fabric and prints. Personally, I believe that Disney Baby is really in tune with the minds of babies and knows that they respond very well to black and white colors.
Disney Baby Minnie Mouse Coral Flowers Care Center Playard
I like this playard because it has a pretty floral print along the edges and inside is a huge Minnie Mouse image. It also has two soft Minnie Mouse themed toys that hang from the arch. The ruffles also take it over the top for me. I read the product reviews on Walmart.com and a few users mentioned just how easy it was to assemble. Can't beat that!
Disney Baby Minnie Mouse Coral Flowers Saunter Sport LC-22 Travel System
I never really had a travel system with my two boys, but if I were to have a little girl, she would definitely have one if it was as cute as this Disney Baby Lift & Stroll Plus Travel System with the Minnie Coral Flowers design.
The stroller works great with kids up to 50 pounds which means that the baby will probably outgrow the stroller before the stroller outgrows her.
I liked how the parent tray has two spaces for beverages and additional storage. My favorite feature in the stroller, however, has to be the one hand fold and stand. How convenient!
The QuickClick car seat meets or exceeds US Federal Safety Standards and is only rear-facing for children 4-22 lbs and up to 29″. I love how it sits perfectly on the stroller and because it's lightweight, I would have no problem transferring it from car to stroller.
Disney Baby Minnie Mouse Sitting Pretty 3-Piece Crib Bedding Set
I would have so much fun putting together the baby's crib if I had this bedding set to go with it. This particular set includes an appliqued comforter, fitted crib sheet and dust ruffle. Minnie's little bow pops out from the comforter and I can just see the baby chewing on it while she's trying to sleep. This set offers a lot of pink, but only in the best way possible.

I'll be sitting on this wish list for a while – until someone I know gets pregnant with a girl. Then I can go to Walmart and purchase these über-cute Disney Baby Minnie Mouse necessities.


Originally published on June 4, 2014. Last Updated on September 9, 2021 by Pattie Cordova