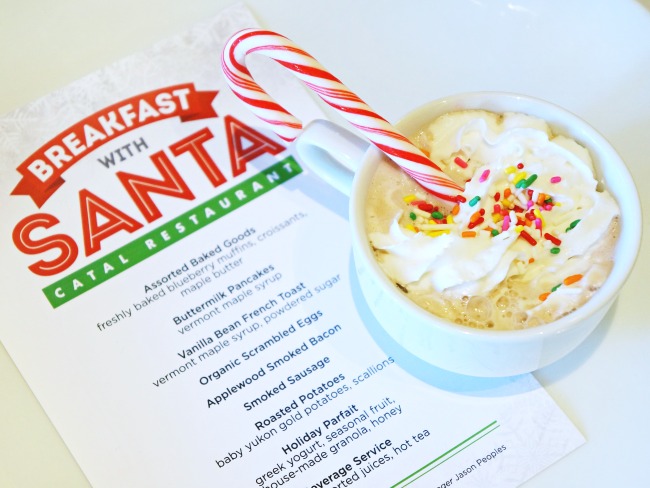 Updated with Breakfast with Santa 2022 dates below!!!
We had an amazing time having breakfast with Santa here in Orange County at Catal Restaurant in Downtown Disney! We were greeted by an enormous Christmas tree and it only got better after that once we found our way up to the second floor. Soon enough, we discovered why it has a reputation for having the best breakfast with Santa at Downtown Disney.
MORE: 150+ Winter Events in Orange County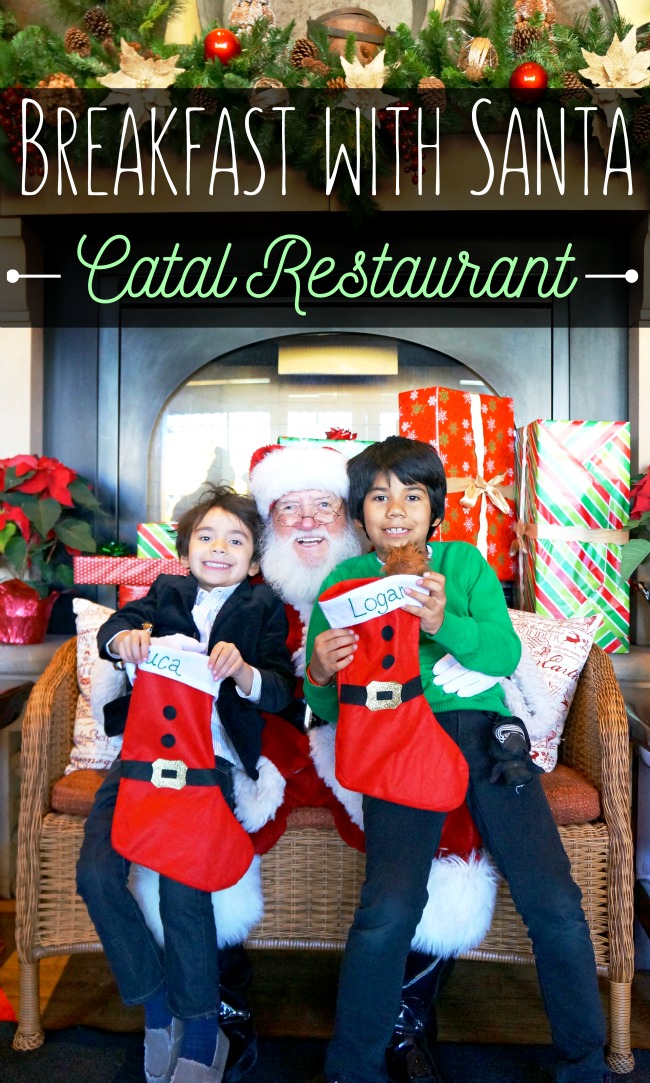 Breakfast with Santa is held on the second floor of Catal Restaurant, overlooking Downtown Disney. If you get there early, you can enjoy some coffee and water as you wait for your table. Once you enter the dining area, an elf will give you a stocking with your child's name, filled with activities that they can do while they wait for food. Gifts inside the stocking include a coloring book, a fill-in-the-blank Santa letter and crayons! It's the perfect thing to distract them and avoid the dreaded, "when is the food coming?" conversation. Once you have your stocking, they'll walk your party to your reserved table noted by a table tent. Each party has its own table – and we got the super comfy set with the plush cushions.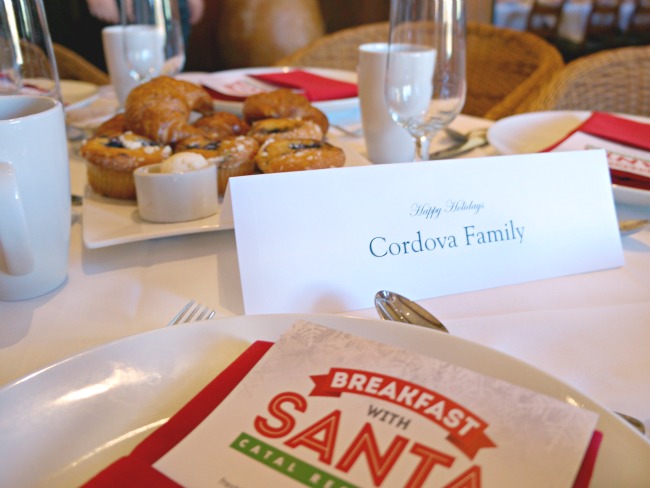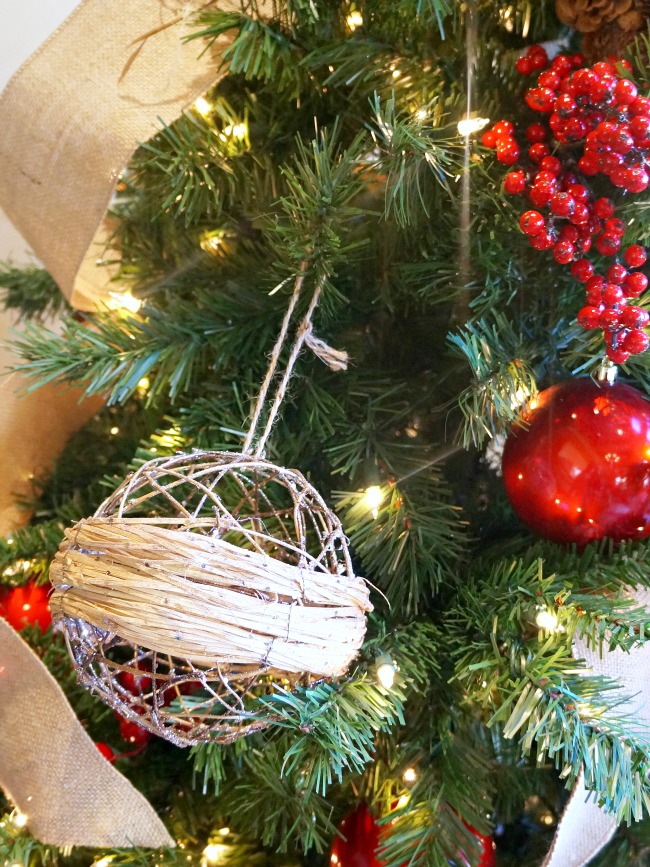 The awesome staff made sure that we had beverages as soon as we sat down. The kids went straight for the juice, while the Hubster and I stuck with coffee. Then came my son's favorite part – the roaming hot cocoa bar cart.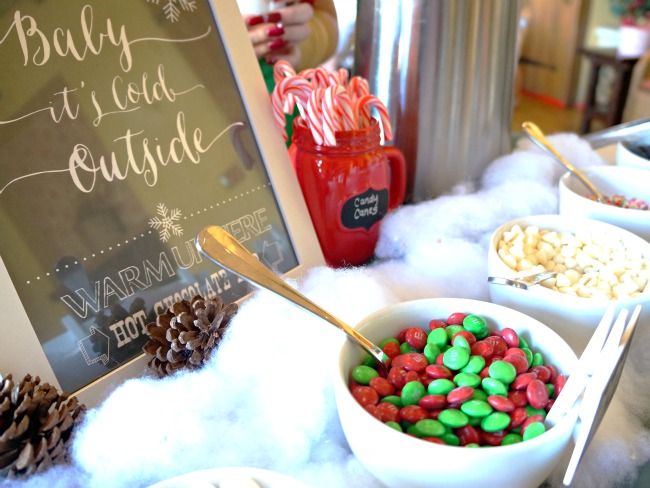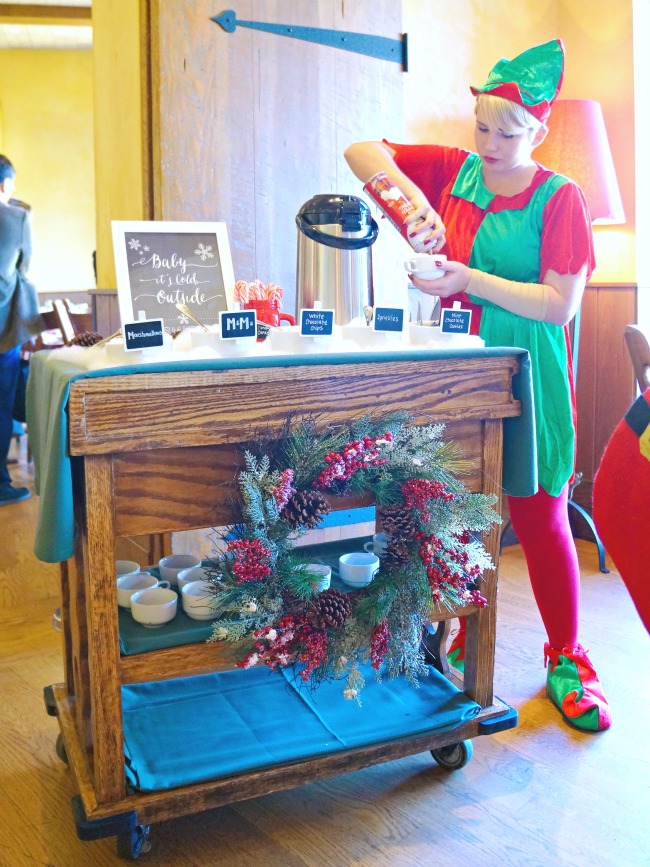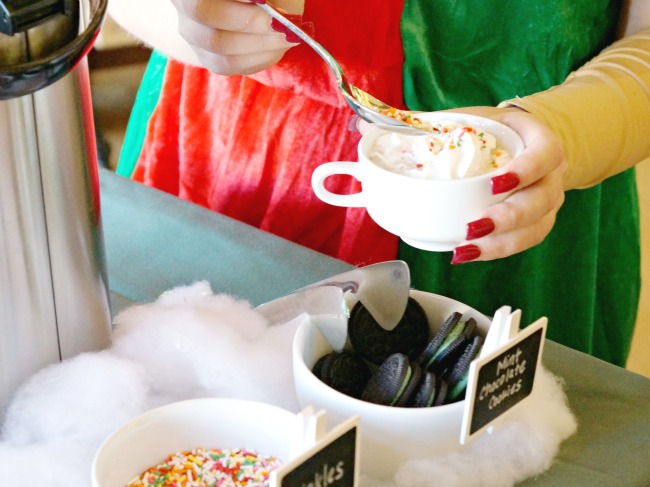 Elves bring around a hot chocolate bar cart and a little "elf" serves you a cup of hot cocoa with your favorite toppings – including candy canes and mint chocolate cookies. The best part? They give you unlimited refills!!! I think my kid tried at least three different variations.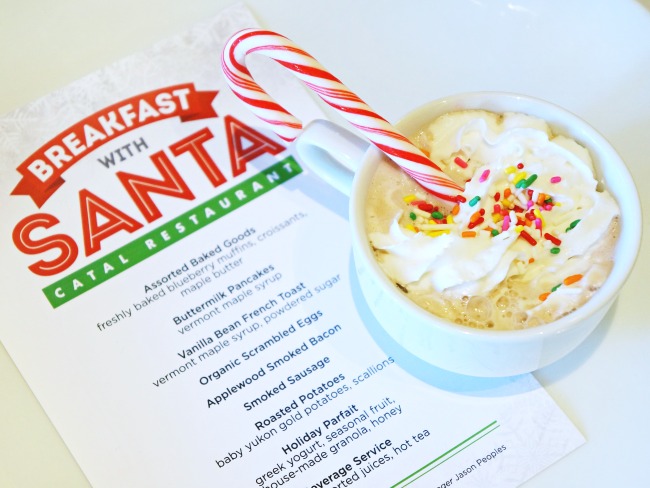 We waited for our breakfast to come and enjoyed a plate full of baked goods with maple butter good enough to tuck into your bag and bring home. It was the perfect beginning to the parade of dishes that followed in the form of buttermilk pancakes, vanilla bean French toast, scrambled eggs, applewood smoked bacon, smoked sausage, roasted potatoes and yogurt parfait!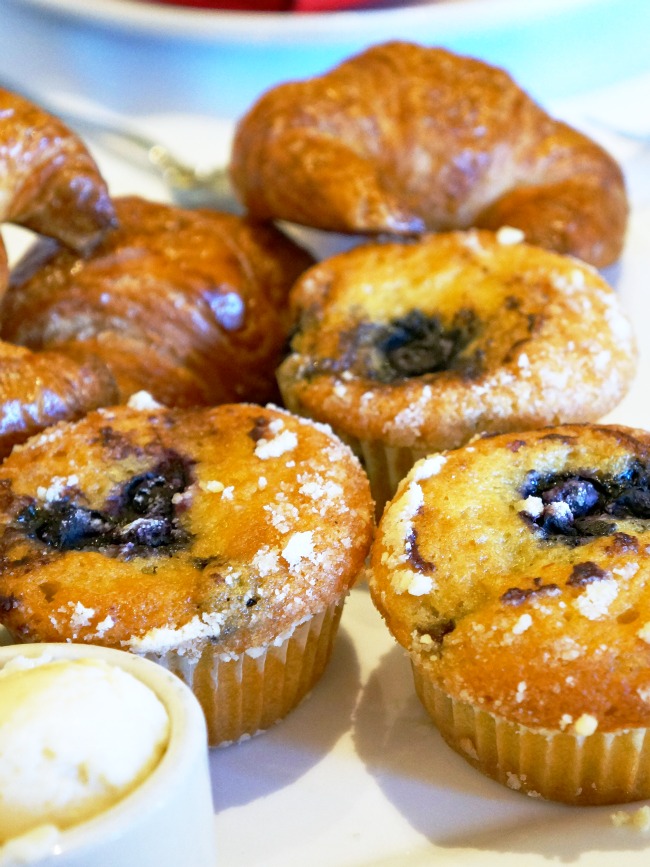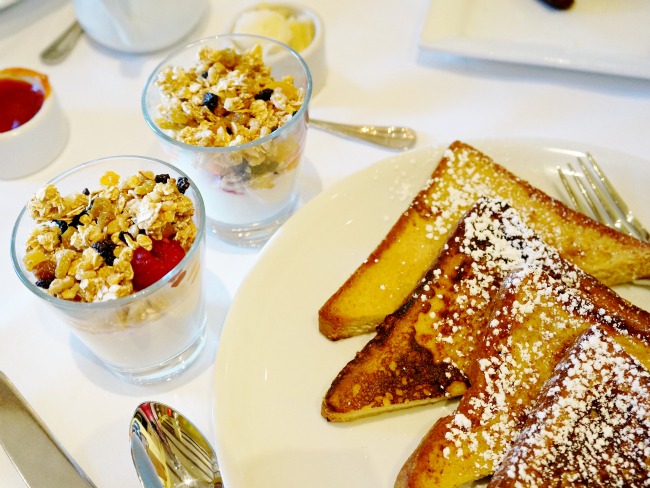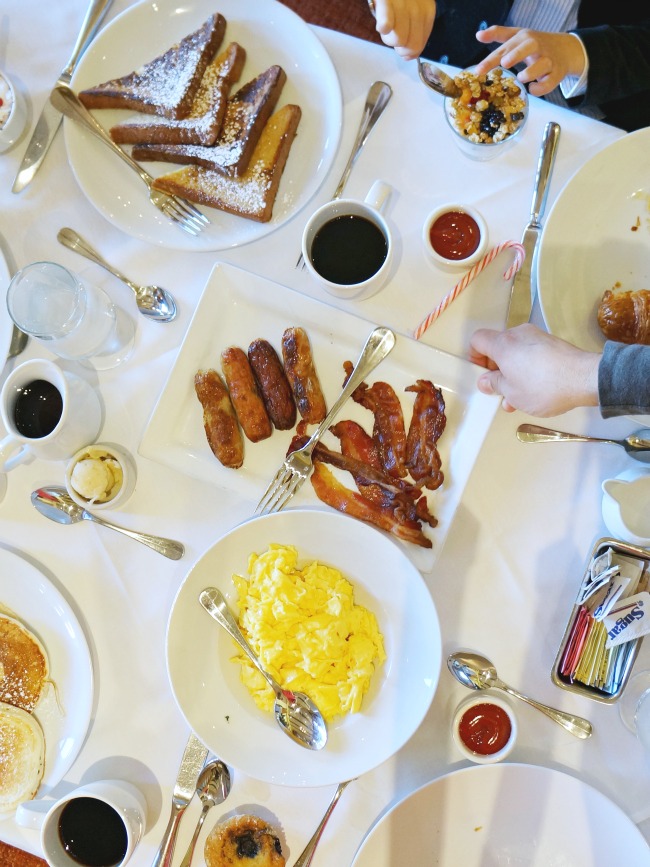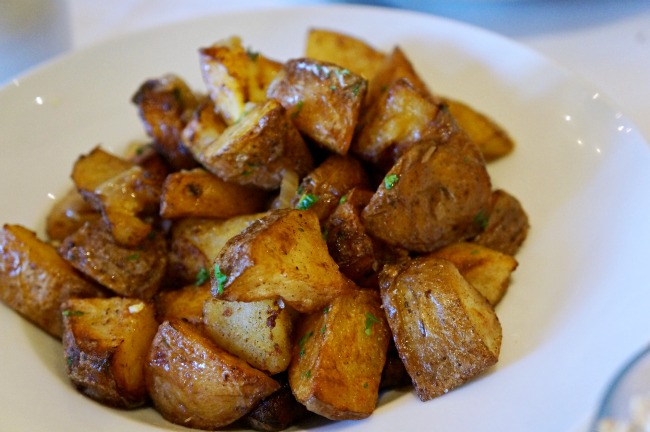 The kitchen sends out a ridiculous amount of delicious food from the set menu and If you want seconds (or thirds) – they bring you more! Everything is served family-style, so you can serve each person as little, or as much as they want. It worked out great for us because the Hubster got all the bacon and sausage, and we didn't have to ask the servers to take it off of our plates. The most popular dish at our table were the scrambled eggs. I couldn't believe that something as simple as organic eggs could taste so dang good!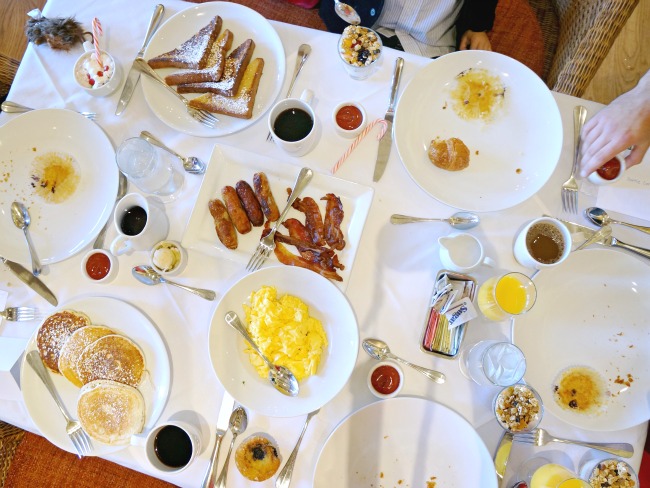 The staff was on it for the entire service and our coffee didn't get a chance to get cold before it was refilled. A cocktail menu is also available and features $10 cocktails (not included in the Breakfast with Santa cost). We heard about this bloody Mary perfect for bacon lovers – it has a stick of candied maple bacon!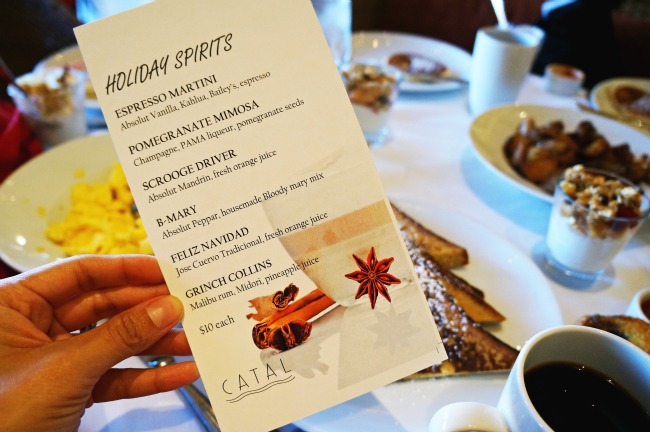 During breakfast, you can get a picture with Santa and it's done in the best organized manner ever. An elf comes around and takes one table at a time up to see Santa. They have someone set up so your picture can get taken and printed. Most people chose a picture with their kids and then just the kids with Santa. We took two souvenir pictures with us, and then we were given a slip with info on how to get our digital pictures so we can print out more at home.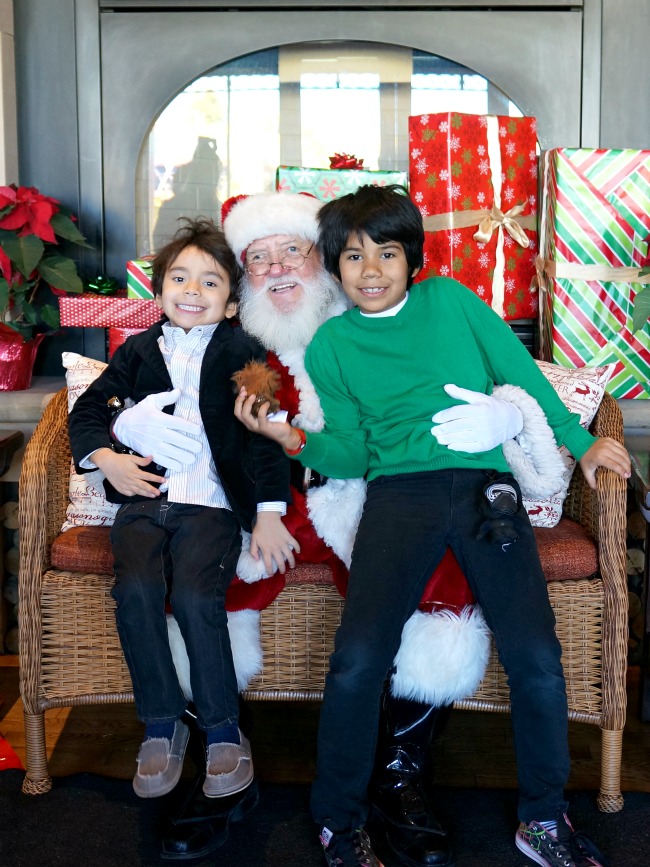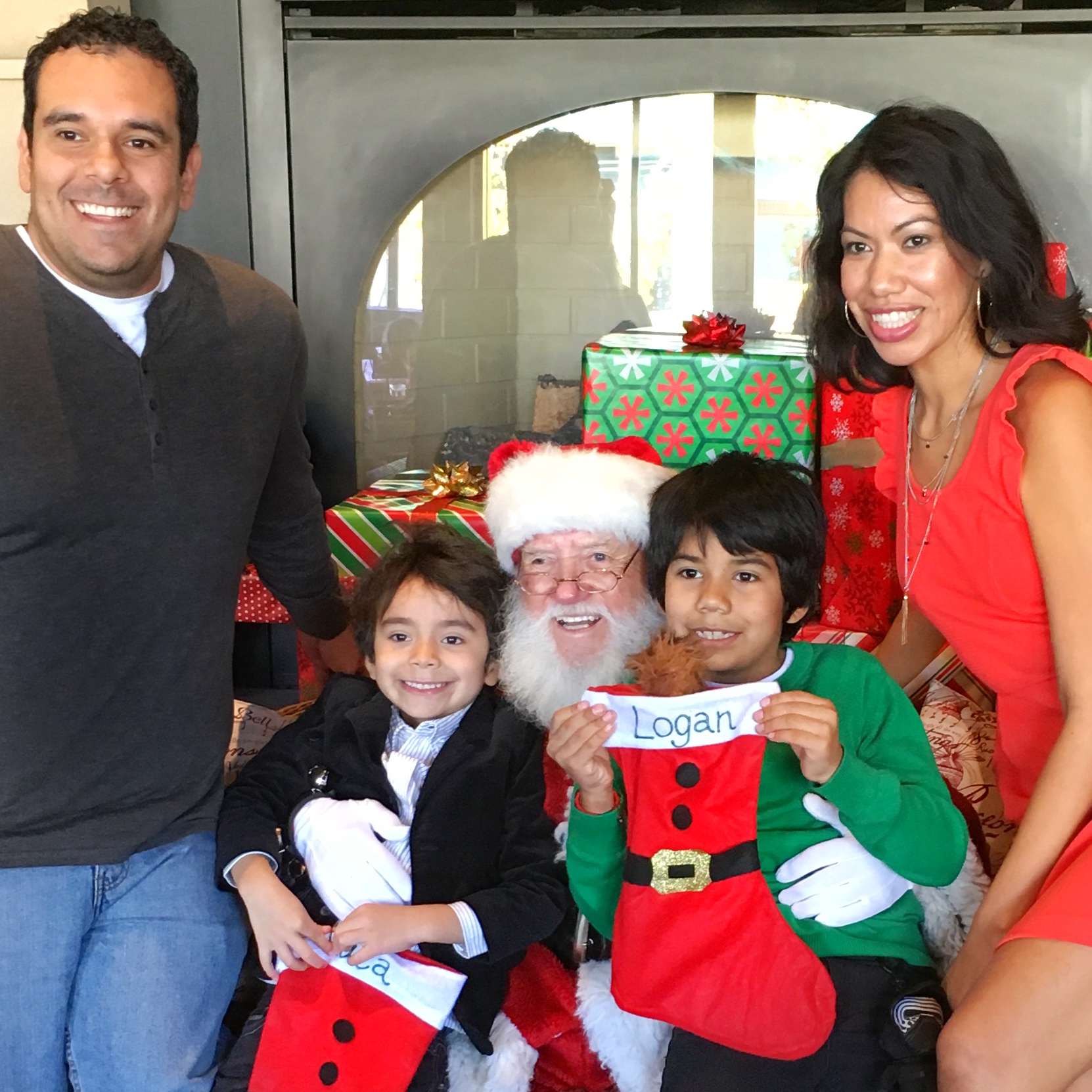 As you walk out of breakfast, you can stop by the Cookies with Santa station and grab some cookies and milk to take with you. It's all a very cute experience and definitely something that we can't wait to do it all over again next year!!!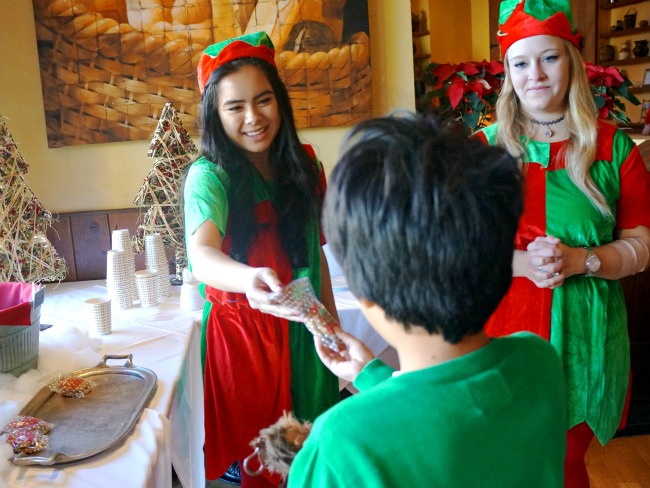 Breakfast with Santa in Orange County
Where
Catal Restaurant in Downtown Disney
1580 Disneyland Drive, Anaheim, CA 92802
Dates
November 26, 27; December 3, 4, 10, 11, 17, 18, 22-24
Seating times: 8:00am-12:45pm
Pricing
$110 Adult | $50 Child (3-10 years) | FREE (2 years & younger)
**Includes sales tax and gratuity**
Price includes:
Meet and greet and photos with Santa
Stuffed animal for children 10 and under
Personalized stockings for children 10 and under
Family-style breakfast
Bottomless Mimosas (21+)
Hot cocoa
Cookies to take home
and more!
Parking
Catal will validate guest parking for up to 5 hours. Please allow yourself enough time to park and walk through security on your way into the District.
Reservations
Call 714-333-9924 for reservations or visit https://www.patinagroup.com/catal-restaurant.
Originally published on November 1, 2022. Last Updated on November 1, 2022 by Pattie Cordova