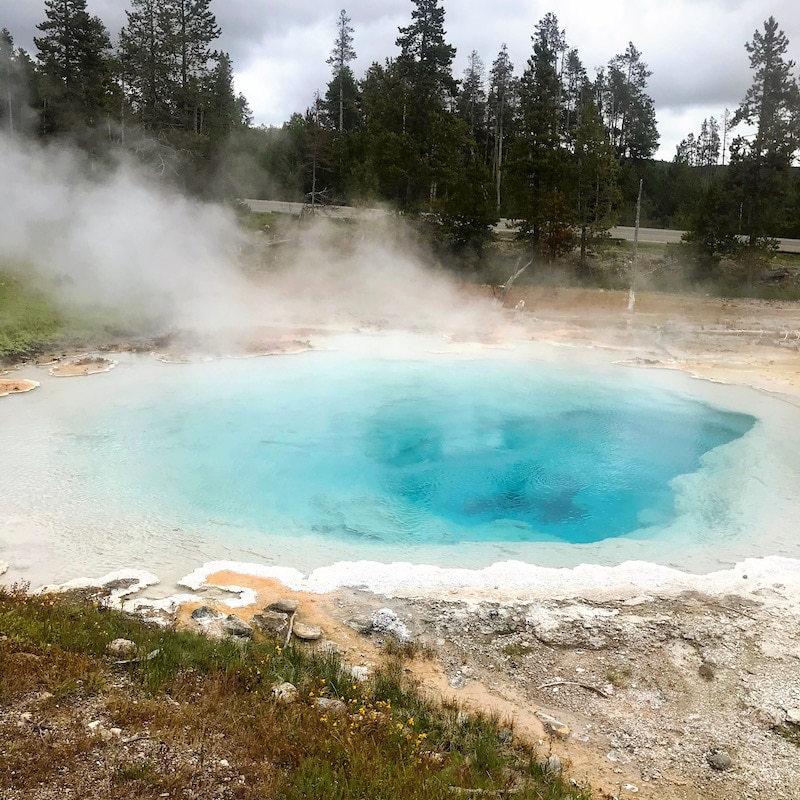 Road trip idea: Yellowstone with kids
This Summer we did an eight day road trip from Southern California. Our goal was to see as many national parks as possible. Our first stop on our road trip with kids was at Zion National Park, but the BIG one on our list was Yellowstone National Park!!!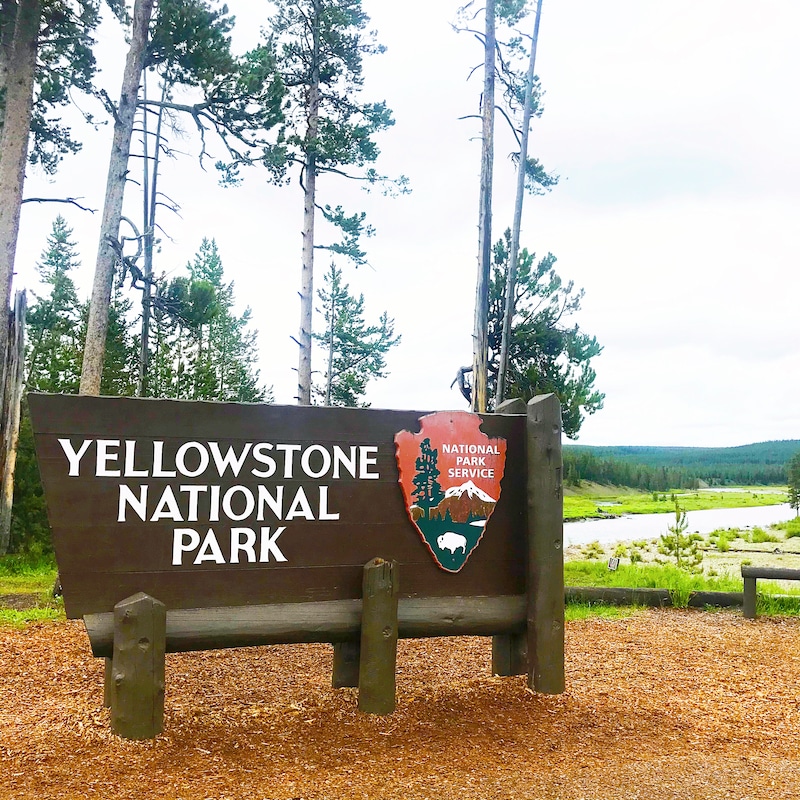 We drove through Grand Tetons National Park because it is just below the south entrance of Yellowstone. We did two national parks in one big swoop!
On our way to Yellowstone with our kids we stopped at Zion National Park and Bryce Canyon. This is also your friendly reminder that if you have a fourth grader, we encourage you to apply for a FREE "Every Kid Outdoors" Pass.
Where to stop on your way to Yellowstone National park
We drove from Bryce Canyon to Grand Teton and took smaller inland highways where there weren't many tourist stops. On our way back home, we did stop at Salt Lake City.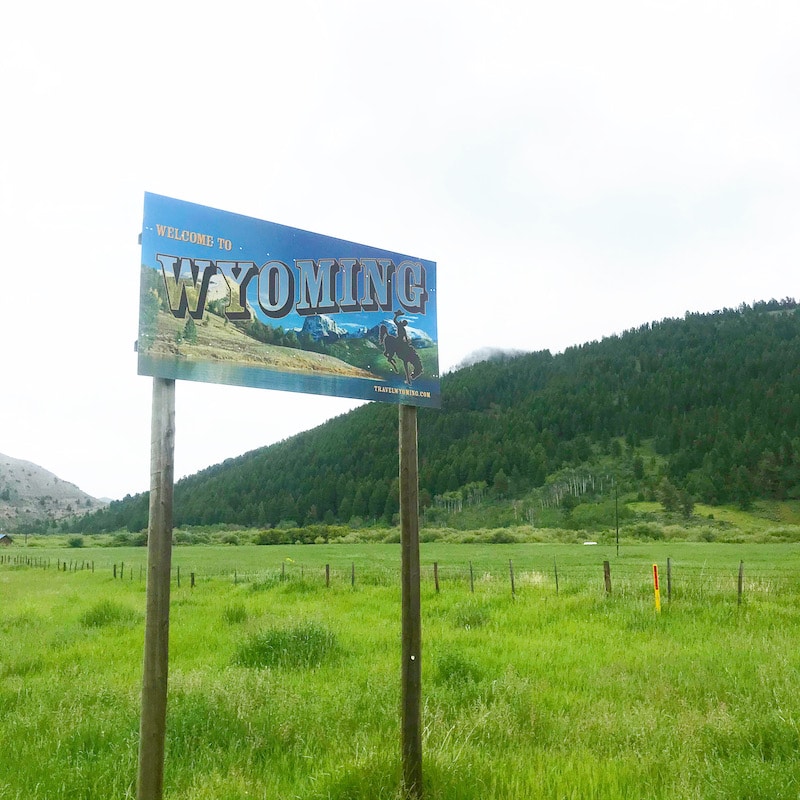 Once in Wyoming we got treated to everyday life of having a herd of sheep blocking the road. It was cuteness overload and we secretly wanted to grab a baby sheep and take it home.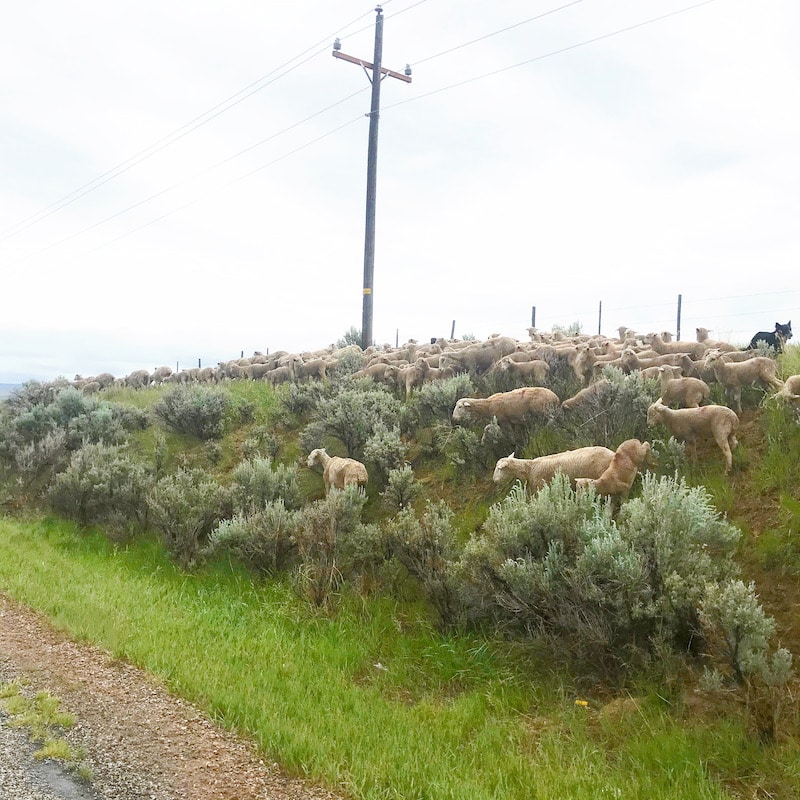 Grand Tetons National Park
We arrived at Grand Teton National Park on an overcast day and could not see the three mountain ranges.
These mountain ranges are what make Grand Teton famous. We stopped quickly at the visitors center that houses a free museum and gift shop.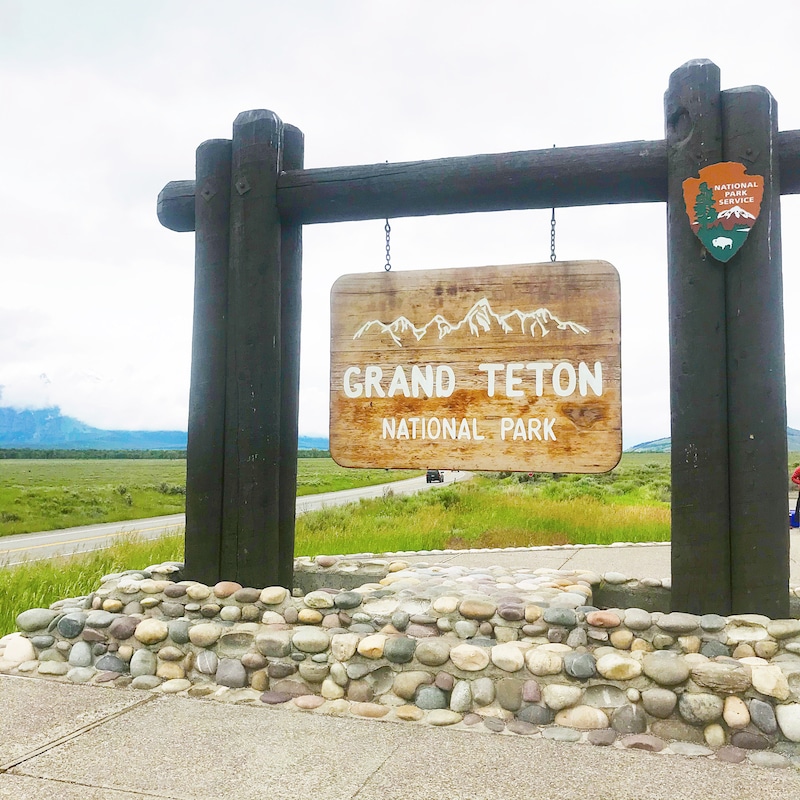 We also took this opportunity to grab a bag of Huckleberry Taffy – a favorite everywhere in Wyoming and Montana.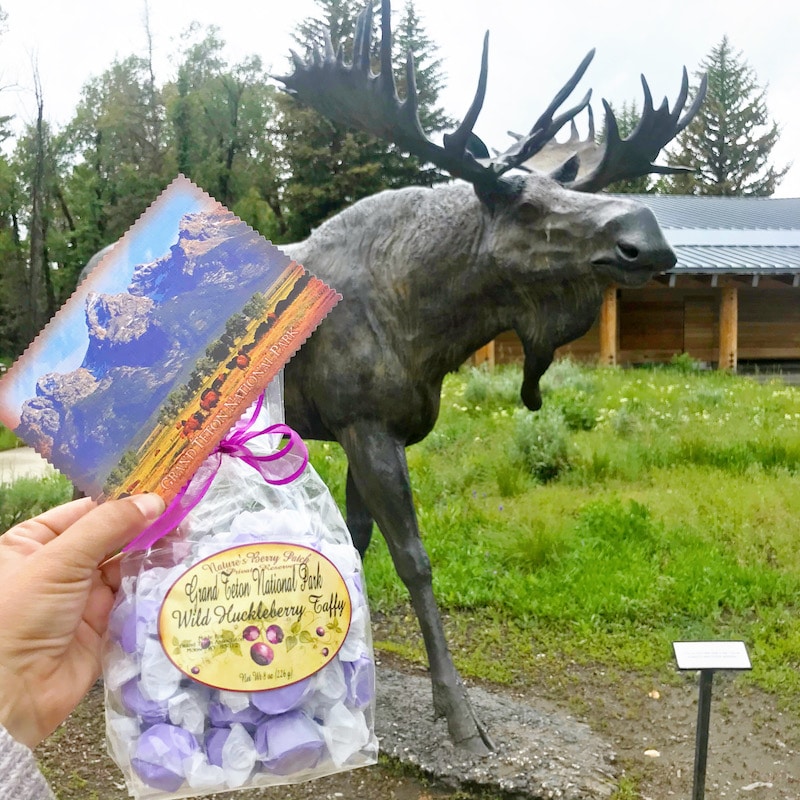 After Grand Teton, it's a quick drive to the south entrance of Yellowstone.
Yellowstone National Park with Kids
We did two full days at Yellowstone. Here is an itinerary of what we did each day. We had a full schedule for each day so we moved quickly through each stop.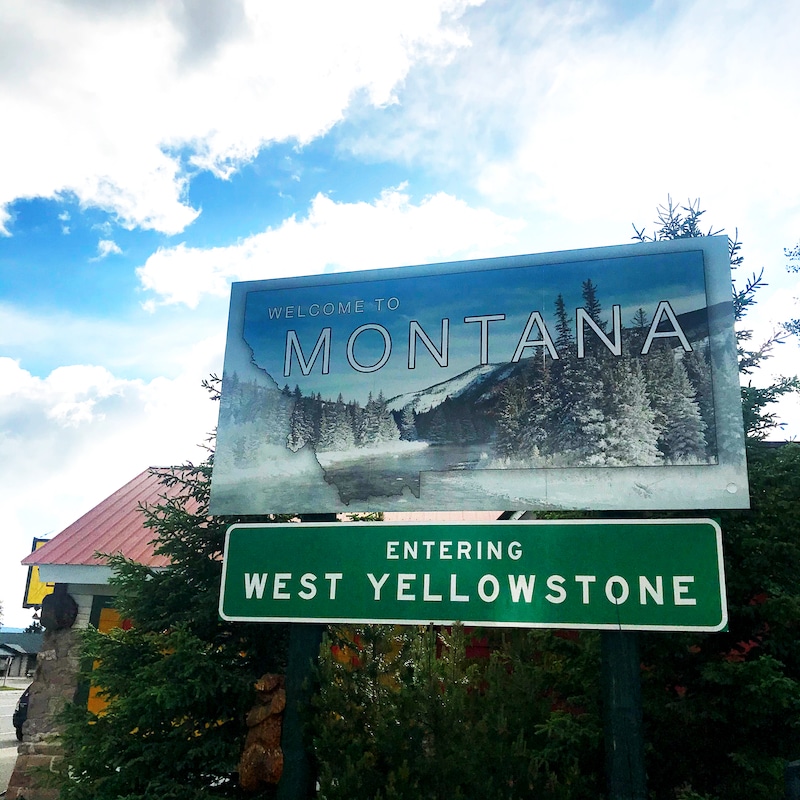 Things to Know when visiting Yellowstone National Park
Where to park
We decided to try and get the most done in two days. The beauty of Yellowstone's tourist spots is that parking lots are a quick walk to sites.
You park, walk maybe a 1/4 mile see the geyser, fumaroles, falls and then back in car and off to the next stop.
No cell phone service
There is NO cell phone service inside Yellowstone, so plan accordingly.
Grab a map at entrance booth or print one at home.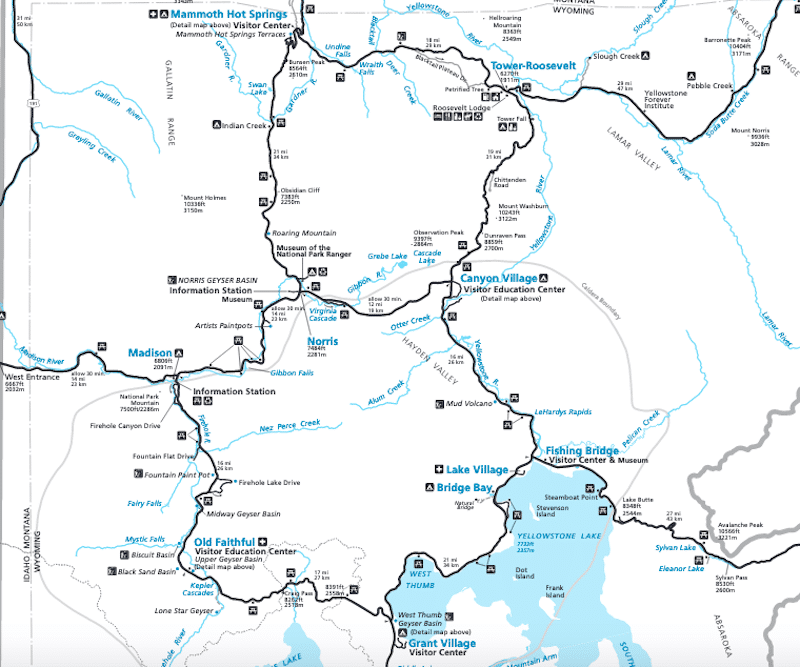 Yellowstone has one main road named "the Grand Loop." It's in the shape of an eight. Stop at visitor centers for help if you need help finding this road.
Wildlife Crossing
You are in wildlife territory, so beware. There are signs everywhere to give the animals at least 25ft. distance. And please, remember they are wild animals!!
We saw a bison slowing trudging along the highway and behind it a mile long line of vehicles.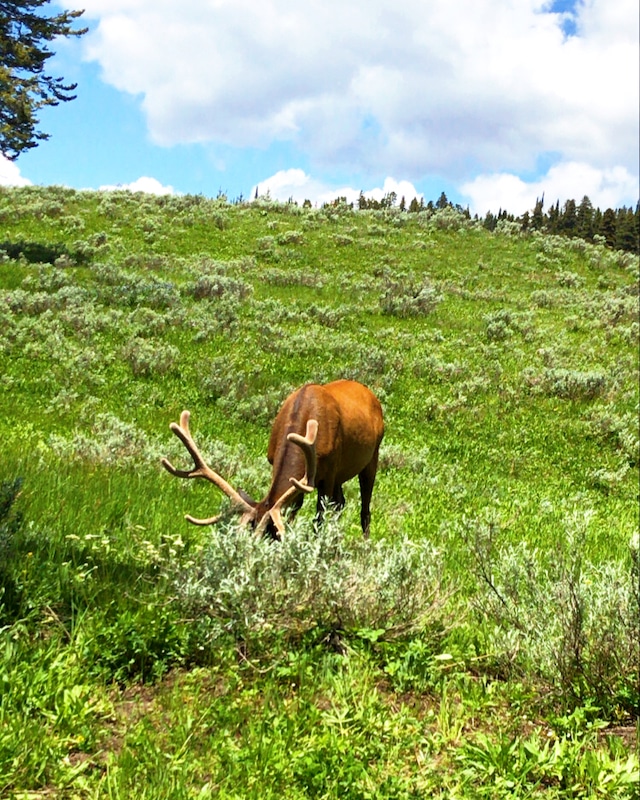 Also, traffic in Yellowstone means there are animals up ahead or animals crossing. So ten miles may take you thirty minutes.
Enjoy a picnic at Yellowstone
There are many turnouts and picnic areas all around Yellowstone. Gas stoves are allowed, but no open flames.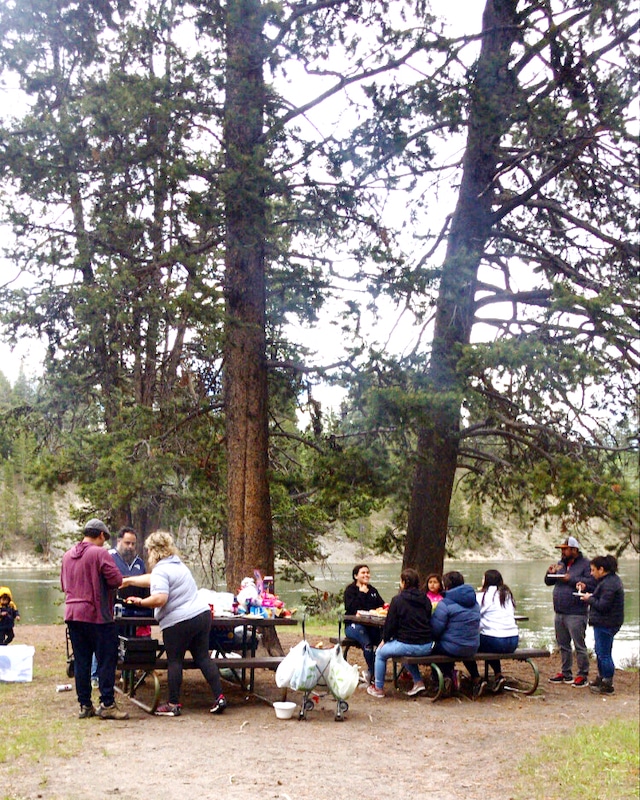 We took our butane stove which is our go-to for camping. We had an amazing lunch right by the river and even saw a bison slowly walking down the road.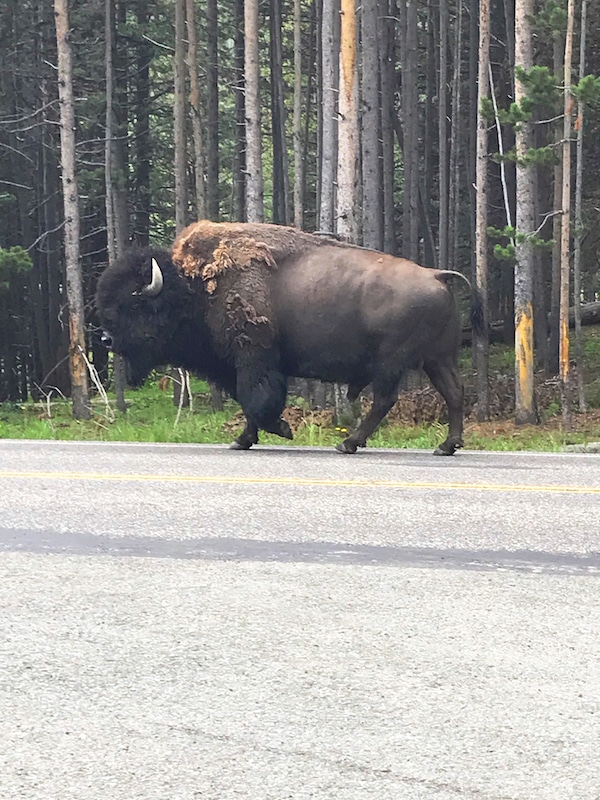 Be aware that this is also bear country, so pick up all your trash and place in correct bins.
Send a postcard home and to family and friends
If you want your postcards to be postmarked from Yellowstone, drop them off at Old Faithful or Mammoth Springs mail boxes.
We thought this was a really great souvenir so we sent cards to friends and family members. Don't forget to send one to yourself.
Day 1 Yellowstone with Kids Itinerary:
Gibbon Falls
We started by the west entrance and were headed to Norris Geyser Basin. Gibbon Falls is a quick stop between Madison and Norris. It makes for a quick family picture. We were back onto the next stop in fifteen minutes.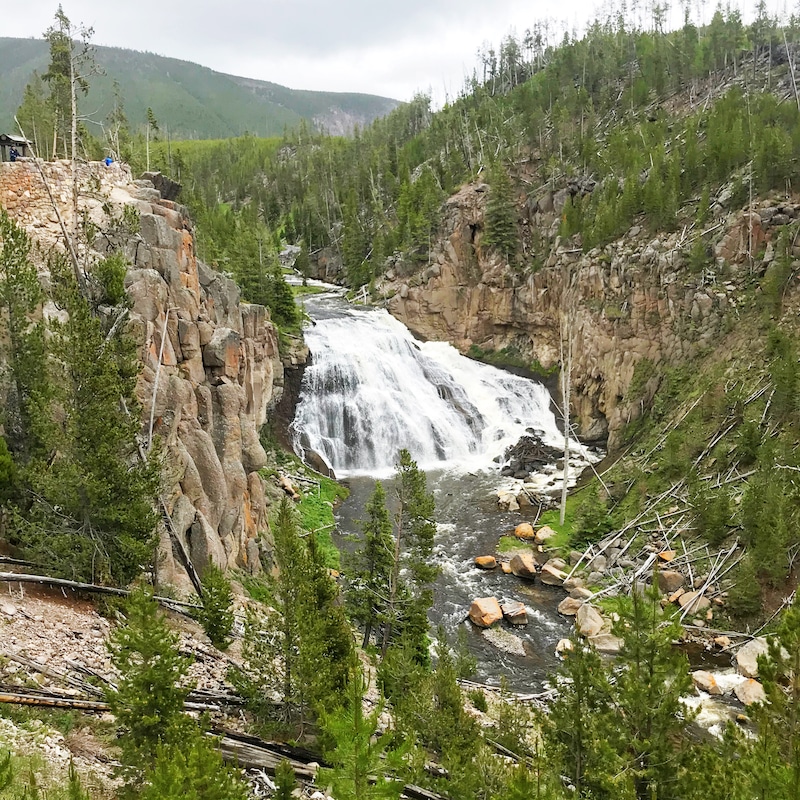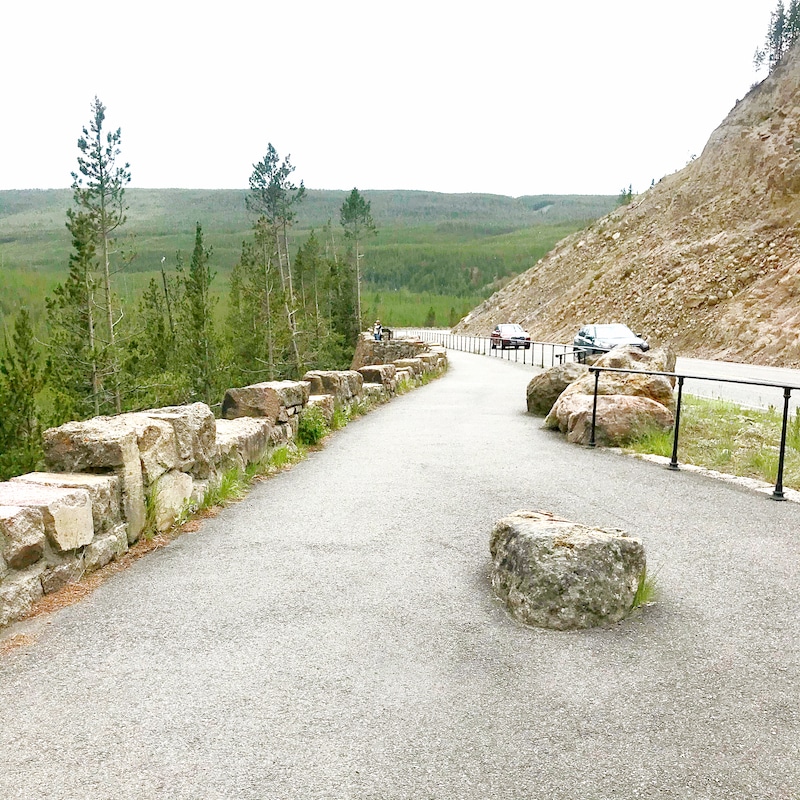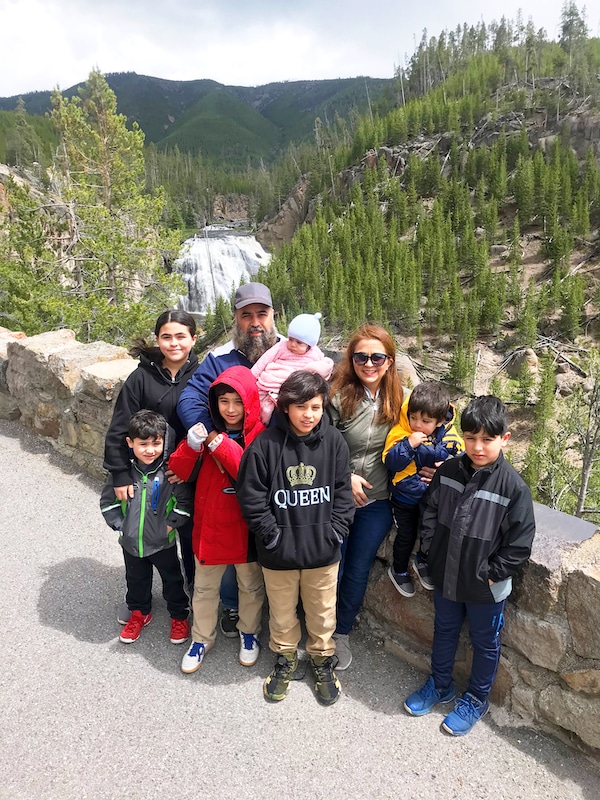 Norris Basin Geysers
This basin has many trails and some erupting geysers. We went to the Porcelain Basin portion which is near the museum.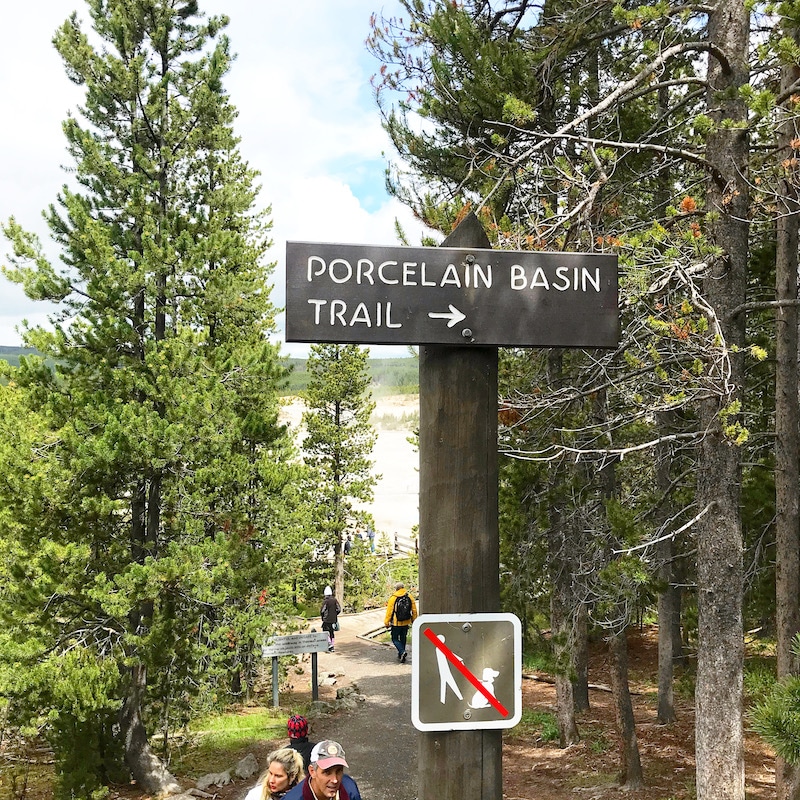 Morris Museum was closed due to Covid-19 but would be a great place for kids.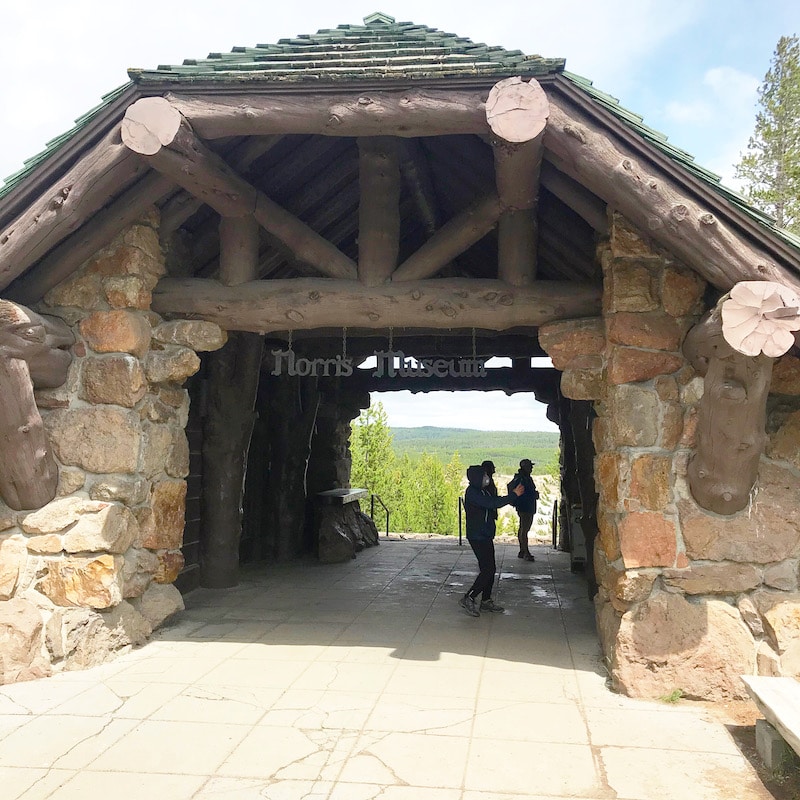 The trail does have a couple of stairways, not appropriate for strollers. Make sure to warn the kids since it does smell. The pools are bright blue (hence the name Porcelain Basin). We spent about one hour here.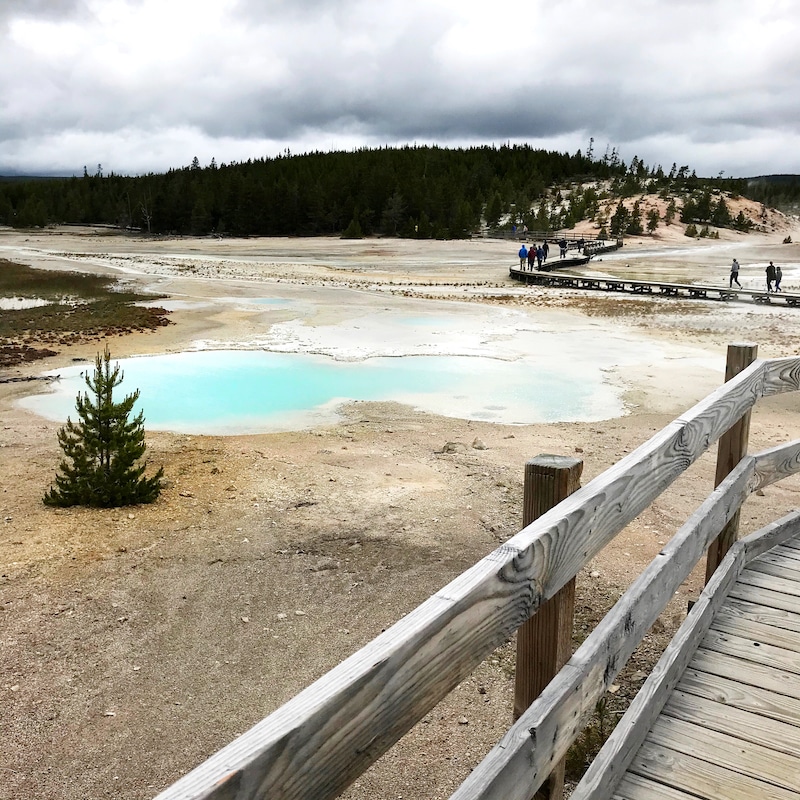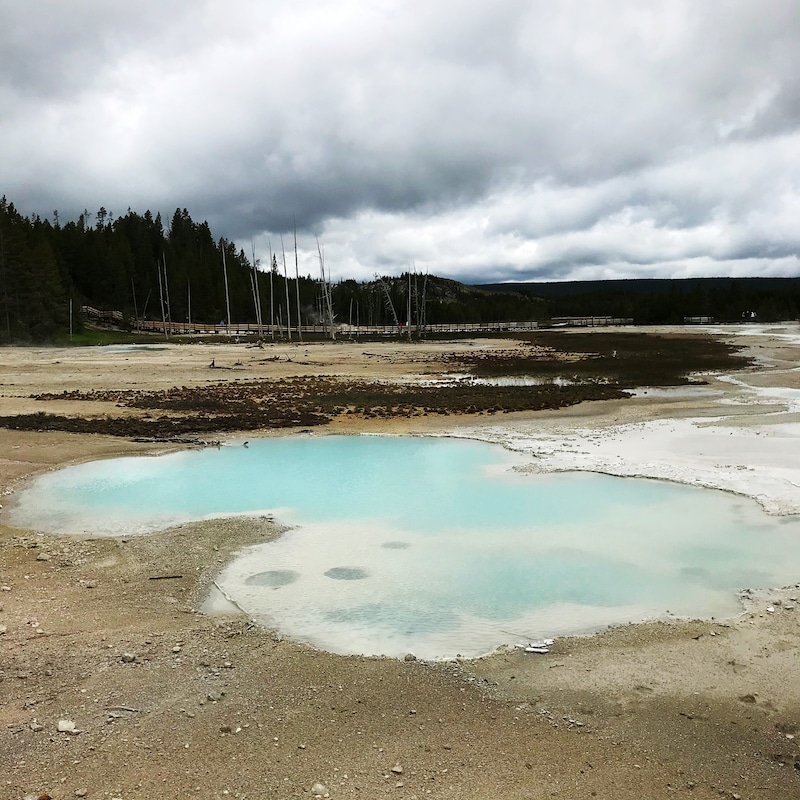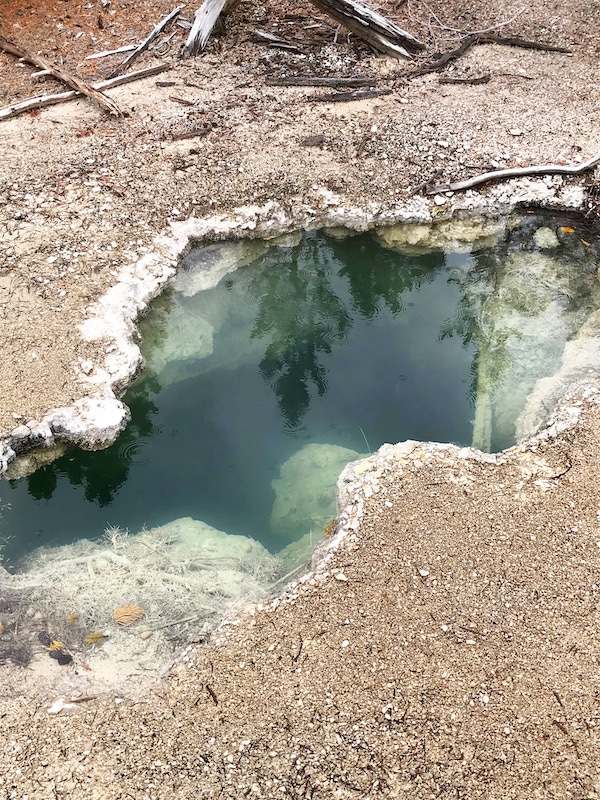 Fountain Paint Pot (Mud Pots)
The kids will love seeing the mud pots bubbling up and popping. It seriously looks gross and smells just as bad, but you will love seeing the kids reactions.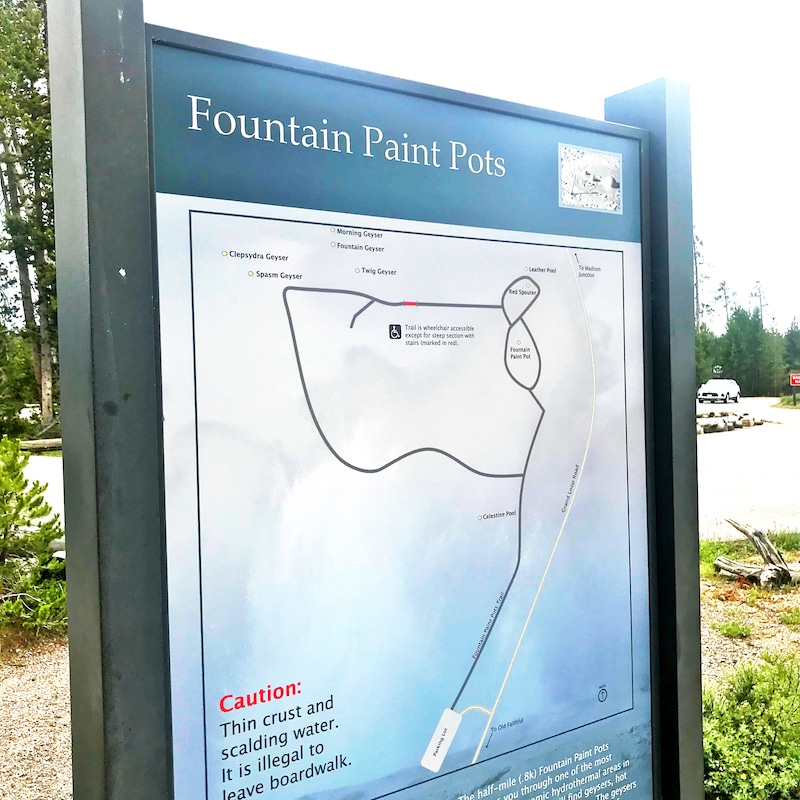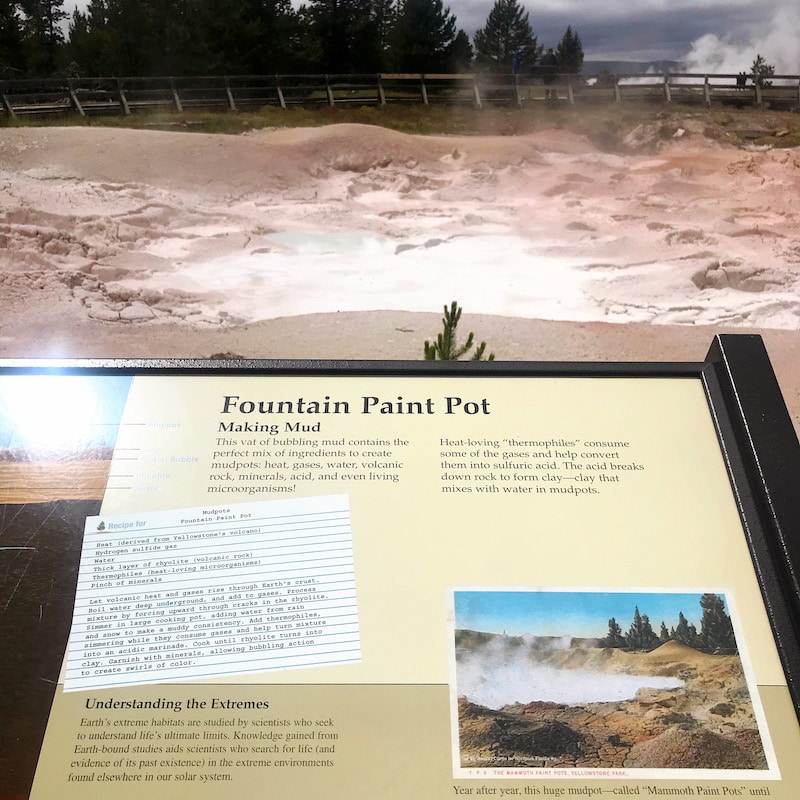 The trail is very kid friendly, short and no stairs. The small geysers around pots were beautiful. Spent thirty minutes here since mud pots are near parking lot.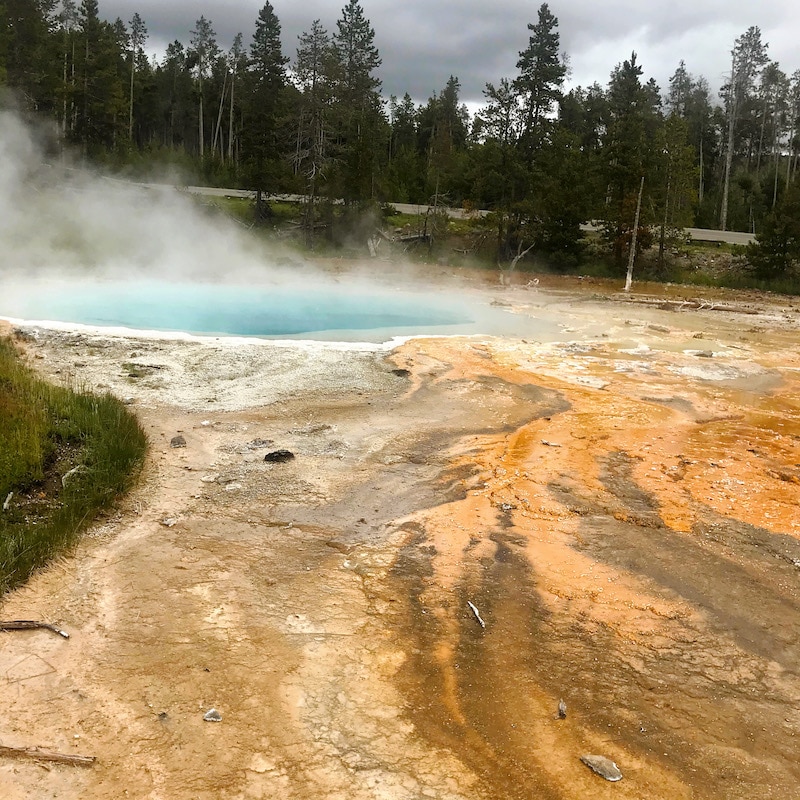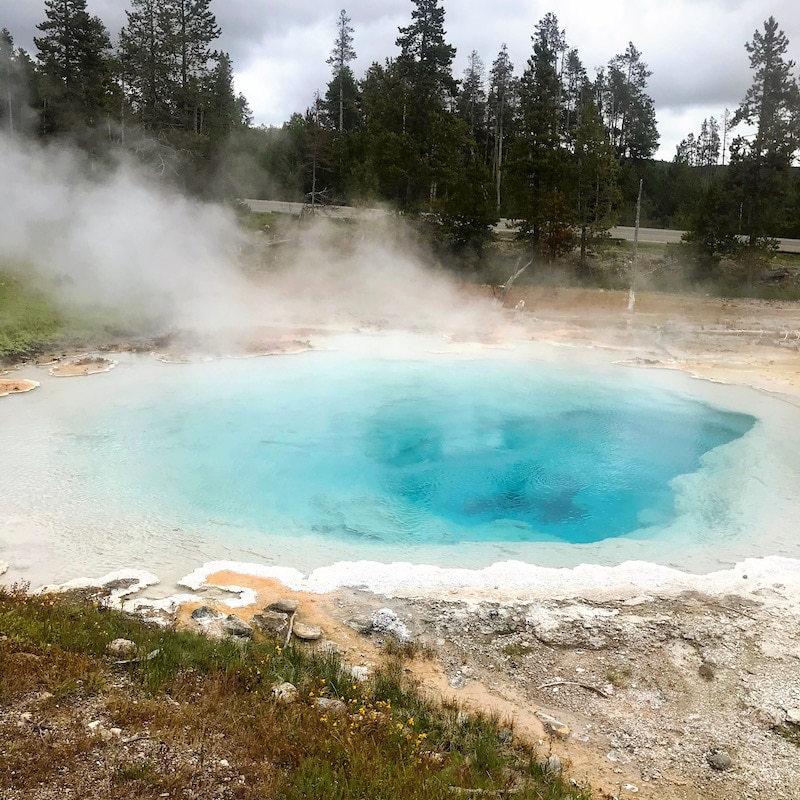 Midway Geyser Basin (Grand Prismatic)
This basin is the most visited besides Old Faithful because Grand Prismatic is also here. Expect long lines to park.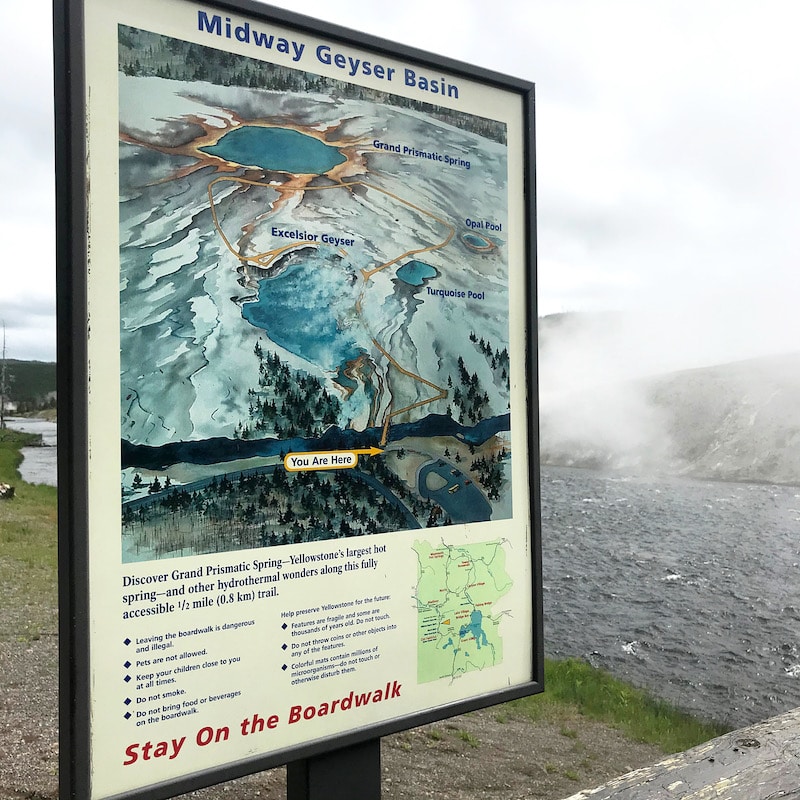 We found it easier to park 1/4 mile on side of road and took a trail to basin.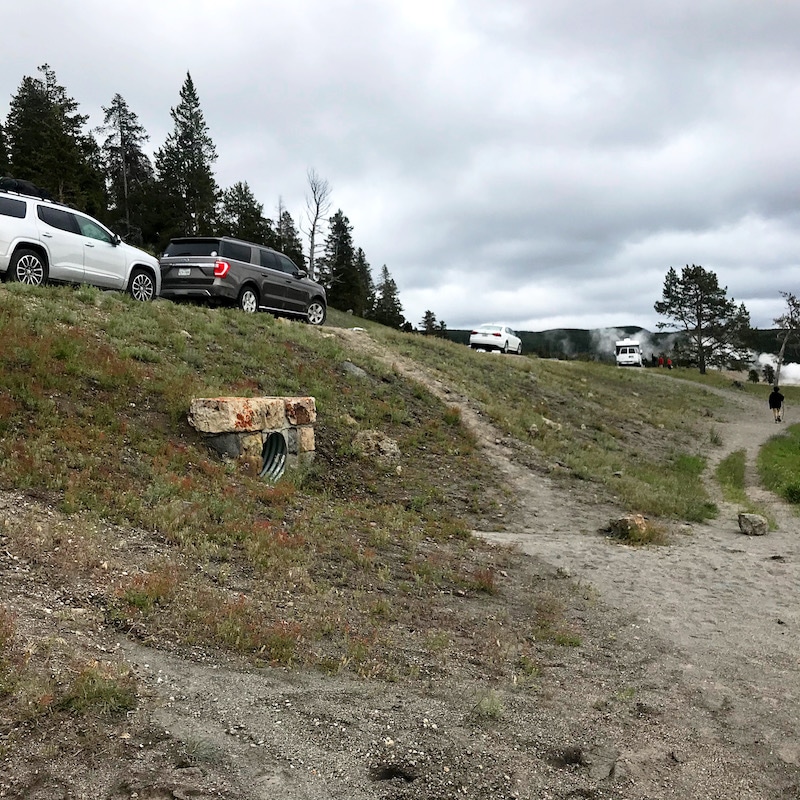 We had a quick lunch of hot dogs right on side of road because we had our butane stove. Afterwards, we walked to the basin which has a stroller-friendly walkway.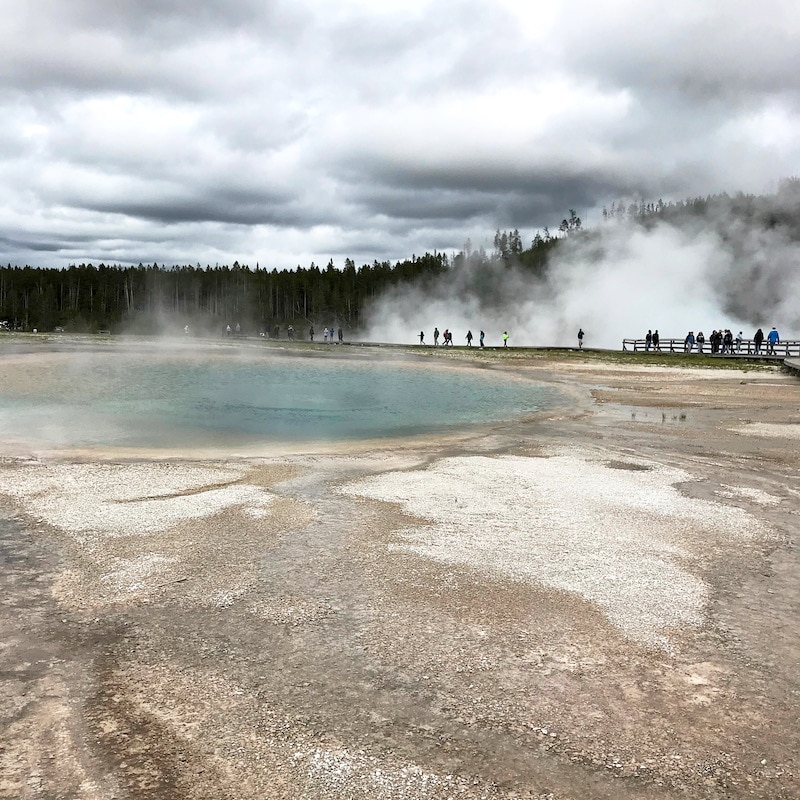 The Grand Prismatic is the largest geyser in Yellowstone and prettiest. It was raining and very overcast so couldn't see it well.
The other geysers are bright blue so one can only imagine how blue Grand Prismatic is. Including lunch, we spent two hours here.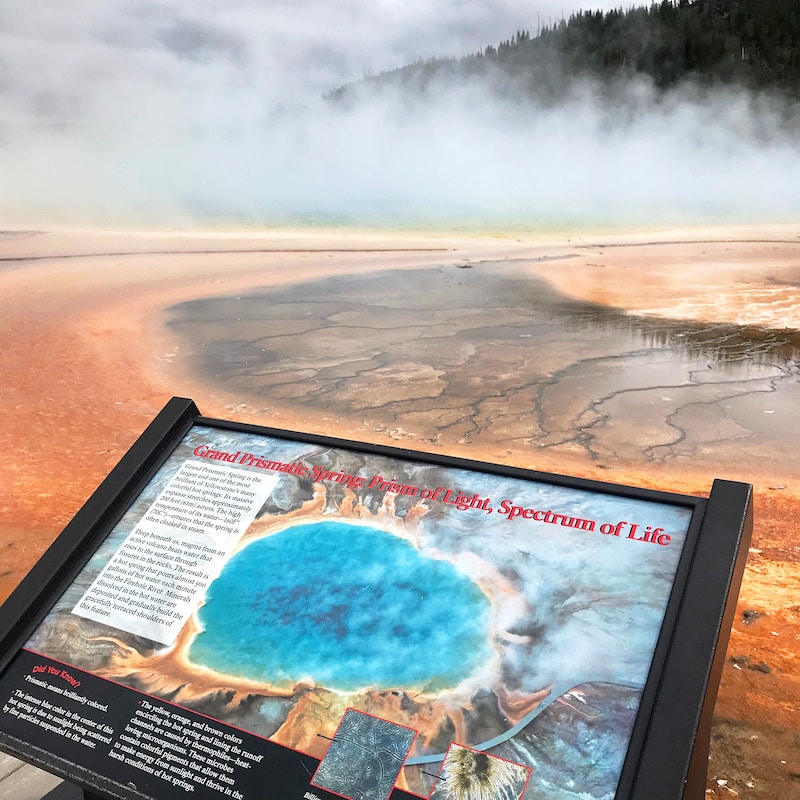 Old Faithful at Yellowstone
Old Faithful is the most visited spot in Yellowstone and that is because this geyser erupts every 60-90 minutes. We got there just when it had erupted which was perfect because we were able to grab front row seats for the next eruption.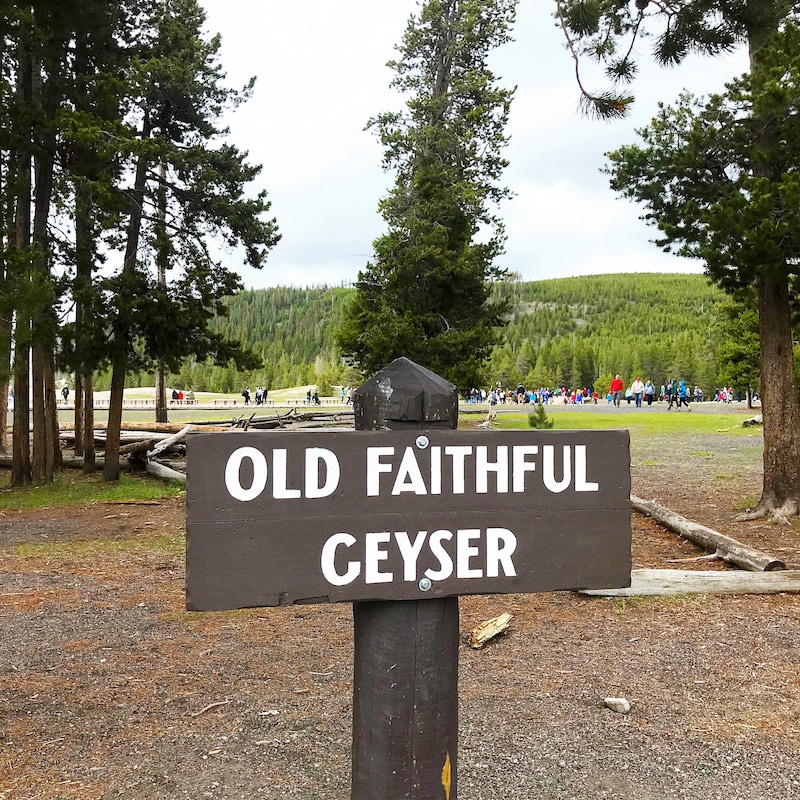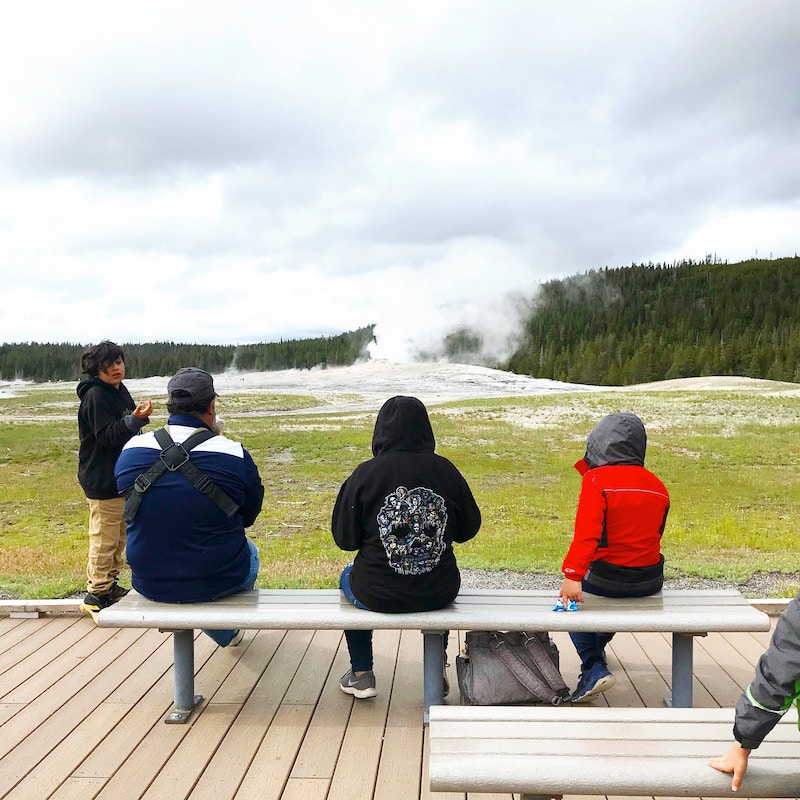 While the hubby waited, the kids and I went to do some souvenir shopping and grab a coffee.
They do require a mask to enter building, and only allow a number of people in so be prepared to make line.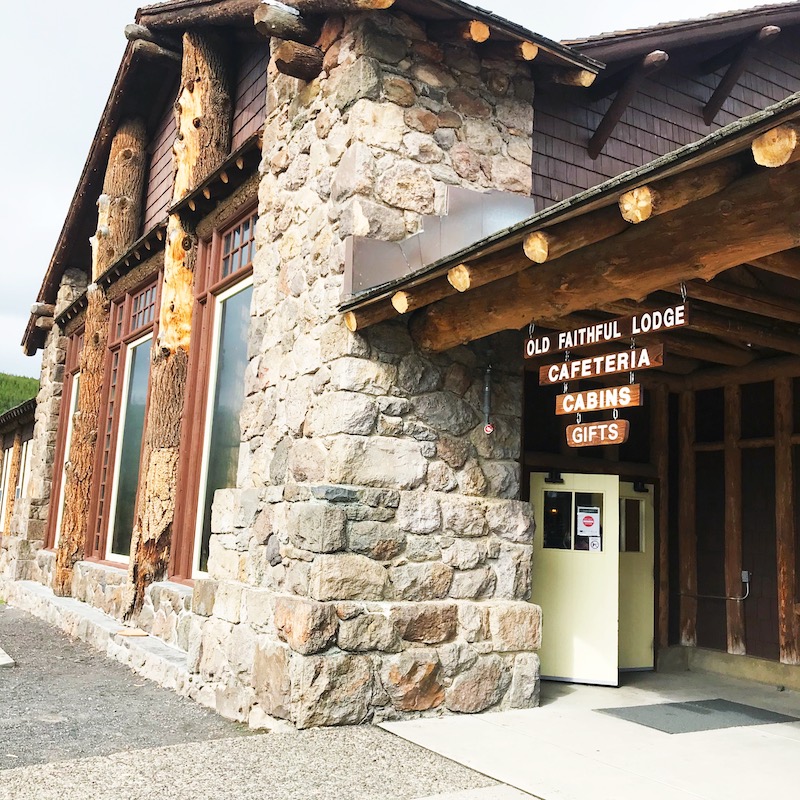 The park rangers will let you know when next eruption is estimated to happen. It spluttered at beginning so we knew to get phones ready.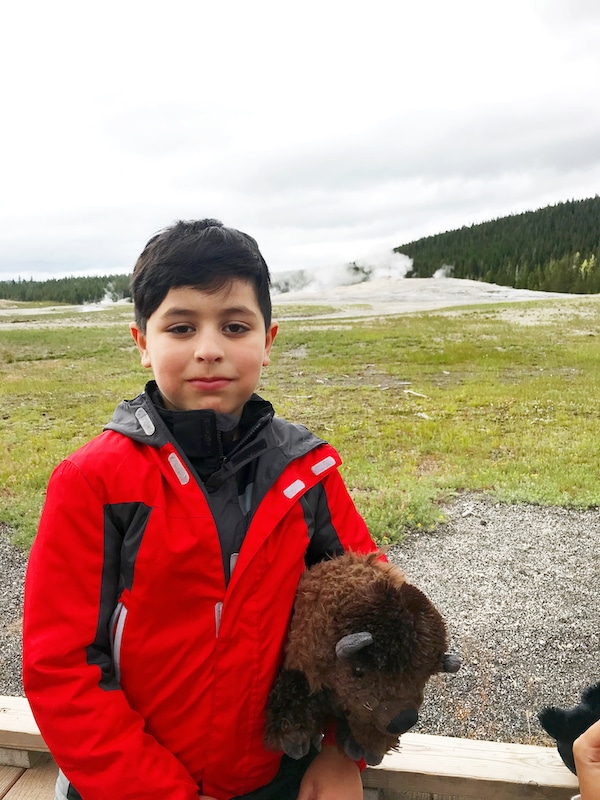 The eruption last about one minute and the kids loved it. We stayed at Old Faithful for two hours, then headed back to our cabin by the west entrance.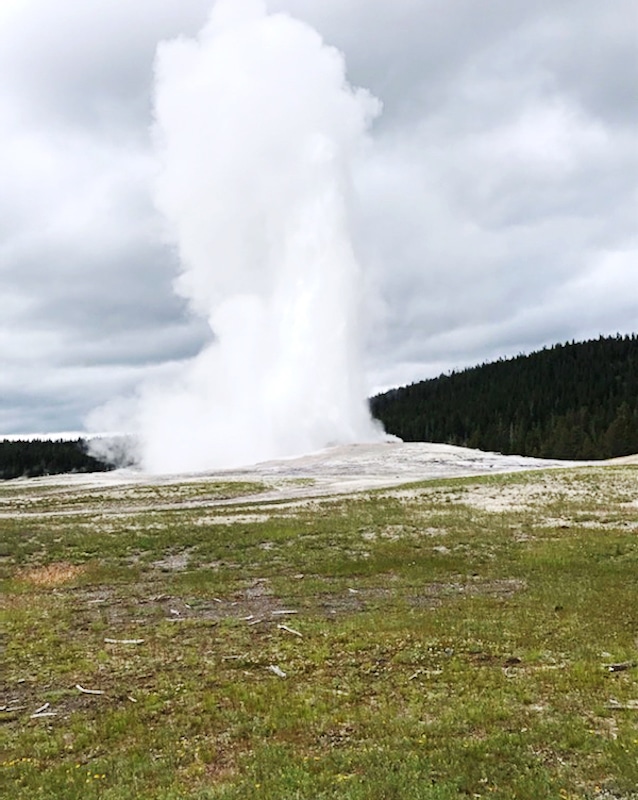 Day one was a success and we got to see everything on our list for the west side of Yellowstone.
Day 2 Yellowstone with Kids Itinerary:
Lower Falls, Yellowstone River
On the second day we started again from west entrance and headed to Canyon junction. Once at Canyon junction we followed the signs to Upper and Lower Falls.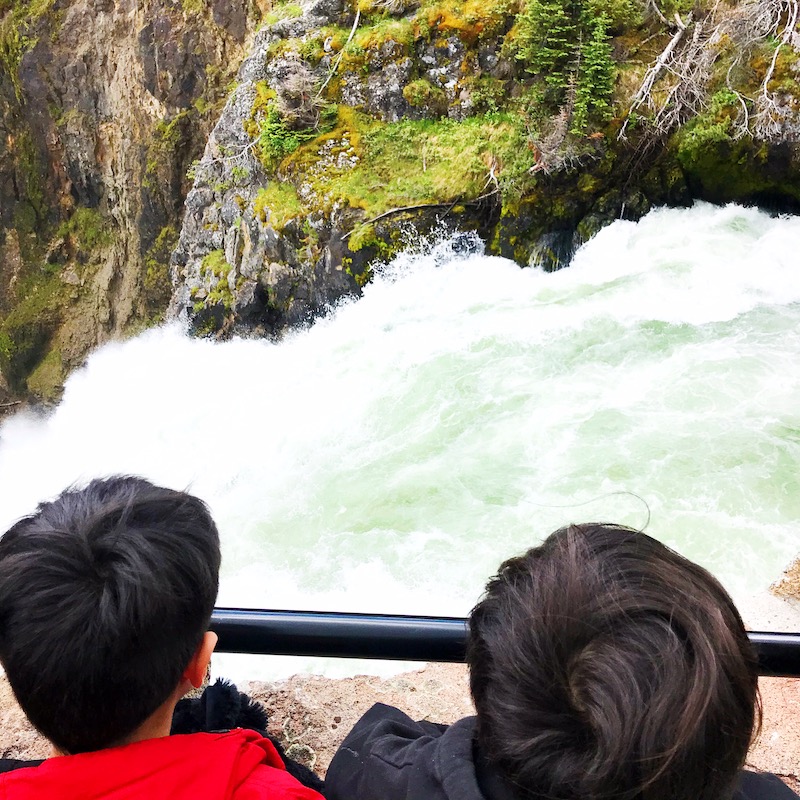 We parked at Lower Falls and took the quick trail down to see the falls. There are stairs on this trail, so strollers are not ideal. The view and sound of crashing water was amazing. We were back in car in thirty minutes.
North Rim Drive
This drive will take you to the beginning of Grand Canyon of Yellowstone. There are a couple of parking lots – we chose the farthest one near Lookout Point.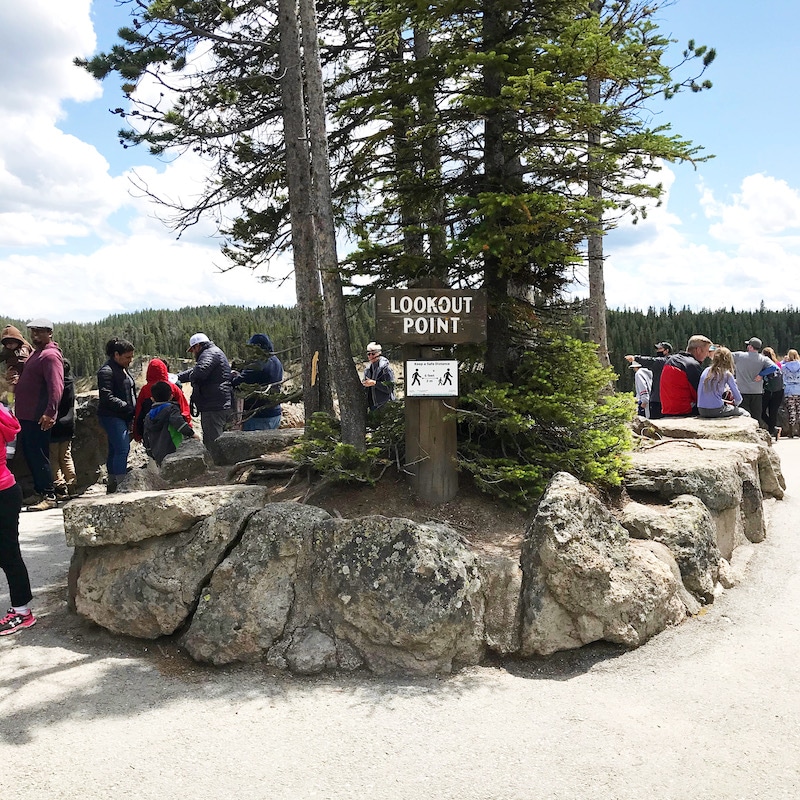 At Lookout Point you'll get a view of the falls and canyon. Be careful with kids since there are only rocks as barrier from edge of mountain. We stayed at Lookout Point for about 45 minutes.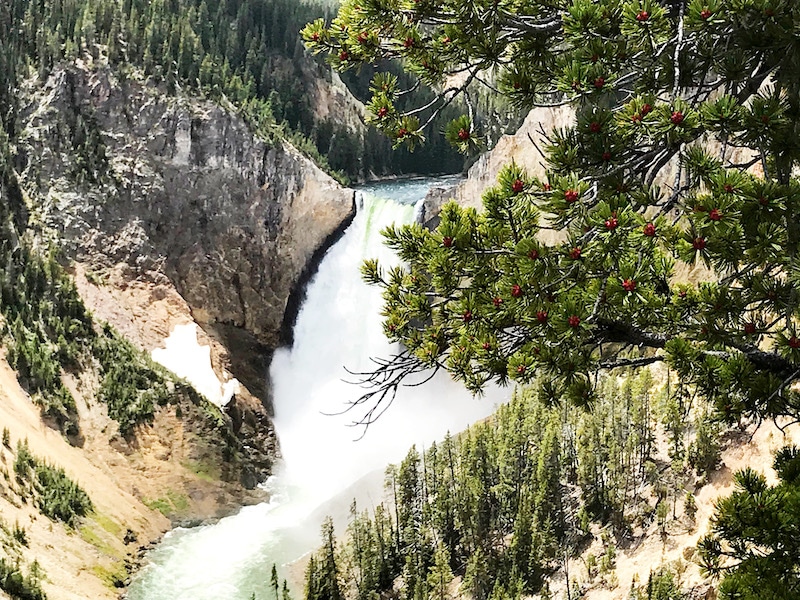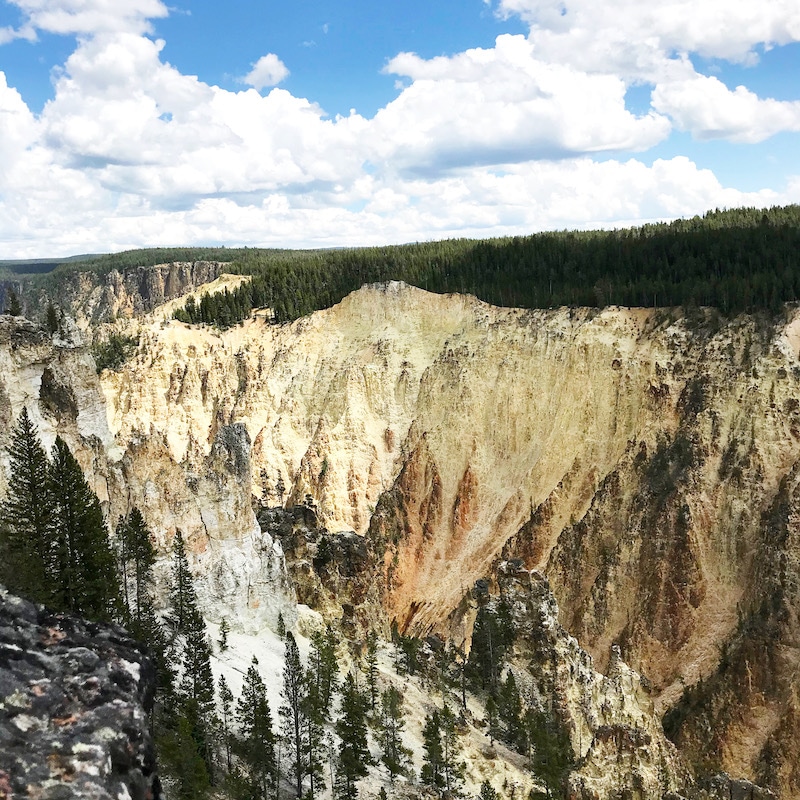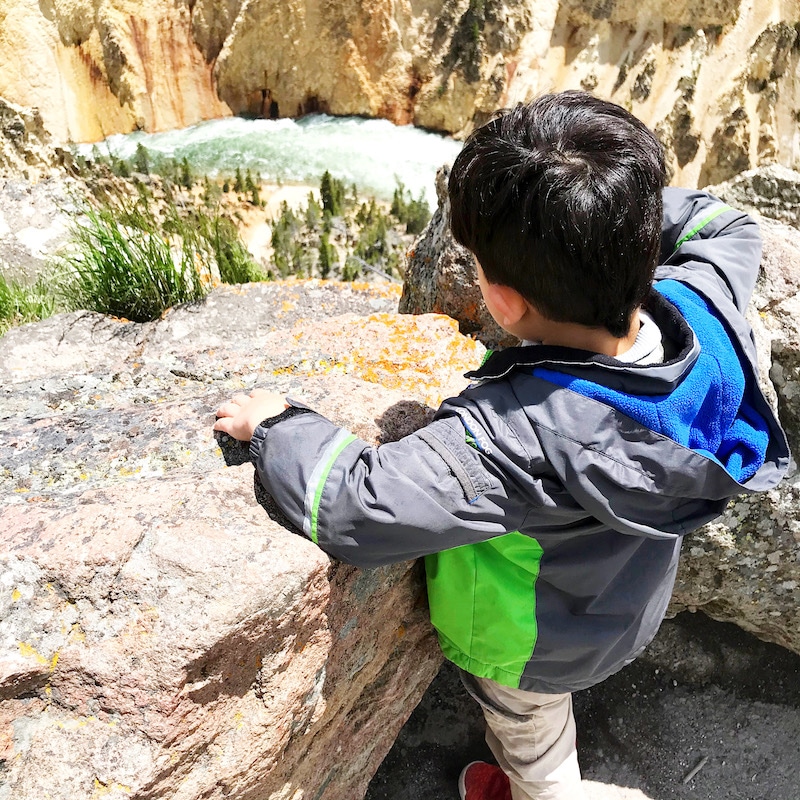 Lunch Time
Once we left North Rim there were three male elk lounging in a grassy meadow. Everyone slows down or pulls into a turnout to take pictures.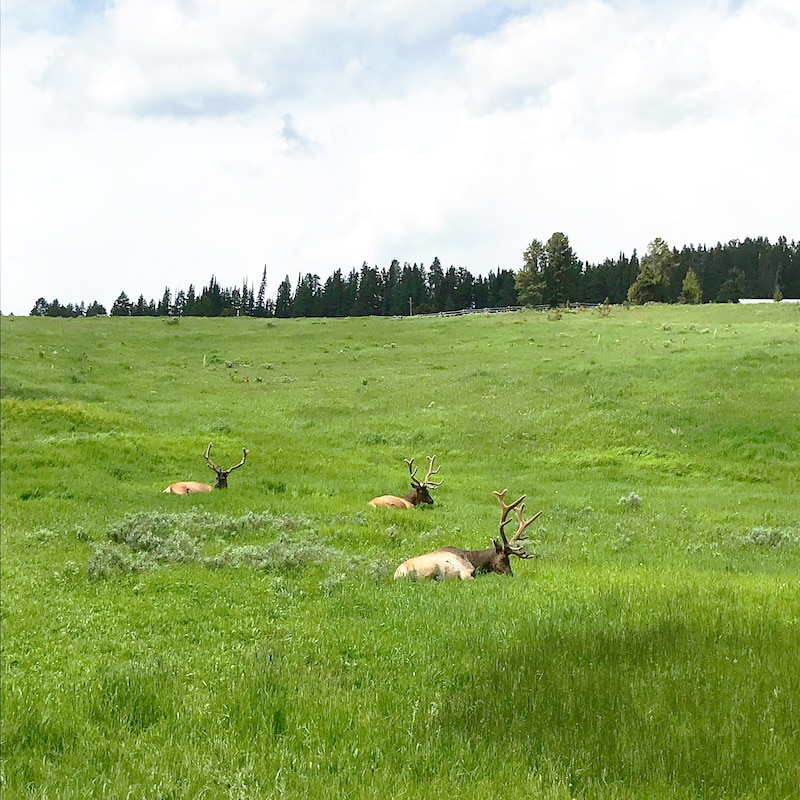 We saw a large bison eating and slowly walking right by the road. This same bison later reached our picnic area and was walking by side of road with a long line of vehicles stuck behind it.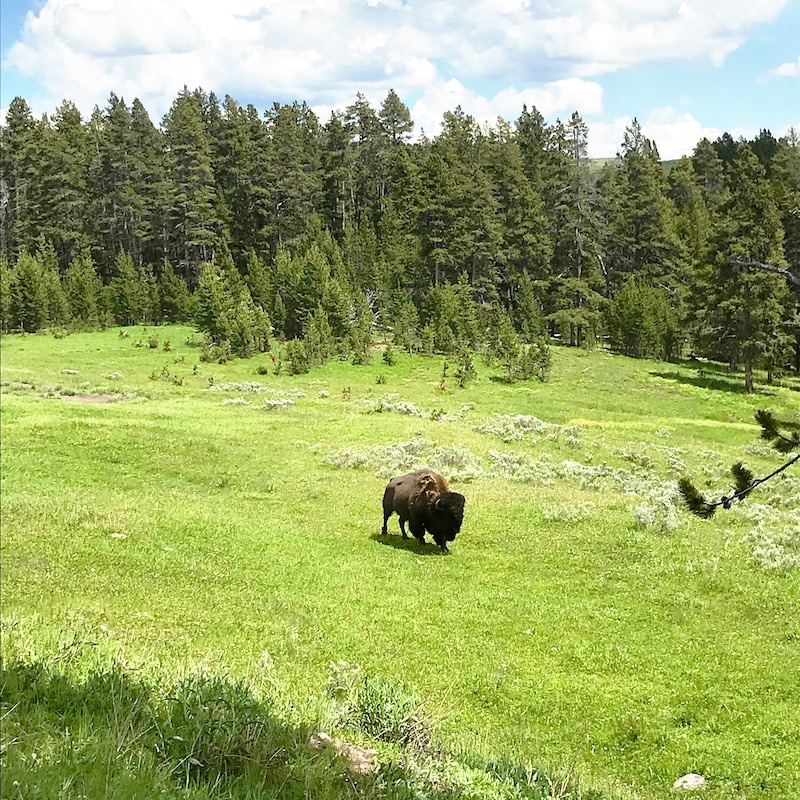 We had a great lunch at a picnic area next to Yellowstone River. The view and lunch were perfect. Plus, since the kids didn't have iPads, they played camouflage. It doesn't get better than that.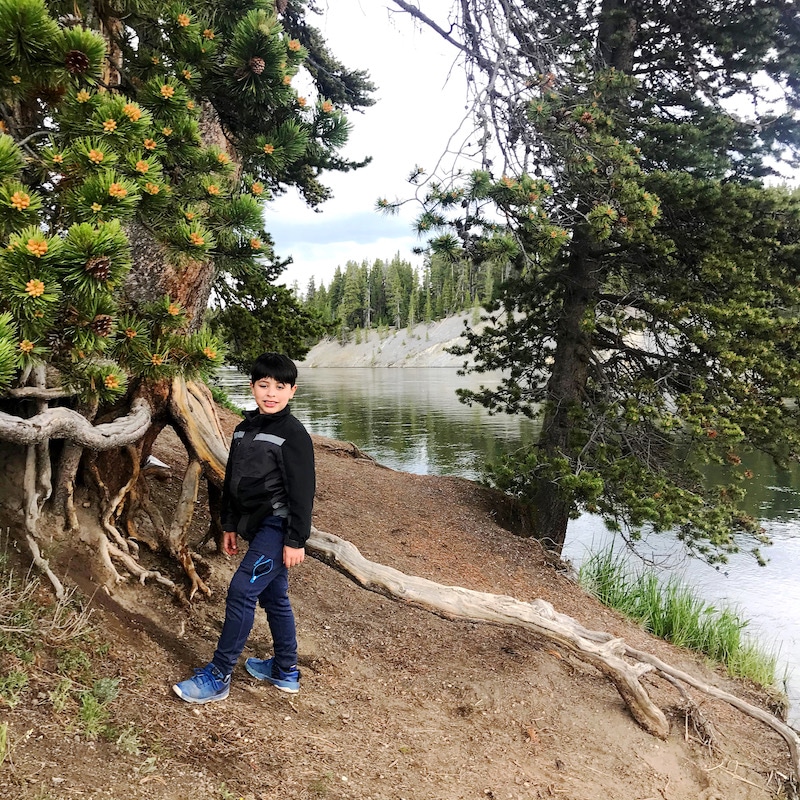 After lunch we got really lucky to see a baby bear entering a thick forested area, probably following his mamma.
Mammoth Springs
After leaving Canyon area we had to head back to Norris because the Tower-Roosevelt Road was closed. This is why having a map is so important. After Norris head north to Mammoth Springs.
Midway there you will find a turnout with fumaroles. Fumaroles are openings in or near a volcano, through which hot sulfurous gases emerge. If you are quiet, you can hear them.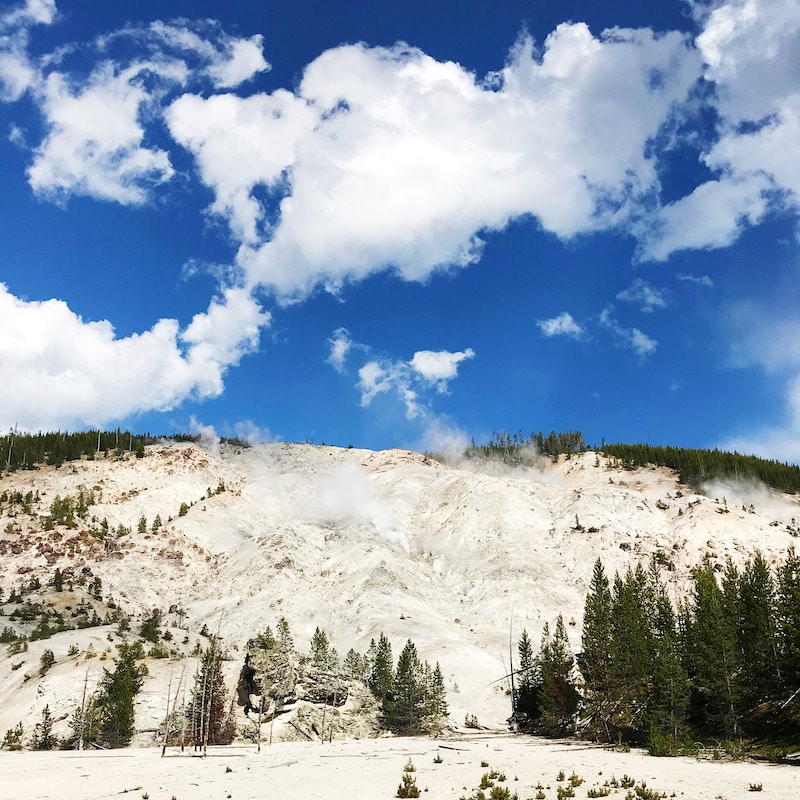 Next stop was the Upper Terraces of Mammoth Springs. The walkway has railings and a few stairs.
Along the walkway the terrain changes from vegetation to a white salty surface then a spring. It reminded me of a Star Wars movie scene.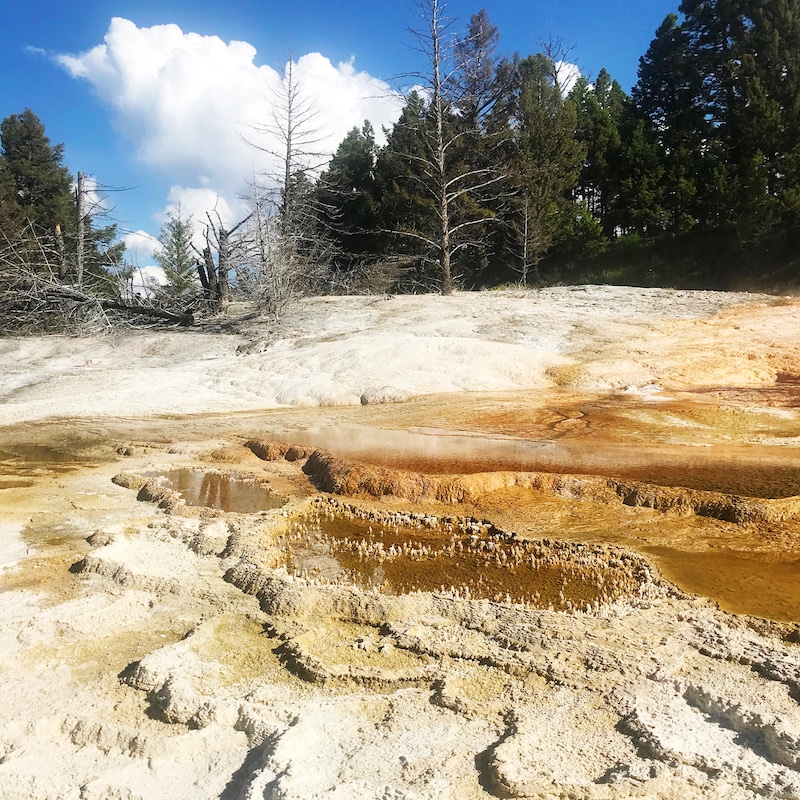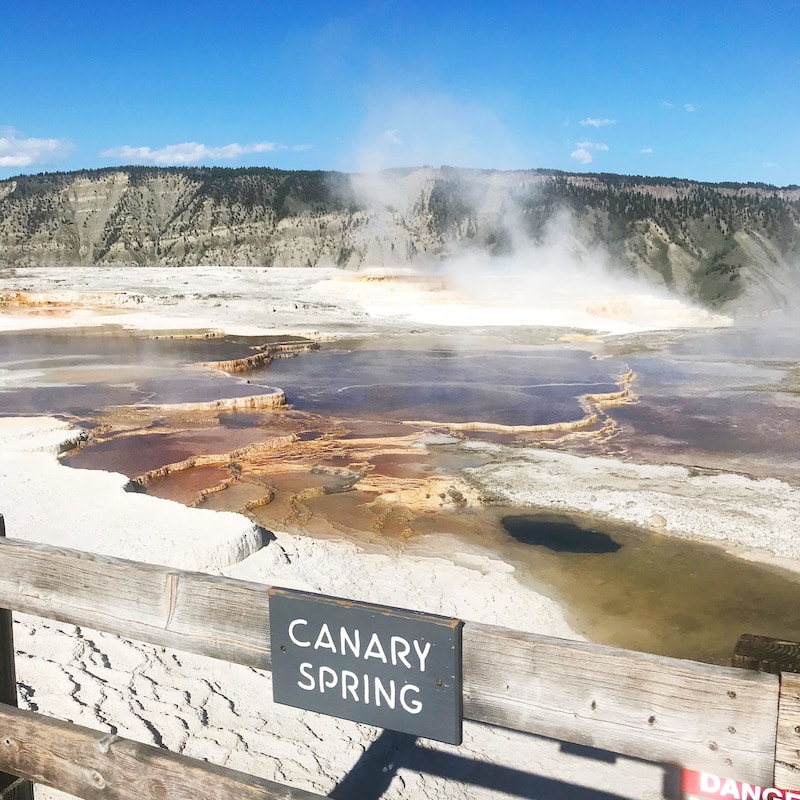 The large mountain spring is the main attraction and its boiling water running down into smaller springs.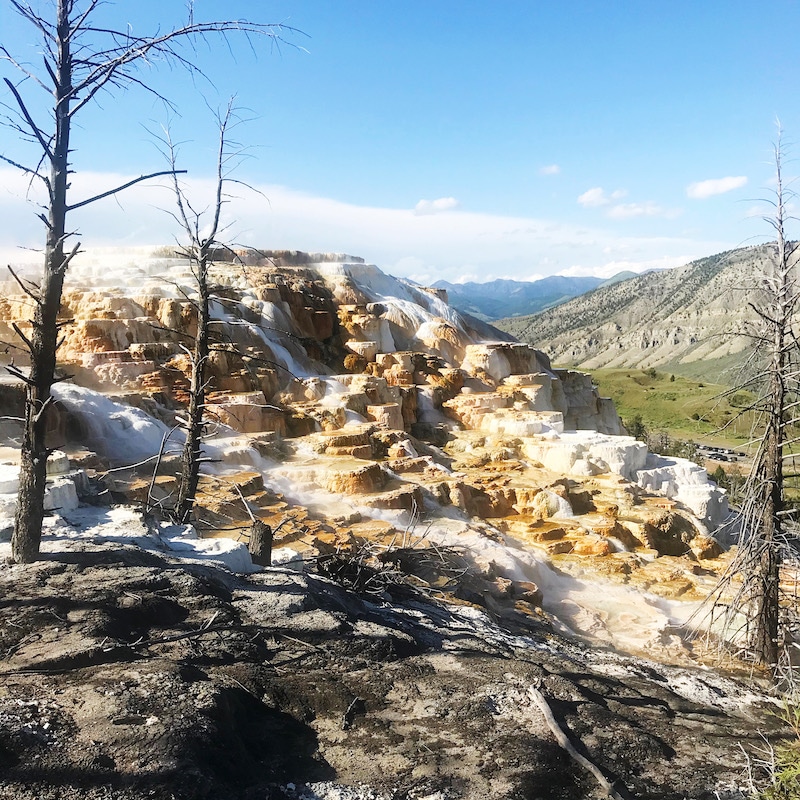 You can also get a good look from the bottom when driving towards Mammoth Hot Springs Visitor Center. This stop took us about 45 minutes.
North Entrance
At the North Entrance you will find the Roosevelt Arch built in 1903. It is a great spot for a picture under the famous arch as you exit Yellowstone.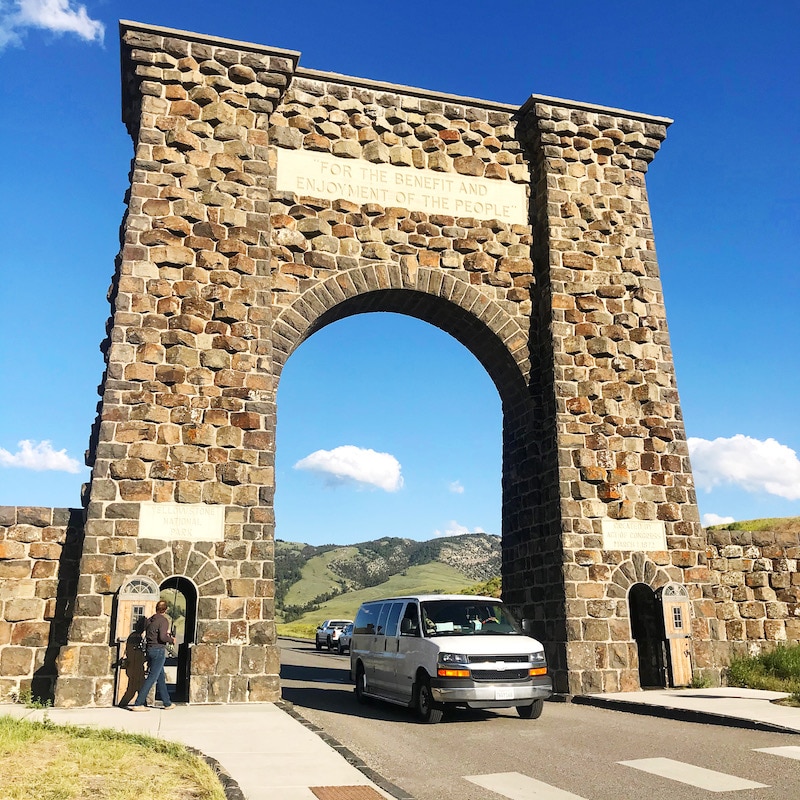 We didn't say goodbye to Yellowstone, but rather, until next time!
As you exit you will find the city of Gardner with many shops, restaurants and hotels.
Yellowstone with kids was a great adventure and we can't wait to go back. Next stop on our road trip was Helena, Montana!
Originally published on July 9, 2020. Last Updated on March 15, 2021 by Pattie Cordova