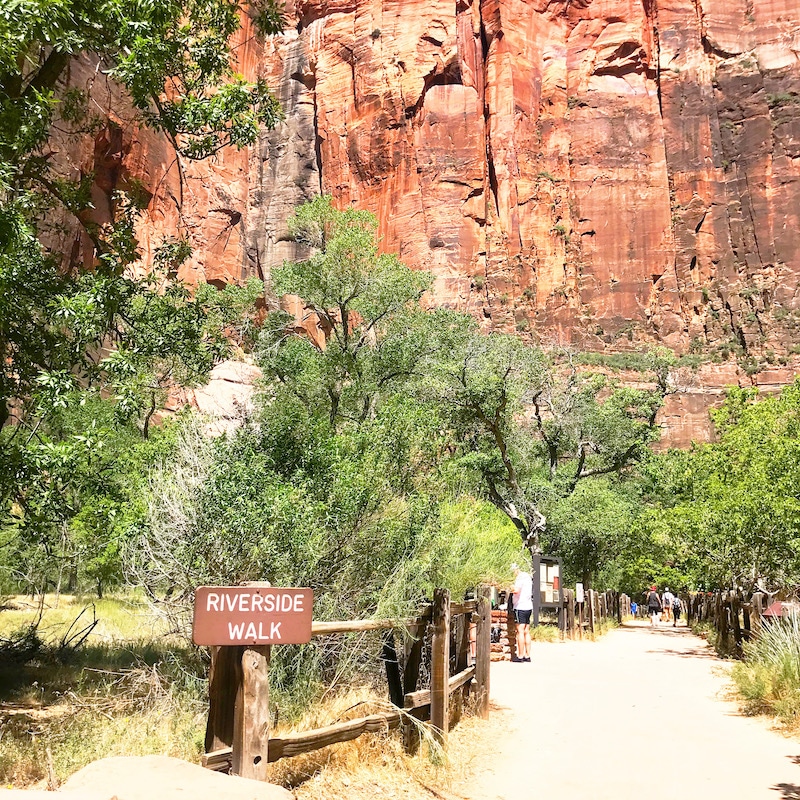 Road trip idea: Zion National Park with kids
Family road trips are the newest hit of Summer 2020 and we are so excited because road trips just happen to be our specialty! We decided to do a hybrid of car camping and staying at local spots during our Zion National Park with kids trip, followed by additional stops including Yellowstone.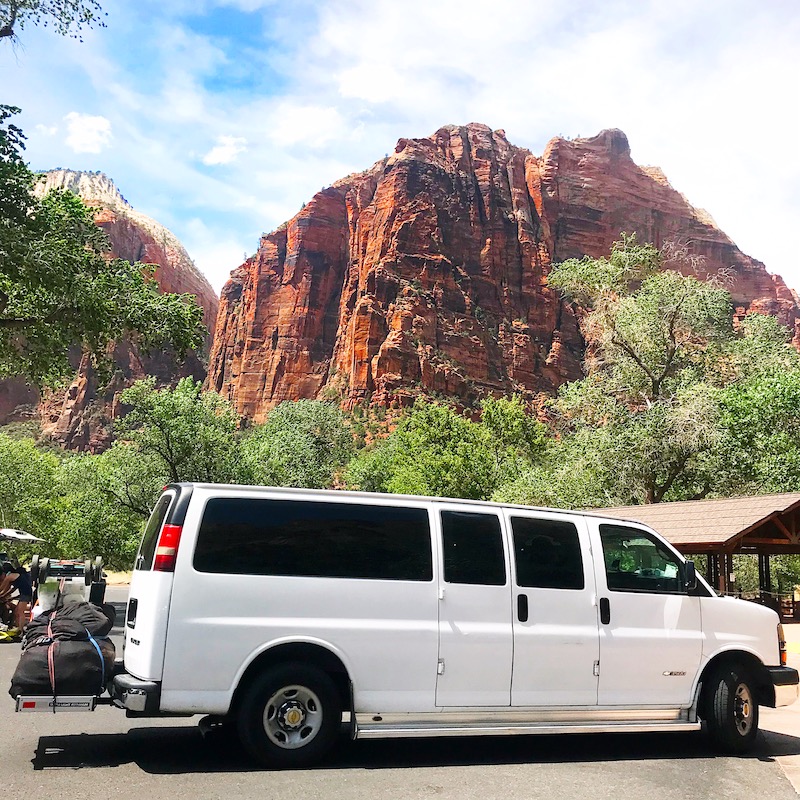 We made a few stops along the way to Zion from our home in Southern California. Below you'll also find some basic essentials that you might want to know before you visit, along with more information on the trails that we did. There are plenty more trails that we could have done, but we ran out of days and we were exhausted after two days.
Where to stop before getting to Zion National Park
Heading from Southern California you will pass a couple of states including Nevada and Arizona, before finally arriving in Utah.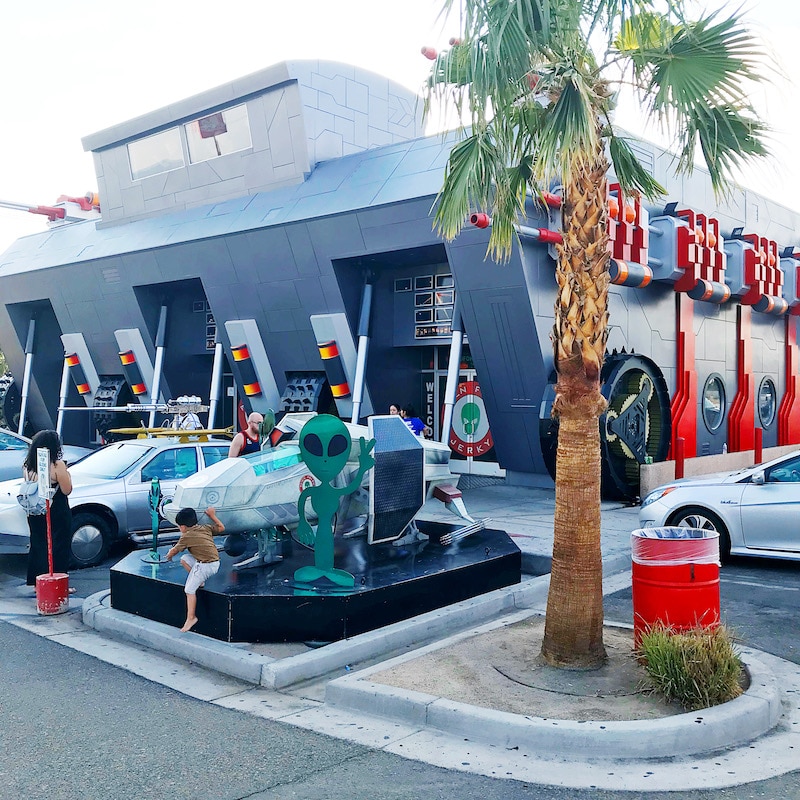 In California, stop in Yermo for the largest gas station at Eddies World. Then in Baker, a fun stop is the Alien Fresh Jerky store. It's a fun photo-op for the kids. Plus check out the huge thermometer, we always play "Guess how hot it is?"
We always stop at the California and Nevada state line. It has a large gas station with a Starbucks inside. There's also a McDonald's and Carl's Jr. nearby. You might even want to try your luck at the slot machines inside the gas station.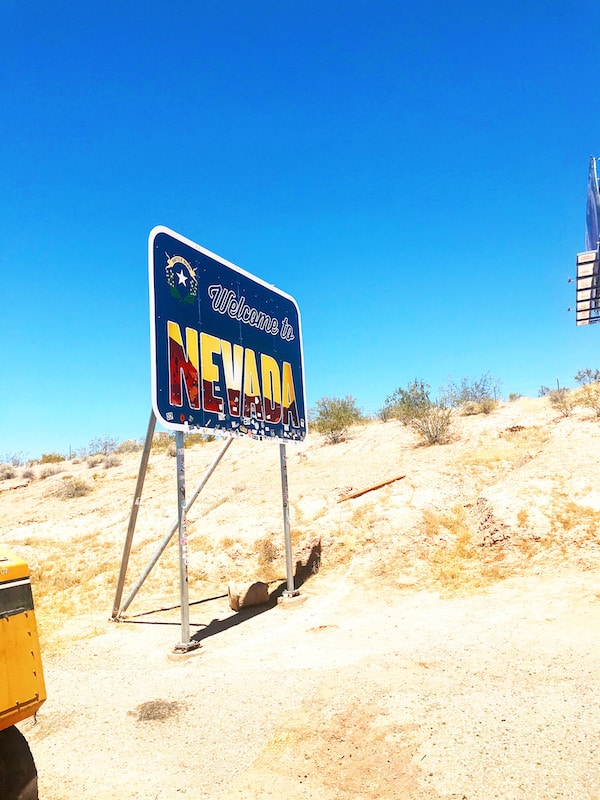 Seven Magic Mountains is a quick stop right before Las Vegas. Perfect stop to stretch your legs and let kids run around. Make sure to take a family picture here.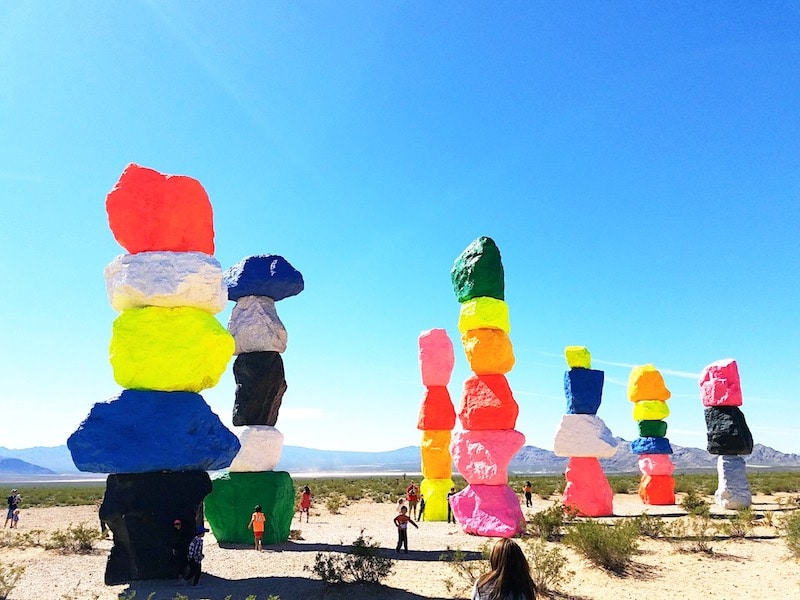 You will be on the top tip of Arizona for a short while before you hit Utah. The next stop is St. George with plenty of highway gas stations and travel centers.
It's also a great place to fill up the tank and replenish snacks right before getting to Zion National Park.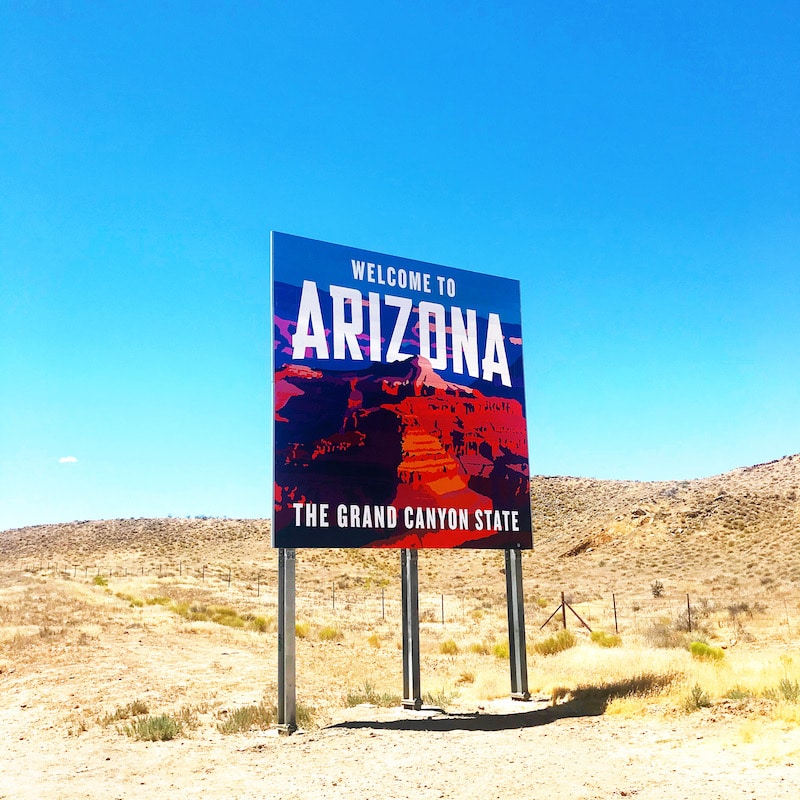 Visiting Zion National Park with Kids
Kids
Visiting Zion with kids takes some extra planning. I recommend taking them really comfy walking shoes.
We also had the kids wear their bathing suits during the hikes since they were bound to get in the river. It just made things easier.
Most of our kids are older so we had each one carry their own backpack with water, snacks and lunch. Take extra, extra snacks because walking and swimming will make them really hungry.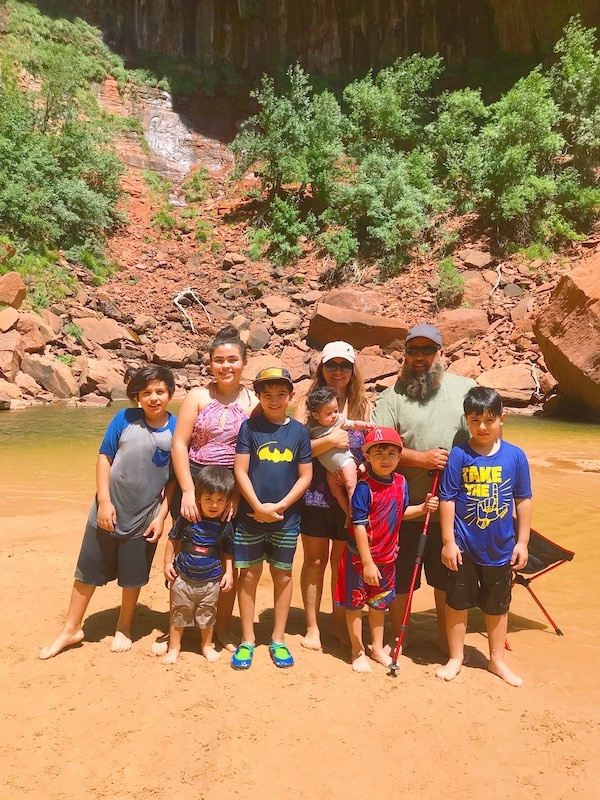 If you have younger kids, take a baby carrier or hiking child carrier. They are bound to get tired and want to get carried. Take it from a mamma with a 6 month old and 2 year old.
Lack of cell phone service
Yes you read that right. Once you enter Zion National Park you will have no cell phone service.
There is very little service at The Lodge, and other than that there is none. Next time we visit, I plan on taking battery-powered walkie talkies. This way, if the group separates you will still have a way to communicate.
Shoes
Make sure to take really good walking shoes since you will be doing a lot of walking. Also, whichever shoes you wear, just know that they will get wet because the trails follow the river.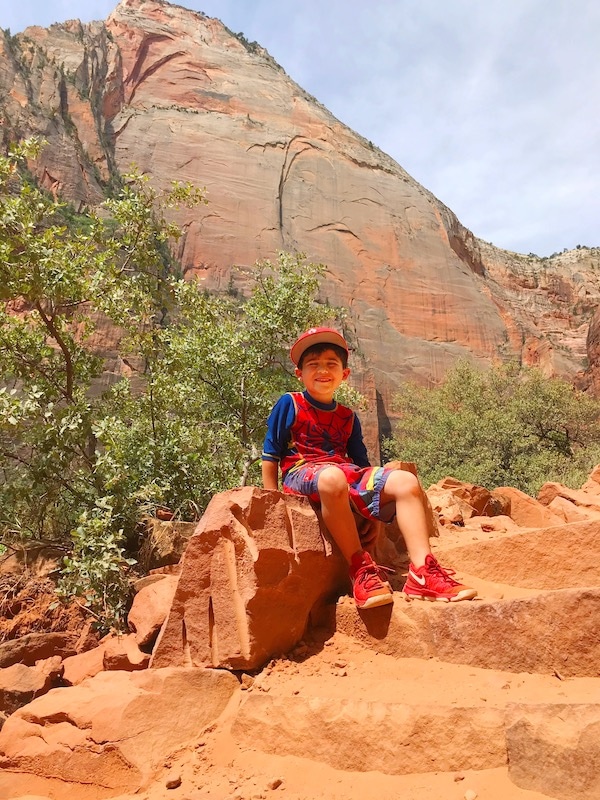 After walking a while you'll also want to dip your feet in the water. As a precaution, we took heel patches to help alleviate soreness.
Walking Sticks
Walking sticks are not a must for the easier trails but if you're considering a moderate or hard trail, aka The Narrows, get portable walking sticks. We learned this the hard way!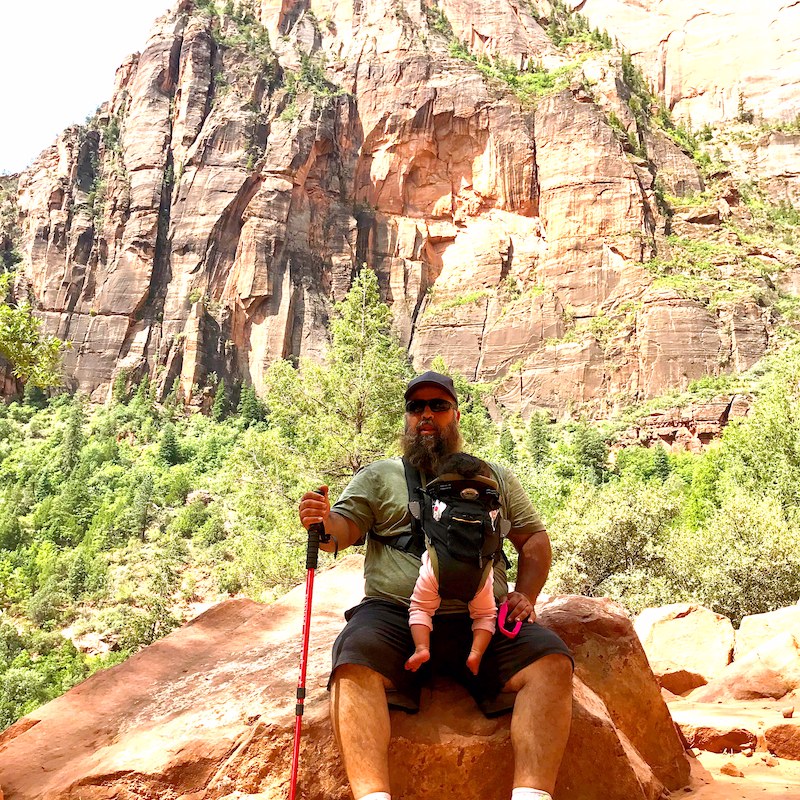 Food/Water
We loved having a picnic by the river. Zion allows gas cooking like propane, butane and white gas stoves. You can set up your picnic anywhere in the park which is really nice.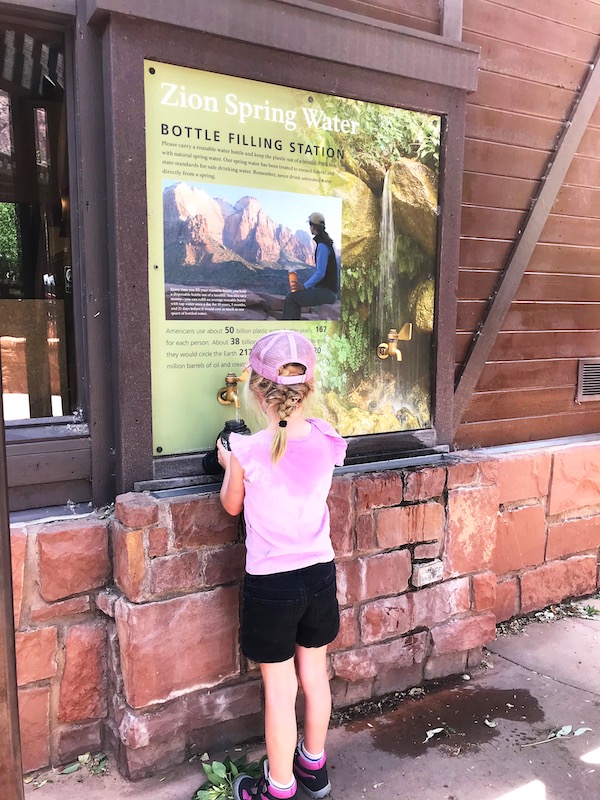 You can purchase food at The Lodge Cafe if you don't want to take food. Also, having plenty of water is extremely necessary. Make sure you take protein treats and it's recommended to have salty snacks.
You'll find refill water stations at the major areas. We took our aluminum water canteens which kept water cold for hours.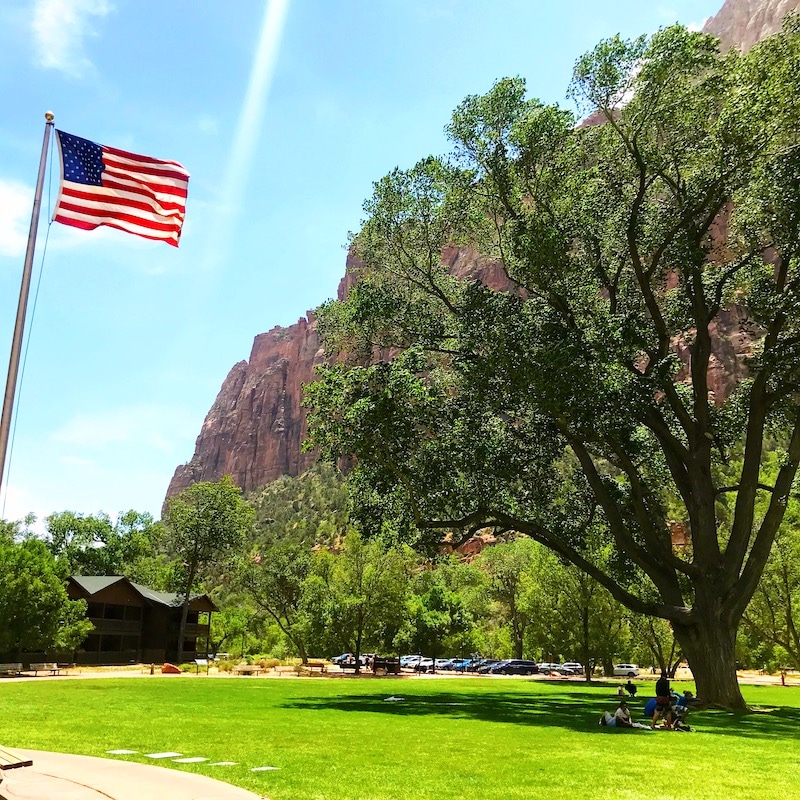 Shuttle systems
There are two shuttle systems running now at a limited capacity:
The Springdale City shuttles do not require a ticket. You can park in the city of Springdale and take shuttles up to the Zion Visitors Center. You would have to walk to desired trails from here.
Tickets for the shuttle are $1 and free for kids under two.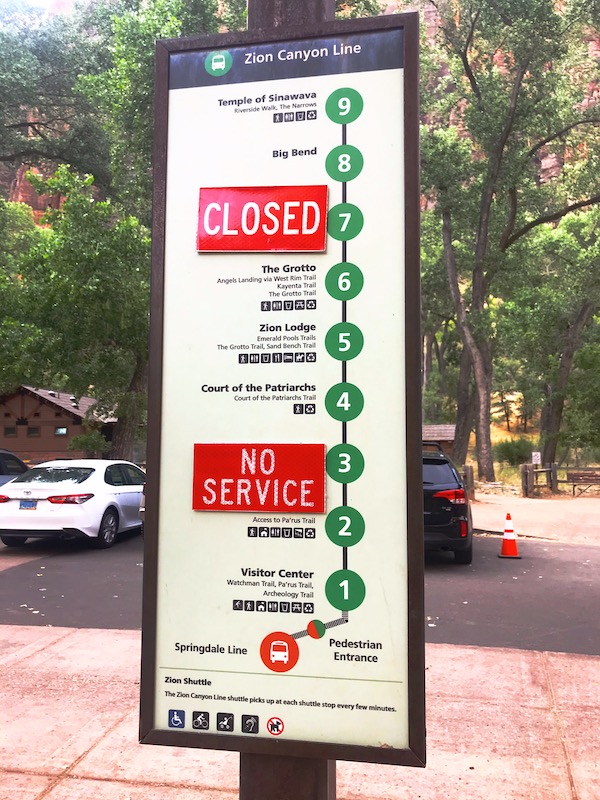 Tip: At Visitors Center you can take the Pa'rus Trail which is an easy trail for kids. Scroll down for more details on this trail.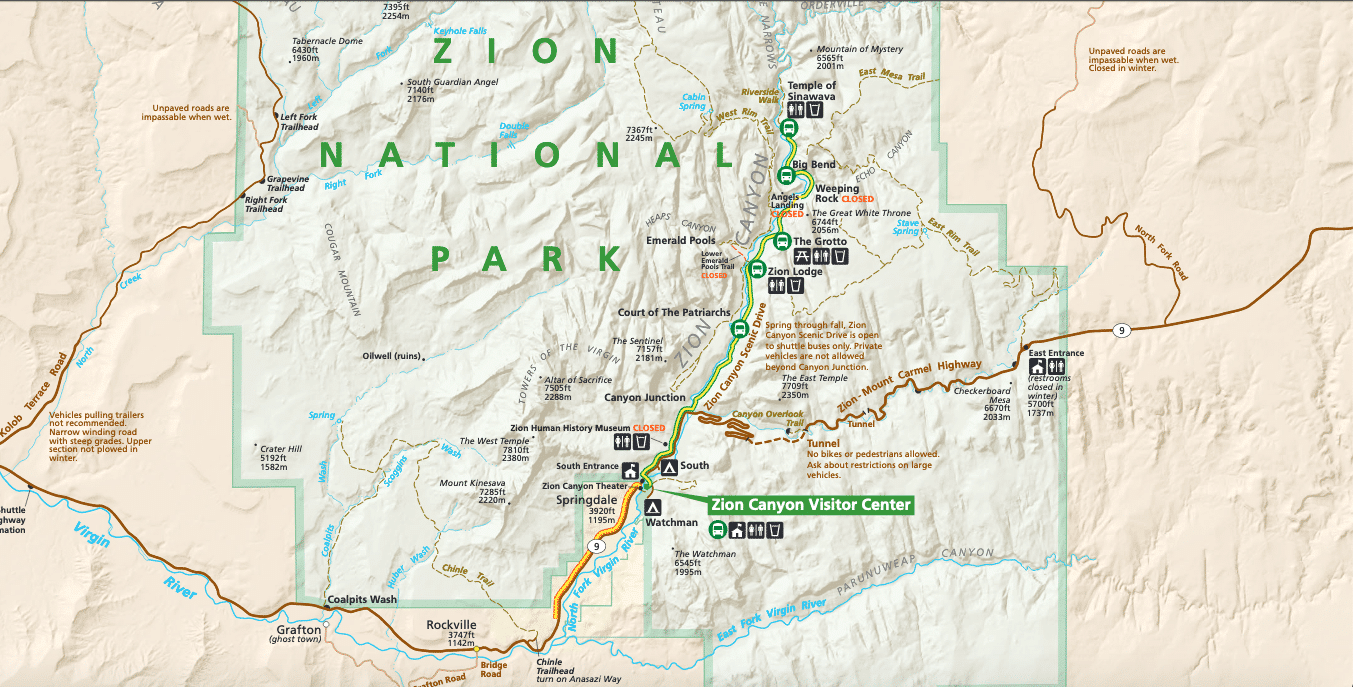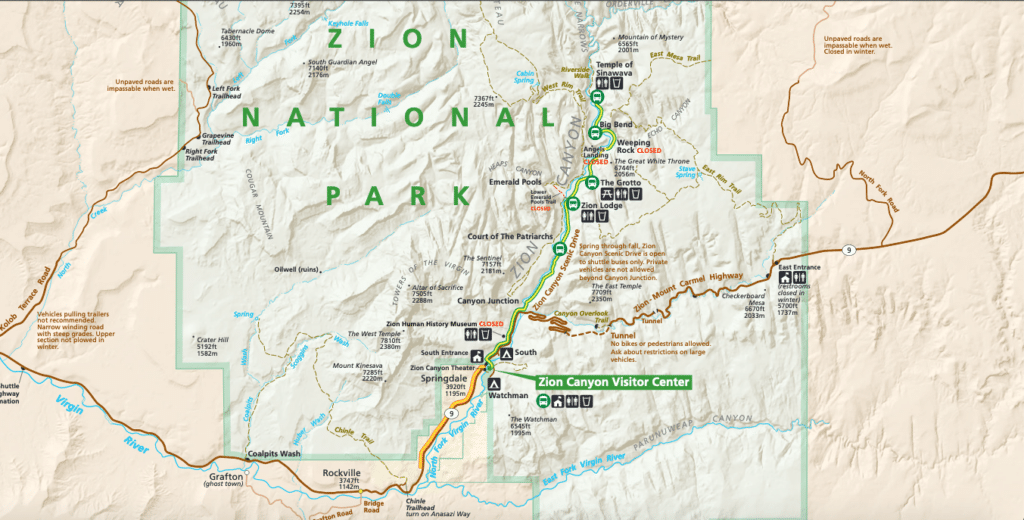 For more about Zion's new shuttle information visit https://www.nps.gov/zion/index.htm.
Easy Kid Friendly Trails at Zion National Park
Pa'rus Trail / 3.5 ml. Round Trip
This trail is the the most convenient at this time because it starts at Zion's Visitor Center. Take the free Springdale Shuttle' – it doesn't require a ticket. This shuttle will drop you off at this trail.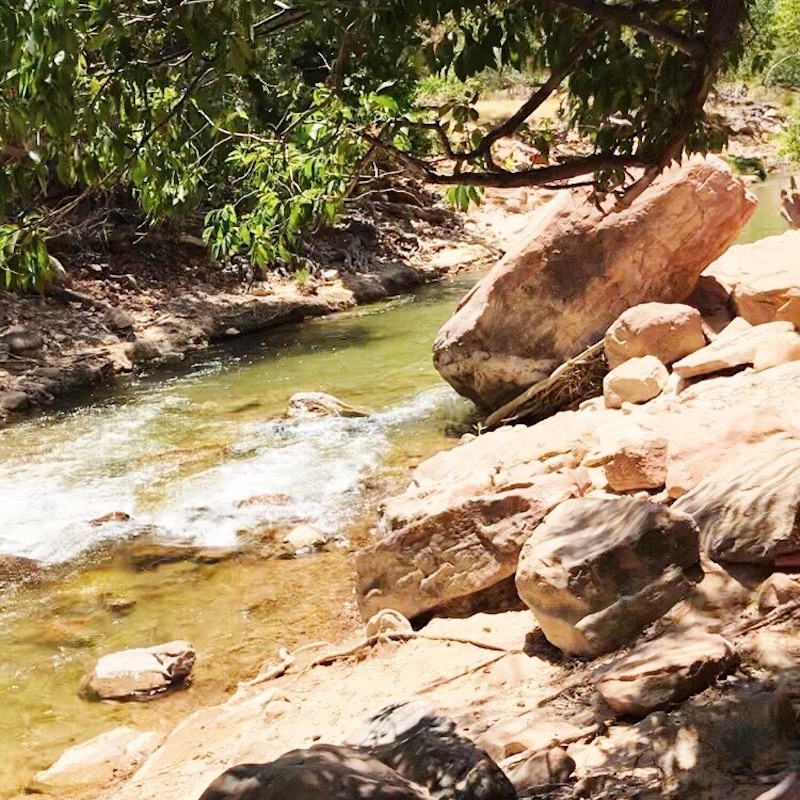 The Pa'rus Trail is perfect for kids, strollers and wheelchairs because it is paved. It also has many access points to the river for swimming. Pack your lunch and enjoy a swim in the river.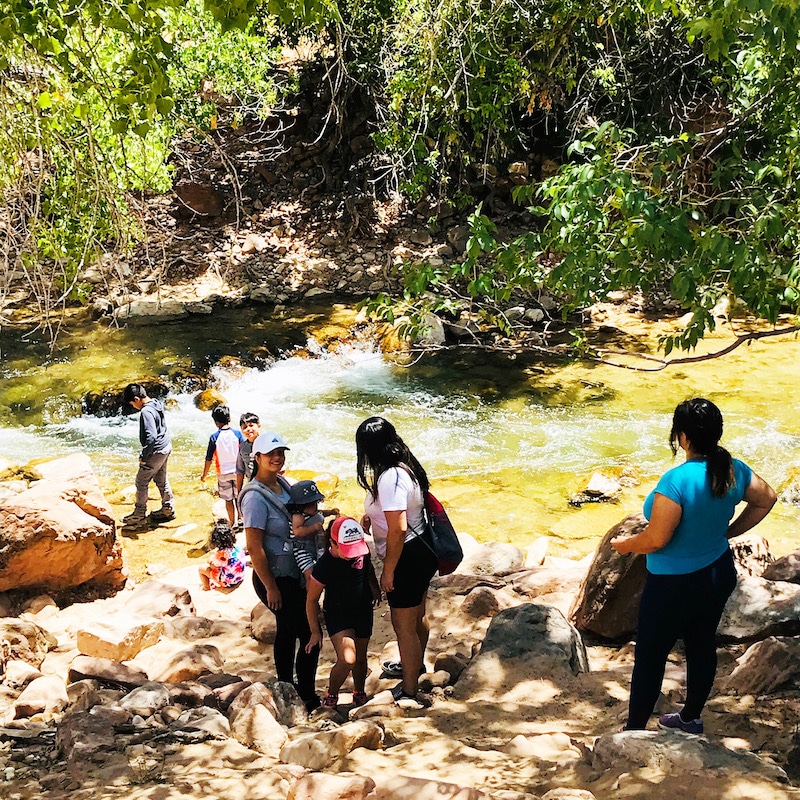 Riverside Walk / 2.2 ml. Round Trip
This trail is way up at Temple of Sinawava section. To reach it you need to take the Scenic Road Shuttle which requires an advanced purchase ticket.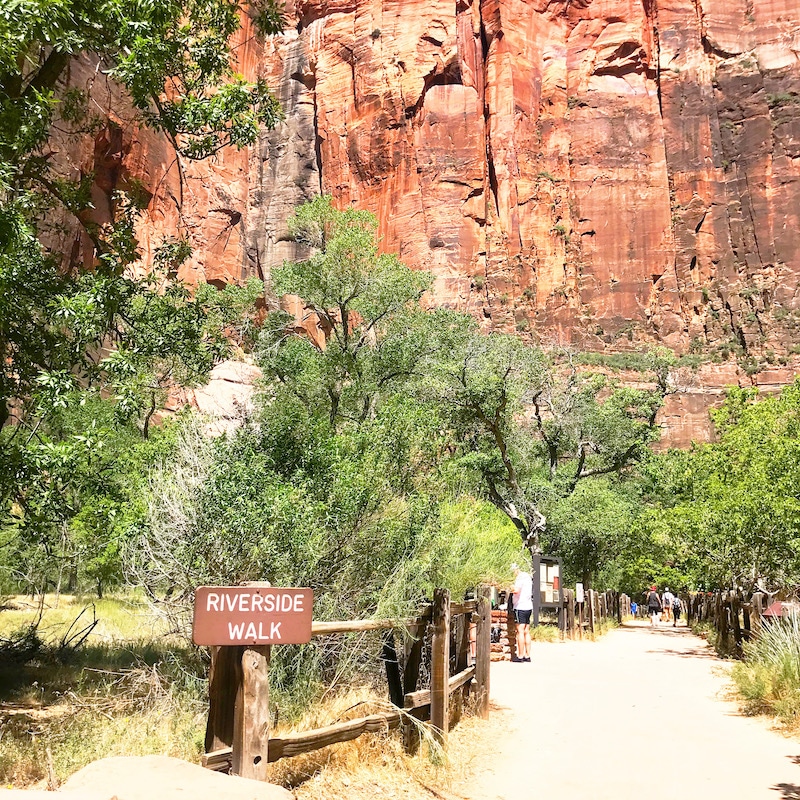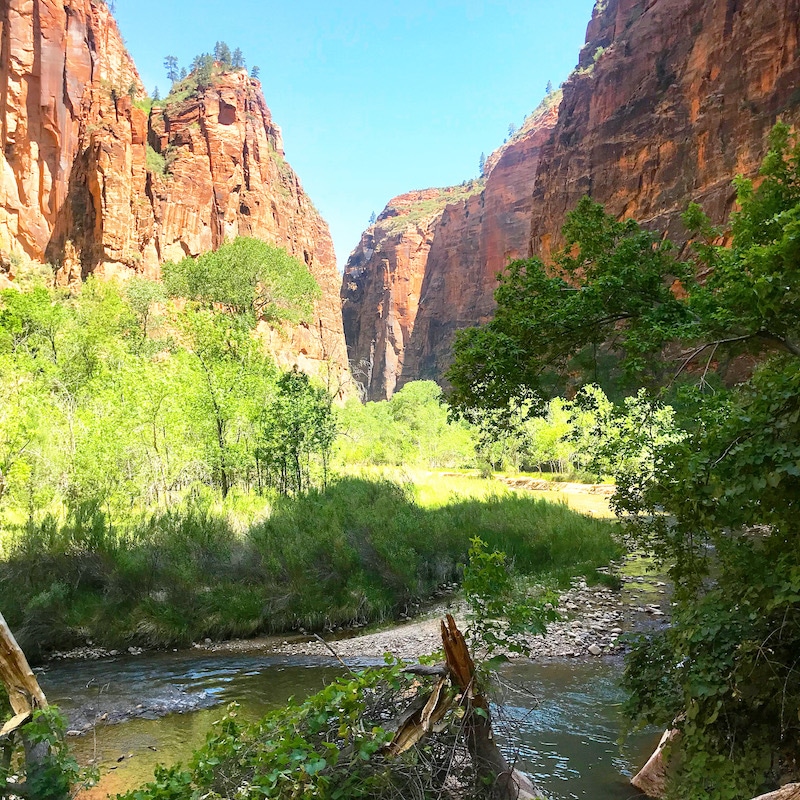 Get your camera ready because there are so many beautiful photo-ops. There is also river access to get your feet wet.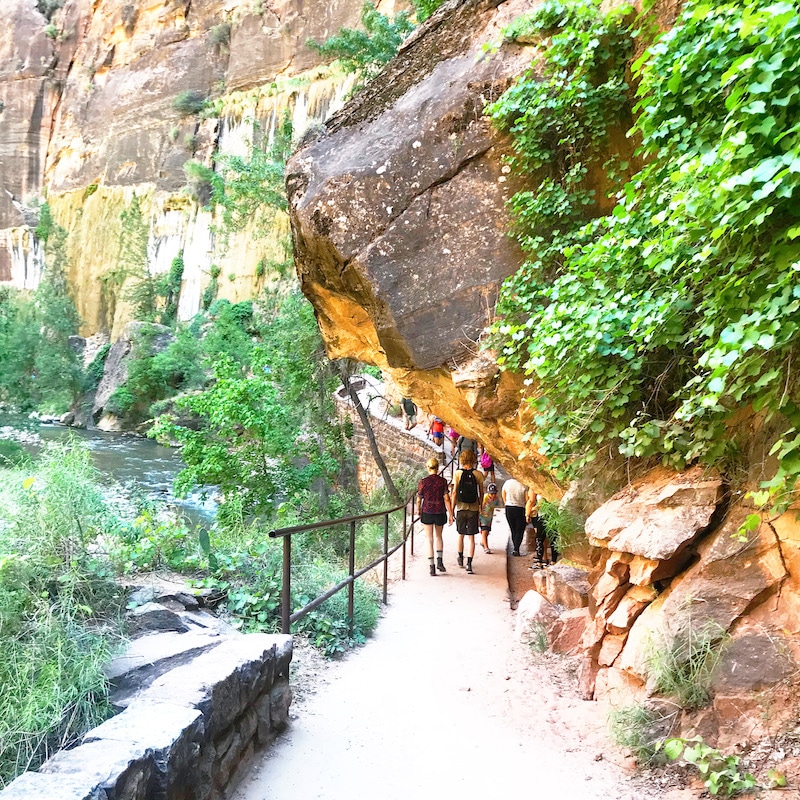 Riverside Walk is paved and perfect for all skill levels. The kids liked running up and down and chasing the friendly squirrels.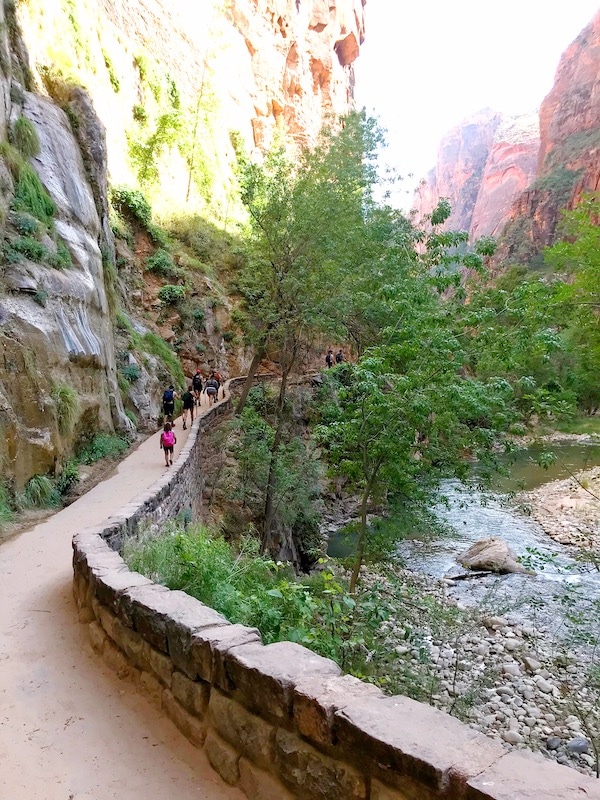 The Riverwalk Trail ends and The Narrows begin. These stairs lead right into The Narrows. Another great photo opp.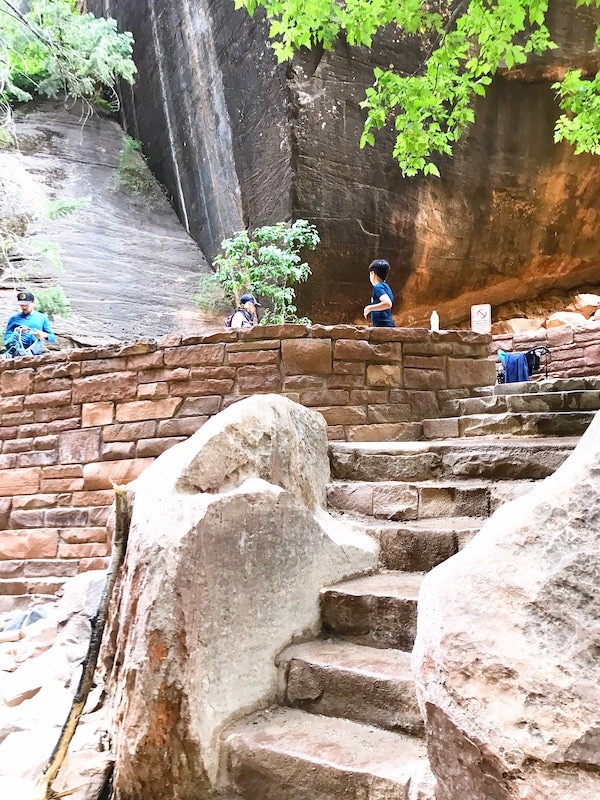 Moderate Trails at Zion National Park
Kayenta to Emerald Pools (Upper) / 3 ml. Round Trip
On our second day in Zion we wanted to see the Emerald Pools. We started at The Grotto and took the Kayenta Trail to the Upper Emerald Pool Trail.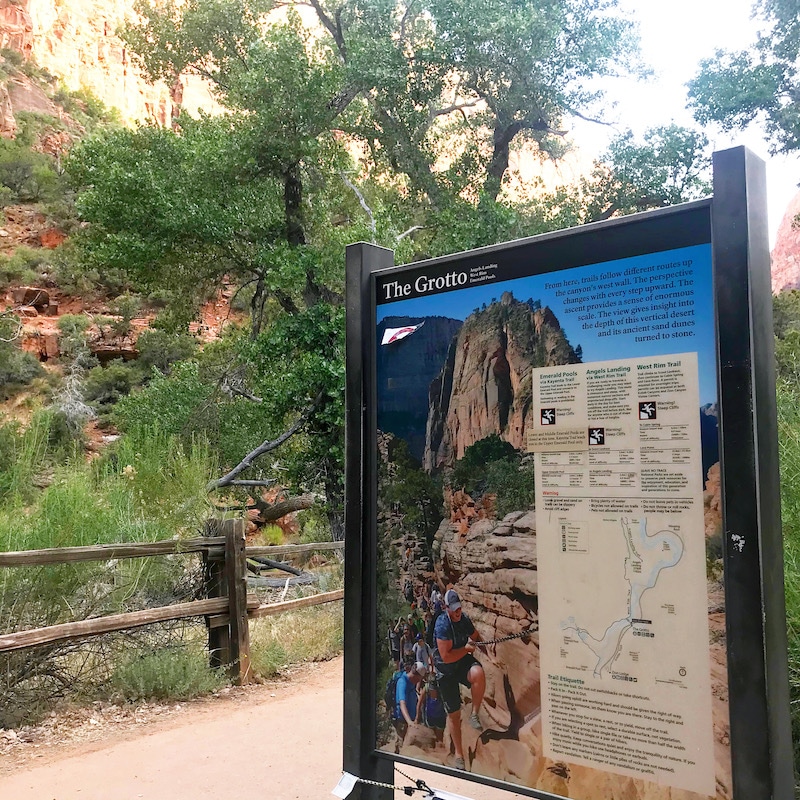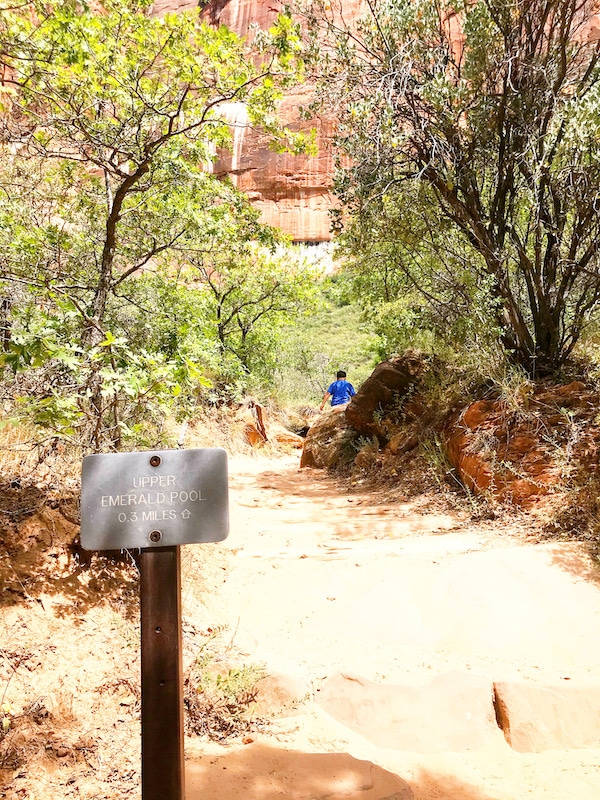 It is definitely a moderate trail because it has many stairs and you will be going uphill a good portion of it.
There is no fence and the ledge at points has drop-offs. We had to put a leash on our two year old for his safety.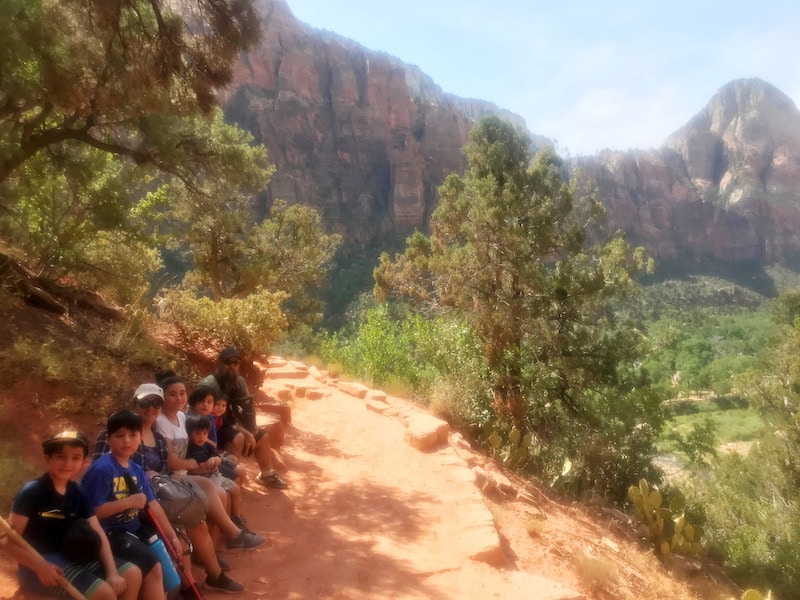 Once we got to Emerald Pools it was beautiful and worth the hike. There are hundreds of tadpoles which kept the kids entertained.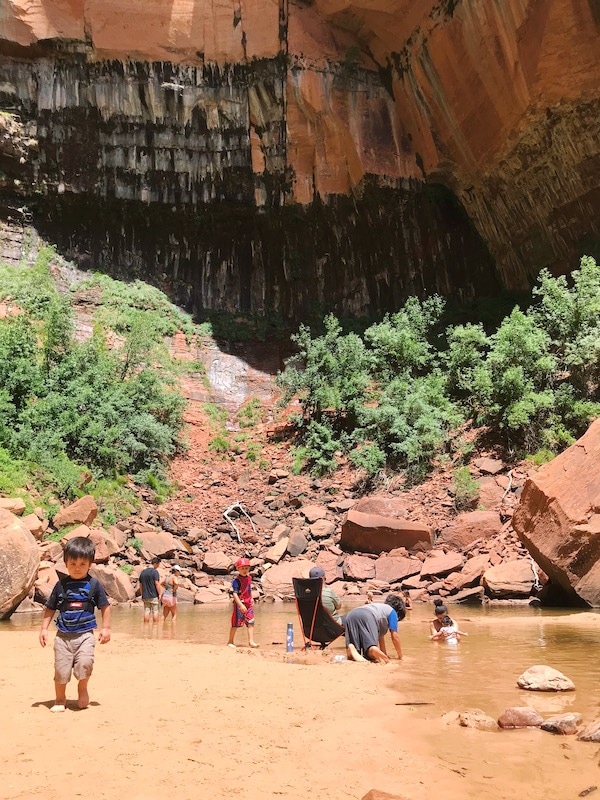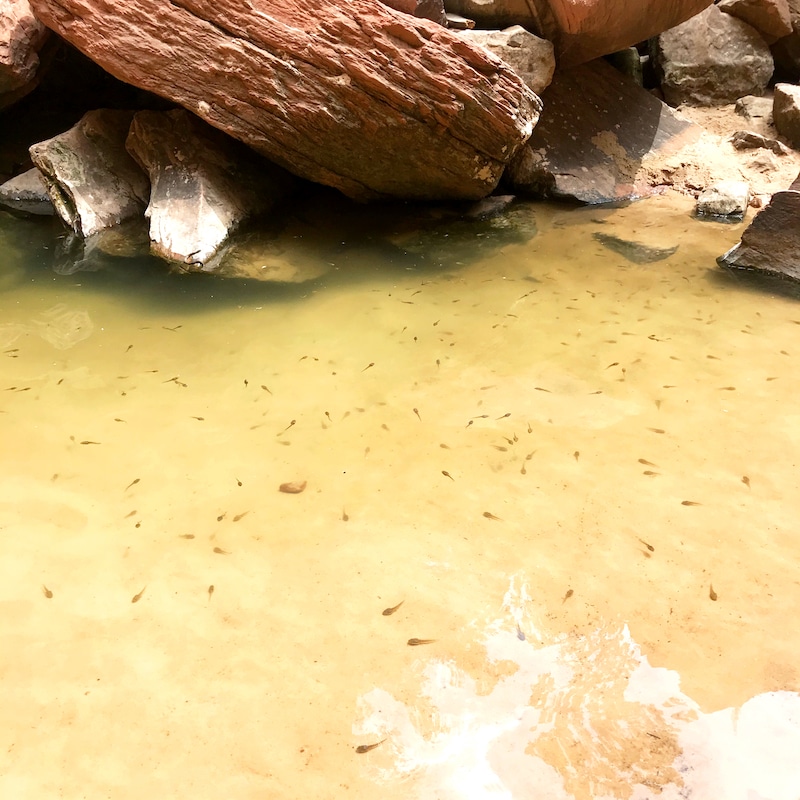 The views on way down were breathtaking. Definitely a beautiful hike but best for older kids.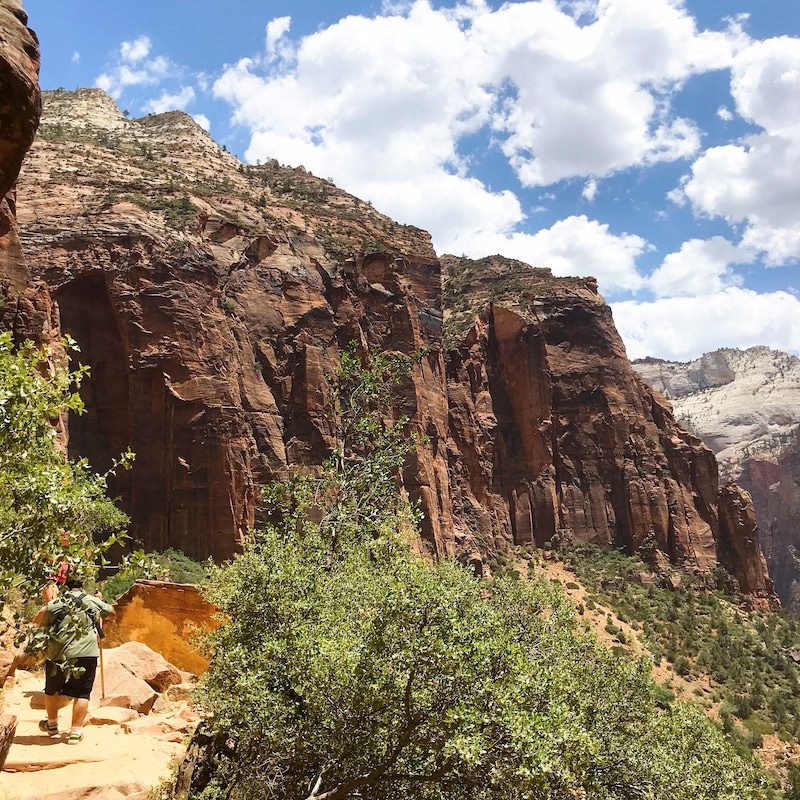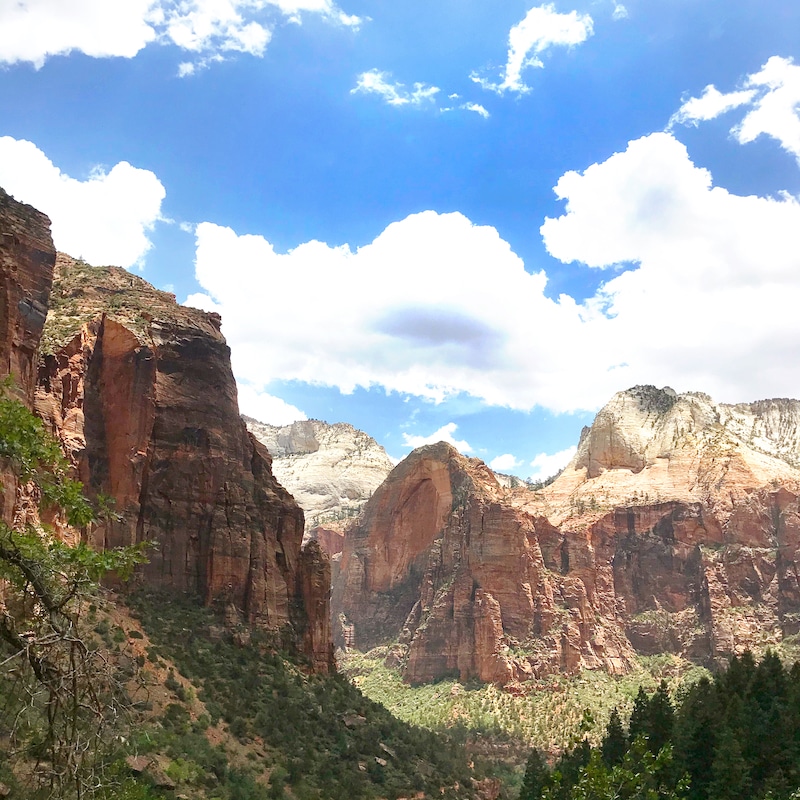 Hard Trail
The Narrows
The Narrows is what Zion is known for. It is a beautiful trail with majestic rock walls enclosing the river. We knew it probably wouldn't be kid-friendly, but figured we are here we should try it. Good thing we went with a our friends who were also brave enough to do it with kids.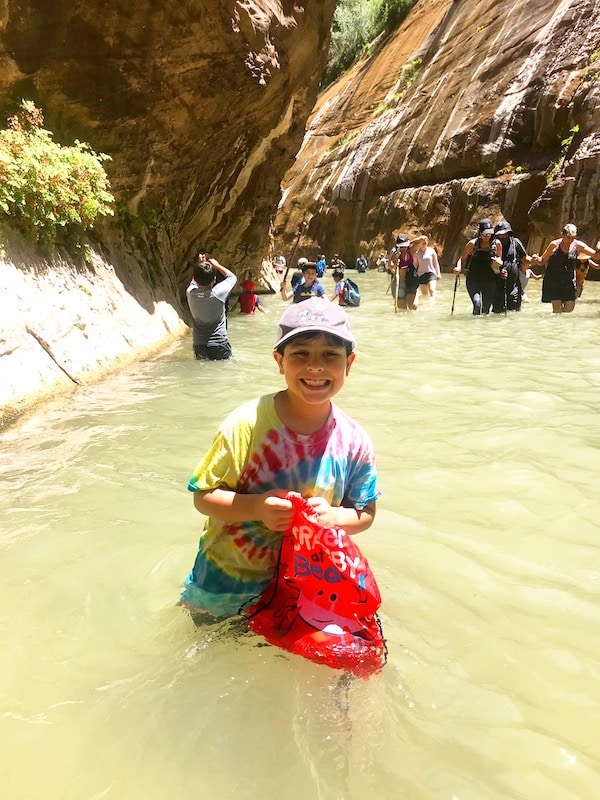 It became a group effort the older kids helped the little ones and parents carried the young ones. We took it slowly since the current is against you and the rocks make it hard.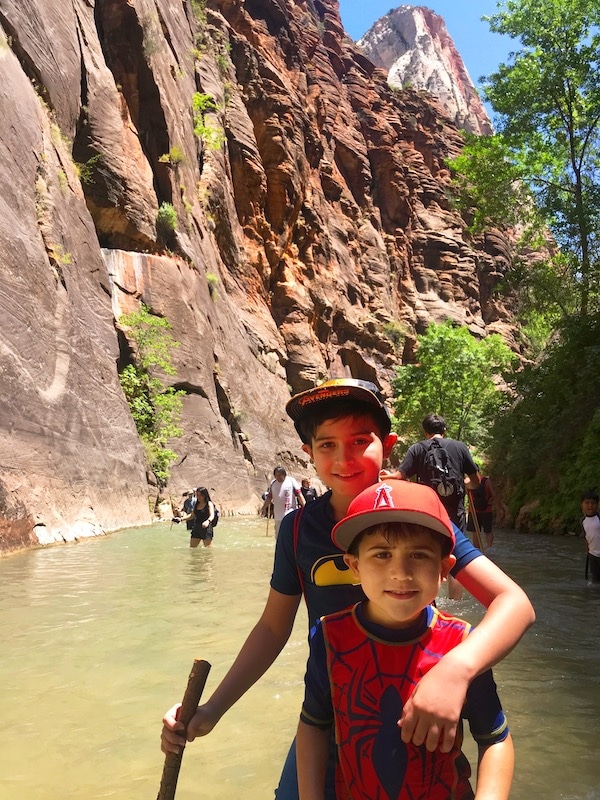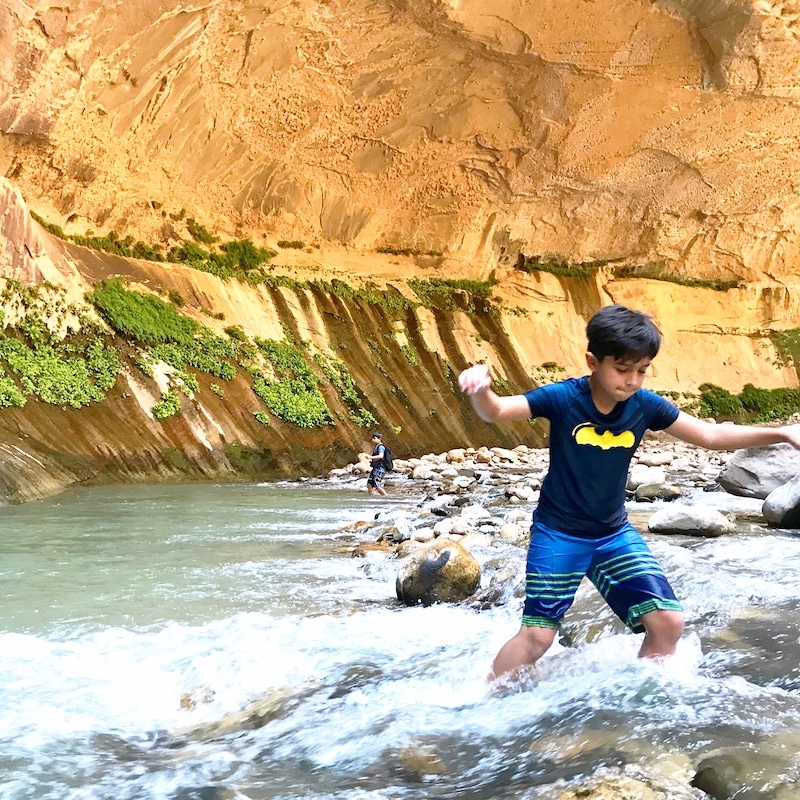 There are many river bends and shaded areas to stop and rest. We took the older kids further up and found some fun rock slides and deep pools to jump into.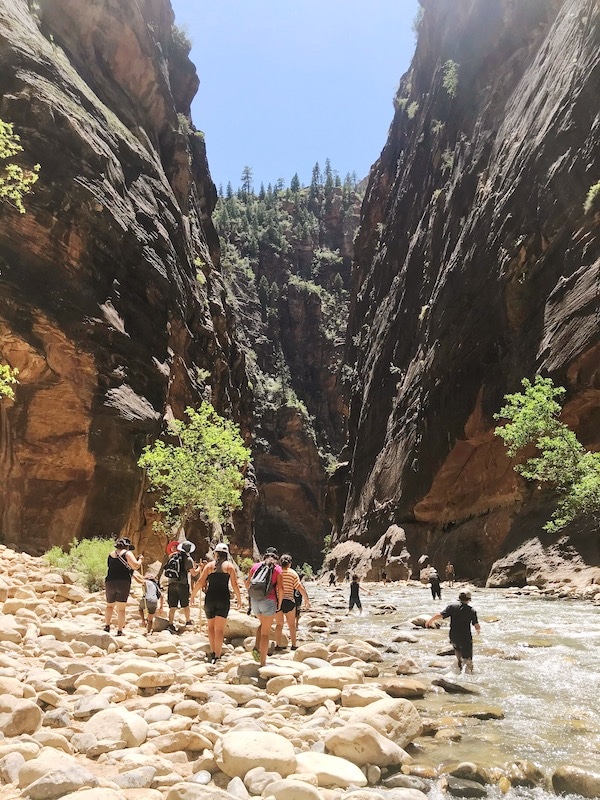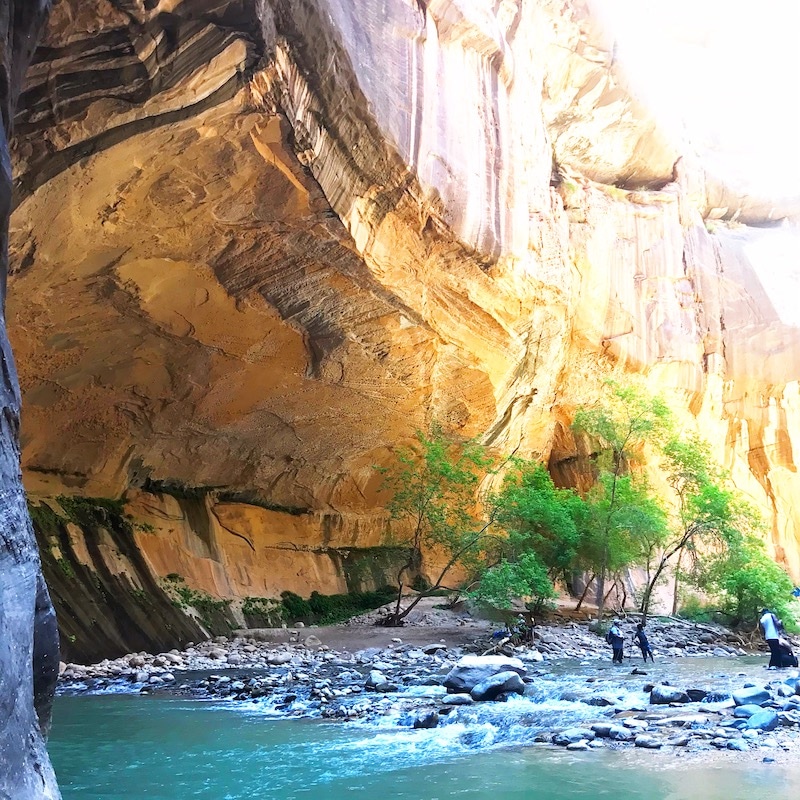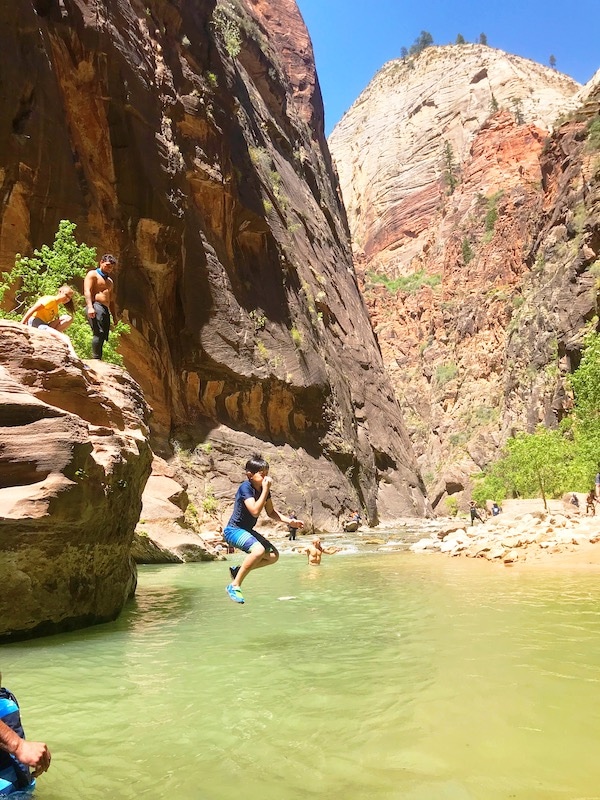 I doubt we would do it again with young kids but it was definitely an adventure. I highly recommend using a walking/hiking stick for The Narrows, it makes it a lot easier. You must take the Riverside Walk Trail to get to The Narrows.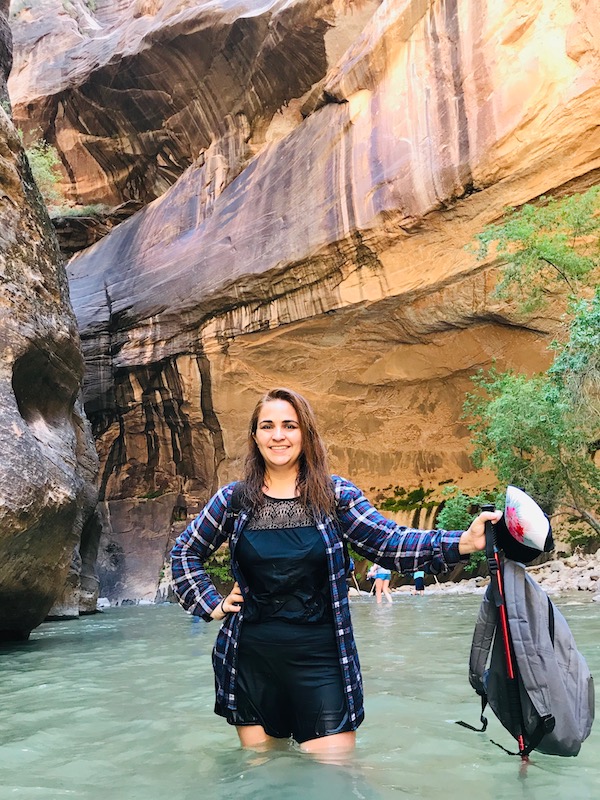 We were exhausted to say the least after our two days in Zion. We wish we had more days to enjoy it and really take it in. Zion is all about walking, hiking and swimming in river. You will need some days to rest after your Zion experience.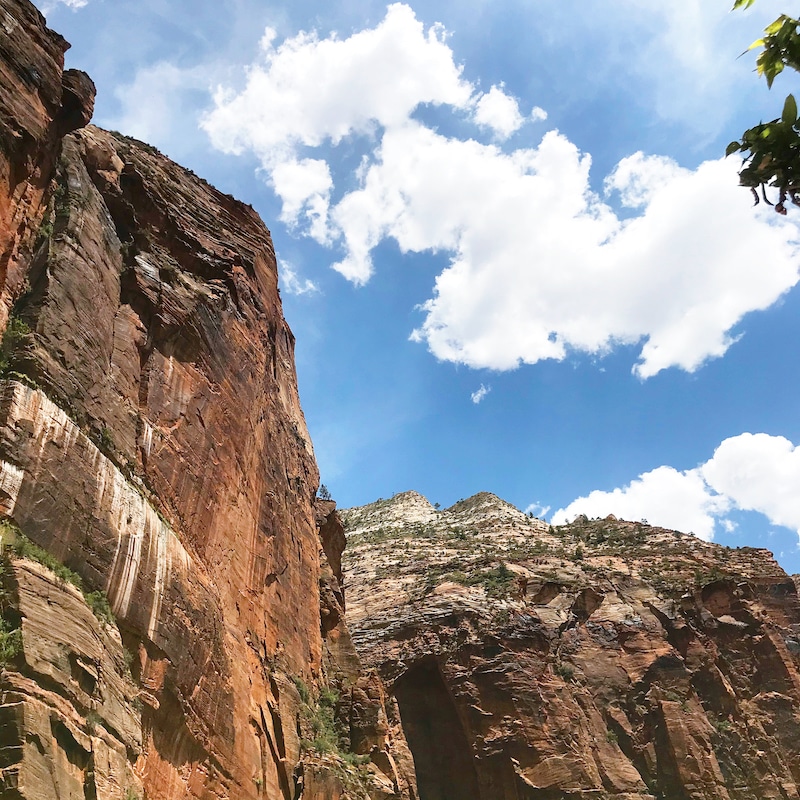 Follow along to our next Road Trip stop Yellowstone!!! Also if you have a 4th grader in your household make sure to get your Free Every Kid Outdoors Pass. It gets you in FREE to all national parks, land and water.
Thank you for reading! Stay updated on fun things to see, eat and do in Orange County by following us on Facebook, Instagram and TikTok!
Originally published on July 8, 2020. Last Updated on March 15, 2021 by Pattie Cordova