Holidays
Weekly Mash-up // OK! TV launches 9/9, fun Halloween cocktails and more
A collection of tidbits, info, contests, fun facts, etcetera that I received throughout the week, but didn't get their own posts.
You might want to know that:
Technology
– RingMeMaybe: Free Self-Destructing Phone Numbers for iOS.
RingMeMaybe is a free download on the Apple App Store. It creates in less than 5-seconds, a totally anonymous, self-destructing (1 week), disposable number for free! calls to your RingMeMaybe numbers are totally free and work with any iPad or iPod, wherever you are in the world.
Arts and Entertainment
– New Machete Kills poster released.
Look for Machete Kills in theaters on October 11th. Cast includes: Danny Trejo, Michelle Rodriguez, Sofia Vergara, Amber Heard, Carlos Estevez and Demian Bichir. Directed by Robert Rodriguez.
– Hunger Games "TickTock" countdown.
To celebrate the release of THE HUNGER GAMES: CATCHING FIRE, Lionsgate has begun their twelve week "TickTock" countdown! Each week, more surprises will be revealed through The Hunger Games Explorer to get you excited for the most anticipated film of the year. To kickoff the countdown, Lionsgate has revealed #TickTock12 with the announcement that movie tickets will go on sale starting October 1st! Advance movie tickets will be available through Fandango
and MovieTickets.com on Tuesday, October 1 at 12pm ET / 9AM PT.
– OK!TV launches September 9th.
Focused on Entertainment, Gossip and Life, OK! TV's highly-anticipated entertainment broadcast show will be packed with behind the scenes access, red carpets, music, film, TV, the latest celebrity weddings, babies, hook-ups or break-ups and the inside scoop on the world of entertainment. OK! TV is syndicated nationally and will reach 80% of the country including key markets in N.Y., L.A., Chicago, Boston, Detroit, Miami, San Francisco, Philadelphia and Las Vegas. In addition to first run syndication it will air on Reelz, reaching over 70 million homes with multiple airings.
Food and Drinks
– Halloween cocktails from Amoretti.
Apple of my Pie
1 oz. Spiced Rum
1 pump Amoretti Premium Apple Pie Syrup
1 pump Amoretti Premium Caramel Syrup (also available in sugar free)
Combine all ingredients in a cocktail shaker with ice. Shake vigorously for 10 seconds.
Strain into a rocks glass over fresh ice. Optional: top with a dollop of whipped cream and a sprinkle of cinnamon.
Bottled Spirits Potion
1 ½ oz. vodka
1 pump Amoretti Premium Dark Chocolate Syrup (also available in sugar free)
2 oz. Amoretti Premium Raspberry Martini Mix
Combine all ingredients in a cocktail shaker with ice. Shake vigorously for 10 seconds.
Strain into a martini glass and garnish with a raspberry.
– Veg-out with Allens contest.
Allens brand vegetables is holding a photo contest where vegetarians and non-vegetarians alike across the United States can celebrate vegetarian awareness week (September 8 – 15)!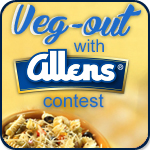 Now through September 15, celebrate your healthier lifestyle by going vegetarian for one week with social media. When you do, you'll have a chance to be randomly throughout the week to win free veggies for a week! Several winners will be selected!
Send your photos via:
• Allens Facebook
• Allens Instagram
• Allens Twitter
• Allens Pinterest
Beauty and Fashion
– Pregnancy heart link bracelet.
The new "Pregnancy Heart Link" bracelet from Hope Paige is a great and fashionable way to share your exciting news. The piece is perfect for everyday wear during pregnancy as it is entirely stainless steel making it resistant to water and tarnish.
Priced at only $29.95, these bracelets mix fashion and style with function and purpose for every new mom. Each piece can be customized with an engraving on the back to alert the EMT's and provide them the necessary information to carry out any procedures without any harm to the baby.
– Glam-it! is the makeup solution for on-the-go moms.
Wasting time rummaging through your overfilled cosmetic bag? Tired of purchasing multiple sets of makeup for your vanity, desk and purse? Need a touch up but there's no light in sight?
That's why Glam-it! Founder and CEO Jennifer Cheng invented GlamPact, the first all-in-one luxe, refillable and customizable makeup compact with skincare benefits, which also fits in the palm of your hand. With the portability and ease of the GlamPact, you can glam up anytime and anywhere!
Available on Glam-it.com in either light pink or black.
Hand sanitizer is one of these popular items that has become a back-to-school essential, but many schools are recommending brands containing harsh chemicals. Thankfully, CleanWell offers the perfect alternative to replace hand sanitizers with harmful chemistry.
Parenting
– CleanWell offers alcohol-free sanitizing spray and wipes.
CleanWell All Natural Hand Sanitizing Spray and Hand Sanitizing Wipes contain a natural blend of thyme oil vs. alcohol. They're perfect to stick in your kid's backpack and sent them to school. With a first-of-its-kind natural chemistry, CleanWell's unique formulation kills germs naturally.
All products are non-flammable, safe for kids and will keep hands moisturized during the cold winter months. CleanWell products are a classroom must-have! They're a perfect alternative for replacing hand sanitizers with harmful chemistry.
Originally published on September 8, 2013. Last Updated on July 1, 2018 by Pattie Cordova