We celebrated my nephew's 15th birthday recently. So here's the thing with this teenage boy. He loves video games. He eats a lot and he doesn't notice small details. Taking all this into account, Hubster and I worked on creating something for him that would be easy (for us) and memorable (for him). We settled on organizing a hot dog bar birthday party with a video game tournament.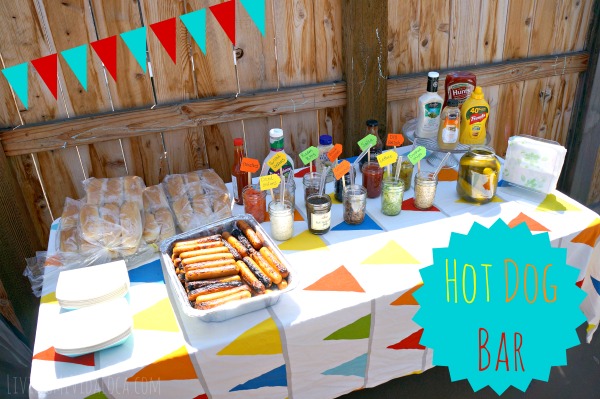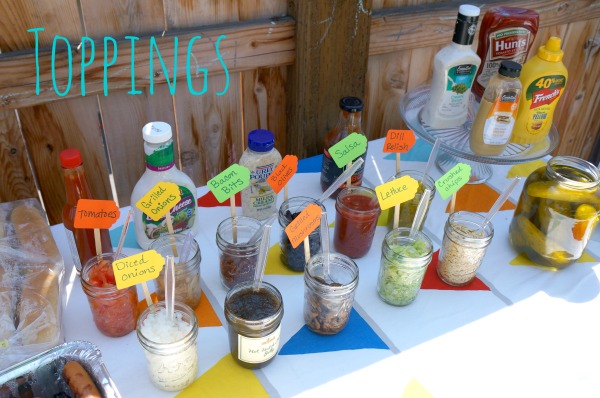 We had sauces, dressings and chunky toppings including:
[col1]Tapatio sauce
Blue cheese dressing
Grey poupon spicy mustard
Honey BBQ sauce
Ranch dressing
Ketchup
Mustard[/col1][col2]Honey mustard
Diced tomatoes
Grilled onions
Bacon bits
Black olives
Salsa[/col2][col3]Dill relish
Crushed chips
Shredded lettuce
Grilled mushrooms
Melissa's Produce Hot Hatch Chile Jelly
Diced onions[/col3]
I went the extra mile by serving the chunky items in my new favorite mason jars. I punched out tags out of card stock paper using my gift tag punch. I knew that I wanted to use my son's curtains as a table cover, so I used colors that fit in that scheme. I taped the gift tags on to popsicle sticks and taped those to the mason jars. It took only a few minutes, but it made such a difference!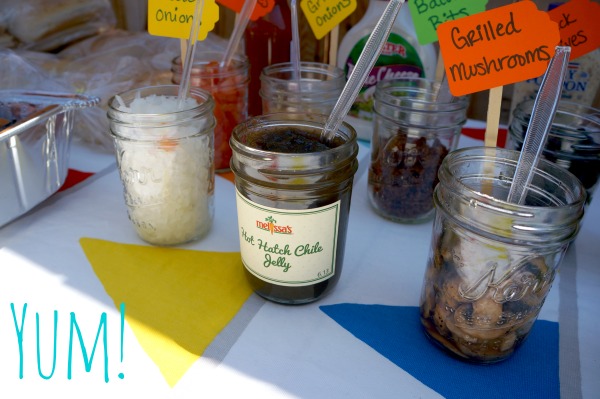 I was lucky to be able to bring out our Melissa's Produce Hot Hatch Chile Jelly for this special occasion. It was such a delicious treat! Hubster grilled the meat hot dogs before everyone got there and we kept them warm in an aluminum tray. We opted out of paper plates and used food trays instead to serve the hot dogs. The trays worked double duty because inside our home we had the crockpot filled with nacho cheese, a bowl of tortilla chips and warm chili. It was a super easy menu that took just a bit of effort. We rounded out the food offerings with pickles and macaroni salad.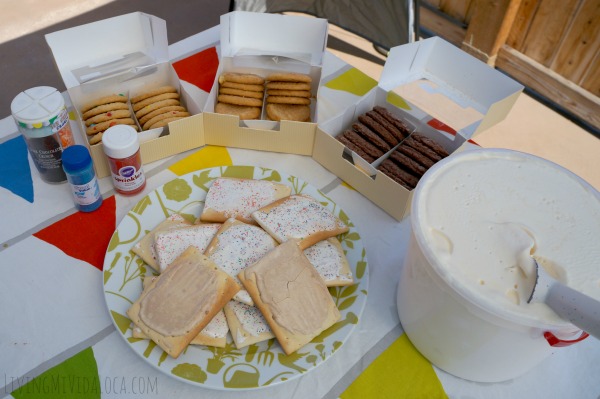 We finished the day with some ice cream sandwiches inspired by Justine's ice cream cookie sandwich post. We picked up three different types of cookies, vanilla ice cream, sprinkles and three different pop tart flavors. Every single one of these treats were gone by the end of the day. The kids liked mixing the cookie with the pop tarts and drawing them with sprinkles. It was a delicious mess.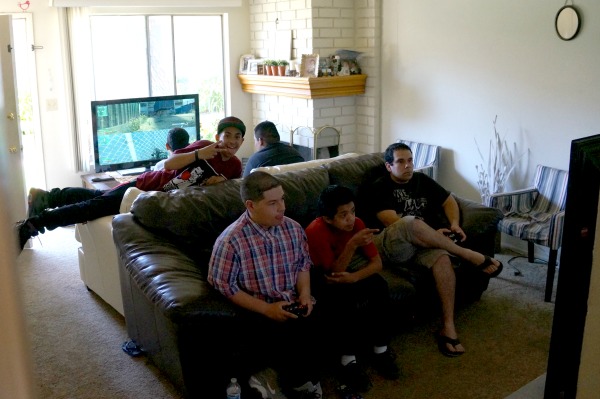 We set up a few televisions around our home including a set up where they could trash talk to each other and still be able to play in the same room. We turned the couches so that they were back-to-back and set up an Xbox with each television. Using a traditional tournament flow chart, everyone took a turn on each of the three games that were previously chosen. The entire party lasted about nine hours. Yes, I said NINE hours! The teens (and hubsters) were in video game heaven. This was also the only party we've had where we did not have any leftovers.
Originally published on September 7, 2013. Last Updated on January 1, 2016 by Pattie Cordova