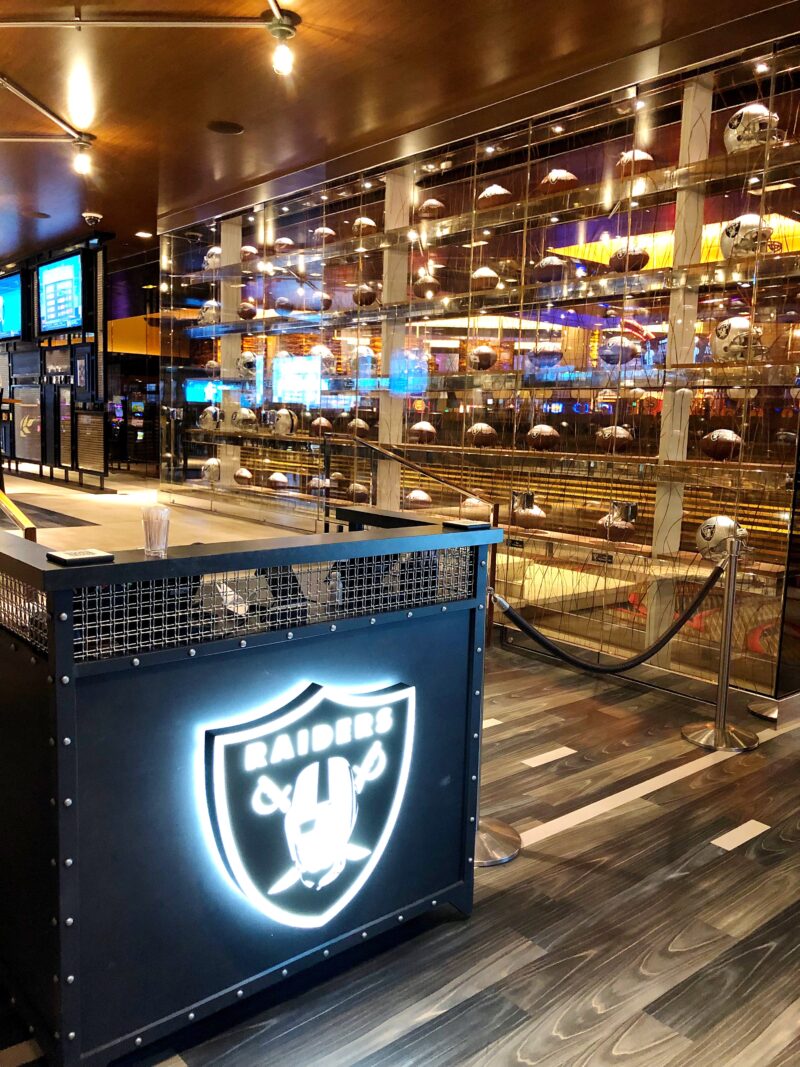 Raiders fans – get excited because the all NEW Raiders Experience at the Allegiant Stadium in Las Vegas is now available to book! The Raiders will be starting their inaugural season this fall 2021 in Las Vegas and this is the perfect way to celebrate.
Keep reading for our favorite ways to do all things Raiders related on your next trip to Las Vegas.
Las Vegas for Raiders fans
The M Resort is the official Raiders Headquarters Hotel and Casino.
This resort is located in Henderson, south of McCarran International Airport on Las Vegas Blvd.
If you are looking to stay on the strip, in the middle of the action, then this hotel is not for you. This hotel is a bit pricier than low cost strip hotels, but you get a more private upscale experience.
We loved the fact that its a very quiet hotel and away from the strip. You can still get a view of the strip if you request a room with a strip view. Our room had a bathtub that directly faced the Strip, it was quite romantic.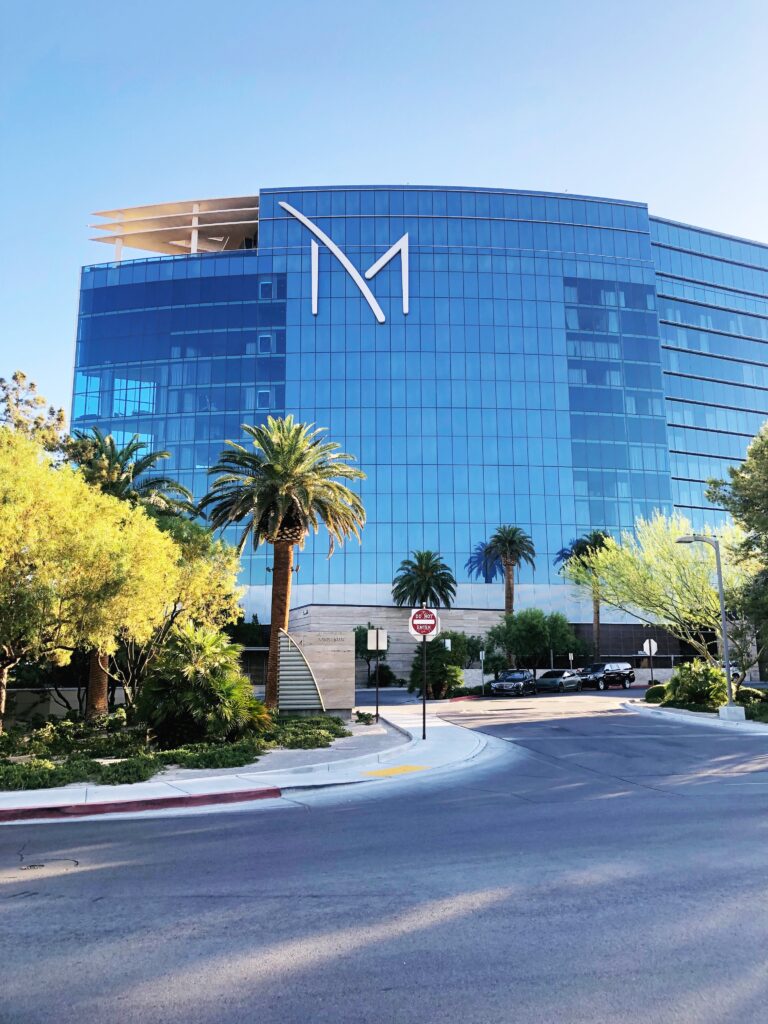 There is plenty to do in this hotel such as grab a bite to eat the Vig Deli, watch a couple of games or make bets at the Sportsbook area or grab a beer at 32 degree beer bar which has 96 types of beer.
You can also gamble on the casino floor. There is also a pool area with a place for concerts.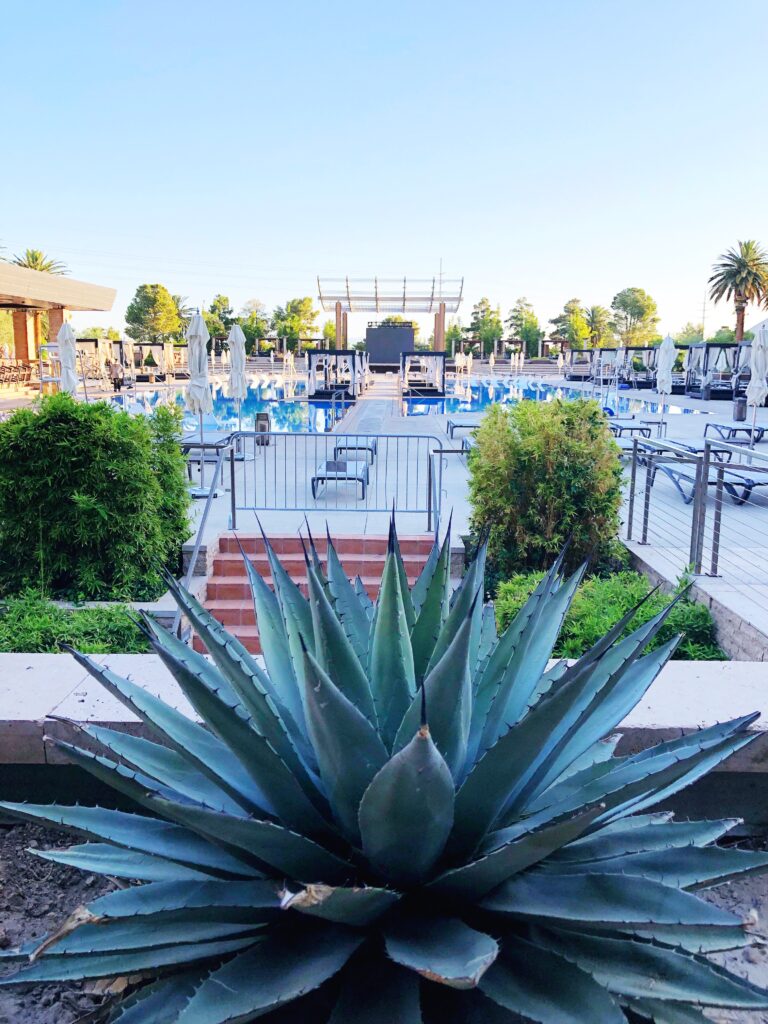 As of June 1, Las Vegas has fully reopened and those with the vaccine do not need to wear masks indoors. Most partitions are gone on the casino floor.
Allegiant Stadium tours are now available through their website and new tickets are released every Friday. We were able to book our tickets a few weeks in advance through Ticketmaster and it was an easy process to check in at the stadium. There was about 20 people in our time slot, the tours are by appointment. There is plenty of parking and the staff is very friendly throughout the whole experience. You can take pictures throughout the tour but absolutely no video. You can also purchase drinks at the beginning of the tour, however the stadium is cashless so cards only. You also need to finish your drink by a certain time of the tour.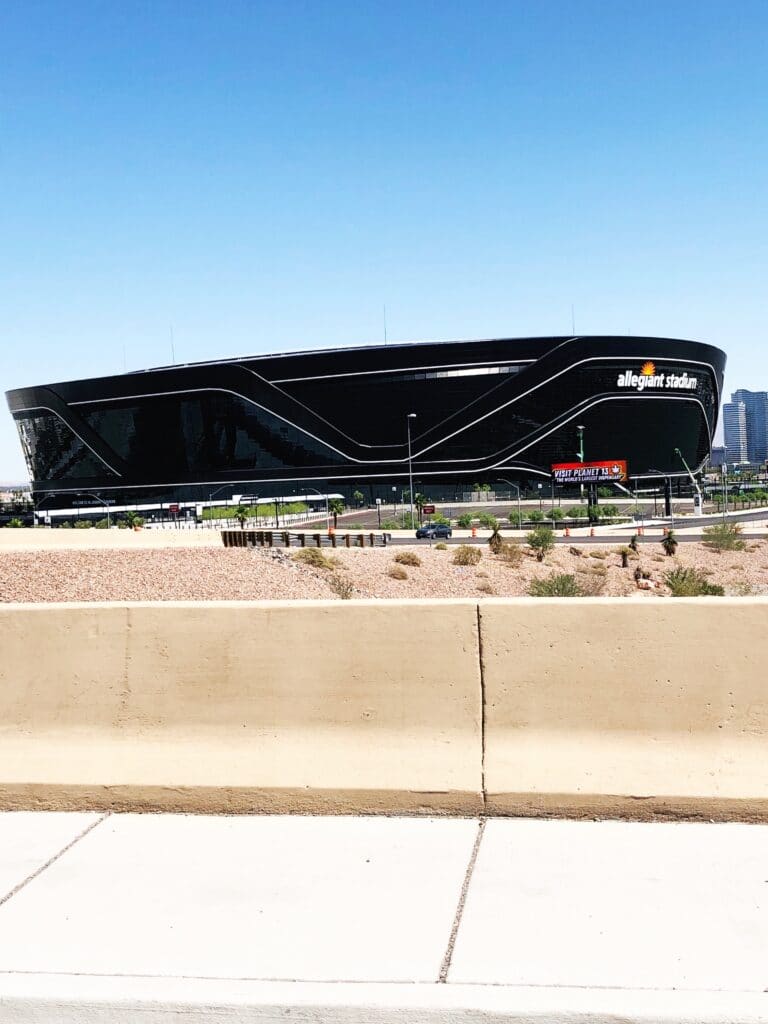 Our favorite parts were definitely the locker room, the field, the Raiderettes area and the beautiful artwork by local artists throughout the stadium. We also loved the Al Davis Memorial Torch. At the end of the tour, you are able to visit the team store and take one final picture in front of the Raiders Las Vegas sign.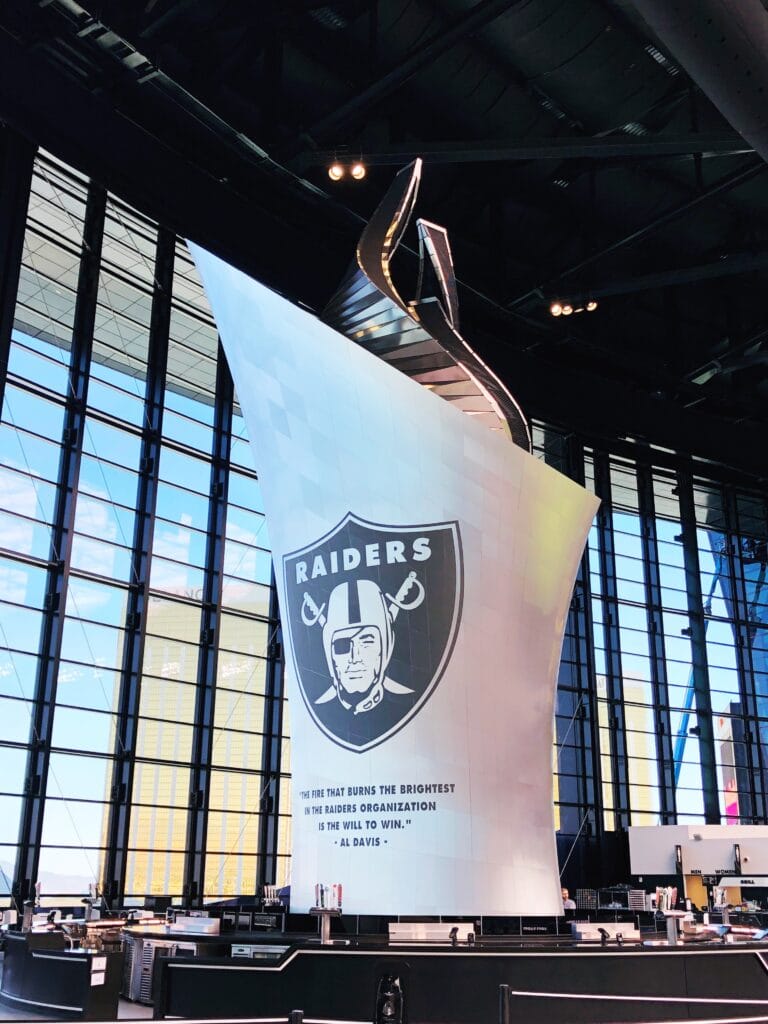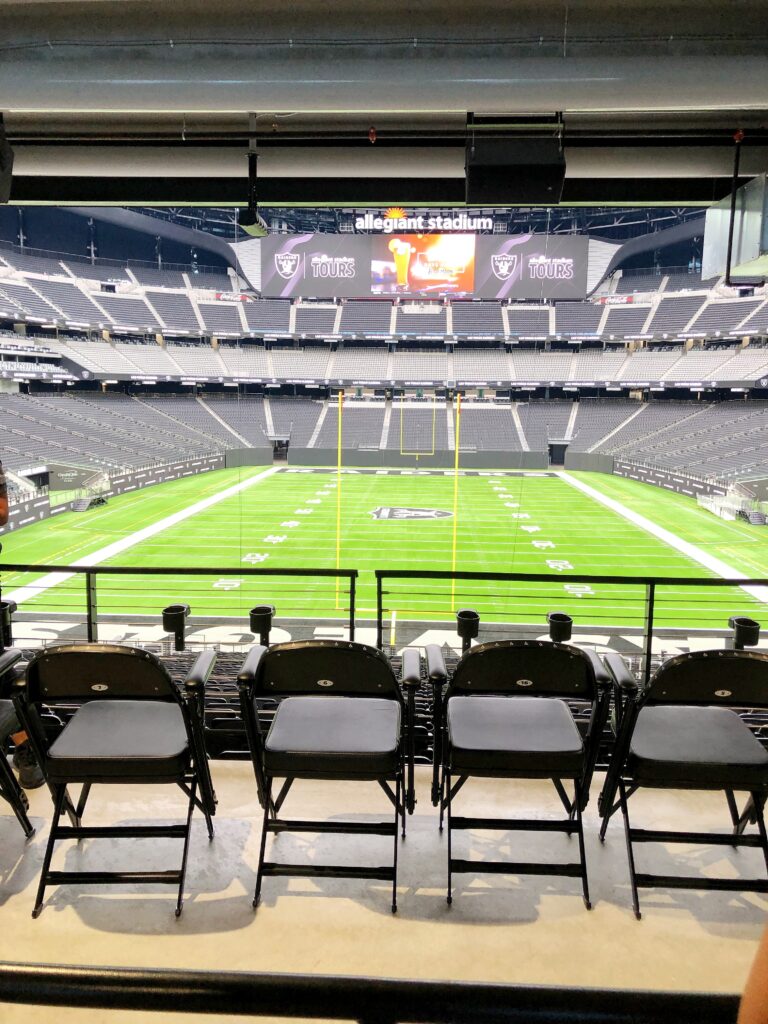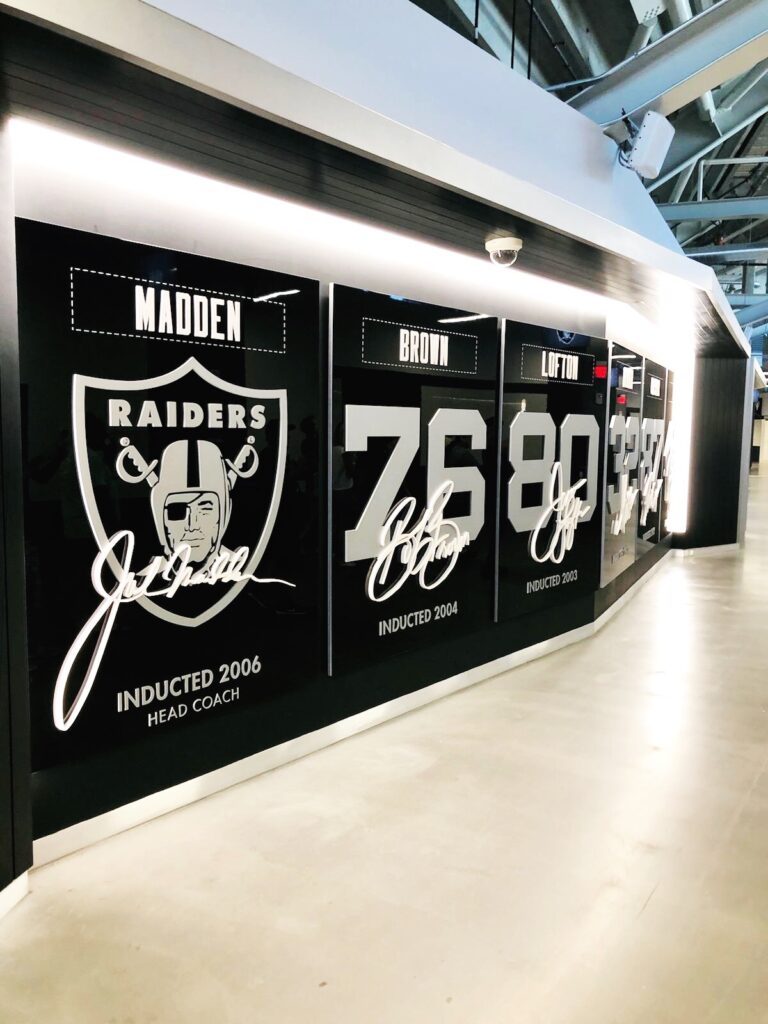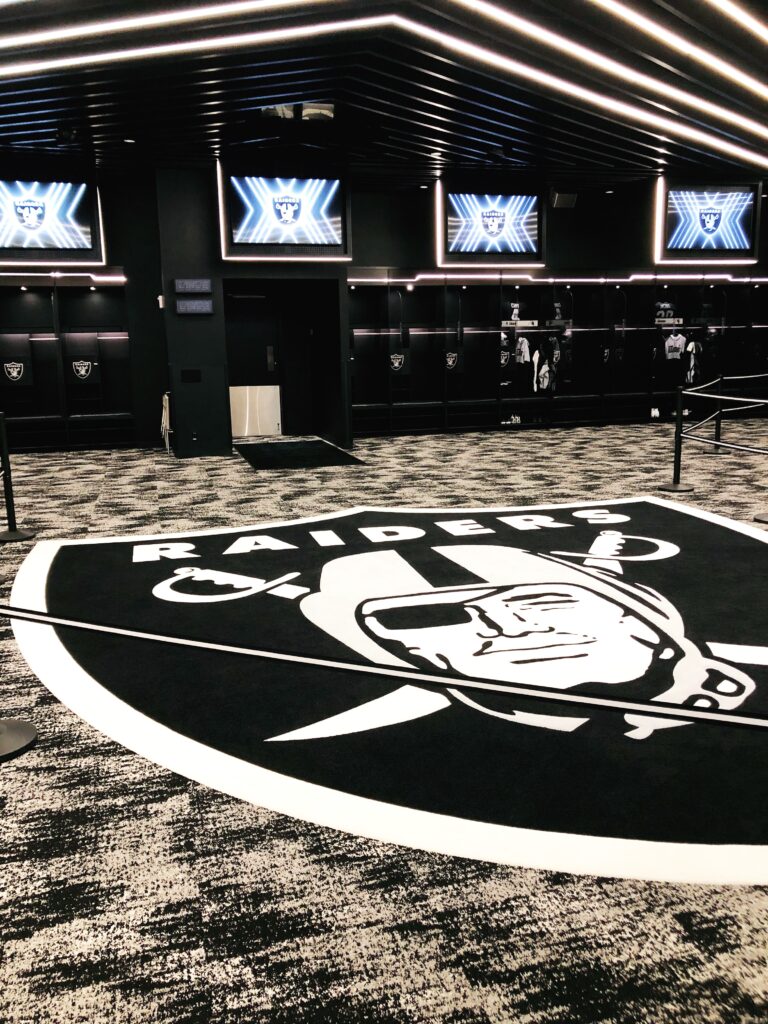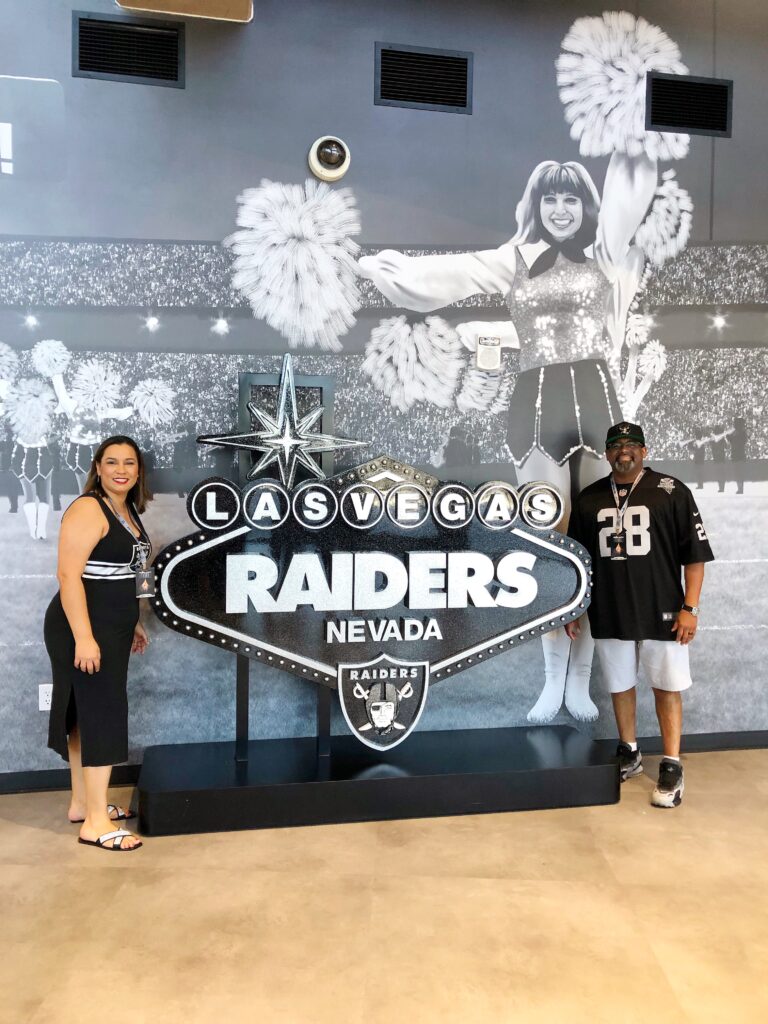 The Raiders Tavern & Grill is a brand new Raiders restaurant located inside the M Resort. This is the only Raiders restaurant in the world and has just recently opened in April 2021. You can make reservations through Open Table to guarantee a seat. Due to pandemic restrictions, there is limited seating. At the time we visited, June 2021, they do take walk ins if there is space.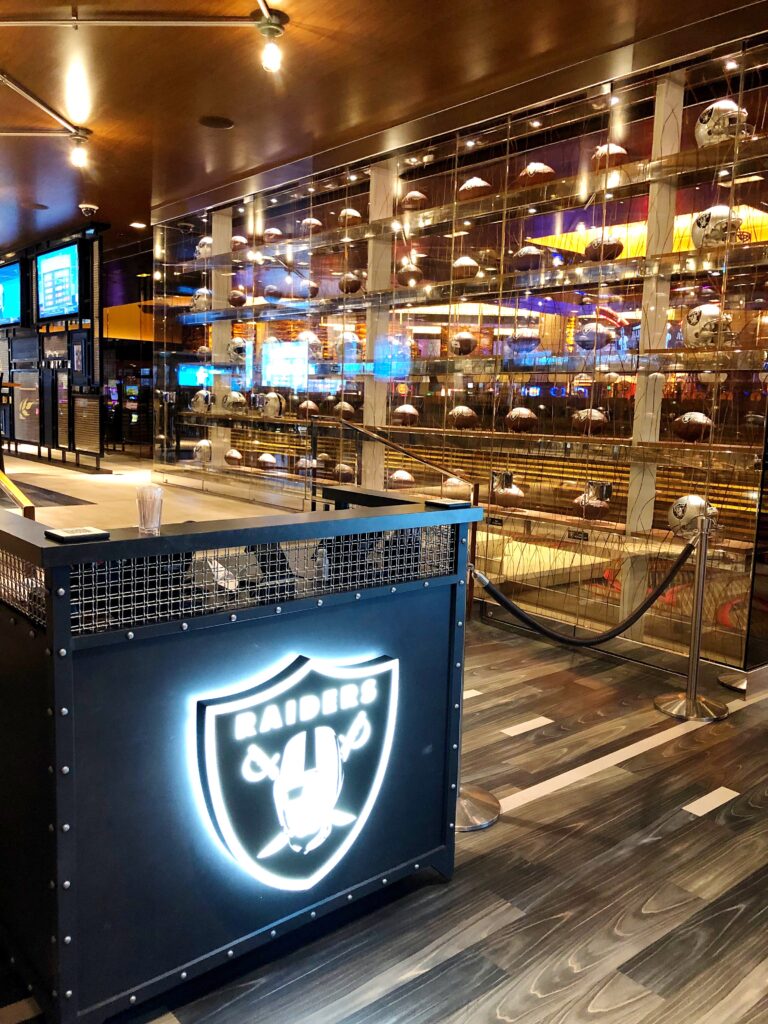 We had the fish and chips, buffalo wings and Philly cheese steak with fries. We also enjoyed a michelada and mimosa to drink. We went in for lunch time and had a great time. The portions are pretty large so if you are not too hungry, you can definitely share some of the main dishes.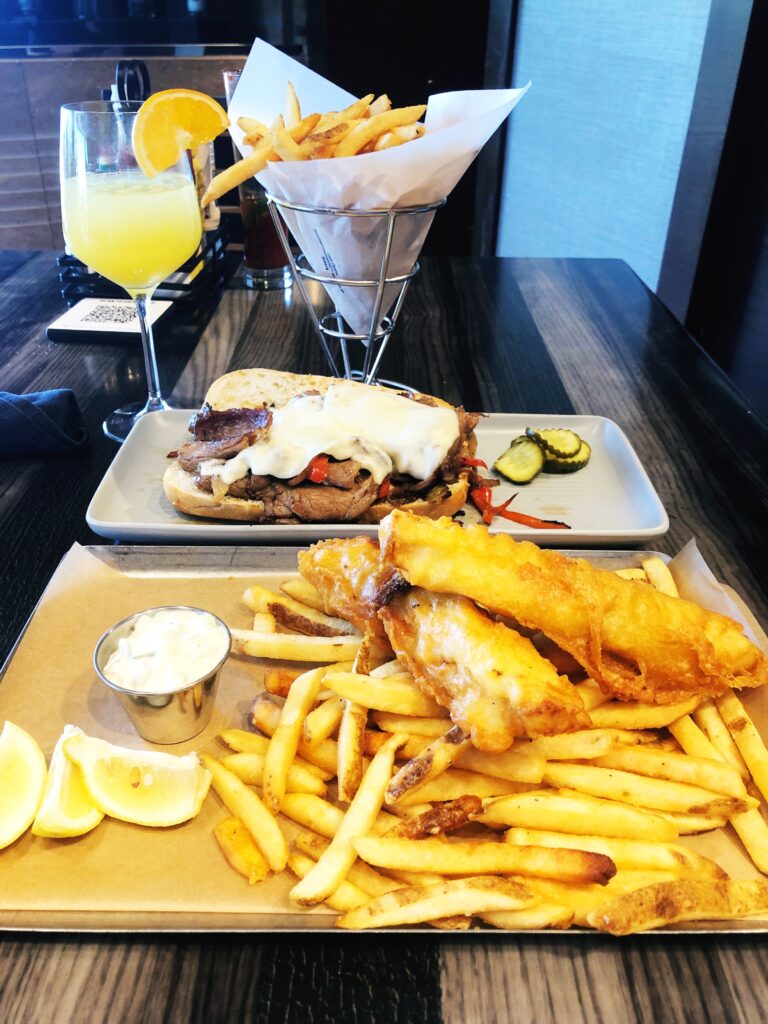 If you're looking to get Raiders merchandise, then we suggest you visit one of the various stores found in the Las Vegas area, including "The Raider Image" at the stadium. You can also purchase items in their online store.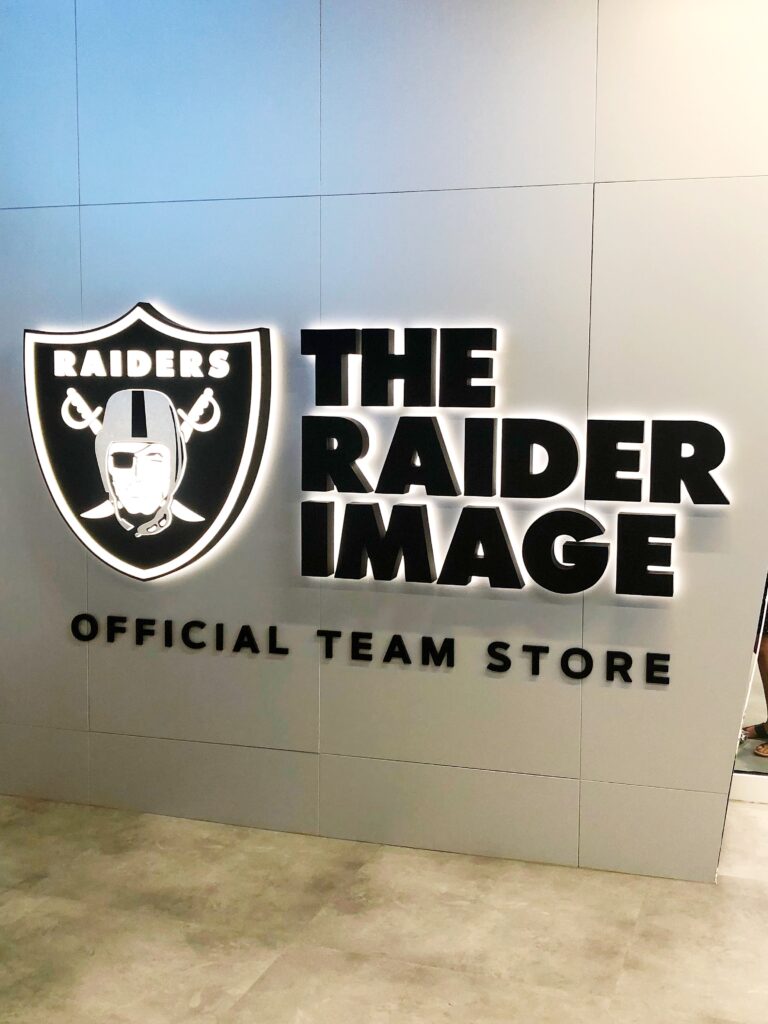 We loved the stadium store because it is a very big store with plenty of unique merchandise.
For women, you will see that Dooney & Bourke purses are found throughout the store. There are some high priced items, plenty of sparkly gear for women, plenty of children's clothes, hats and jerseys for all.
I purchased a sparkly hat because you can't leave Vegas without buying something sparkly, right?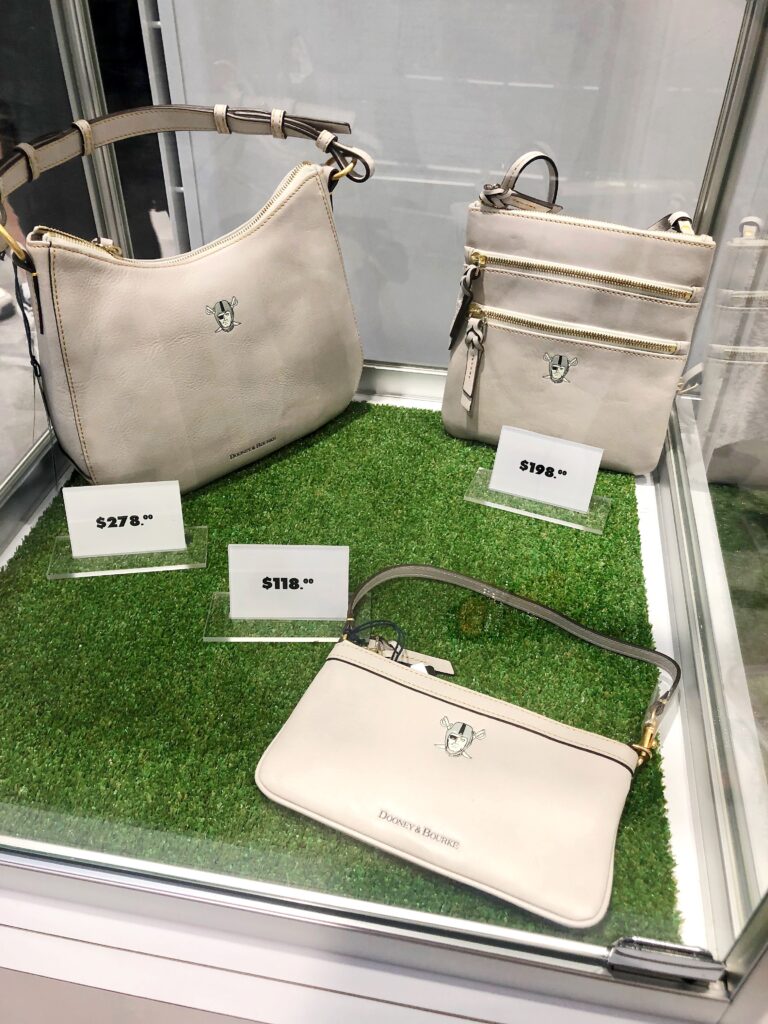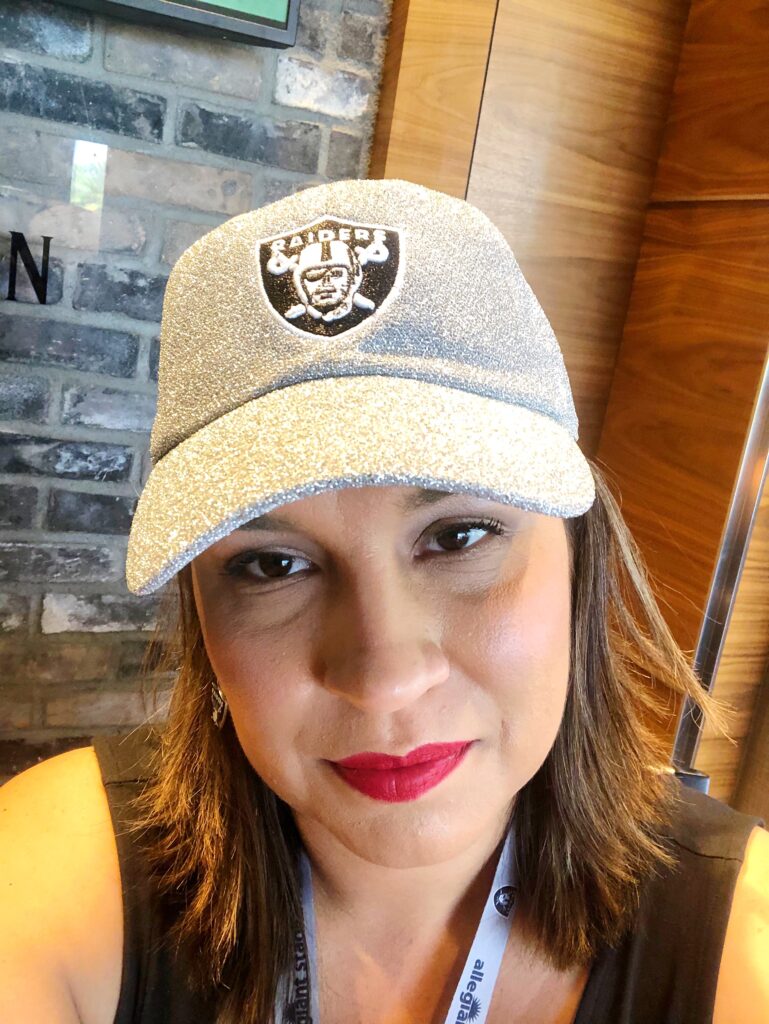 We hope you are able to attend some of these Raiders inspired experiences next time you're in Vegas, including the Raiders Experience in Las Vegas.
We are missing one major experience, and that is to attend a Raiders game at Allegiant stadium! The stadium should be opening Fall 2021 to limited sales due to pandemic restrictions. Go Raiders!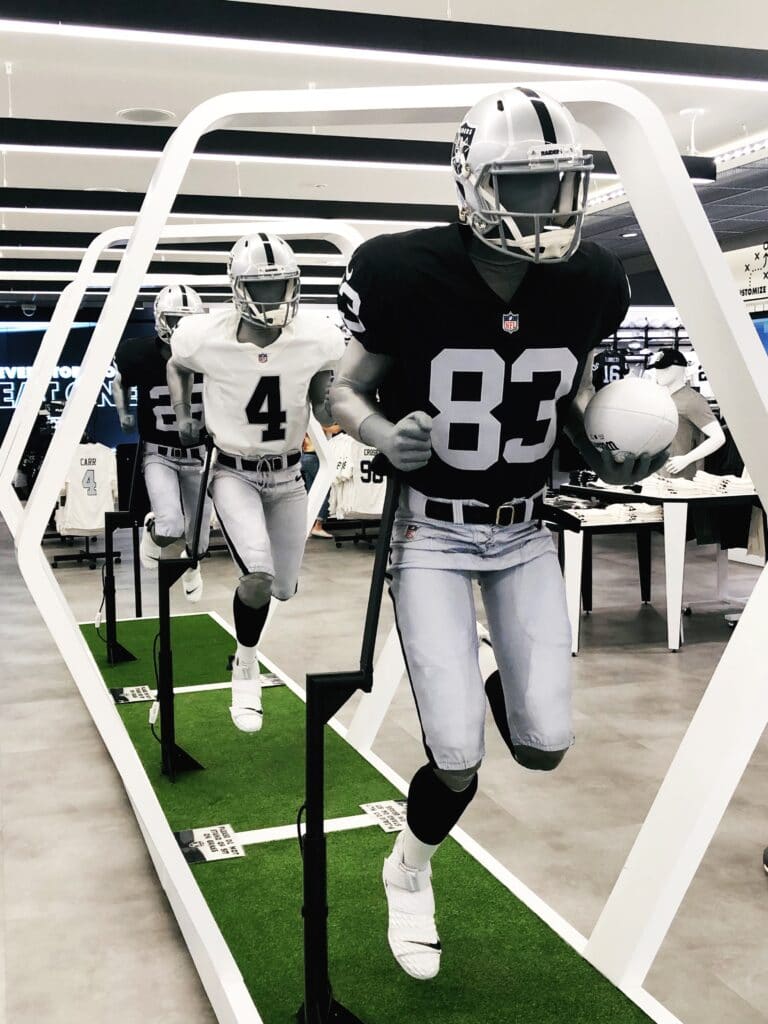 We had a great time checking out all the Raiders venues and hope to return in the fall when we can attend an actual game after the season starts. We hope these tips help you make your decisions when visiting Las Vegas and attending a Raiders game.
Thank you for reading! Stay updated on fun things to see, eat and do in Orange County by following us on Facebook, Instagram and TikTok!
Originally published on July 13, 2021. Last Updated on July 13, 2021 by Pattie Cordova