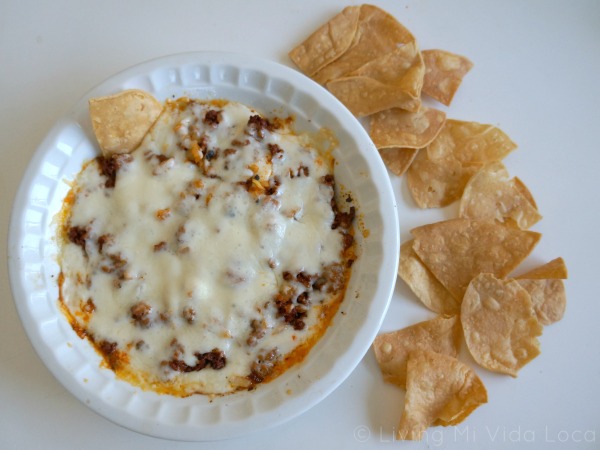 Most of my favorite family dishes (like queso fundido) have a little bit of queso in them (or, in most cases – A LOT of queso)! Queso is a staple in my diet. In fact, I had a vegan diet for a few months but ultimately, my love for queso won. And I say queso instead of cheese because although you will find some delicious goat cheese and muenster (for the kids) in our fridge, queso is something inherently different. It connects me and my family to the Latino culture. It encourages a visit to my local Mexican grocery market and really, I don't know that there is a way to translate queso fresco into English without losing its deep meaning.
I'm a Cali girl and like my veggies and fruits, I prefer my queso to come from close to home. Did you know that California is the country's leading producer of Hispanic dairy products? It's pretty obvious though when you look at the queso case at the grocery store. Every product in the case has the beloved Real California Cheese seal, which certifies they are natural cheeses made in California exclusively from California milk.
So next time you're in the queso (or cheese) aisle at your local grocery store, keep an eye out for the Real California Milk seal because only then, you'll know that your dairy products are made from 100 percent California milk from California's over 1600 dairy families!
Now, I'm going to tell you how to make Queso Fundido with Soy Chorizo. Of course, if you're a meat-eater you can totally use regular chorizo. I do encourage you to try the soy chorizo though. It has less fat and calories and you don't lose any of the taste! I should also mention, that the spiciness in the chorizo goes away in the dish. Maybe it's all the salt in the cheese?
And in case you're wondering which brand I use – I trust La Cubeta and Los Altos. Every queso in their lines of products have a great quality in taste (try their mozzarella and you'll believe me).
How to Make Queso Fundido with Soy Chorizo
Ingredients for Queso Fundido with Soy Chorizo
1 cup Queso Oaxaca
1 cup (Mexican) mozzarella cheese (grated)
10 oz. soy chorizo
1/4 cup chopped onion
1 clove garlic
Vegetable oil
Step 1
Preheat the oven to 425 degrees. Measure out the queso Oaxaca and Mozzarella cheese and separate. Mince garlic and chop onion. Set aside.
Step 2
Oil a 3-5 cup oven safe dish by pouring a bit of oil into the dish and swabbing it around the dish with a napkin. Lay the queso Oaxaca on the bottom of the dish.
Step 3
Brown soy chorizo in a pan. Set aside. Brown onion and garlic in the same pan as you used for the chorizo. Return the chorizo to the pan with the onion and garlic and stir.
Step 4
Carefully spread the chorizo, onion and garic mixture over the queso Oaxaca. Sprinkle with mozzarella cheese fully covering the chorizo mix.
Step 5
Bake for 20 minutes or until the cheese bubbles. Serve queso fundido with homemade tortilla chips or flour tortillas.
Originally published on May 19, 2013. Last Updated on December 1, 2019 by Pattie Cordova