Celebrate
Celebrate Easter with these Nestlé Recipes
Easter is less than three weeks away! Yup… and I had every intention in the world of getting our Easter basket goodies assembled by now and all I have is the Despicable Me Blu-ray that I got on sale.
So if you're anything like me, now is the time to get your act together and start acting on your ideas. I'm going to get you started with a couple of recipes (courtesy of Nestlé) that will surely be a hit at your Easter gathering:
Rainbow Fruit Delight
Preparation Time: 1 hr 30 mins
Refrigeration Time: 4 hrs 30 mins
Yields 8 servings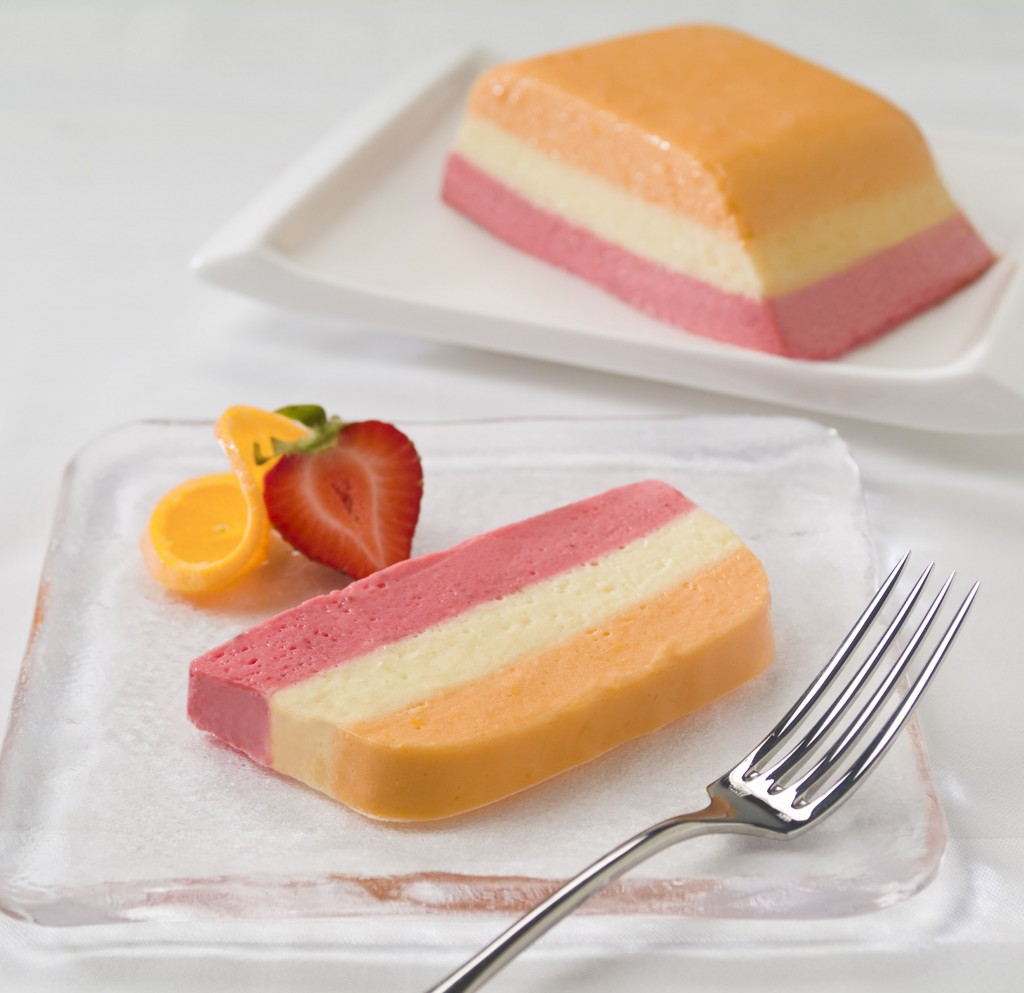 Image courtesy of Nestlé
Ingredients:
Nonstick cooking spray
1 package (3 ounces) orange-flavored gelatin
1½ cups boiling water, divided
½ cup mandarin oranges, drained
2 cans (12 fluid ounces each) NESTLÉ® CARNATION ® Evaporated Milk, chilled, divided
1 package (3 ounces) lemon -flavored gelatin
½ cup crushed pineapple, drained
1 package (3 ounces) strawberry-flavored gelatin
½ cup frozen strawberries (about 8), thawed, drained
Instructions:
FOR MANDARIN ORANGE LAYER:
COAT a 9 x 5-inch baking pan with nonstick cooking spray.
DISSOLVE orange gelatin in 1/2 cup boiling water in small bowl. Let stand for 10 minutes.
Place dissolved gelatin, mandarin oranges and 1 cup evaporated milk in blender; cover. Puree for 10 seconds or until well blended.
Pour into loaf pan.
Refrigerate for 30 minutes or until set.
FOR PINEAPPLE LEMON LAYER
FOLLOW process for Mandarin Orange Layer substituting lemon gelatin and crushed pineapple. Pour mixture over Mandarin Orange Layer. Refrigerate for 30 minutes or until set.
FOR STRAWBERRY LAYER
FOLLOW process for Mandarin Orange Layer substituting strawberry gelatin and strawberries. Pour mixture over Pineapple Lemon Layer. Refrigerate for at least 4 hours or overnight.
TO UNMOLD: Run point of knife around top of pan. Dip pan into a large pan of warm water for 15 to 20 seconds. Lift from water. Place serving platter on top of pan. Invert mold and platter together, shake slightly to loosen. Gently remove mold. Cut into slices and serve.
Chocolate Chip Easter Baskets
Preparation Time: 45 mins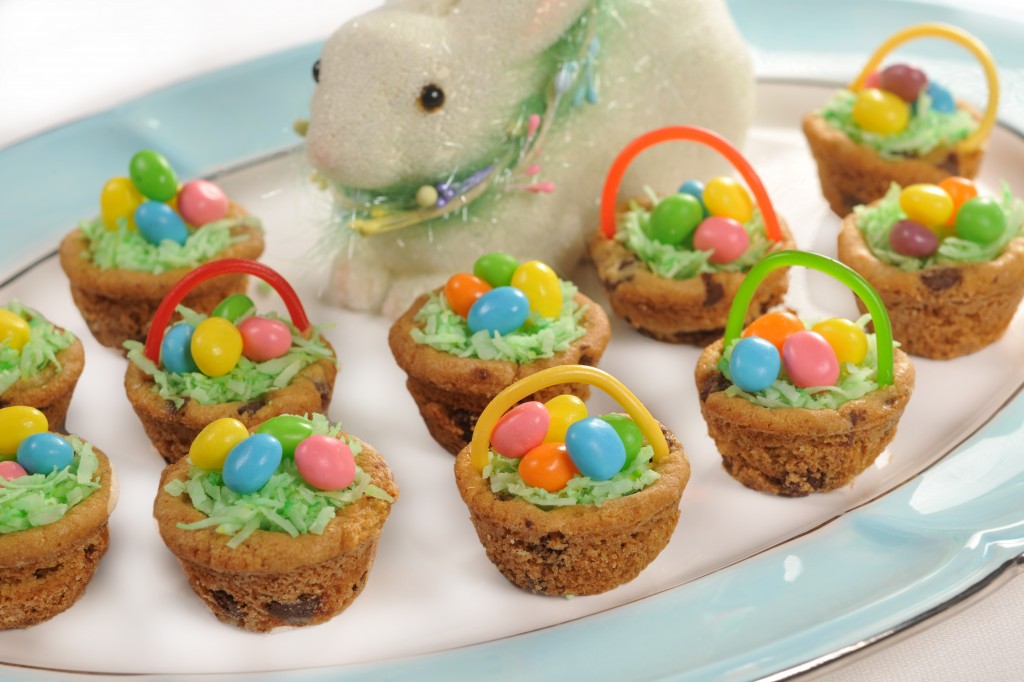 Image courtesy of Nestlé
Ingredients:
1 package (16.5 ounces.) NESTLÉ® TOLL HOUSE® Refrigerated Chocolate Chip Cookie
Bar Dough
1 cup prepared white frosting
1/4 cup sweetened flaked coconut
Green food coloring
WONKA SweeTARTS or SPREE Jelly Beans
Thin-string licorice, various colors, cut into 3-inch pieces for basket handles (optional)
Instructions:
PREHEAT oven to 350° F. Grease and flour 24 mini-muffin cups. Place one square of cookie dough into each cup.
BAKE for 14 to 17 minutes or until golden brown. Remove pans to wire rack. If licorice handles are to be added, with tip of wooden pick, make two holes opposite each other on top edge of cup. Make sure holes are the same size as the width of the licorice. This is best done when cups are very warm. Cool cups completely in pans on wire rack. With tip of butter knife, remove cookie cups from muffin pans. Arrange on serving platter.
COMBINE frosting and a few drops of food coloring in small bowl, adding additional food coloring until desired shade is reached.
DISSOLVE a few drops of food coloring in 1/4 teaspoon water in small, resealable food storage plastic bag. Add coconut. Seal bag and shake to evenly coat coconut.
SPOON a small amount of frosting onto the top of each cup. Add a pinch of tinted coconut. Top grass with SweeTarts Jelly Beans. Insert ends of licorice into small holes in cups for handles.