AQUABATS! SUPER SHOW! SEASON ONE! – on DVD 5/21/13!!
I know very few kid bands. The Aquabats, however, I've heard of for years now thanks to watching them on Yo Gabba Gabba. We've even seen them in concert! Well, we saw them perform one or two songs at the Yo Gabba Gabba concert. Anyhow, my kid thought they were cool and he loved seeing the drummer go crazy on stage. As much (or as little) as I know about them, I must be living under a rock because I didn't know they had their own show! So I'll have to wait until May 21st when they release their first DVD to see the full season.
This 2-disc deluxe collection will include all 13 Season One episodes of wacky crime-fighting, music videos and outlandish villains, along with a ton of bonus features. Special guests on the show include "Weird Al" Yankovic, Lou Diamond Phillips (Southland), Samm Levine (Freaks & Geeks), Jon Heder (Napoleon Dynamite) and more.
Aquabats! Super Show! Season One! is available for pre-order now on Amazon.com at a reduced rate of $14.99 (MSRP $19.93)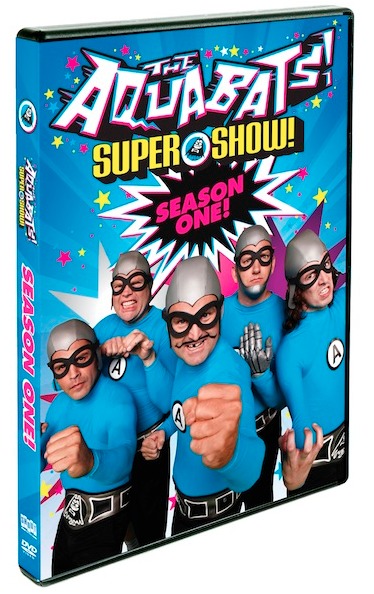 Originally published on February 22, 2013. Last Updated on September 12, 2014 by Pattie Cordova