[disclaim]Guest post by Justine Burgess[/disclaim]
So, it is, or was, or will be your birthday. Want to get a lot a fun email with freebies? Sign up for emails from stores, restaurants, or coffee shops that you frequent, and be sure to give them your birthday date if they ask for it. As a result, your inbox will be flooded with birthday love, so much you might not even be able to use it all. Seriously. I just got done celebrating one of the anniversaries of my 29th birthday (I'm not saying which) and I am still stuffed from all the free and discounted food, plus I got loads of coupons to shop with. Below I'm listing 14 fun birthday clubs that offer some birthday freebies from some of my favorite places.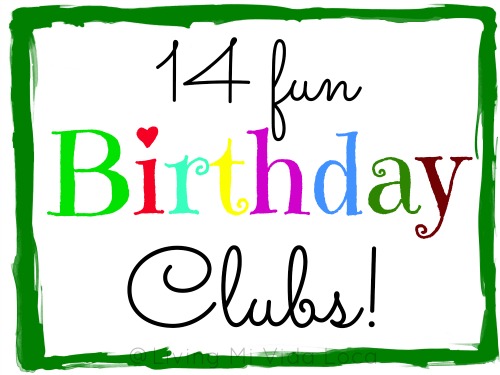 Remember, you must sign up for emails, rewards programs, or club cards in order to receive these. These deals were ones I personally received during January 2013 and are subject to change.
Red Robin
Red Robin e-club rewards you with a FREE birthday burger, no purchase necessary. It also has many other perks, and you can add your kids on your card and get birthday freebies for them as well. More info here: http://redroyalty.redrobin.com
Cold Stone Creamery
The "My Cold Stone Club" offers buy one, get one free creation coupons for birthdays. More info: http://www.coldstonecreamery.com
El Torito
Free 2-item combo up to $10.99, no purchase required, for email-club members. It used to be any meal up to $15.00, but this is still an awesome deal. More info here: http://www.ElTorito.com
T.G.I.Fridays
Free dessert with entrée purchase for "Give me More Stripes" card holders. More info here: http://www.tgifridays.com/givememorestripes
Del Taco
Free birthday shake! Plus other freebies when you join the e-club. More info here: http://www.deltaco.com/ravingfansignup
Orange Julius
Buy one, get one free, for birthdays and for joining the Julius League. More info here: http://www.orangejulius.com
Lucilles Smokehouse BBQ
Preferred guest program- Free dessert with any entrée purchase for your birthday and many other deals during the year. More info here: http://www.lucillesbbq.com/preferred-guest
Maggiano's
$10 off $30 or more. More info here:http://www.maggianos.com
Corner Bakery Cafe
Free birthday sweet with e-Café club, plus you'll get other coupons and offers about once a month. More info here: http://www.cornerbakerycafe.com
Godiva Chocolates
$5 off of $5 or more. Must sign up for Godiva Rewards club- you'll also get one free chocolate per month and periodic discounts and freebies. Awesome deal! More info here: http://www.godiva.com/Account-Rewards
Starbucks
With your registered Starbucks card, receive a free birthday drink. Registration has other benefits, like rewards for purchases and occasional coupons. More info here: http://www.starbucks.com
Cost Plus World Market
With World Market Explorer club, you'll get coupons- $10 off $30, %15 your purchase, and many more. More info here: http://www.worldmarketexplorer.com
Murad Skincare
$10 off a $40 online purchase for your birthday (with email club). More info here: http://www.murad.com
Sephora
Sign up to be a Beauty Insider and get a free birthday gift, plus many freebies, deal, and Insider only specials throughout the year. More info here: http://www.sephora.com/beautyInsider
This isn't even everything (I received almost 50 birthday club-type emails), and it looks like so much already! Everyone likes being treated on their birthday, and what better way to do that than with fun freebies or discounts on things you actually use? Sign up for emails, rewards, and club cards from your favorite places, and see what gifts YOU get. Happy birthday to me, happy birthday to me….


Originally published on February 15, 2013. Last Updated on April 20, 2017 by Pattie Cordova