It's been such a long time since I've stopped by here… at least it seems that way. I have a great excuse though – my eggo is preggo! I'm pregnant with bebe #2 and it's kicking my butt. Morning/noon/night sickness for me and there's no stopping it. Crazy egg cravings and so many visits to the ladies room that I feel I should just move in there. It's NOTHING like it was with my first one. I feel like I could sleep standing up and wish I could just find the one thing that makes the nausea go away. Oh well… regardless of all of this I'm very excited about the pregnancy and I really don't care if it's uber-early to be telling everyone.
Things are going to be different this time around though. I don't plan on finding out the sex of the baby 'til it's born, I want pregnancy pics and the birth plan is going to go MY way (or whatever part I can control). So anyhow, that's why I've been away dear ol' blog. I promise to make time for you though and keep you updated on everything here. Ciao.
If you're interested in seeing what the inside of me looks like right now, here it is: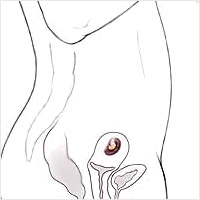 p.s. I've been taking Italian lessons via a CD. I can now successfully tell an Italian that I do not understand Italian (Non capisco italiano).
Originally published on October 21, 2010. Last Updated on August 9, 2017 by Pattie Cordova