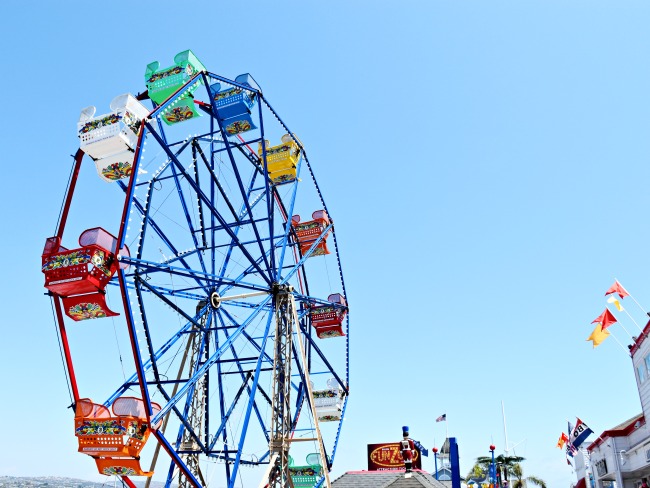 We partnered with JCPenney to share our favorite #SoWorthIt outfits.
This Summer has been all about travel and staycations. From our east coast road trip to our La Jolla Cove visit, we've been all over the place. So with just a couple of weeks to go until the kids head back to school, we partnered with JCPenney and headed out to the Balboa Fun Zone at Balboa Island!
We stopped by JCPenney to pick up a couple of Summer friendly outfits that the kids could wear on our visit. My five year old is all over shorts, so their cute Arizona chino shorts were perfect for him. They have the tiniest little skulls on them that make them on-trend.
Layers are key because we're so close to the water and I knew that we would be getting on the ferry. So they each chose a button shirt that gave us that effortless utility – they could wear it on the ferry, and then just take it off while hanging out at the arcade.
What to do at Balboa Fun Zone at Balboa Island
The Balboa Fun Zone has been around for years and years. It is literally one of SoCal's oldest amusement areas and a super popular place for families to visit. Public parking is only $1.50 an hour, with a two-hour maximum, so it's never too busy because the crowd rotates in and out.
The auto ferry is perhaps one of their most famous attractions. It is a short hop to and from Balboa Island and the Balboa Peninsula. It costs $2 for each automobile, $1 for each adult and 50 cents for each child. It's a short ride into Balboa Island and always fun for the kids because there is always something going on in the water.
Hours of operation for the Balboa Island ferry is Monday through Sunday: 6:30 a.m. until 12:00 a.m.
The Balboa Island Ferry landing is located adjacent to 410 South Bay Front, Newport Beach, California 92662.
Once at Balboa Fun Zone, visitors can get on the longest ferris wheel ride for just $4. The colorful amusement park ride makes not only a pretty backdrop, but it gives you the best views of Newport Beach!
My kids had a blast inside the Bay Arcade. I got them a couple of tokens for some game play and they went crazy trying to get as many tickets as possible. They left the arcade with a handful of little toys that fit into their pockets.
And of course, we are all about a delicious treat (or two!). So we stopped by one of the pizza stores for a slice of pizza (under $3) and followed it with a frozen banana – one of Balboa's most well-known beach treat. The chocolate covered banana treat comes with the option of choosing either nuts, chocolate sprinkles and rainbow sprinkles. And they were delicious!
We sat down to enjoy our treat while checking out the palm tree climbers. It's now officially on my must-do list for Balboa Island.
We had a great couple of hours at the Balboa Fun Zone, and though the kids don't know it, their JCPenney outfits played a big part in their comfort and ease in doing kid stuff like jumping off steps "just for fun."
I invite you to visit the Balboa Fun Zone at Balboa Island on your next visit to Newport Beach, California.
Getting to the Balboa Fun Zone
The Balboa Fun Zone is located on Balboa Peninsula across from Balboa Pier off Balboa Blvd. It can also be reached by the Auto Ferry located on Balboa Island.
Originally published on August 10, 2016. Last Updated on July 7, 2021 by Pattie Cordova