CES 2013 in Las Vegas produced a lot of great and innovative products. While most were geared towards adults, there were some products there that I sought out to share with parents. Case in point: The iPotty for the iPad by
CTA Digital
.
Set to be released in first week of March on Amazon.com, the iPotty for the iPad is the CTA Digital's solution to a fun and easy potty-training experience, and it looks like it was created for the techy baby in mind.
My kid is 19 months and halfway potty training. He goes poop in the toilet, but not pee. When he does use the toilet, it takes him FOREVER. It gets to the point where I'll take my iPad in there with me to either set up on the counter like this: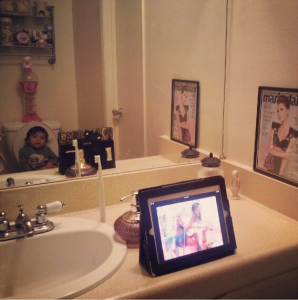 or I simply take the iPad with me so I can do my social media stuff while he reads a book.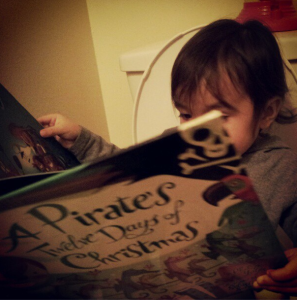 Either way, the iPad is a part of our process while we wait for him to do his work. So I suppose that this product is a natural extension of what I'm sure is a popular routine for a lot of potty training households.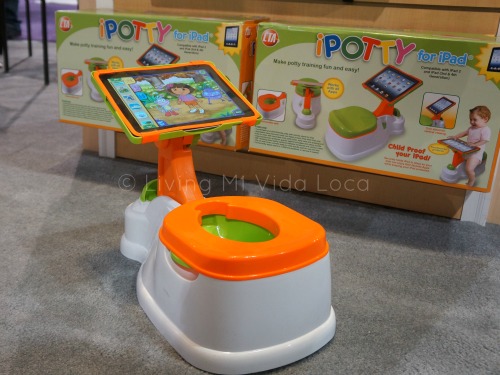 The iPotty for the iPad features a child-proof case for the iPad that sits on a mount high enough for the kid to see while he does his business. It's meant to entertain the kids so that they'll actually sit in the toilet instead of screaming their heads off to get off of the toilet or, to encourage kids to use the toilet because in doing so, they'll get to use the iPad.
The iPotty for the iPad conveniently comes with a splatter shield for the boys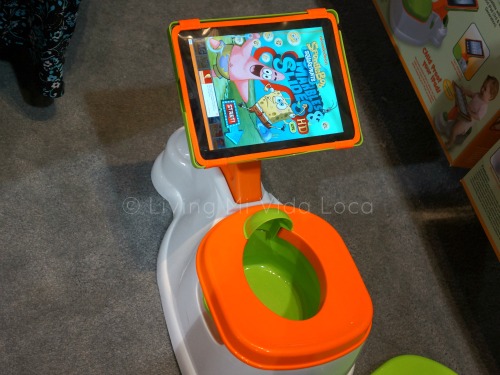 and when not in use, the accompanying green cover will double the toilet as a mini-desk.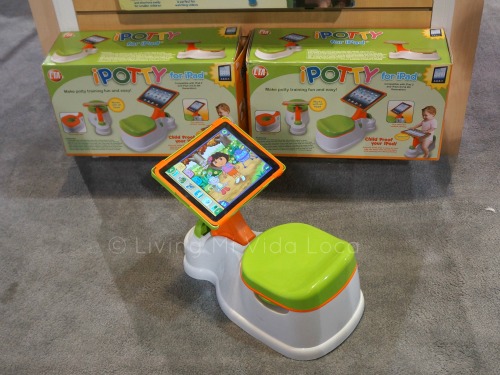 I started talking about the iPotty for the iPad last week on our Facebook page and it quickly became a subject that a lot of moms chimed in on. Here is what a few of them had to say:
This will be a sure way to train them that when they go to the bathroom in school they can play with their phones and electronics instead of doing their business quickly and going back to class – Elizabeth T.
People take reading material of all kinds to the restroom. Why not the lil ones? – Amy C.
I think it's a little ridiculous. Too much stimulation (especially at potty training age) and they won't be able to focus on the task at hand. Plus, they are going to want to wipe and immediately go back to playing the computer instead of washing their hands. – Keri S.L.
From the time he could sit on the potty Junior has been taking offroading magazines and Hot Wheels in with him. I have a funny feeling if he had had that when PTing, I would never have seen him again. – Justine B.
This Is cool. I wouldn't be scared of them messing my iPad up – Christine O.
My kids would just want to sit there in order to use it. – Alma P.
These were just a few responses because it was a hot topic last week on the page. Moms from all sorts of backgrounds had something to say about the product and it was really interesting to read the different points of view.
I am personally on the fence about this product. Yes, it's innovative, different and kid-friendly, but with my kid, it would probably take him a very, very long time to get off of the toilet if he had something like this to sit on. I think it's a product that is geared more towards the kids that hate even looking at the toilet, or that are scared of it, and the iPad is simply a bribe to get them to sit still long enough for them to do their thing. So I suppose it would work for some households, I'm just not sure about mine.
So what are your thoughts on the iPad for the iPotty. Is it something that your home will be having this March?
Originally published on January 15, 2013. Last Updated on July 1, 2018 by Pattie Cordova