All gift ideas have been editorially chosen by the writer; there is no compensation in exchange for recommendations.
Fall baby shower season is here and last weekend I attended my first of the month. I know that protocol is that you get something from the registry. The thing is, it's more fun to walk in with a unique baby shower gift… so that's what I did. Here's a glimpse of what I gifted, and a few more unique baby gifts that I want to give next time.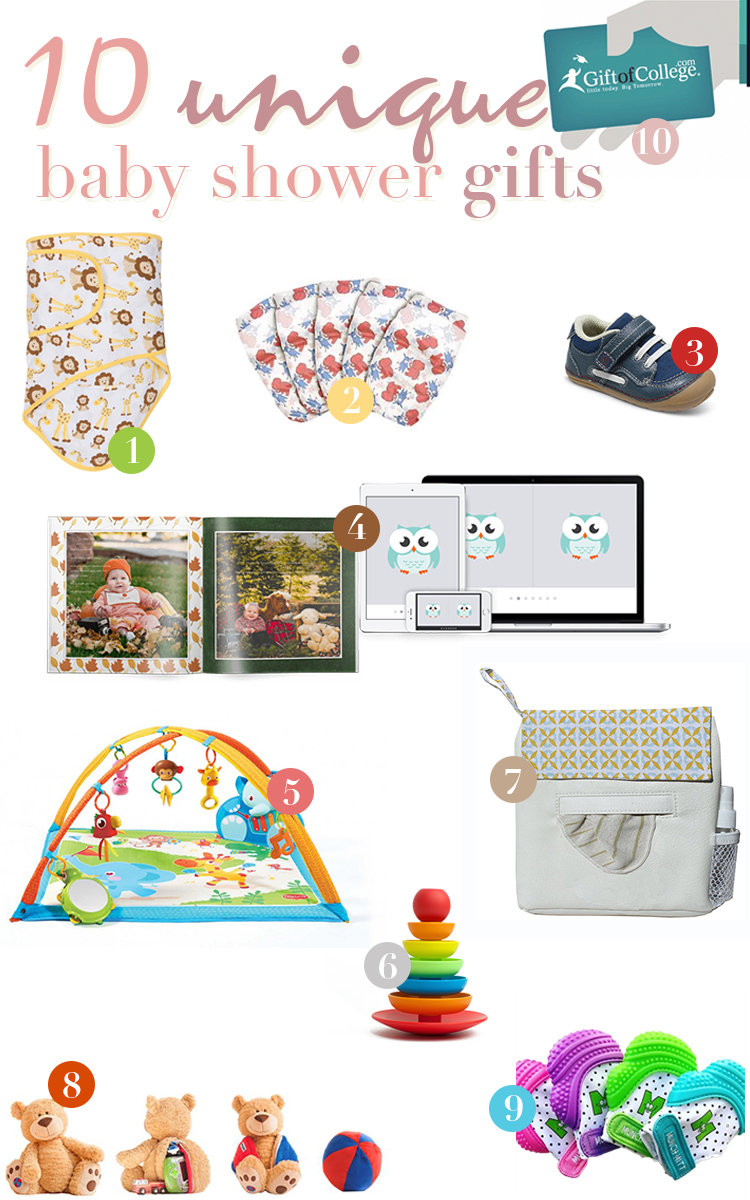 1. The Miracle Blanket® ($29.99) makes it easy to get the perfect swaddle every time, even in the dark! Your babywill sleep better, longer and will be less fussy since he/she will finally get the sleep they (and you) so desperately need. The fabric is a super soft 100% cotton knit that is breathable so that it can be used in warm climates while still being luxurious enough to keep your baby warm in cooler places. It also has just enough stretch to absorb your baby's movements without coming undone. Also, it is durable and stands up to constant use and washing. Most importantly, it is a safe and secure alternative to traditional swaddling, helping babies sleep better on their backs through 14 weeks, and allowing freedom of movement from the hips down.
2. Honest's NEW diaper prints ($13.95) features red elephants and blue donkey's holding hands in recognition of the upcoming presidential election. The super-absorbent, ultra soft, hypoallergenic are made without chlorine processing and additives like fragrances, lotions, and latex. All prints are available now at honest.com in sizes newborn to 6.
3. Stride Rite Soft Motion Dawson ($42) are the perfect shoes for kids. They feature Soft Motion technology that protects little feet without restricting movement for their cruising phase until wobbly walkers are confident. The rounded edges decrease stumbles and falls, and their deep flex grooves enable natural movement. Bonus points for secure closures that keep the shoes on the baby.
4. BabyPage Baby Shower Kit ($115) is a simple and savvy digital service helping moms create modern baby books documenting their child's milestones. The beautiful result comes in a digital format and a hard cover picture book that didn't take much time and effort. Starter kit includes an 8" x 8" saddle stitch softcover book, 8" x 8" hardcover book, two shareable digi books, ALL premium backgrounds and, while supplies last, a limited edition BabyPage Onesie.
5. Tiny Love's Gymini My Musical Friends ($59.99) is a musical baby gym that stimulates and promotes cognitive development, motor skills, and various learning processes with music and toys. Choose from 8 familiar children's melodies including Row, Row, Row Your Boat and more.
6. The 2-in-1 Stacker by Bioserie by Kids Preferred ($15.99) has lots of ways to stack, sort and learn colors. The rounded base rocks back and forth, to give toddlers motor skills a workout! 8 pieces, 5 vibrant colors, countless stacking options! Easy to clean – Dishwasher safe. Bonus? The Bioserie collection is an award-winning brand that provides stylish toys that appear and perform like everyday plastic toys but are made from plants. It's also the first 100% USDA certified bio-based toys to enter the toy market.
7. Baby Care by e-cloth ($29.99) are chemical-free reusable cloth wipes. The e-cloth reusable cloth wipes clean with just water, thereby eliminating chemicals sensitivities, allergic reactions, rashes and asthma associated with the use of chemical additives, fragrances and dyes. The convenient carry pouch stores used cloth wipes and keeps separate for laundering. Cloth wipes are reusable and guaranteed for 100 machine washes making them environmentally-friendly and more economical.
8. Buddy Balls ($19.99) came from an idea to have a child's beloved plush friend turn into another other favorite toy, a ball! Buddy Balls are stuffed animals designed with a zipper and quickly turn inside out, converting into a plush ball from various sports: beach ball, football, soccer, basketball.
9. Munch Mitt ($18.99) is the undroppable, unstoppable teething mitt. Made with food grade silicone, BPA and Phthalate free, the mitt is both convenient for parents and fun for babies.  Munch Mitt gives little ones the gift of self-managing teething relief and parents the gift of free hands.
10. Gift of college gift card is a gift that will last a lifetime. By saving for the child's higher education, it will help ensure they have a bright future. And did you know that children who expect to graduate from a four-year college and have a college savings account are approximately six times more likely to attend college than those with no account? Gift of college gift card is good in every state too – so no worries if the recipient is in a different state. Parents in California can then start saving for college by opening a ScholareShare College Savings Plan with only $25 and only 15 minutes.
Originally published on October 7, 2016. Last Updated on August 1, 2017 by Pattie Cordova