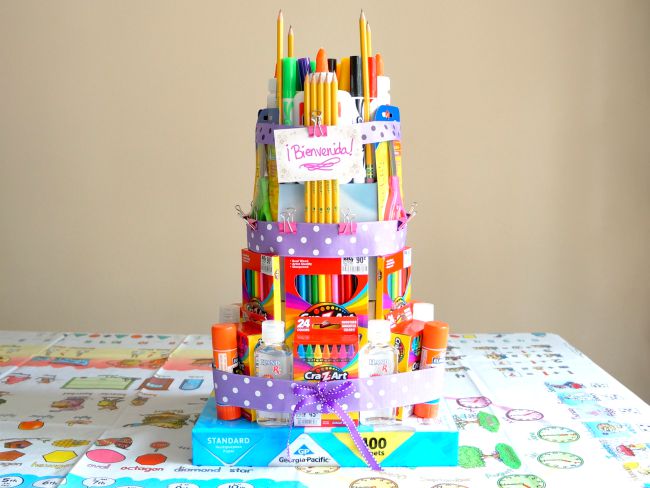 Wondering how to make a school supply cake for back to school gifts? This teacher cake idea is great because it's easily customizable and budget-friendly at under $40.
A few weeks ago we were celebrating the middle of Summer with ice cream floats – and now you may find yourself in the middle of August and slowly getting back into school mode, shopping for school supplies, and getting ready for the new school year.
This time around, I decided to take the list of requested school supplies and turn it into something fun – a diy school supply cake.
The long list of school supplies is typical for any second grade class – crayons, glue sticks, hand sanitizer and even a ream of paper. It was easy enough to give a school supplies cake a try given the amount of supplies that I was able to get at Big Lots for under $40. In fact, once everything was said and done, I still had a box of markers and a box of pencils left over as well as a couple of glue sticks.
I had a lot of fun putting together this project, and I decided to make it even better by making it tape-free. I can only imagine giving this enormous gift to the teacher and then getting punished by having to take the tape off of every piece of school supply.
We used the following school supplies for our back-to-school supplies cake.
How To Make a School Supply Cake
Materials Needed
2 small tissue boxes
6 boxes of colored pencils (12 count)
6 hand sanitizers
1 ream of paper
4 glue sticks
4 school glues
6 boxes of crayons (24 count)
1 pencil organizer
6 binder clips
4 kids scissors
14 pencils
20 markers
Instructions on how to make school supply cake
Place a small tissue box on top of a ream of paper
Carefully line up colored pencils around the tissue box. Add the crayons in front of the colored pencils to keep them from falling down.
Place hand sanitizers in between the boxes of crayons.
Place the glue sticks in front of the crayon boxes, leaving the front and back boxes without a glue stick.
Place the second tissues box on top of the first one.
On a flat surface, place the pencil organizer and four school glues on each side. Add two markers in between the glues and wrap with a rubber band. Add four pencils to the new addition – one on each corner.
Carefully place on top of the second tissues box and add five pencils into the new layer in the front, and five in the back.
Insert the kids scissors into the colored pencils and secure at the top in the rubber band.
Wrap a strip of ribbon around each layer, and secure.
Add a note to the top layer, clipping it with a binder clip.
Finish by adding the remainder binder clips and a small bow to the bottom layer.
I had so much fun making this school supplies gift, and it was so easy! I can't wait for my kid to take it to school in a couple of weeks. I also like how it's a great teachers gift any time of the year. The classroom is always in need of supplies.
Visit your local Big Lots to get the your small school supplies cake at a low price. They have a great assortment throughout the year, and great brands too!
Originally published on August 14, 2015. Last Updated on July 23, 2023 by Pattie Cordova