Road trip tips for large families
My familia and I recently did a nine day road trip from Southern California all the way up to Helena, Montana. The hubby and I have seven kids ages 14, 11, 10, 8, 5, 2 and 6 months. We love camping and road tripping so we have a 15 passenger van with enough room for luggage and personal space for siblings. These are our best road trip tips for large families, like ours.
Are you ready for plenty of tips and tricks on organizing and getting through a long road trip? Yes, there is A LOT of screen time involved.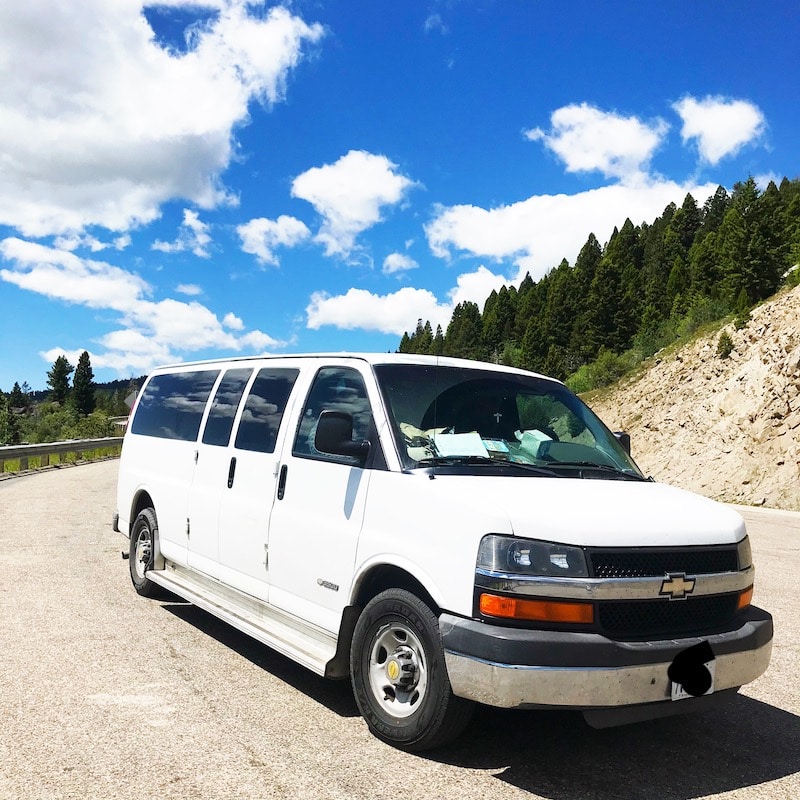 Road trip tips for large families
Packing and Organizing
Checklist
When it comes to road trips and camping I become a master at organizing. It all starts with checklist. I make a list of what needs to get packed and the amounts for each clothing item. I print one for each kid and then get to work checking off each item and amounts.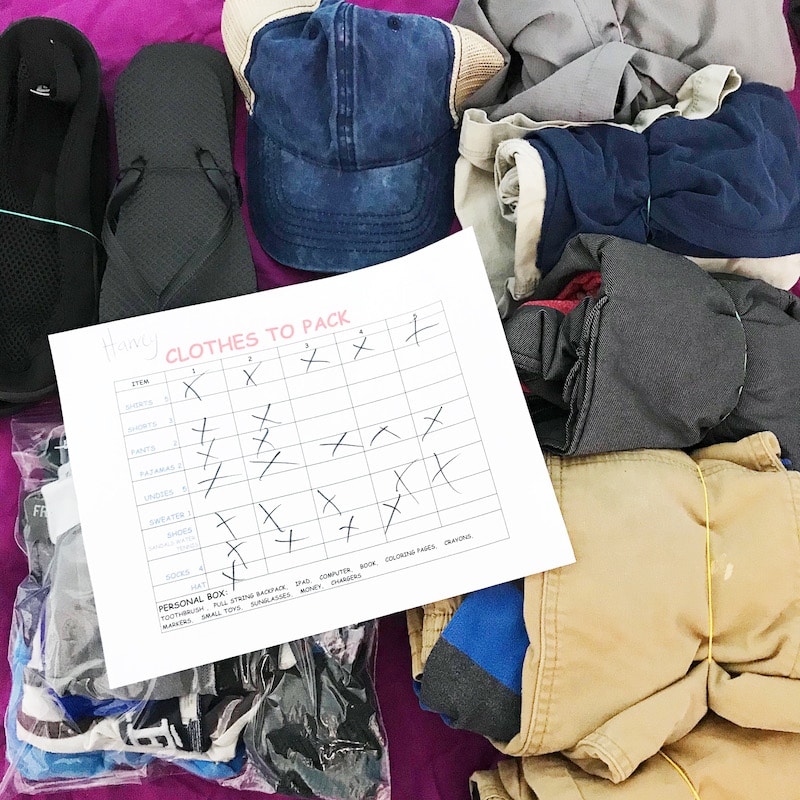 Packing Clothes
Each kid gets a backpack for their clothes. I have learned that rolling each outfit together and securing with rubber band is the way to pack. In the morning they take out a bundle and done.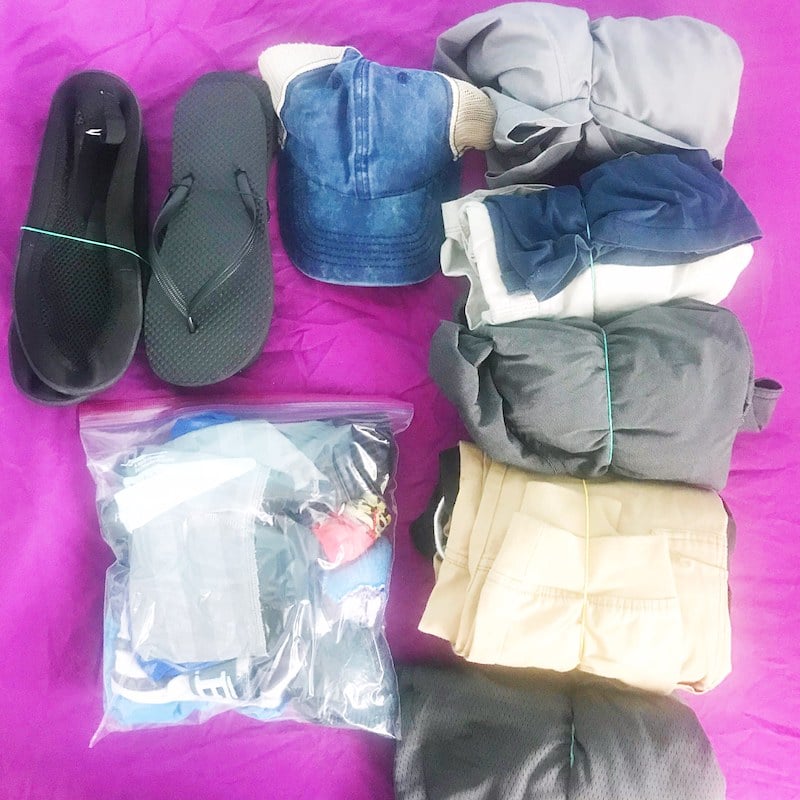 They put underwear and socks in a gallon size bags. This helps to keep small items from getting lost in backpack.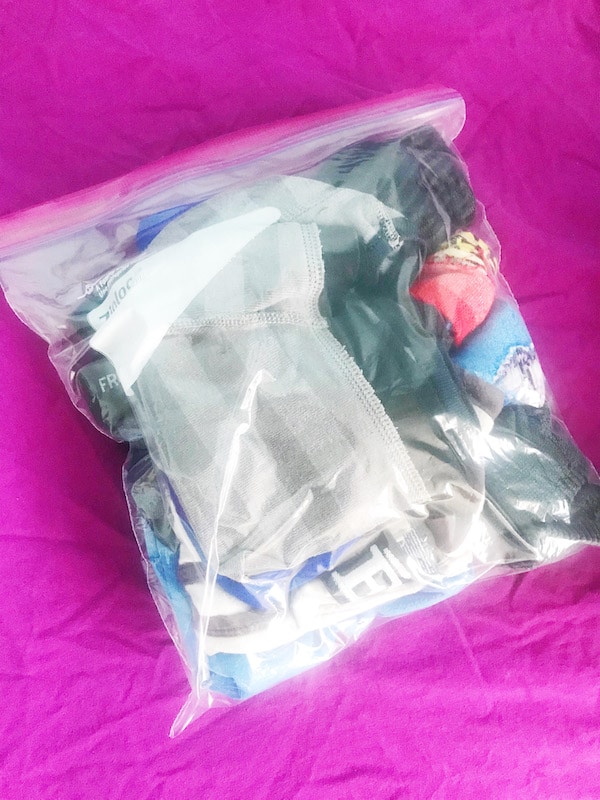 Personal Boxes
This time around I tried something new, each kid a personal box. I found these storage boxes with lids at Costco which came in pack of six. They were perfect size for laptops and iPads. The only instruction I gave kids was put whatever you want in box that you want to take. If it doesn't fit then you can't take it. They put these in the bottom of the seats for easy storing.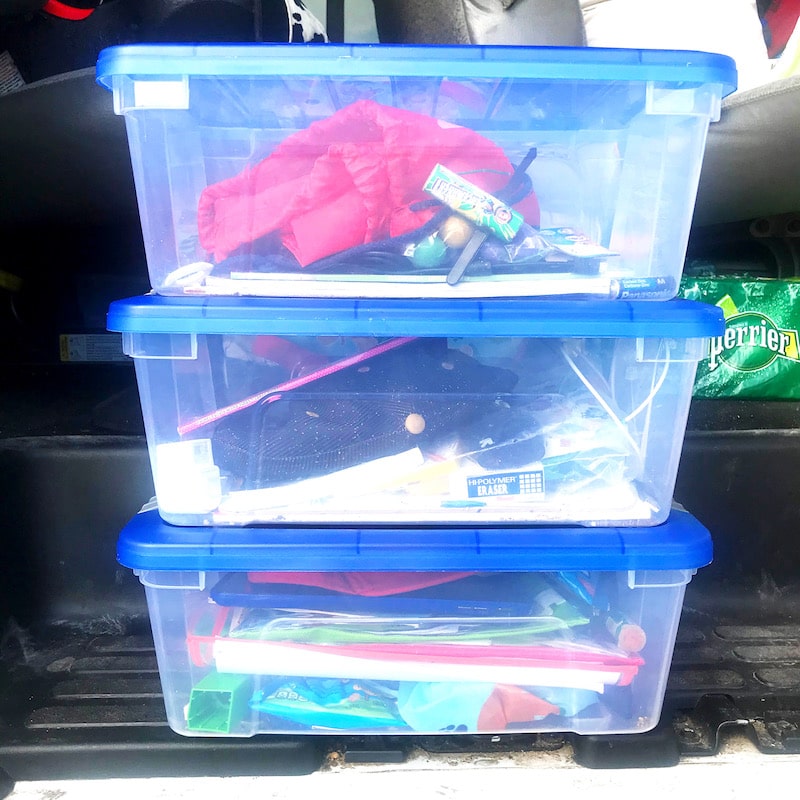 Shoe Rack
Another awesome hack for organizing stuff in van was using a shoe rack. I got mine at Walmart for only $4. It is perfect for all the little things that you don't have a specific space for. Also helps to get things you need handy. Like the baby's diapers and wipes. In these times we kept our mask, Clorox wipes and hand sanitizer in there for quick use.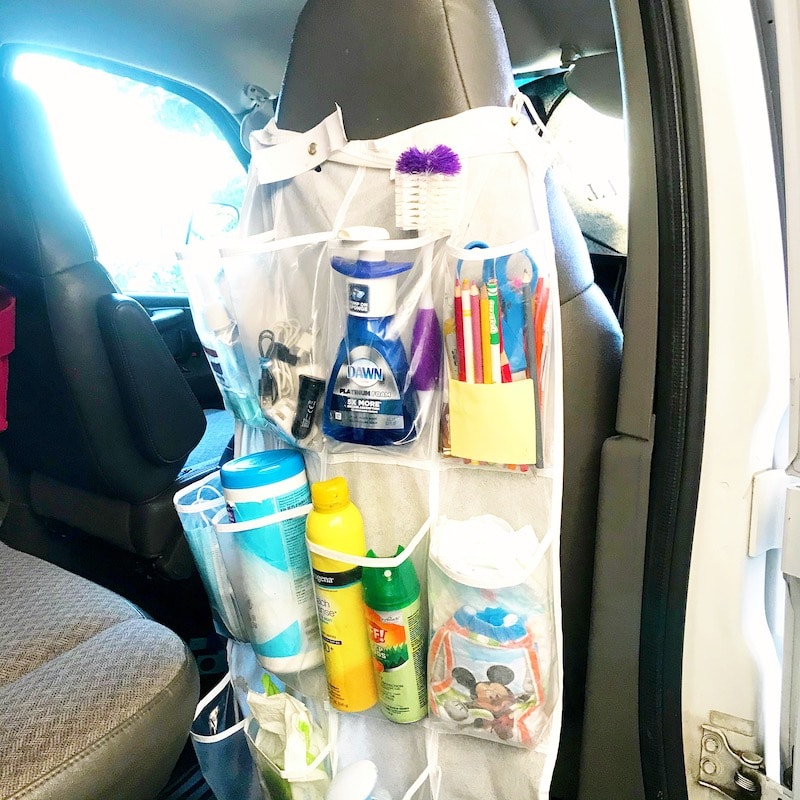 Reusing Water Bottles
I love using containers for storage but they are costly. I reuse water bottles or large Gatorade bottles for liquid necessities. For example use them for storing laundry detergent, fabric softener, bleach, shampoo, body soap, or dish soap. Just rinse out the bottle and remove label. Use a sharpie to write what the contents are.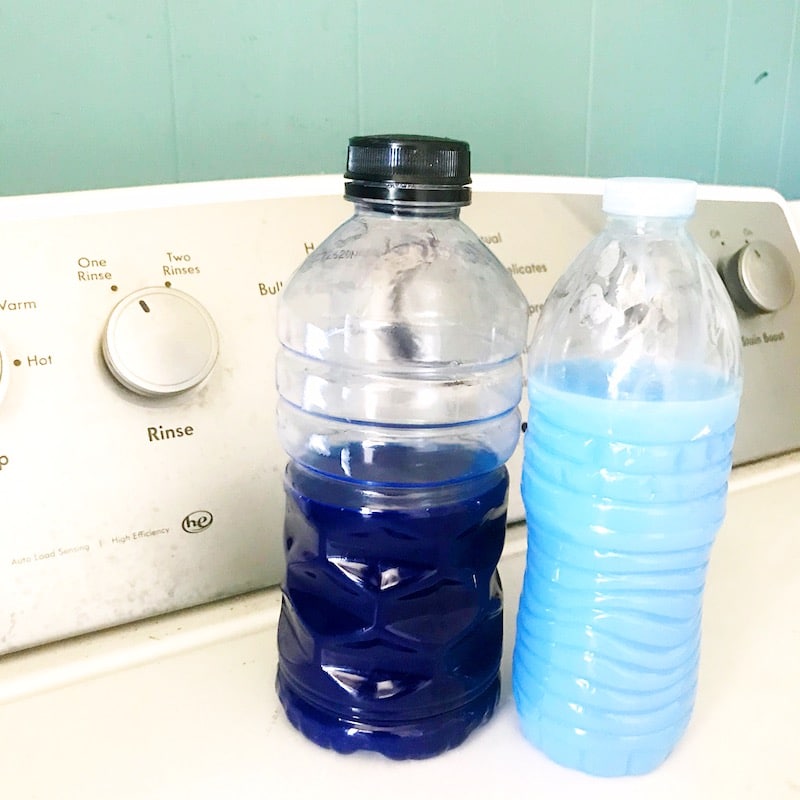 Shoe Bin
Shoes, Shoes, Shoes with seven kids there seems to be an ever ending amount of shoes lying around. This time we took a large plastic bin that I got at IKEA for everyone's shoes. Whenever they got in van they put their shoes in bin. It made it easy to find them when we made stops also kept floor less cluttered.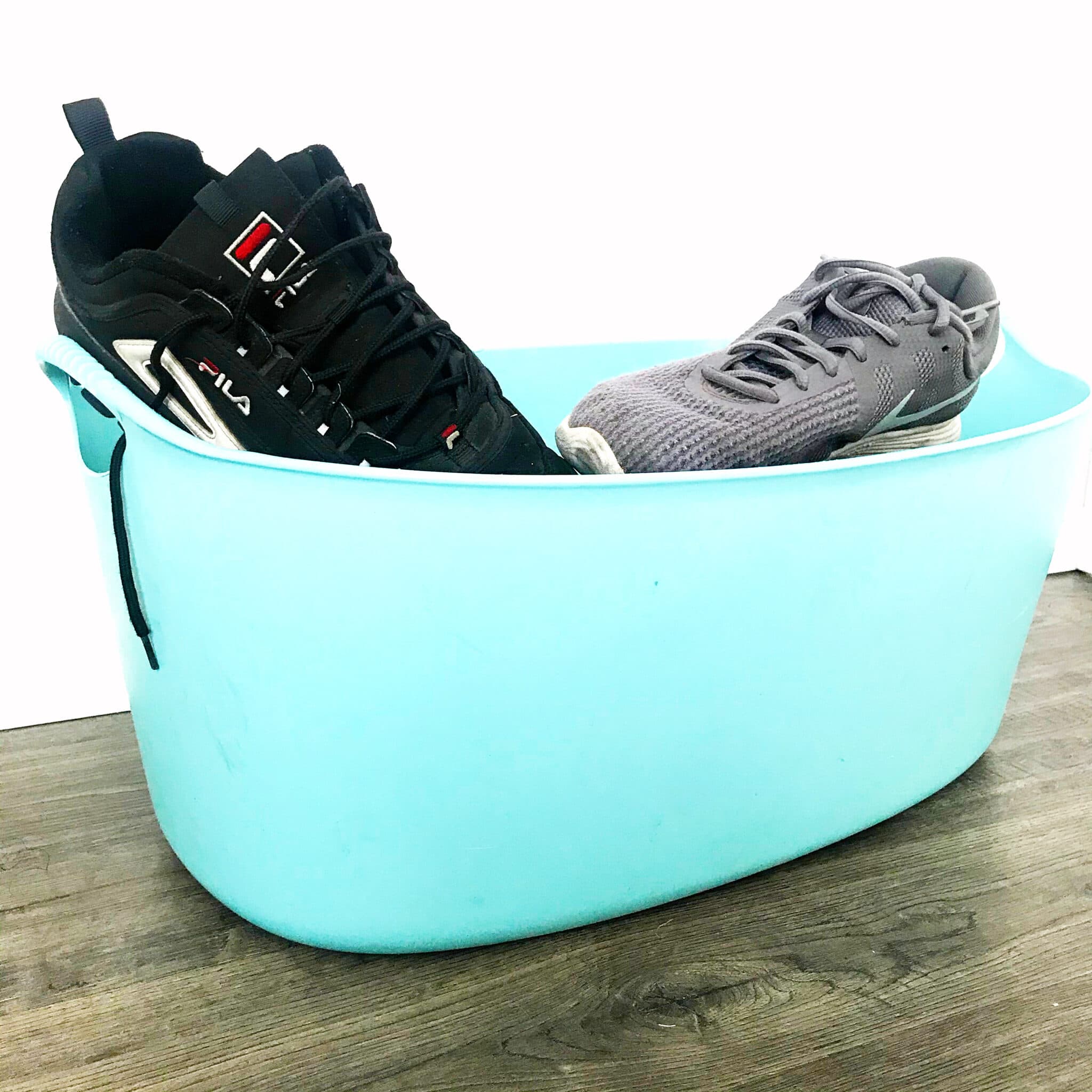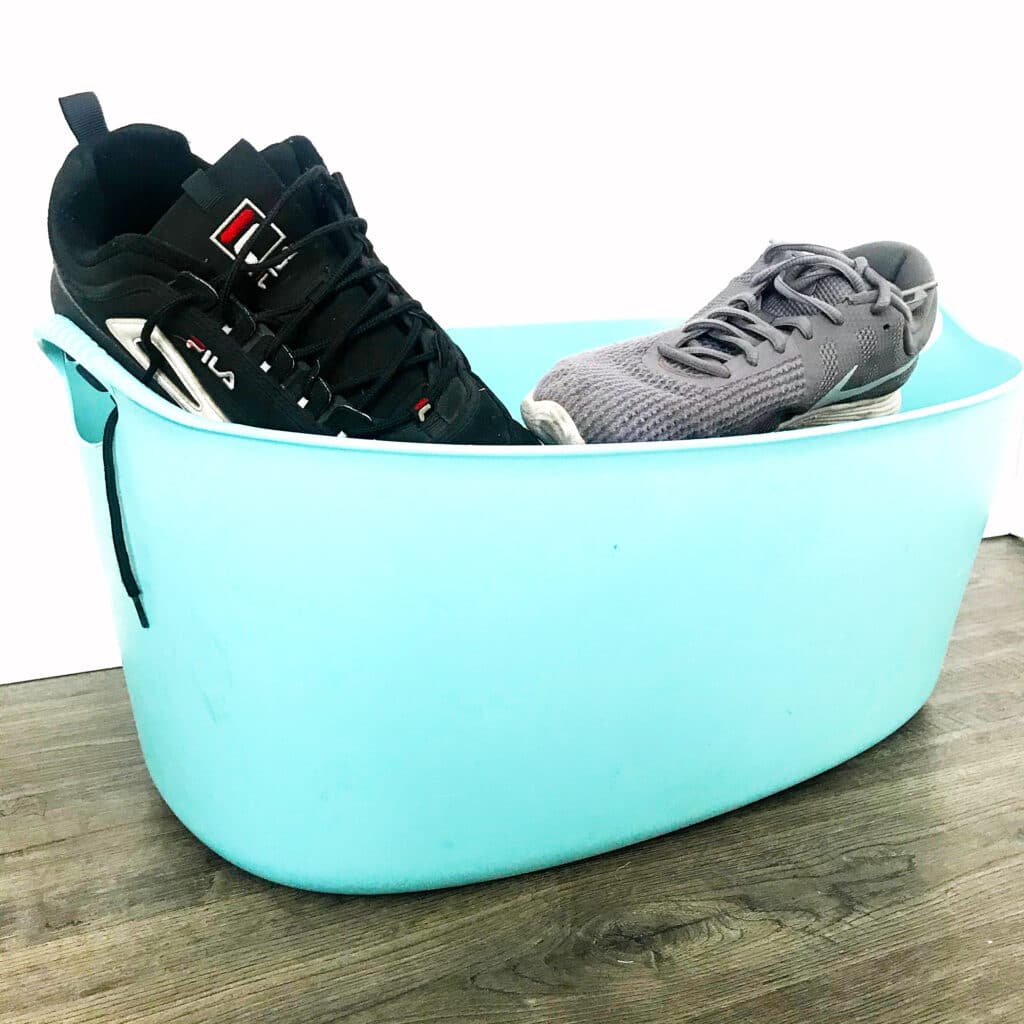 Necessities
Pee Bucket
We found this awesome hack online to use a bucket and pool noodle for a makeshift pee bucket. Just cut pool noodle to fit around bucket and cut a slit in middle to slide into bucket rim. If pool noodle doesn't stay put then just tape the ends together. I went a step further and bought small trash bags from Dollar Tree to put inside before using. They contained contents and were tossed out at the next trash can available. Also we have a two year old who is potty training so we took his seat to make it easier for him.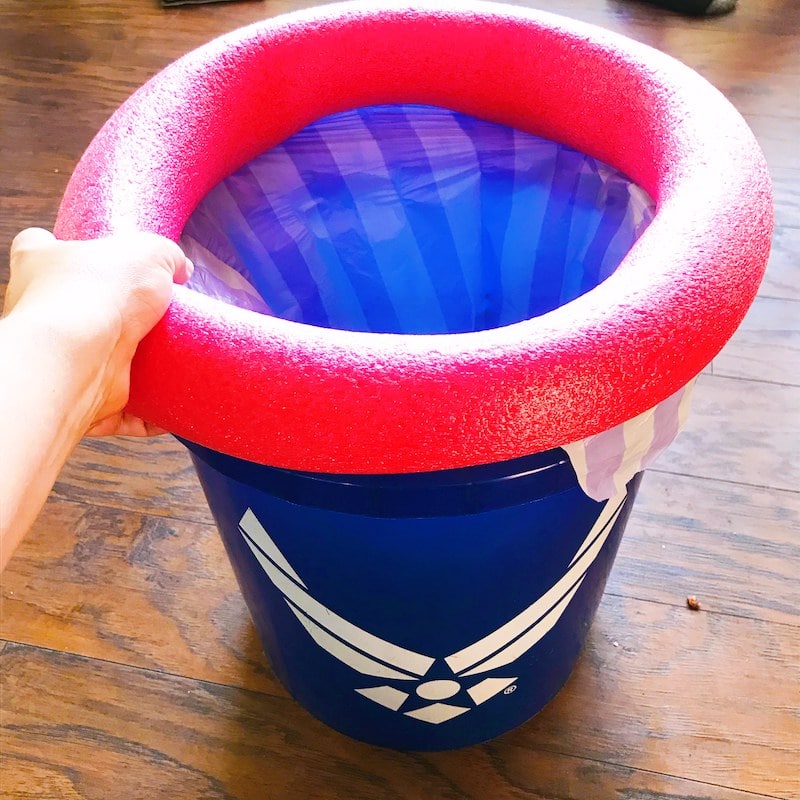 Trash Bin
Use a large cereal container with large spout for an easy trash bin. I found ours at Walmart for $8 and used small trash bags from Dollar Tree. The large spout helped with larger trash. It helped contain the trash and also the smell. I got scented trash bags as a double precaution.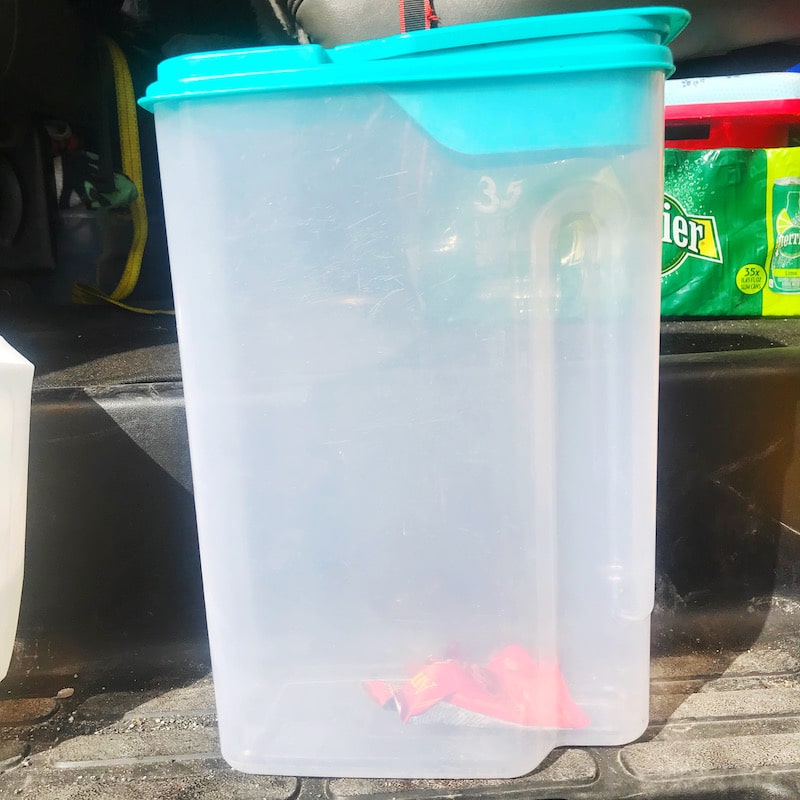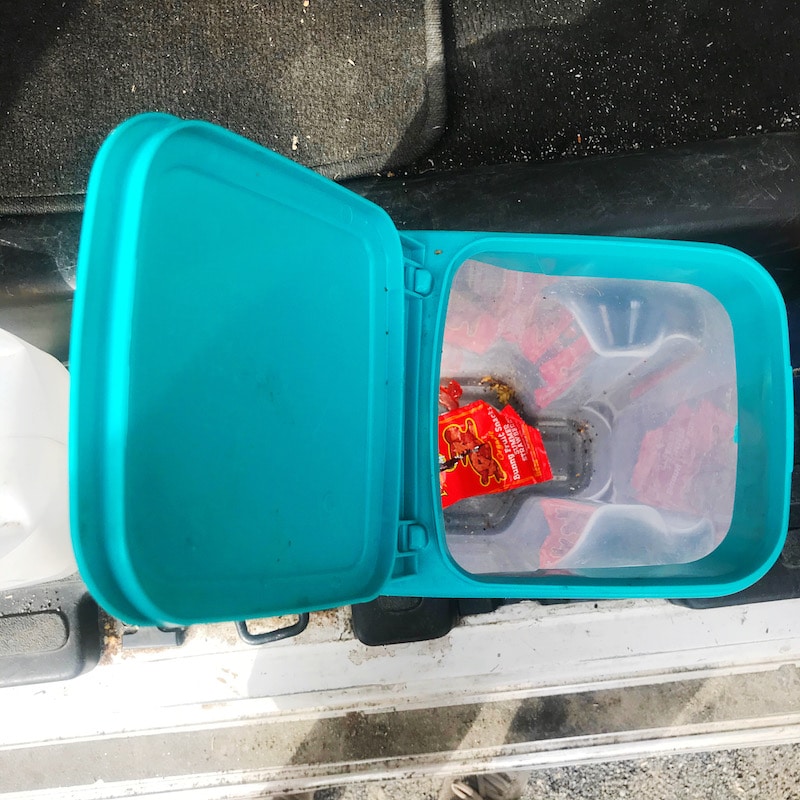 Portable Battery
Nowadays we need endless amounts of USB and power outlets. We found a portable battery jump starter that has USB slots, an outlet and plenty of useful gadgets. Of course, it's also helpful to jump start the battery but the kids only care about charging their iPads.
Food and Cooking
Butane Stove
We love using our butane stove for camping, road trips or just going to the park. It's easy to use and only requires a butane can which are sold everywhere for usually less than $2. You can buy butane stove from $15-$20 at Walmart, Amazon, or camping stores.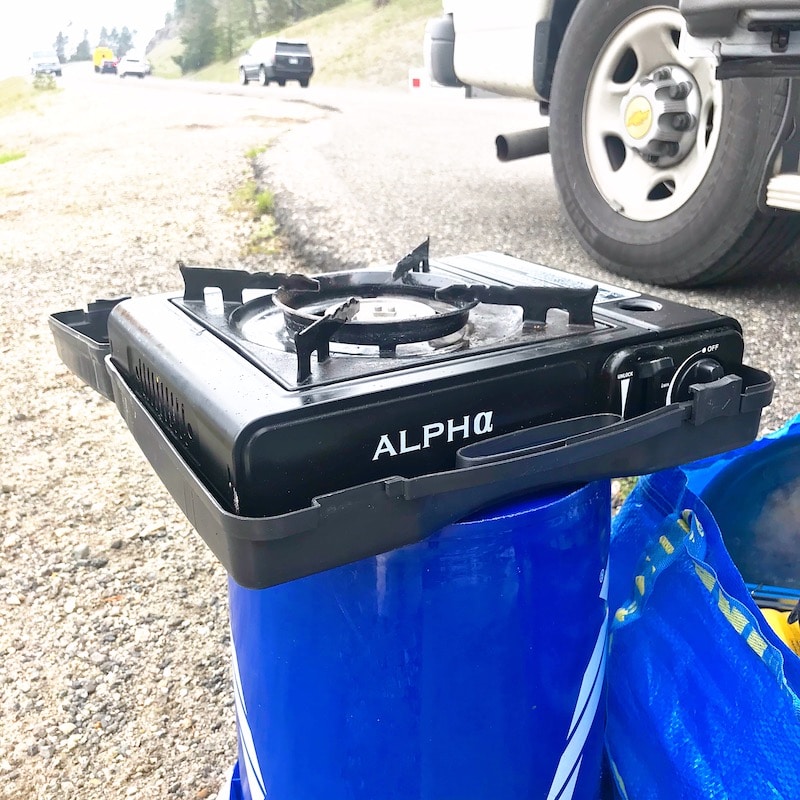 Water Jug with Spout
A water jug with a spout is a little detail that is super handy. We got two, one for drinking water and second for cleaning. We refilled the cleaning jug a couple of times and it served it's purpose well. We were able to easily wash our hands, babies bottles, and clean our cooking supplies.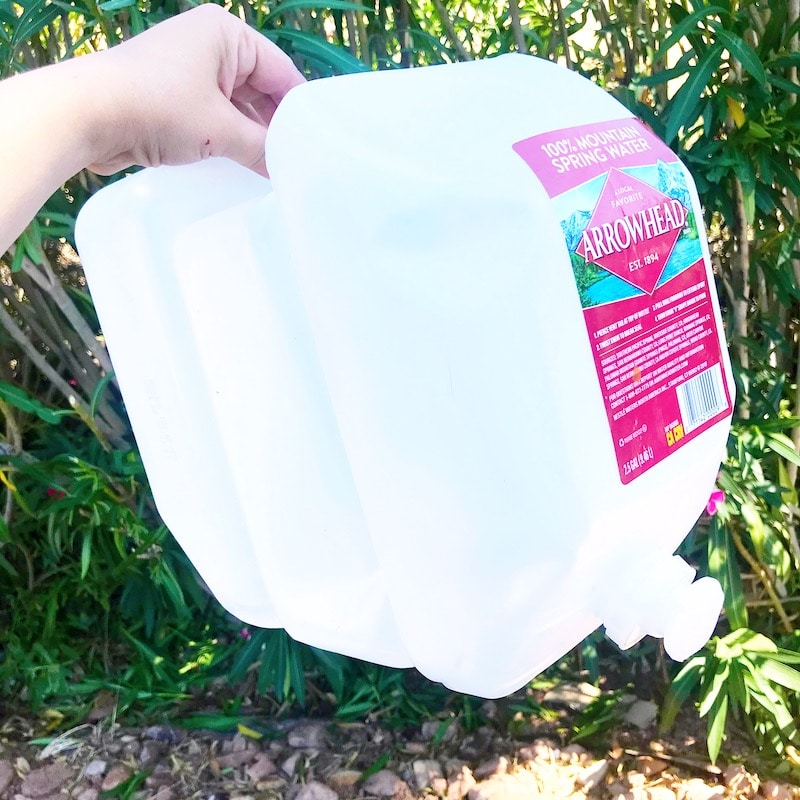 Easy Foods
When we Road Trip we stick to easy and quick food items, it doesn't equal healthy. Uncrustables are a must for our family, they really like the chocolate hazelnut ones.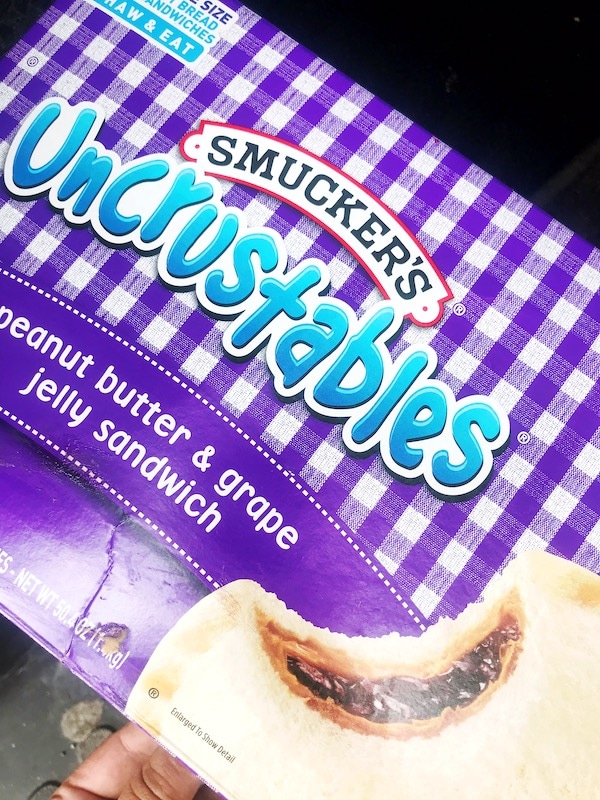 A big hit this trip was fully cooked bacon which I found at Costco. It made for yummier ham sandwiches or egg, cheese, bacon and croissant breakfast sandwiches.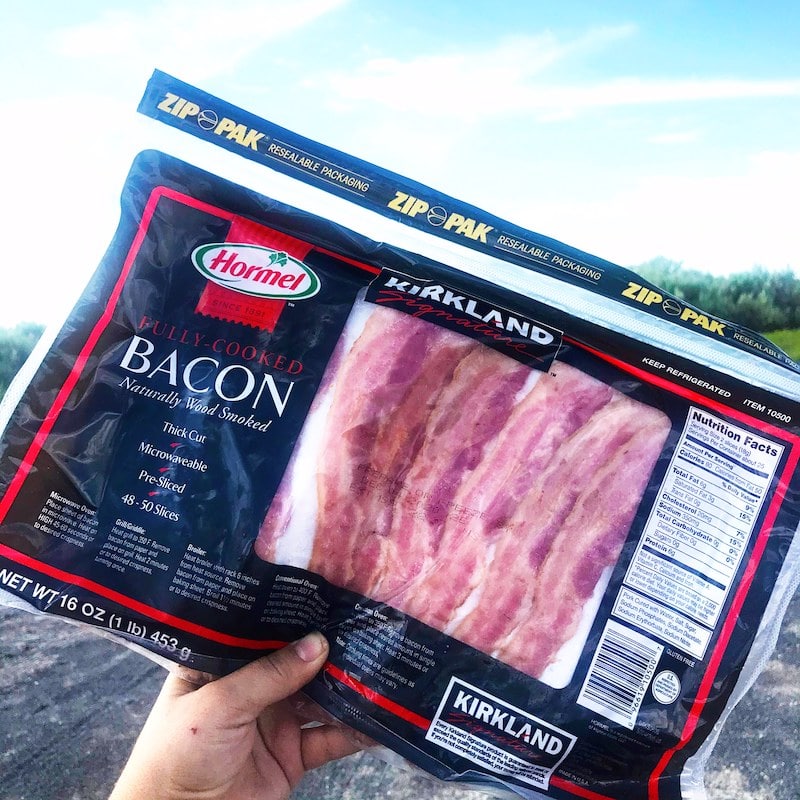 Bagels with cream cheese and a granola bar are a great combo for quick non-cooking breakfast. Instead of granola bar, packaged oatmeal is an easy substitute. Pour oatmeal into cups, add boiling water and wait two minutes. I serve oatmeal in cups since its easier for kids.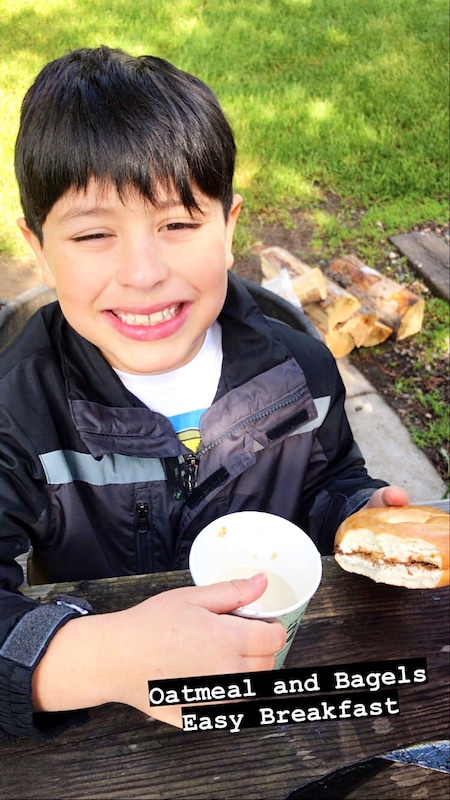 We love pancakes for breakfast so getting these mini frozen pancakes was a no brainer. Find these in the freezer section of store. They heat up quickly and are good for being freezer pancakes.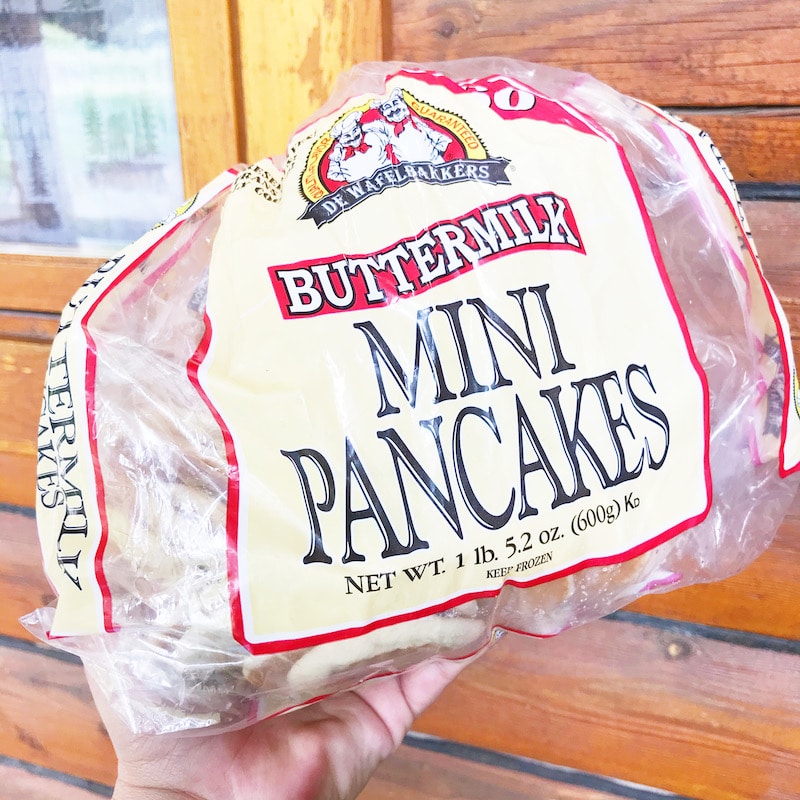 Hot dogs are quick to heat up. We added canned chili, American Cheese and a slice of fully cooked bacon. They were sooo good, specially eating them by the river in Yellowstone.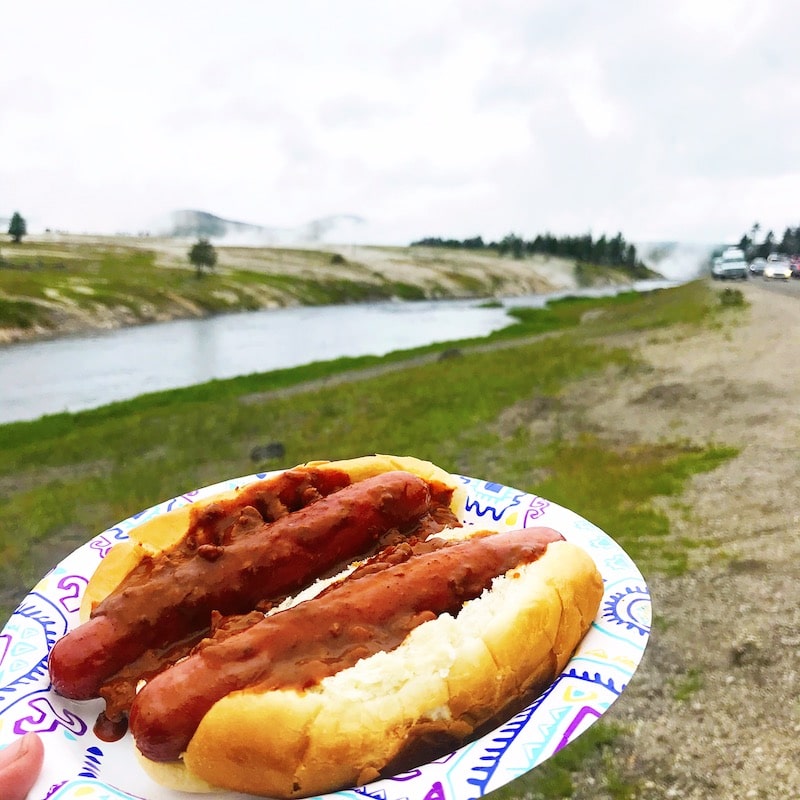 I highly recommend trying Juanita's canned menudo. Menudo is a typical Mexican breakfast soup made with hominy and tripe. It is super easy you only need a can opener, our into pot, heat up and your done. Having Juanita's Menudo for breakfast while camping is a family tradition.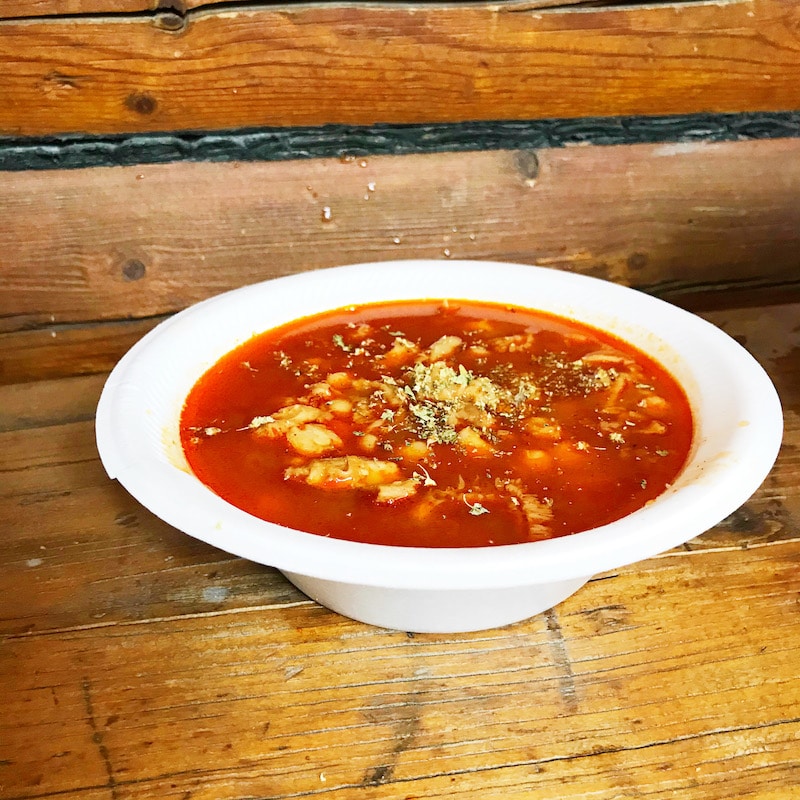 It wouldn't be a road trip without Cup O'Noodles. I normally hate them, but on the road they make for a quick filler upper. The kids already know road trip equals Cup O'Noodles.
Milk
We always need milk but it is such a pain to store the huge gallon. We have found a way to avoid it taking up our coolers space. We funnel milk into a couple of water bottles. Once the milk is done we just buy a half-gallon on the road and refill the water bottles.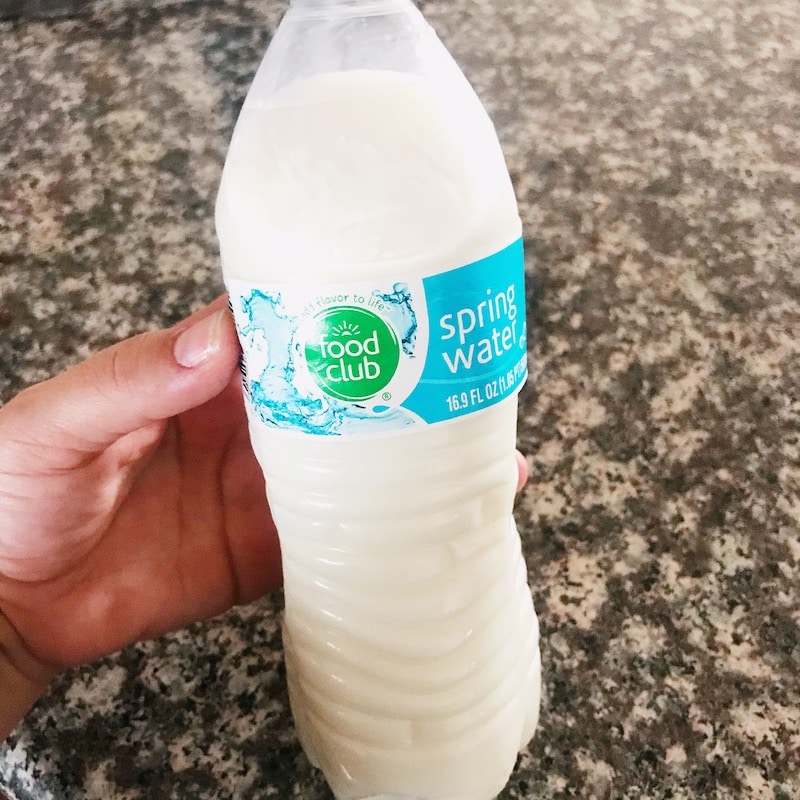 Eggs
This is the best food packing hack we use. We broke so many eggs on the road and it was not pretty. Now we save space and no broken eggs. We use a funnel and a water bottle to store our eggs. Just crack eggs into funnel and store in bottle. Make there is plenty of ice in your cooler to keep them fresh.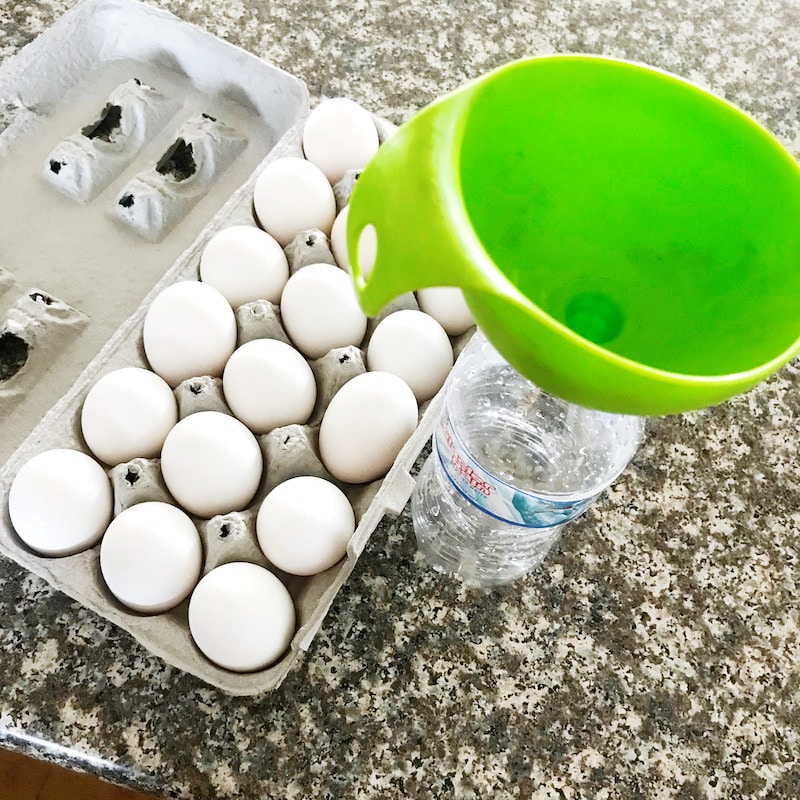 Keeping Kids Entertained
Road Trip Bingo
We found this bingo at Target in their dollar section. They had different types just make sure to get your kids the same one. We did money prizes to motivate them to do it. Yes, they preferred to play on their iPads, face palm!! Once they started playing they actually got really into it, even my teenagers.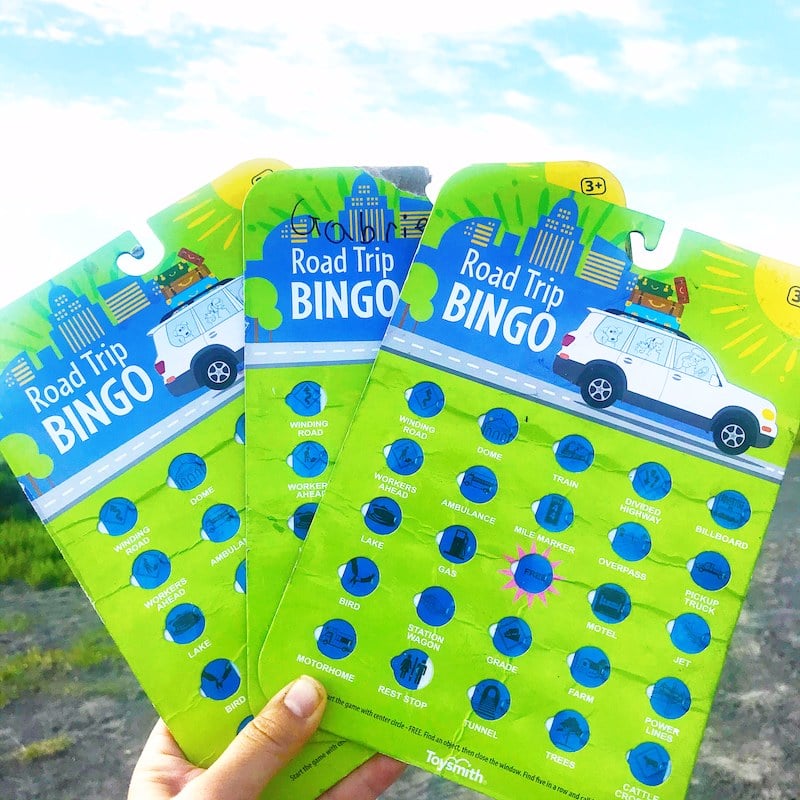 RedBox
We have a DVD player in our van and truly it was the best investment we made before our trip. Once on the road we saw many Redboxs' in gas stations or travel centers. It felt like a light bulb turned on. Perfect we could watch newer movies and keep kids entertained. Also buying a dvd set of your families favorite sitcom is a great investment.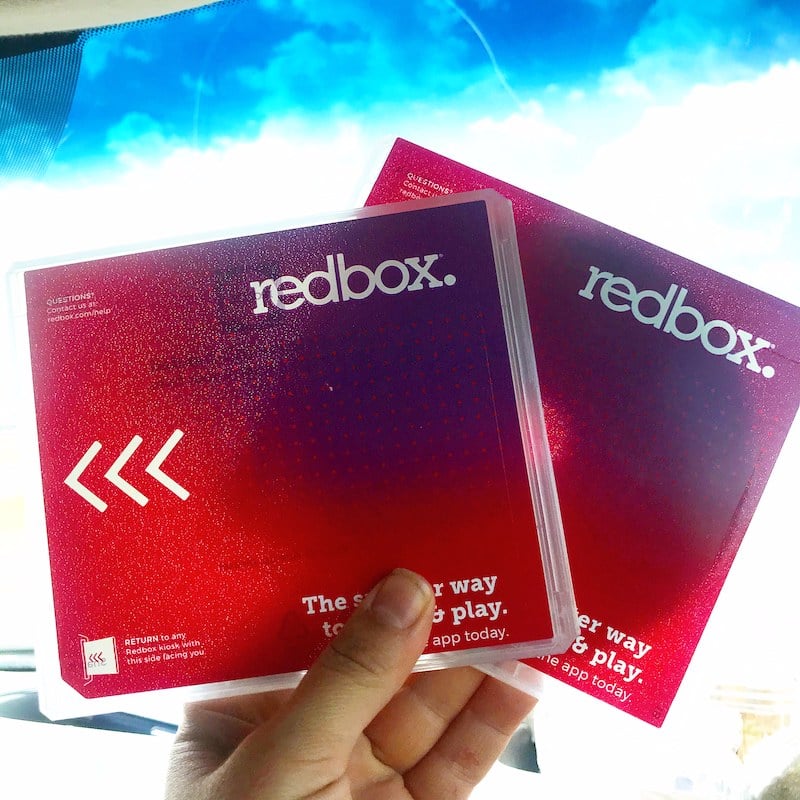 LEGOs
My younger boys love playing with LEGOs. I found some LEGO platforms at Dollar Tree so they could have something to build on. The five year old really enjoyed building forts and small buildings.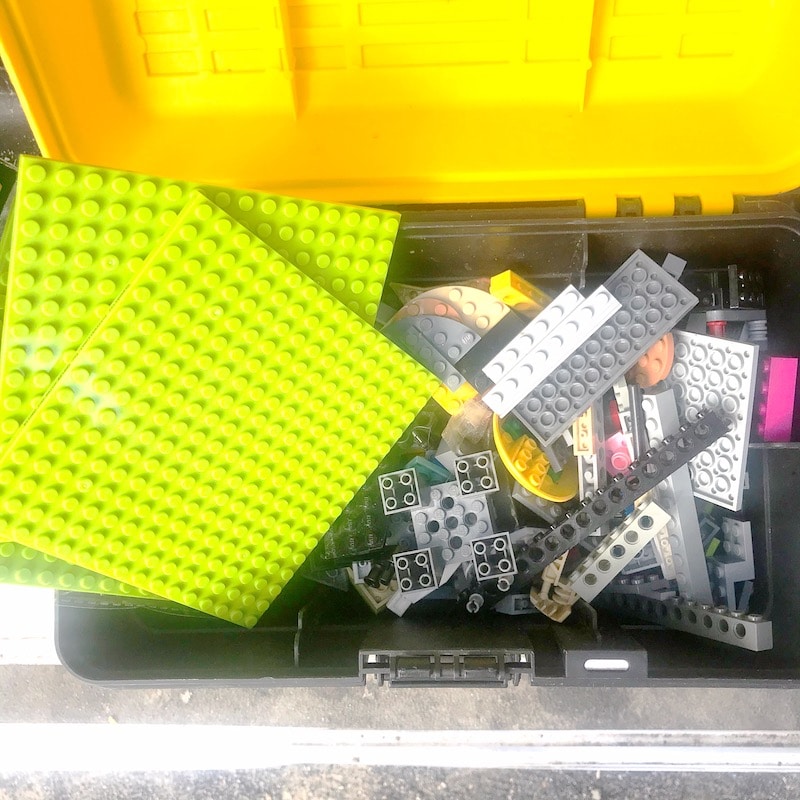 Laptops and iPads
Just let kids use them!!! Download movies and non-internet games since there may be spots where there is no service. We let them use our phones hot spot only has a reward, which helped tons. We also took coloring books and books but those were not used as much.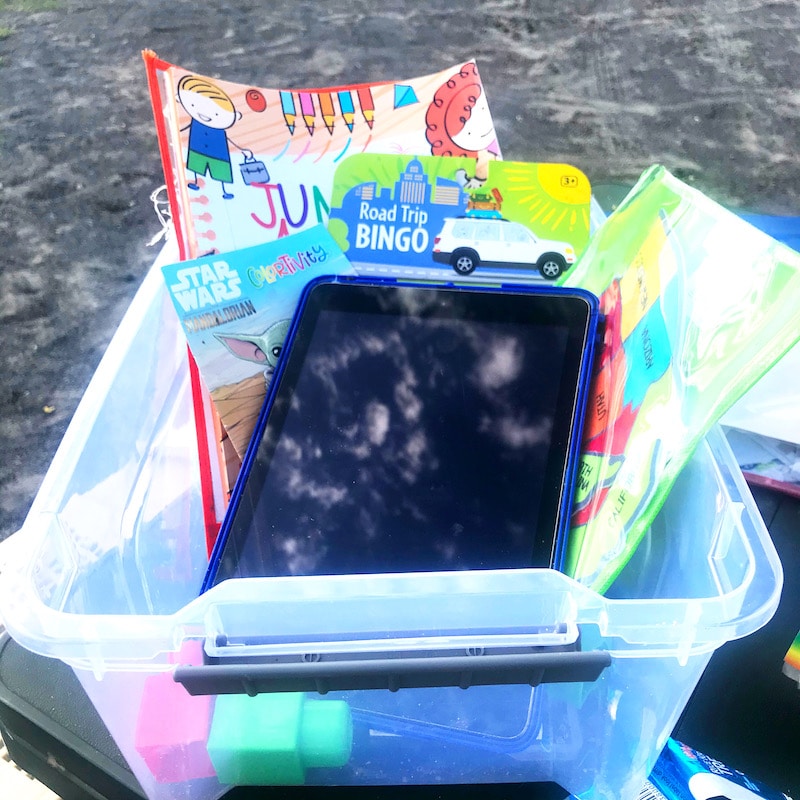 Miscellaneous Tips
Social Media
A great tool to find out the most up to date information about tourist spots is their social media outlets. I started to follow Zion and Yellowstone National Park's Instagram page and it helpedto plan our trip. They offered tips for visitors like weather warnings and what to expect when visiting during Covid-19.
Drive at Night
I know this might not be for everyone but it helped us so much. This meant driving till midnight or 1am, depending on how tired we were. Kids were asleep, no one is fighting or nagging. Highways are less crowded and no fear of traffic because of road construction. We were able to drive at night since we slept in our car on those late nights. Check our blog post on Car Camping Checklist.
Car Wash
Our van was a mess by the third day. Crumbs everywhere mixed with sand and dirt from our hikes. Plus spilled water and just a big stink. The hubby pulled into a car wash since they have vacuums with long hoses. We vacuum the entire van in twenty minutes. It felt good to see it so clean for the next few hours.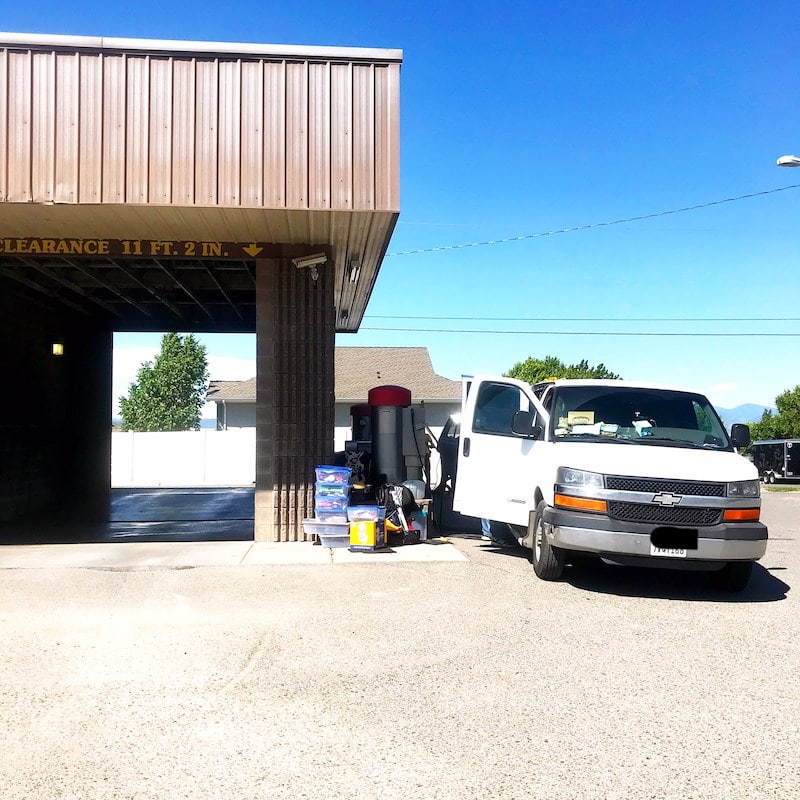 We hit the road knowing where we wanted to go but not planning so much about stops or midway points. We would stop for gas and for lunch on long stretches. Luckily our kids are very used to road trips and roughing it up which makes it much easier. The hardest part will be choosing where to go once you get started.
Happy Road Tripping!!! Ask away about any of our tips and tricks.
Originally published on January 14, 2021. Last Updated on June 10, 2021 by Pattie Cordova