Your Best Self
Get your underarms ready for Summer with Dove Clear Tone Anti-Perspirant/Deodorant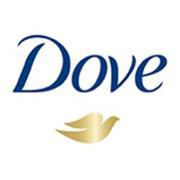 Summer is practically here and we have some things to do before we can properly welcome it. I'm talking about getting your body Summer ready. I'm not talking about losing those few pounds to get bikini ready (because honestly I'm going to bypass that step and just wear flowy dresses), I'm talking about underarm beauty. Yes! You'll be wearing short-sleeve tees, tank tops, tube tops, etc. and those underarms have got to look their best! It's super easy to have them look hot when you use Dove Clear Tone Anti-Perspirant and Deodorant. How do I know this? Because I've used it and.it.works. I now shamelessly raise my arms (sometimes both) without feeling like I have something to hide.
So why did I start using it? Well because like most of you, I shave my underarms and shaving can have harsh effects on delicate underarms. It can cause skin to lose up to 50 percent more moisture, leading to dryness and inflammation. This, in turn, can lead to red and dark marks that 32 million (*gasp*) U.S. women experience. I was part of those 32 million women and slowly but surely, I worked my way out of the statistic by using the new Dove Clear Tone Anti-perspirant/deodorant. It is the only deodorant in the U.S. designed to visibly reduce red and dark marks and even skin tone when you use it on a regular basis.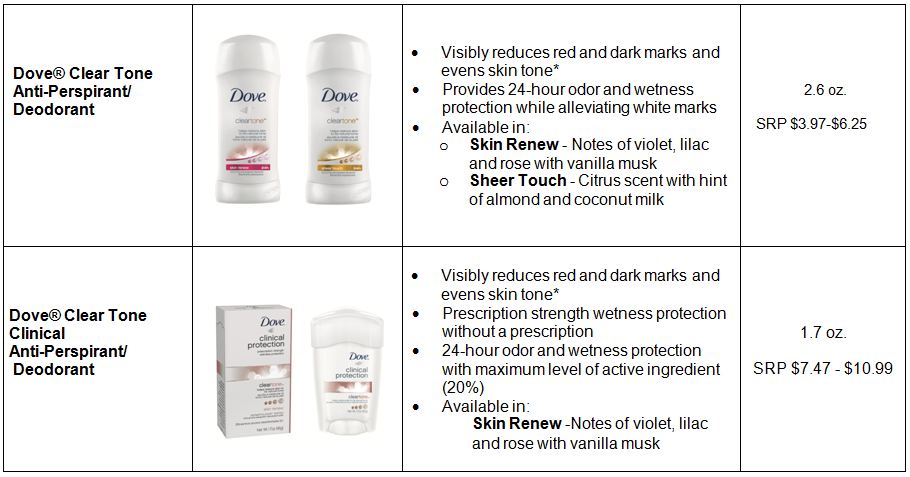 So what exactly does this new Dove Clear Tone Anti-perspirant/deodorant have? Well it's formulated with calendula, sunflower seed extracts and unique Dove moisturizers, help accelerate the natural skin renewal process. I started using the solid stick but then switched to the clinical anti-perspirant/deodorant when we went to Florida. The solid stick is just like your regular deodorant. It smells fresh with the added benefit of helping to reduce red and dark marks and even skin tone. The clinical version is cream based so when you turn the knob at the bottom, a little bit of cream-like anti-perspirant/deodorant comes out and it applies evenly and smoothly to the skin.
I can honestly tell you that it works. I've been using it for about a month and I wish I had taken a before picture to show you the difference. I will tell you that these products all have aluminum so if that's a deal-breaker for you, I'm sorry. I myself went aluminum-free for a while, but I found that it just didn't pare up to other deodorants during the hot weather.
RELATED POST: Dove Clear Tone Anti-Perspirant Review
I leave you with this video on giving yourself a PitiCure. The name itself is hilarious and I did a double-take when I first heard about it from Mariela Bagnato. But I did it and boy do I feel different. It always amazes me the little things that can be done to make one's self feel better, fresher and more confident. Changing nail polish does the same thing for me.
How to do a PitiCure
Just in case you miss it, here are the instructions for doing your own PitiCure using Dove deodorants. Mariela recommends that you do the Step 1 at least once a month.
Step 1
Stary by using a gently exfoliating body wash or towelette to remove impurities that cause irritation, ingrown hairs and red bumps.
Step 2
Rinse thoroughly, shave normally and pat underarms with a towel.
Step 3
Apply Dove Clear Tone deodorant.
Originally published on May 16, 2012. Last Updated on September 3, 2015 by Pattie Cordova