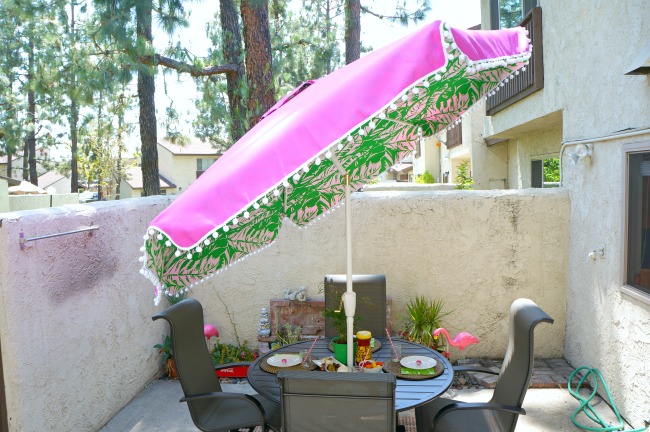 It's been just over two months since we've moved in to our little casita. Casa Cordova, as we call it, is a work in progress. There's much that needs to be done for it to feel like it's finished, but recently, we did something that was pretty small that made a big impact. We purchased patio furniture and a Lilly Pulitzer patio umbrella. And like we say at home, estrenamos a new space! (estrenamos is loosely translated into "we tried out" – there's really no real translation because you need the emotions that go with it). Regardless, we have a new space, and we're super happy about adding functional patio furniture.
Take a look at what it looked like before: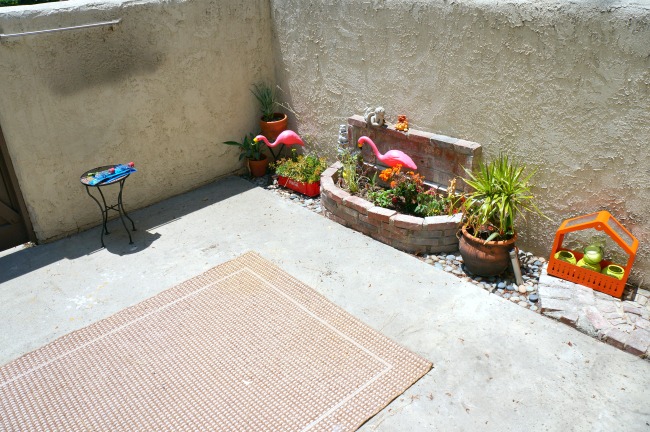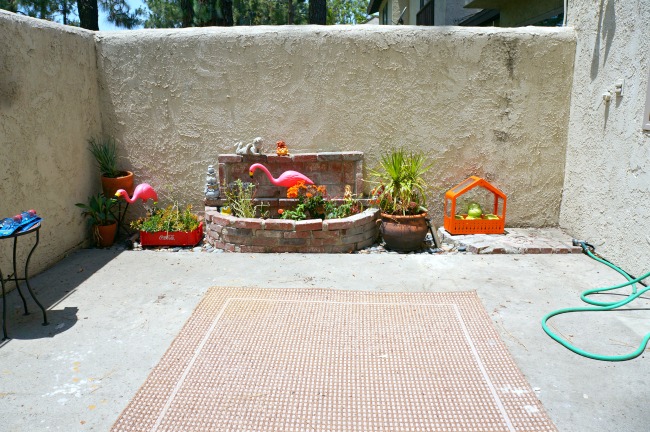 So you'll notice that there really isn't a lot of space, not like in our old apartment. But I found that it's actually better this way, because at least this patio is more functional. It's located right off the kitchen, so it's a perfect spot for having meals together.
Target patio furniture
We opted to visit Target for our patio furniture because the weekly ad had come in and they had their patio furniture on sale. At first, we had purchased this set – the one that makes the patio look like a living room.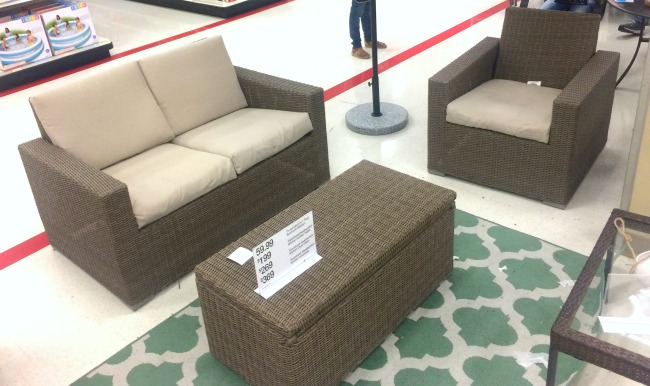 But it would have been really weird to have that in our patio and enjoy meals out there. So after we set it out on the patio and decided that it wasn't going to work, we took it back to Target and bought this one instead: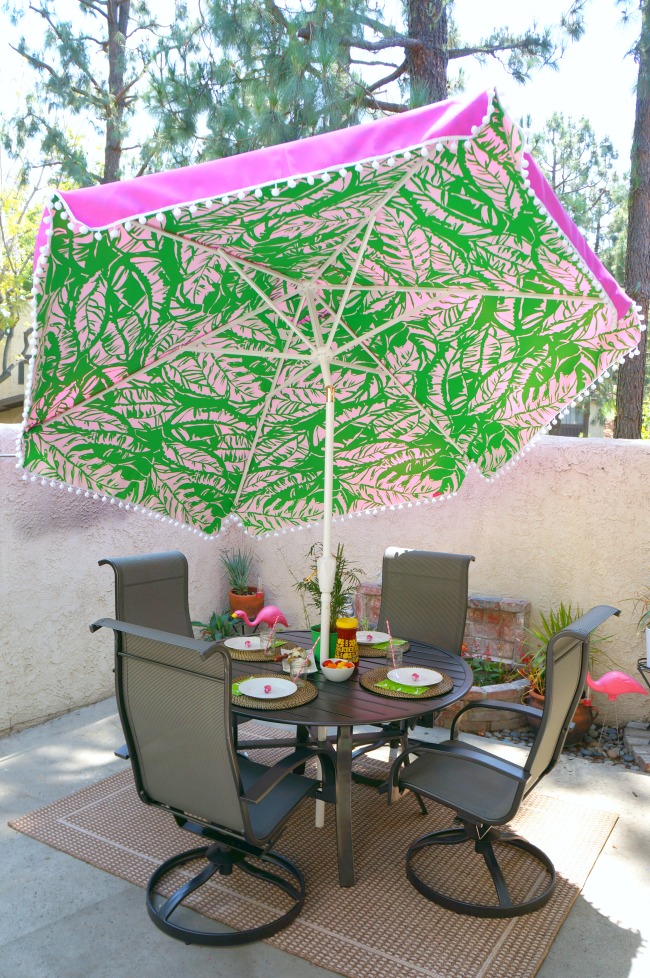 and yes – I totally scored the Lilly Pulitzer umbrella too!!! I couldn't believe they had one in stock. At $100, the umbrella cost more than the table, but it's so worth it. Me encanta the way it looks. The gold, the white, the pink… and the pom poms!!! Major cuteness.
The Threshold patio table and chairs came out to under $300, we used our Target red card for an extra 5% off. The chairs were really easy to put together, and they have rocking and swivel motions.
Lilly Pulitzer patio umbrella
The patio furniture fits our needs perfectly, and the Lilly Pulitzer umbrella is like the icing on a cake. It's extremely pretty and I love the pop of pink that it gives to our home full of boys. It begs for Summer dinners out in the fresh air, and there's not bad angle to it.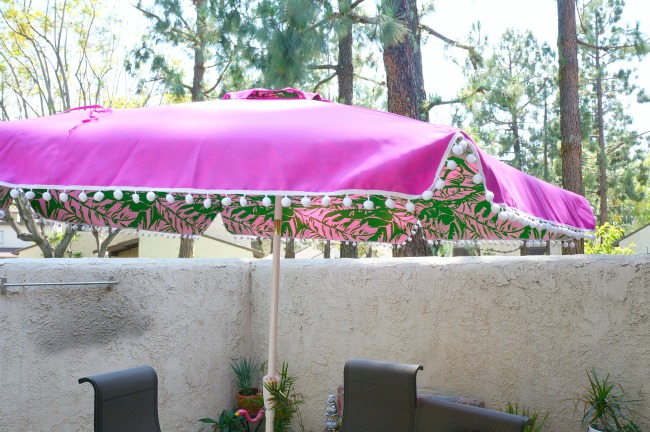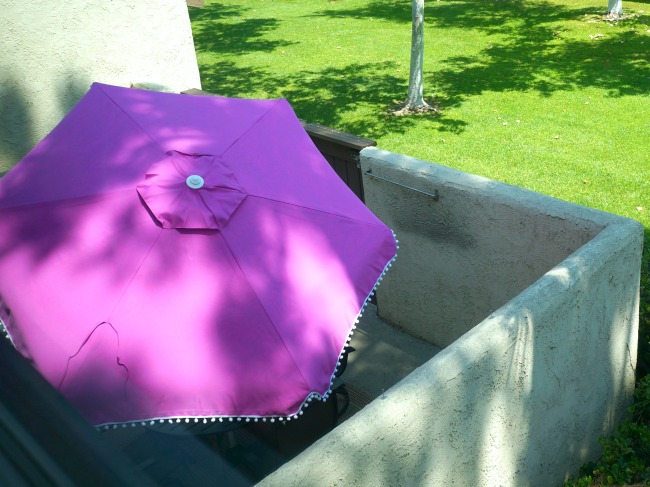 I especially like the fact that it tilts – so we can get shade on our table, no matter what time of the day it is. At 9 feet wide, this Italian-style umbrella is absolutely perfection.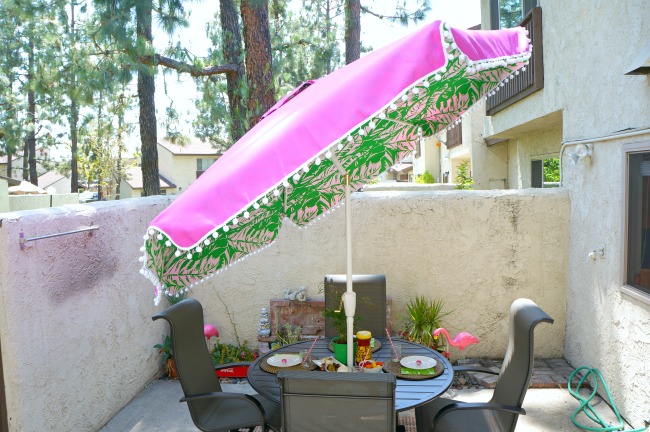 Our new patio furniture gives us a great starting off point. It's functional, affordable and fabuloso. Now I need to start adding some plants, wall decorations and maybe a small outdoor fireplace for the cooler nights.
Unfortunately, the patio umbrella is no longer available at Target, but these Opalhouse ones are super cute:
If you really want a Lilly Pulitzer market umbrella, check out this Lilly Pulitzer Capri Market umbrella sold at Pottery Barn. It was imagined exclusively for Pottery Barn by Lilly Pulitzer!
Keep checking back as we continue to update Casa Cordova and estrenamos new additions!
Originally published on June 8, 2015. Last Updated on June 5, 2019 by Pattie Cordova