Your Best Self
My UltraShape Story: Pre-procedure and initial thoughts
I'm headed to Beverly Hills, California this week to get my first UltraShape procedure. In this sponsored partnership, I'll have the opportunity to get three UltraShape procedures in a quest to get some of my pre-baby body look back.
So what exactly is UltraShape? It's the latest, FDA-cleared, non-surgical body-shaping procedure that uses pulsed, focused ultrasound technology to selectively and permanently destroy stubborn fat in the stomach region with no pain or down-time. It's a clinically-proven, safe and effective weight-loss treatment. Coupled with my Bikram Yoga practice, I'm hoping to see a difference in my body within the next coming months.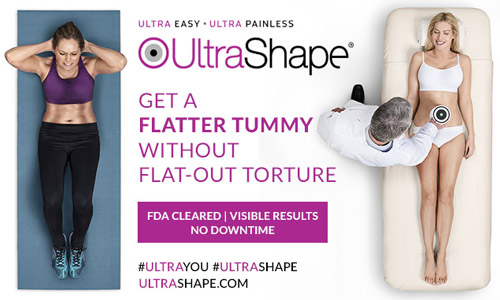 I'm forever complaining about my weight. About four weeks ago, I started doing something about it by taking Bikram Yoga five times a week. I've seen some changes in my body since I started, but the muffin top is still there. It drives me crazy.
I'm excited to have the opportunity to try this new procedure. I'm up for anything that is both safe AND effective. I'll continue to attend my yoga practice (as long as I can) and my vegetarian diet should also help in keeping my weight down.
Before going in this week, I want to share with you my story on why I'm doing this procedure. In the video below, I talk about what I have tried in the past to get a better body and what I hope will come from this procedure. I'm feeling super vulnerable in sharing my story in a video format because I haven't shared my post-baby body this openly before, and there is really no lying on the camera. Pictures can be edited, it's a lot harder to do when a camera is sitting on a tripod and you're stripping off your clothes.
I also a bit weary because I know I'll probably come across comments that are left on this post or in my video that might criticize me and my choices. In the end, it's all about how I feel. I don't feel comfortable in my body. I like to be thin. I prefer to be skinny. I spent so much of my life overweight that when I discovered that I had control over how my body looked, I decided that I would never be fat or overweight again.
Anyhow, I realize that I may obsess over my body way more than I should. But, after losing 75 pounds after each of my babies, I have to be obsessive over it because I know that my slow metabolism will quickly have me tipping the scale higher than I want. I hope that you hang out with me in this road ahead, and if UltraShape is something that you want to check out, I promise to give you my full and honest review.
Read all four UltraShape posts:
[disclaim]This blog post is part of a paid SocialMoms and UltraShape blogging program. The opinions and ideas expressed here are my own.[/disclaim]
Originally published on July 11, 2015. Last Updated on October 12, 2015 by Pattie Cordova