Funko Hollywood store lets you make your own Funko POP!
The Funko Hollywood store is the newest Funko store in North America. It's the only place where you can make your own Funko POP! figure in Los Angeles, and it's located right on the Hollywood Walk of Fame.
It's also walking distance from the Pantages Theatre, and yes, you definitely need to add this to your Los Angeles road trip because you can make your own Funko POP! – which is just amazing .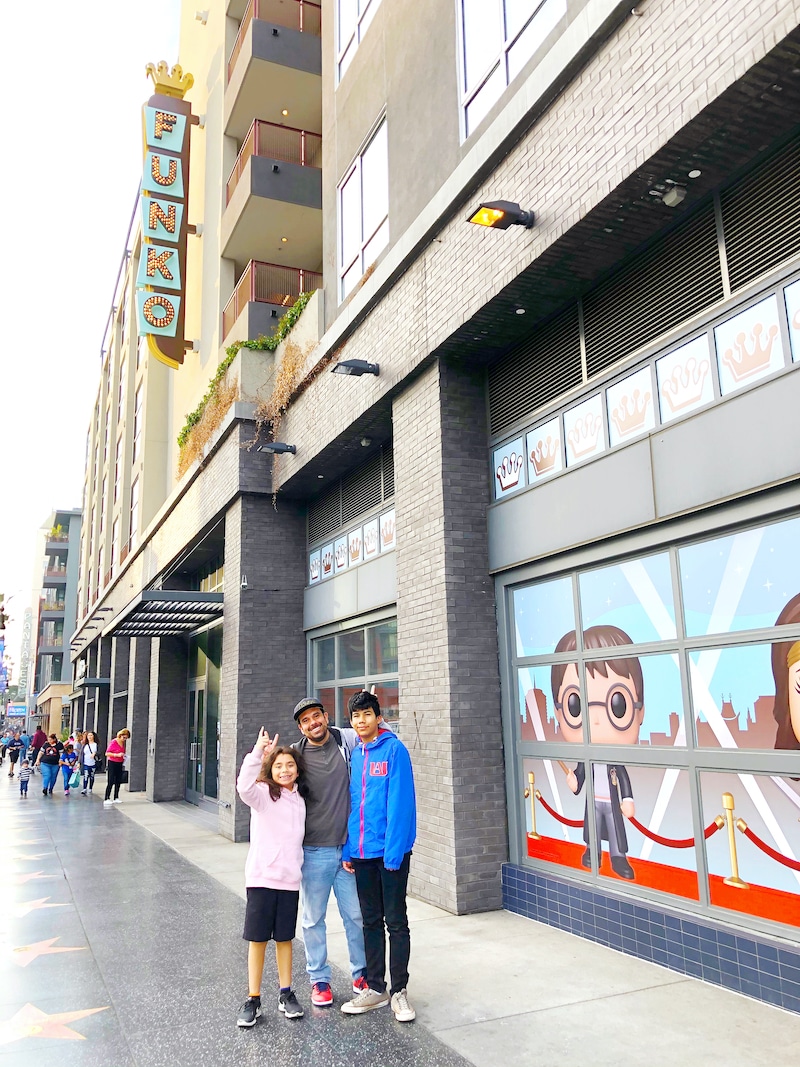 We took the chiclets to the Funko Hollywood store to check out the larger than life Funko Pop creations, purchase some exclusive merchandise, and of course, create our very own custom Funko POPs!
Funko Hollywood is 40,000 square feet of whimsy, adventure, fun, larger-than-life photo opportunities and immersive sets inspired by your favorite worlds, characters and moments.
The first photo opp is right as you enter the store. You'll see Freddy and a friendly Funko store rep who might be open to taking your picture (just ask nicely!).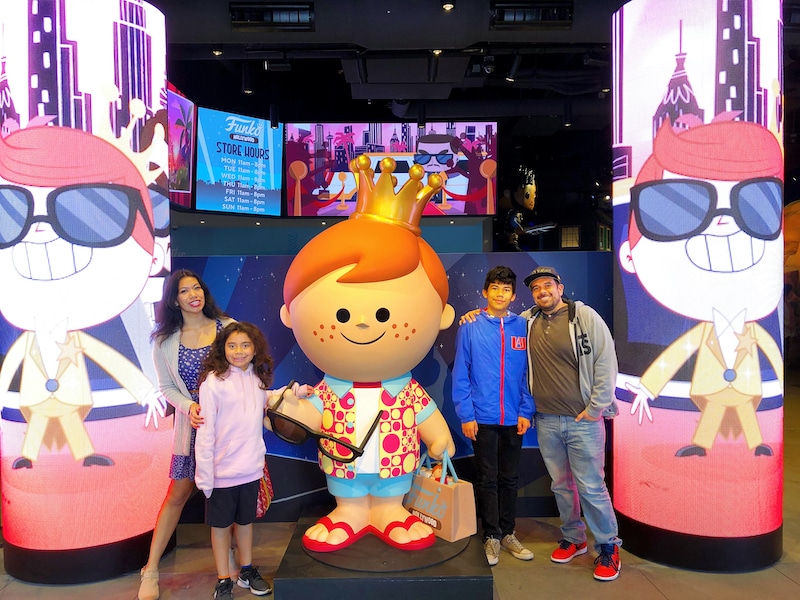 Grab a map from the entrance as well so you can plan out your visit. This map also has a price list on the back of the sheet as you'll find that merchandise is not individually marked.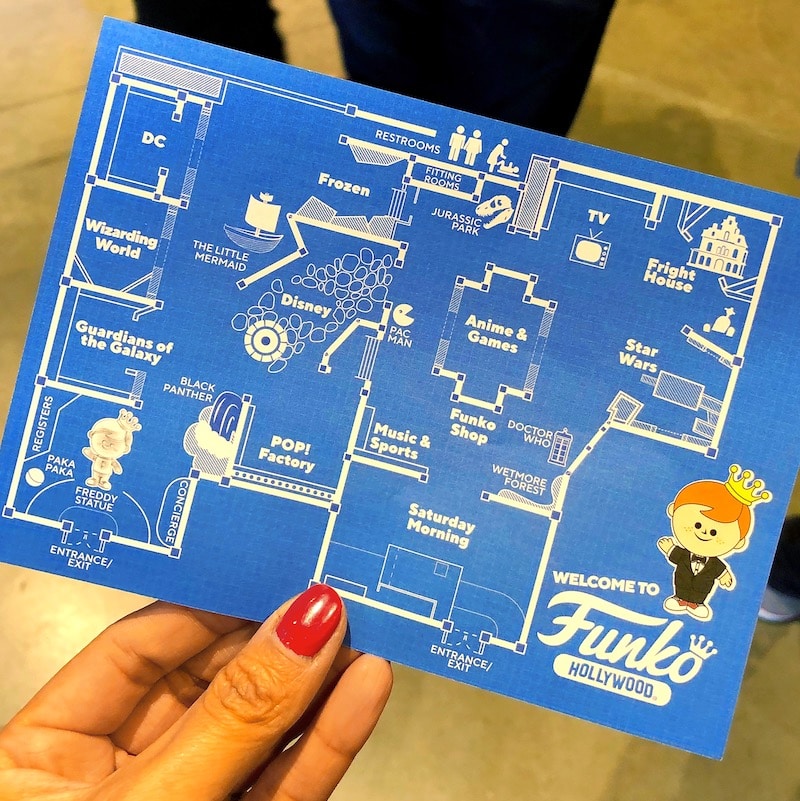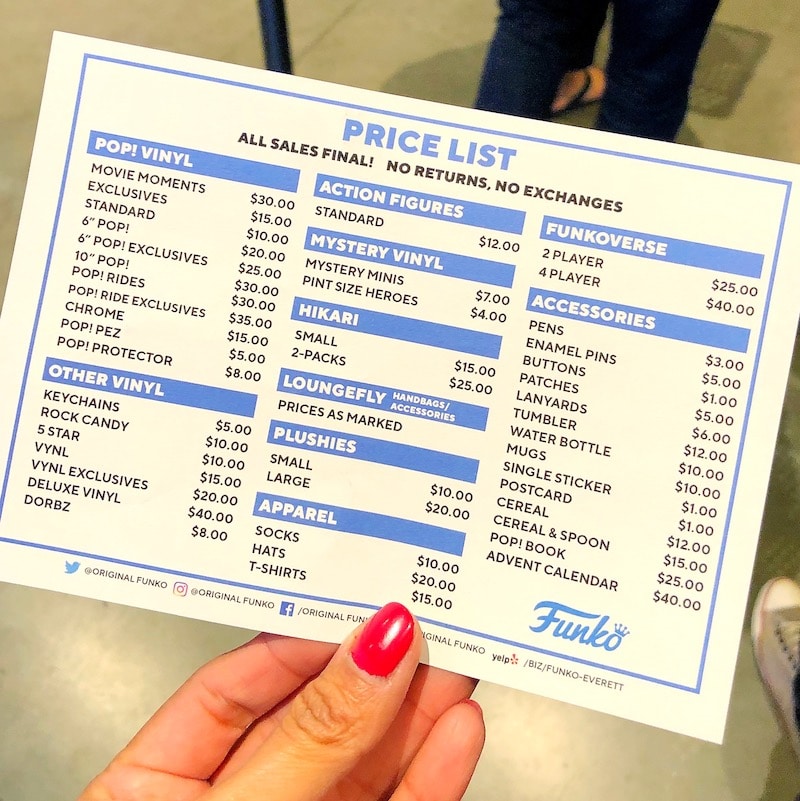 We started our visit entering near the Freddy statue, and followed the map by working around the perimeter of the store.
The Guardians of the Galaxy room and the Wizarding World room are set up with photo opps – perfectly lit.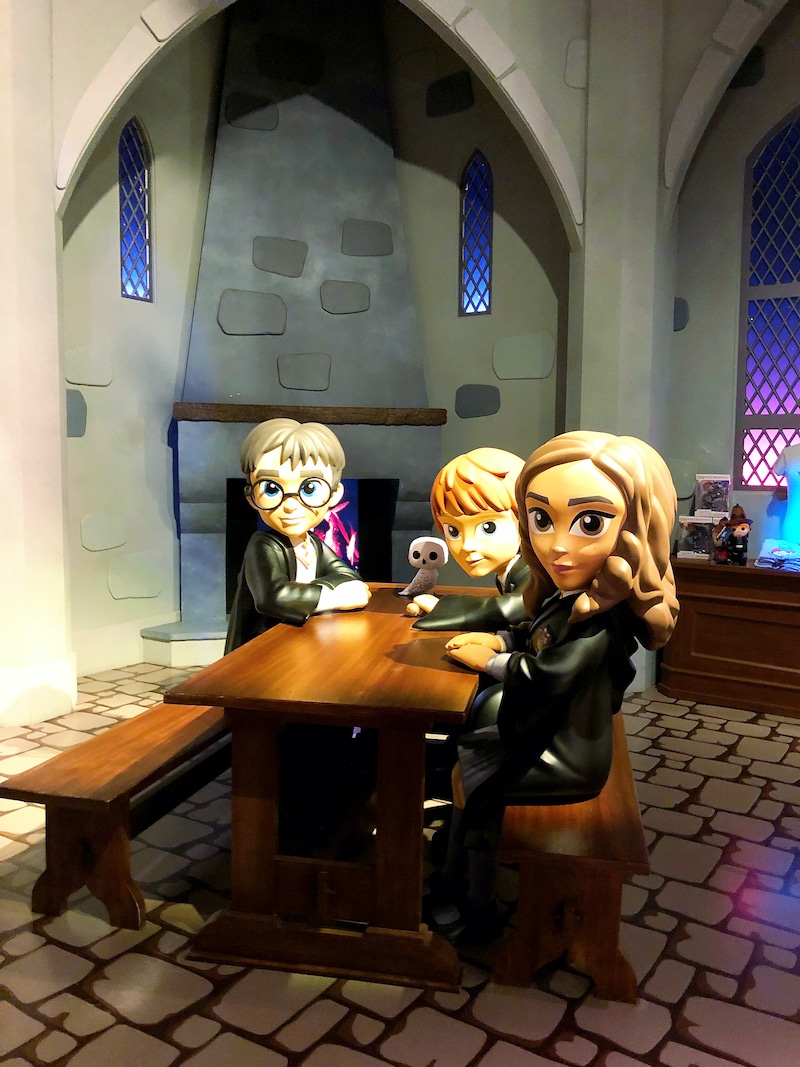 Wizarding World
Everyone visiting the Funko Hollywood store was very accommodating and stood by waiting for their turn to take a picture.
The Little Mermaid
My favorite part of the store was The Little Mermaid shipwreck photo app. It's super cute and huge!!!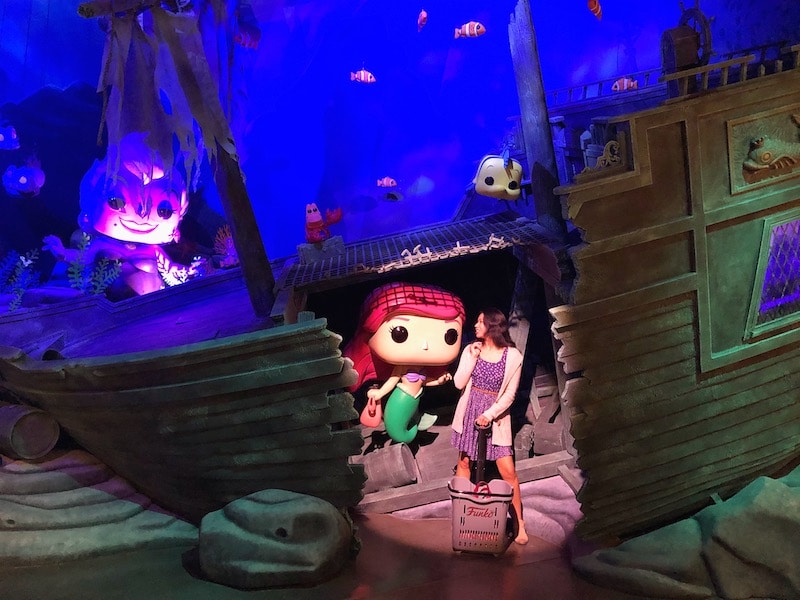 By the way, you'll definitely want to pick up merchandise as you walk through the store. Make sure to grab a Funko shopping basket. It's narrow so you won't bump it into people as you walk through the store.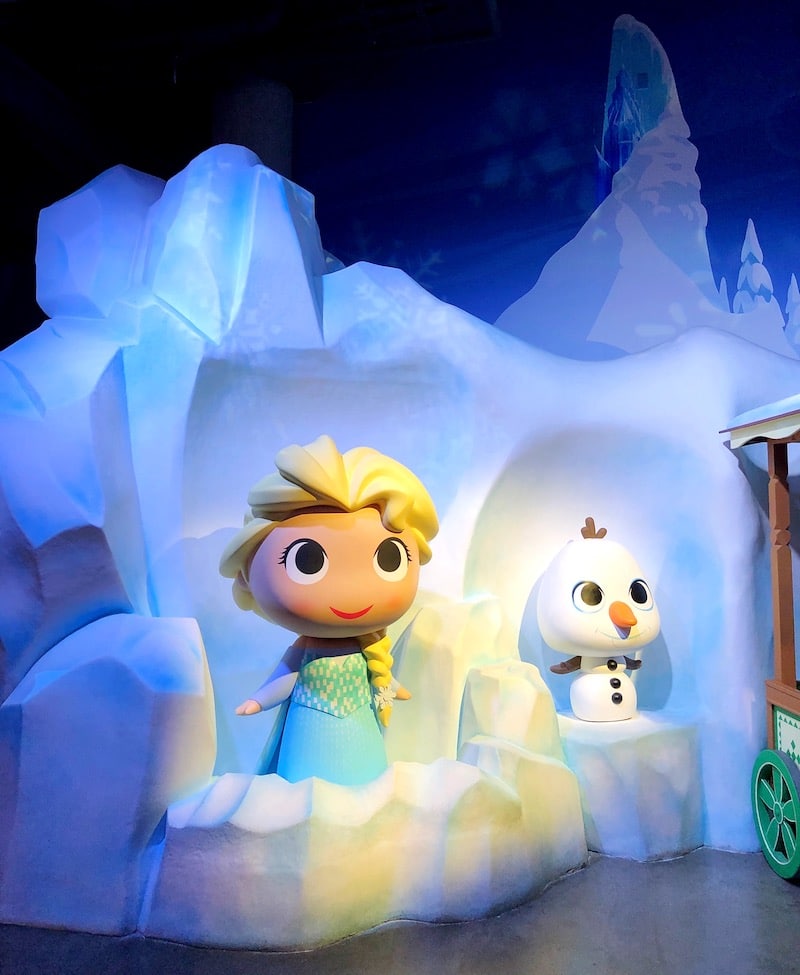 Frozen
After The Little Mermaid photo opportunity, make a right and walk through the Frozen section. There you'll see Anna, Elsa and Olaf!
The whole scene is super cartoony and so cute.
You'll also see non-POP figure merchandise here – like Loungefly backpacks and wallets.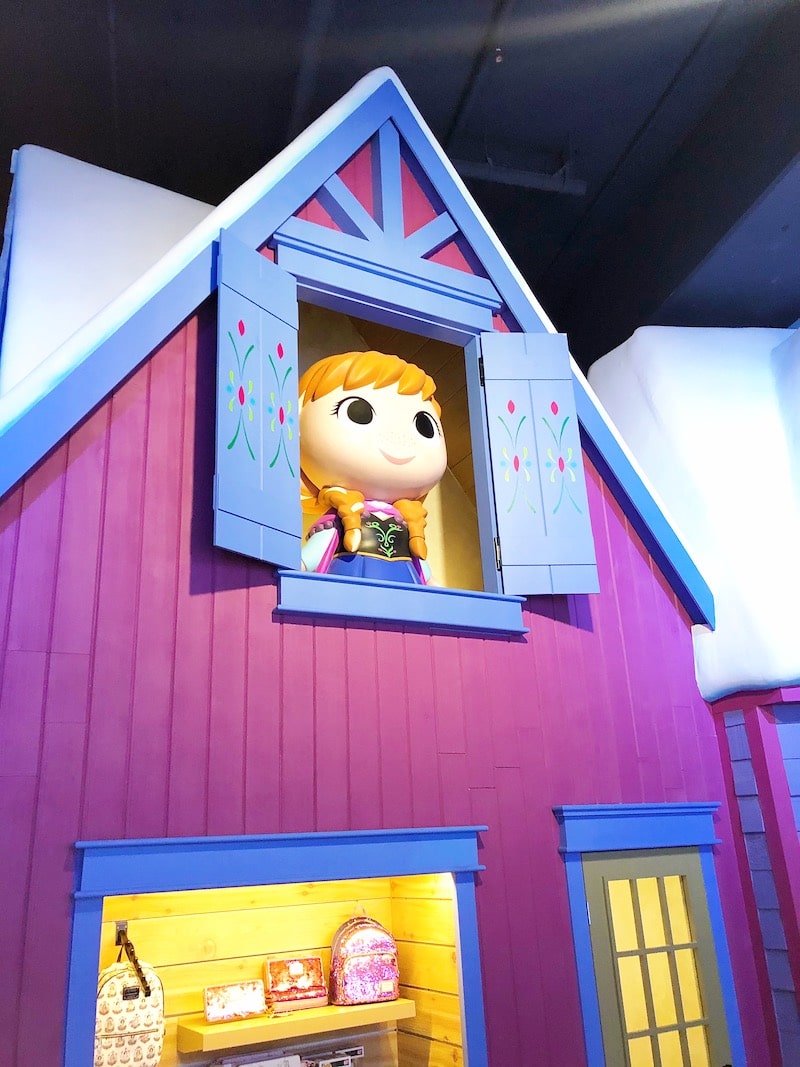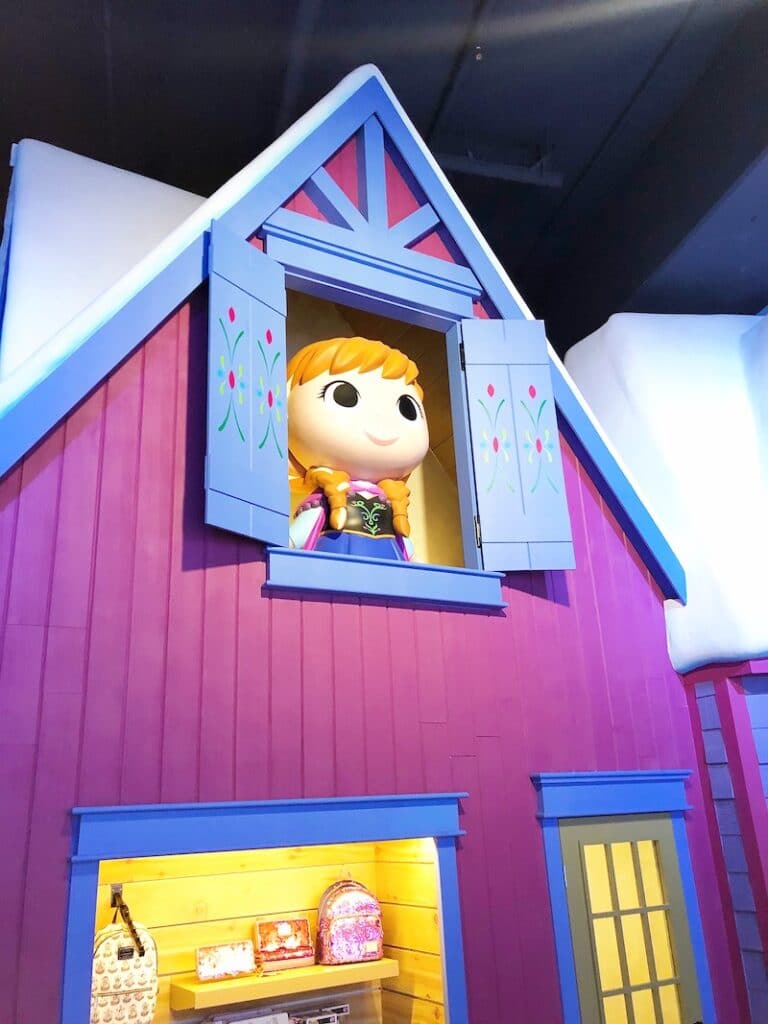 TV
If you're a Game of Thrones fan, this is one spot you won't want to miss. You get to climb atop the dragon with blue lighting surrounding you, and the white walker in the background.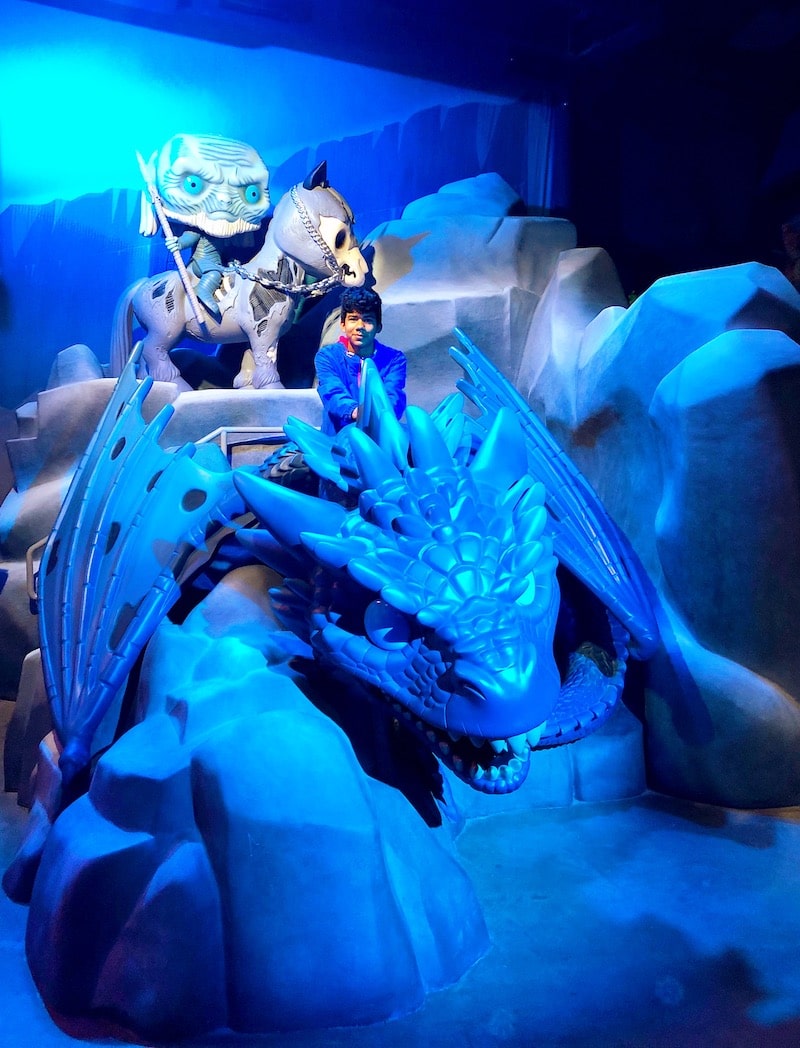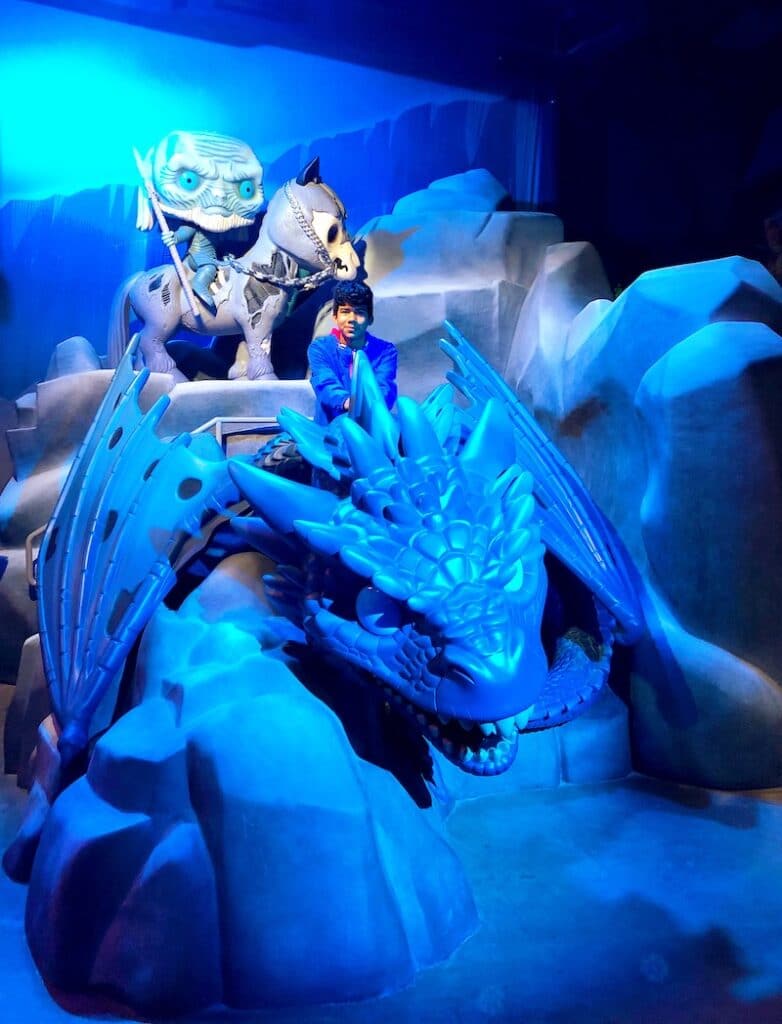 Fright House
This is perhaps the creepiest part of the Funko Hollywood Store. All the major horror characters can be found here, including Bettlejuice, Annabelle, Freddie Kruger, and Jason.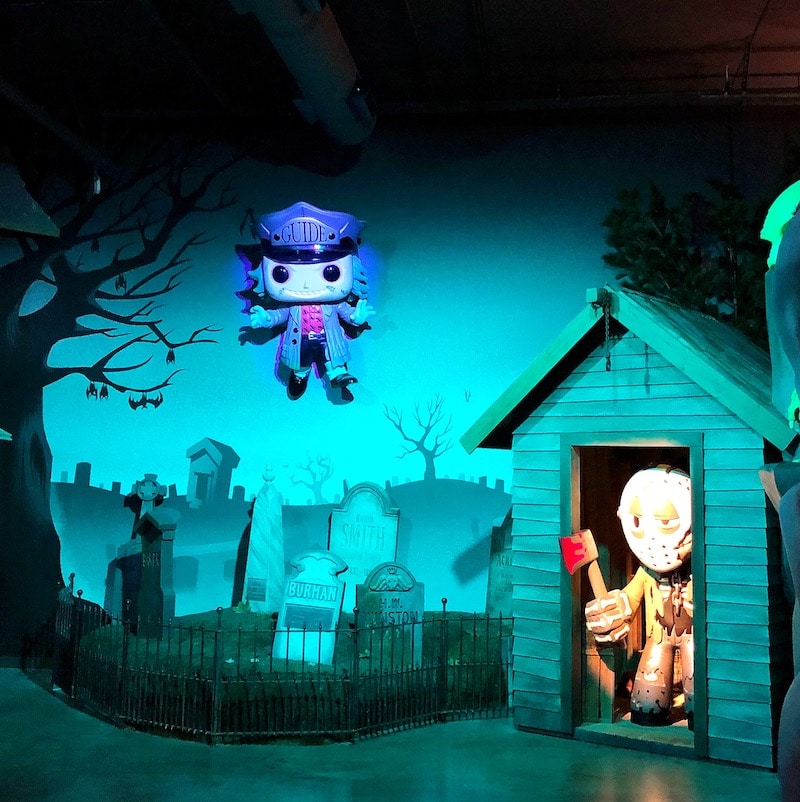 Inside the house, you'll also find Ghostbusters t-shirts and bins of other fright favorites including plushies. Don't forget to stop and take a look in the mirror for a spooky surprise!
Star Wars
Perhaps one of the most popular spots at Funko Hollywood is the Star Wars section. This is one of the larger areas with multiple photo props like the speeder and the Cantina.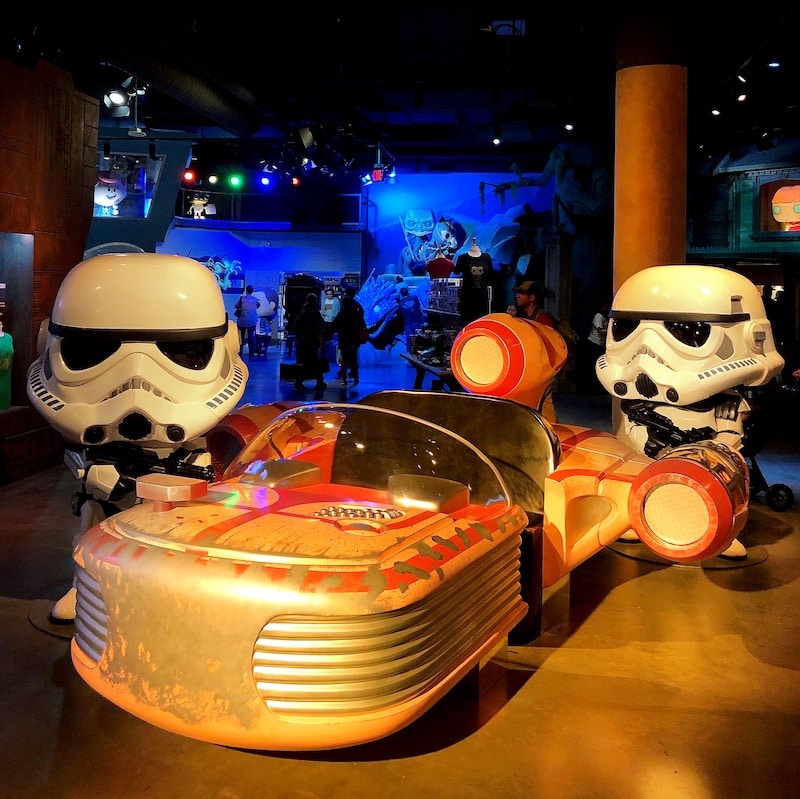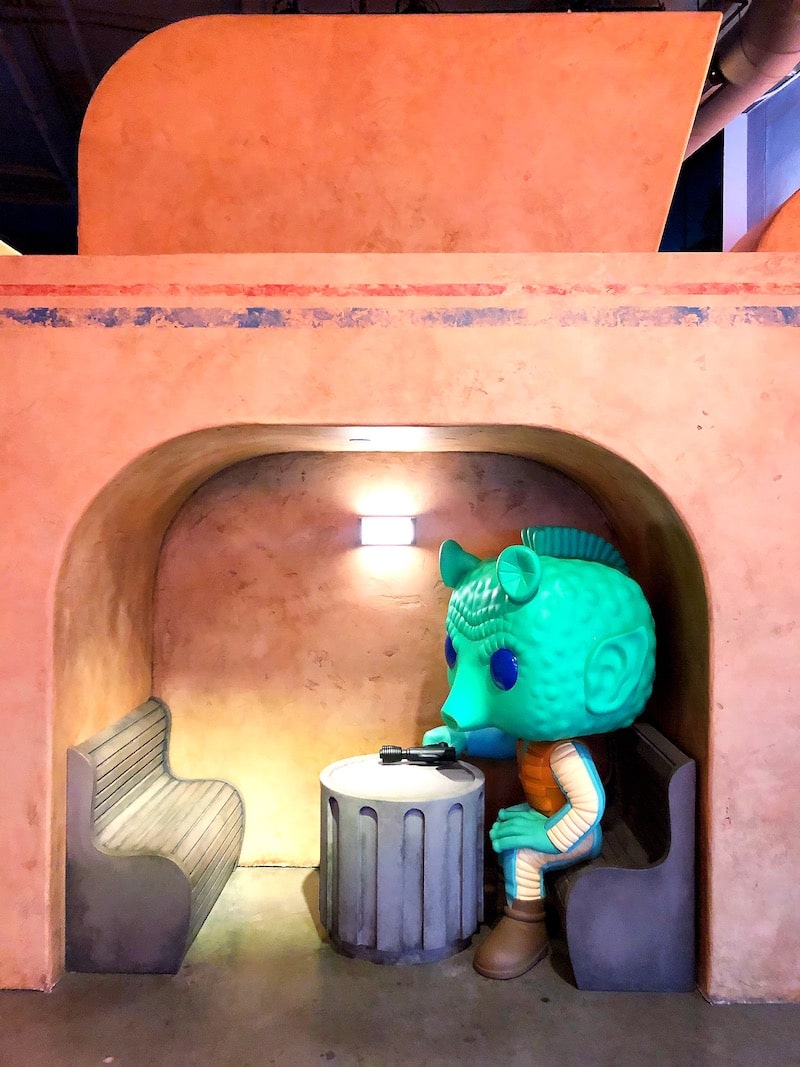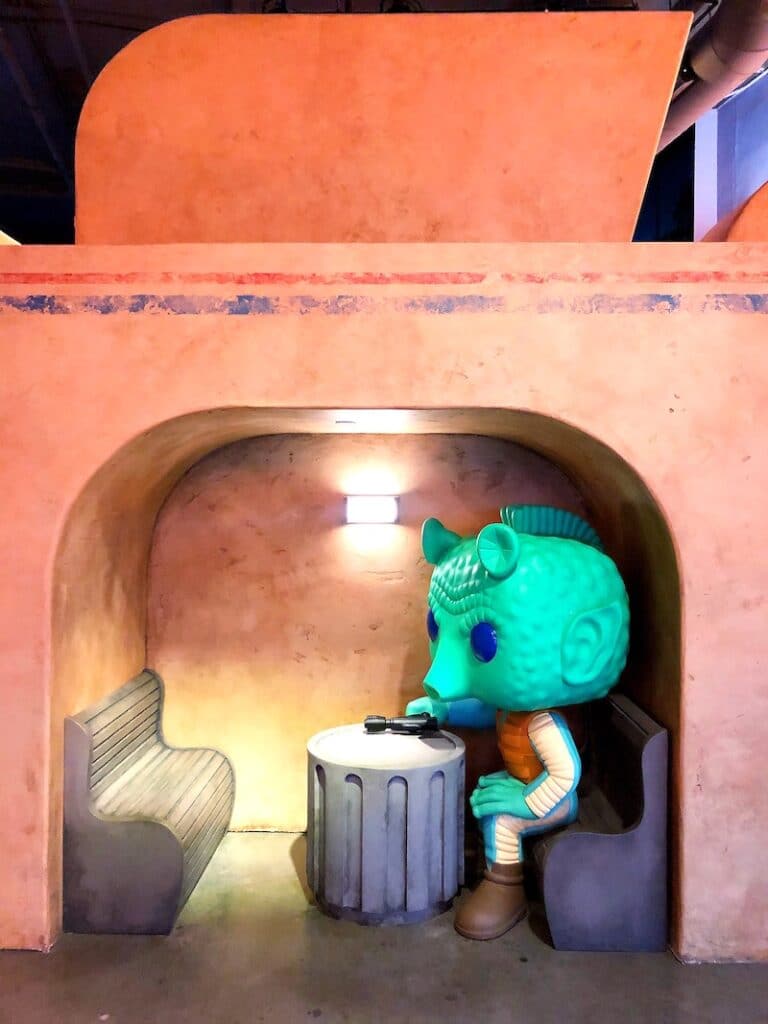 All around this area are also more POP figures and Star Wars Loungefly merchandise.
Anime & Games
This room can be accessed from multiple points. Inside there are enormous POP figures featuring popular anime characters rotating in the center of the room.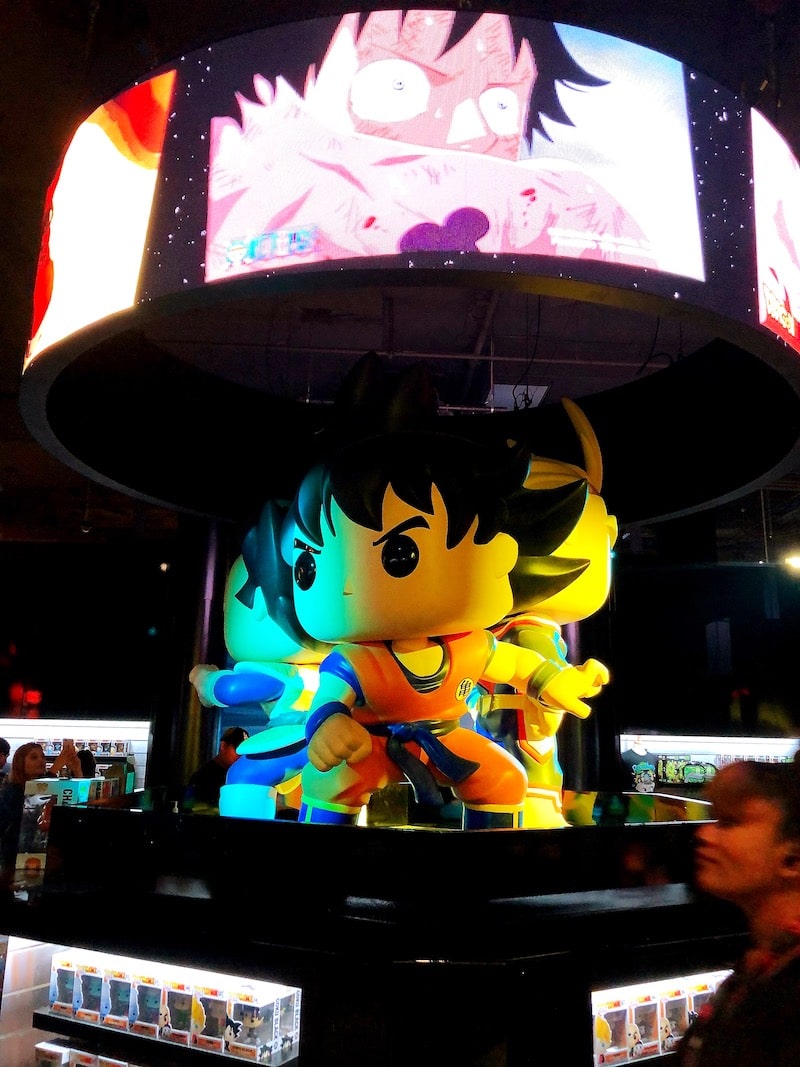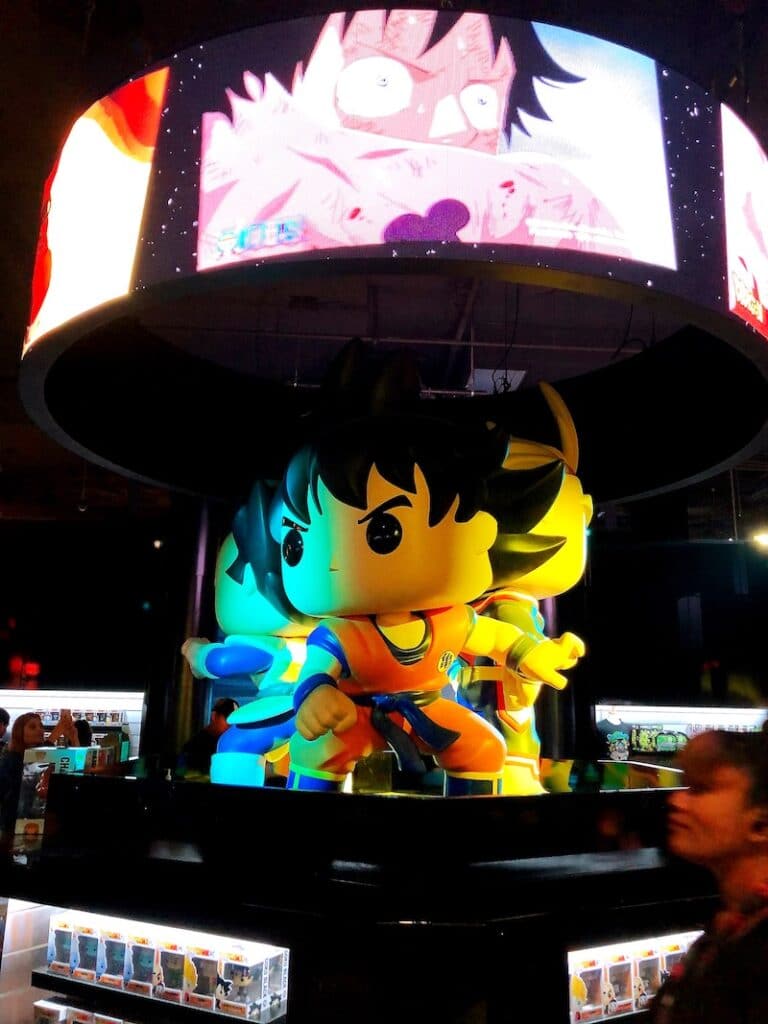 Fortnite characters can be found just outside the room.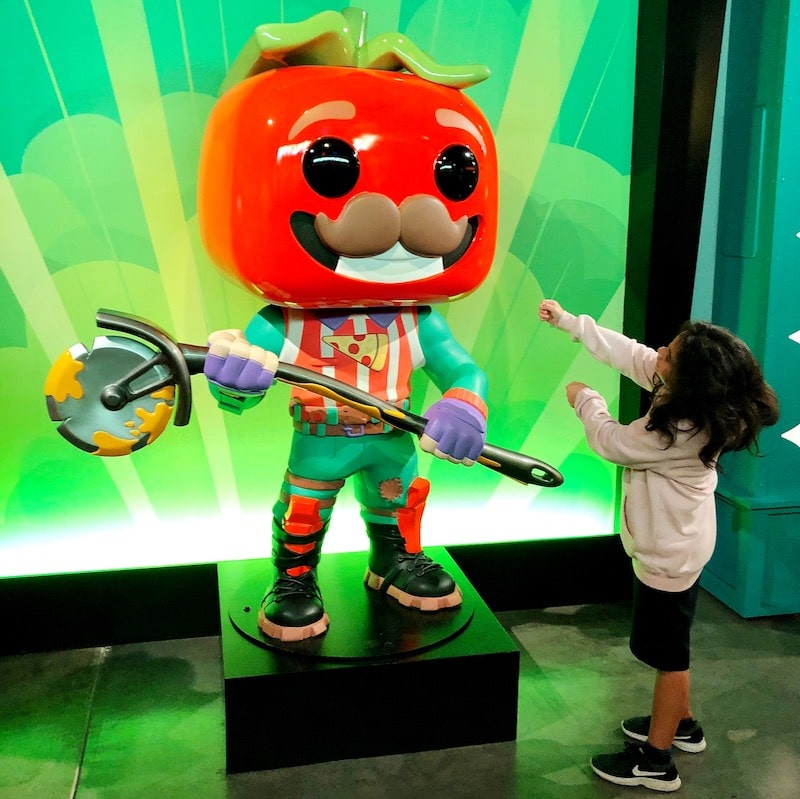 Music & Sports
This genre is off in a corner, but has hard-to-find POP figures like Freddy Mercury and KISS artists.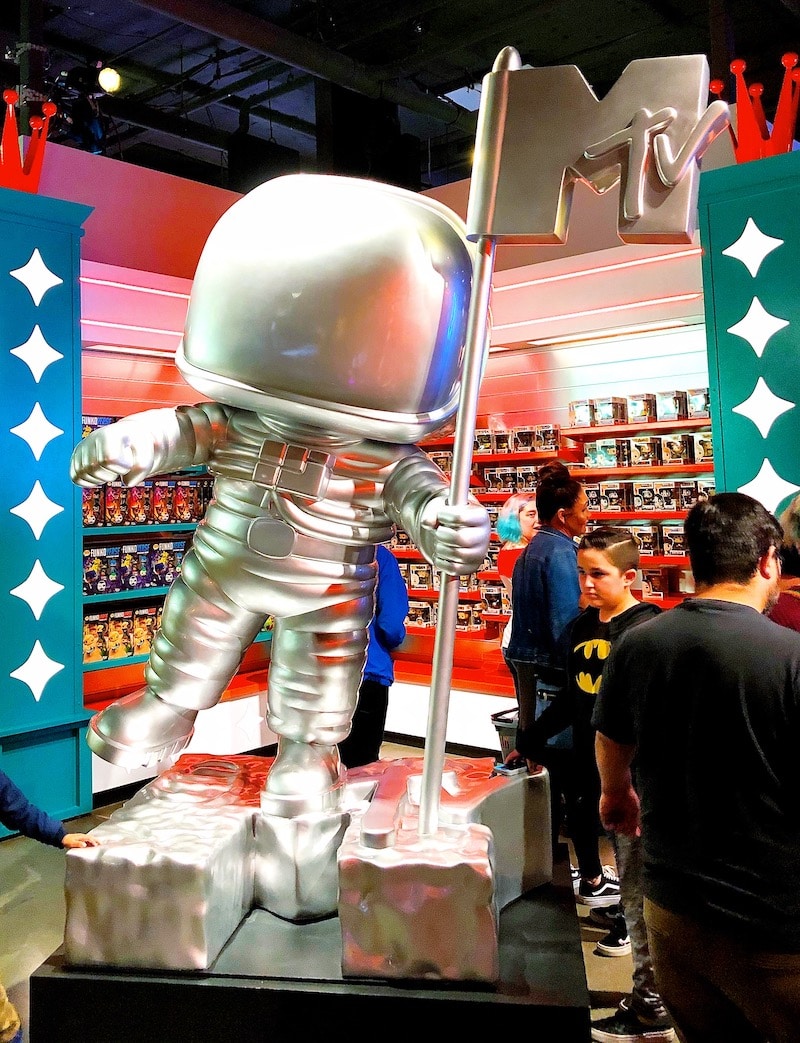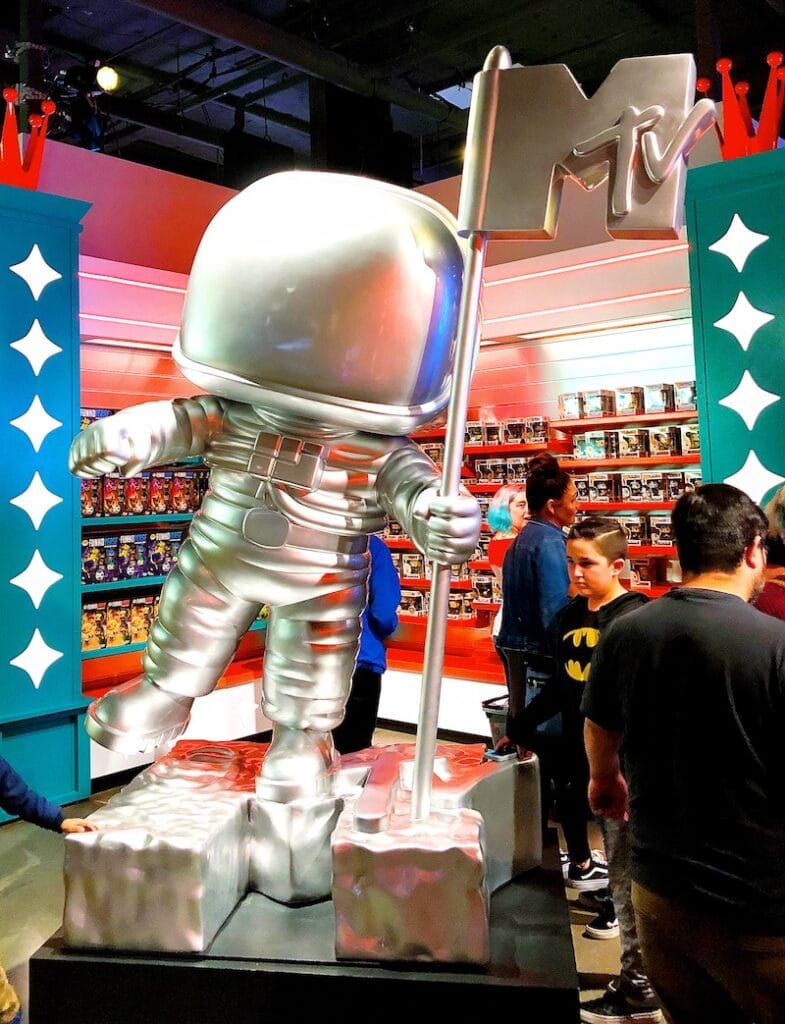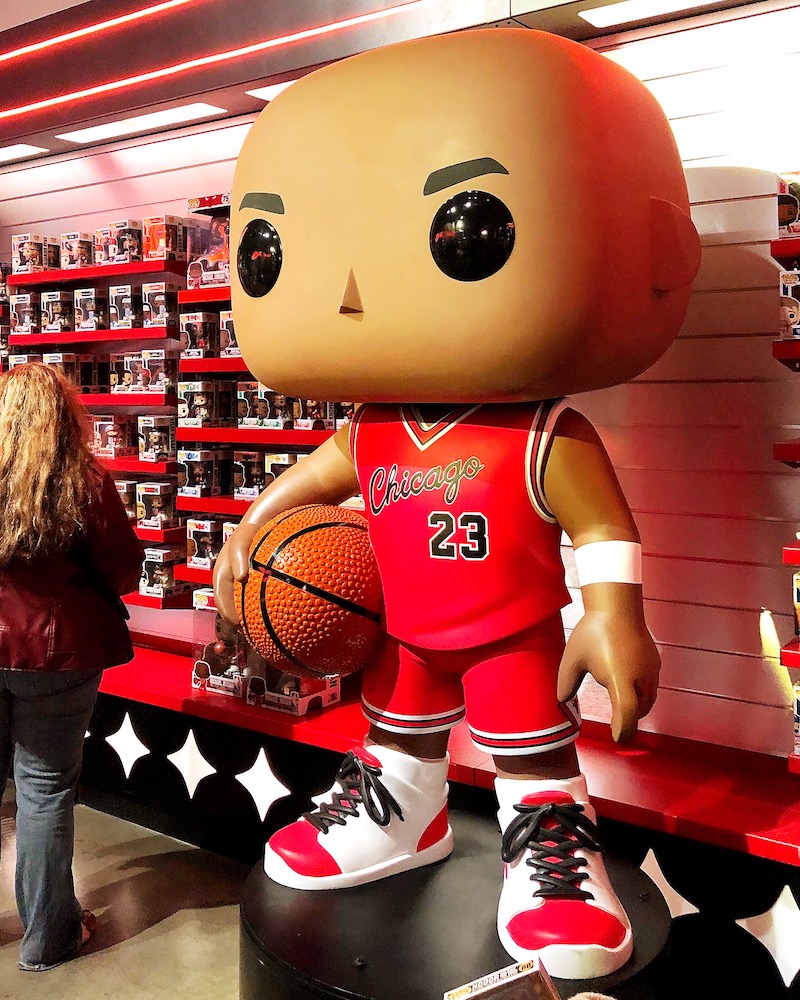 Saturday Morning
My all-time favorite part of the Funko Hollywood store is this one right here – Saturday morning. It's just like it sounds – a combination of vintage candy brands, cartoons in the background and your favorite food brands!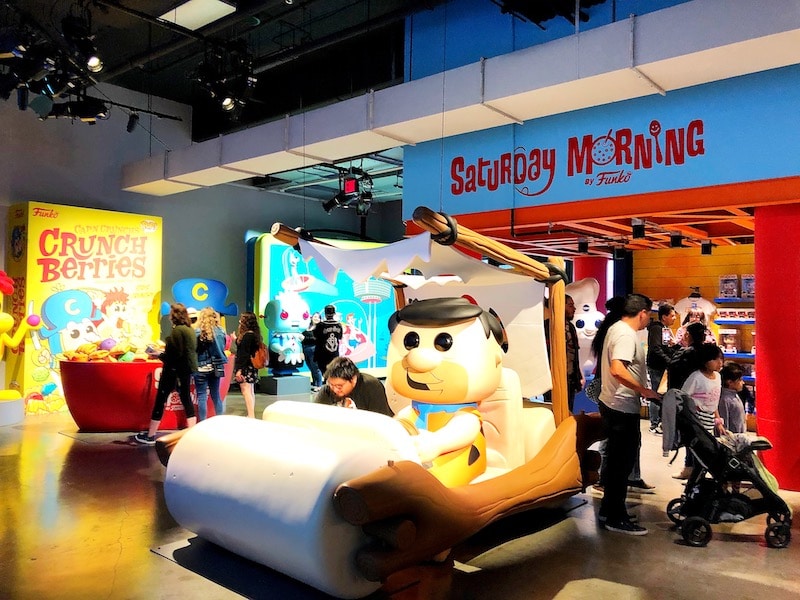 This room is huge and has a ton of photo opps that you can pop yourself into like The Flintstones car, and even a huge bowl of Captain Crunch cereal! It's a dream come true.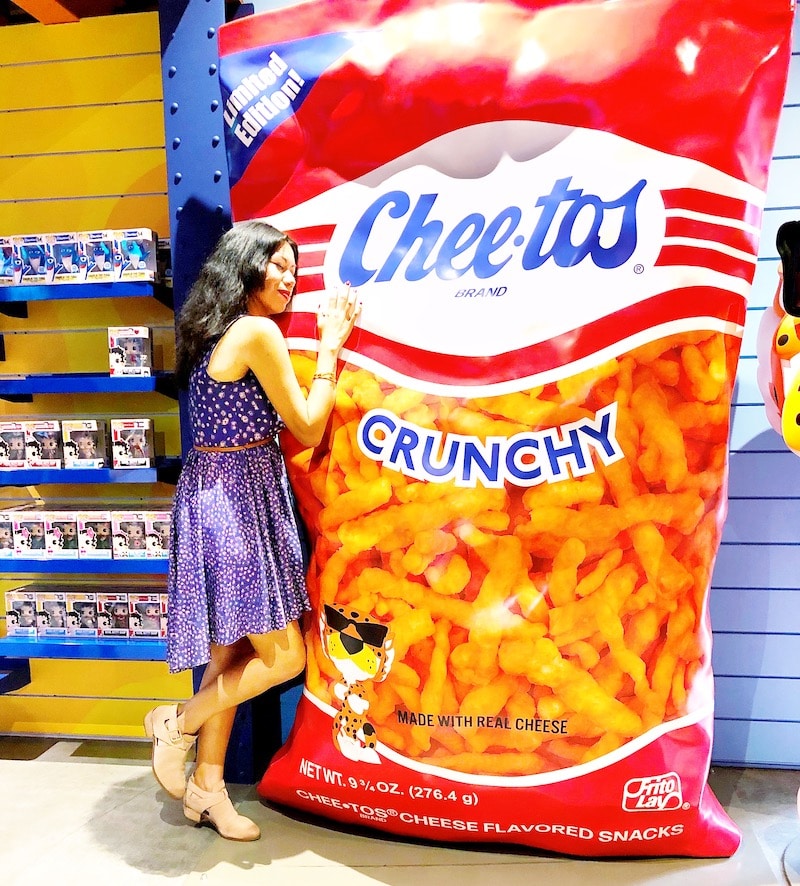 Saturday morning also has a ton of fun merchandise like Pez dispensers, backpacks and plushies.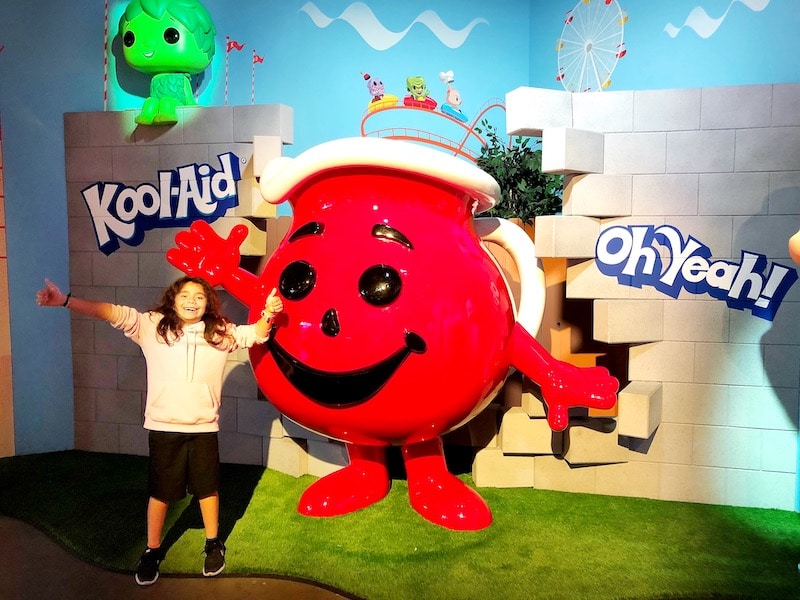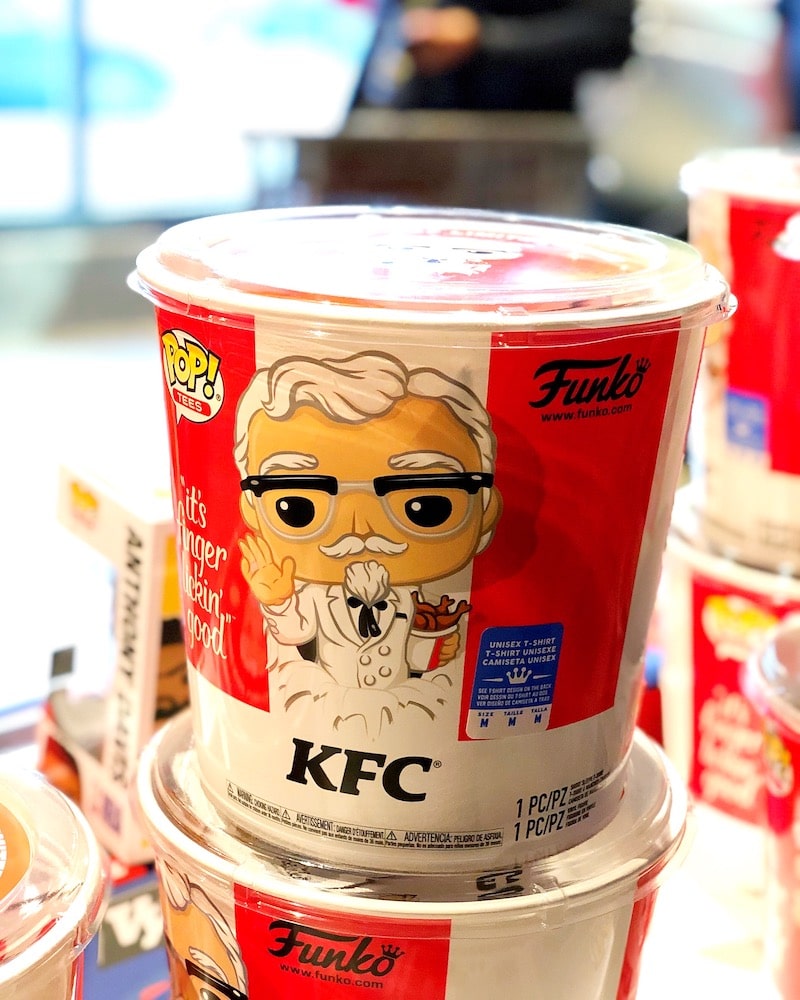 There's more than just POP figures here – you'll also find t-shirts and Funko cereal boxes – with real cereal! It's like being in a huge commercial with all your favorite brands and cartoons. The feeling that you get walking through that room is such a blast.
Disney
This last part of the Funko store leads you into the factory. The designers did a great job with this space to really make you feel like you're in a fairy tale.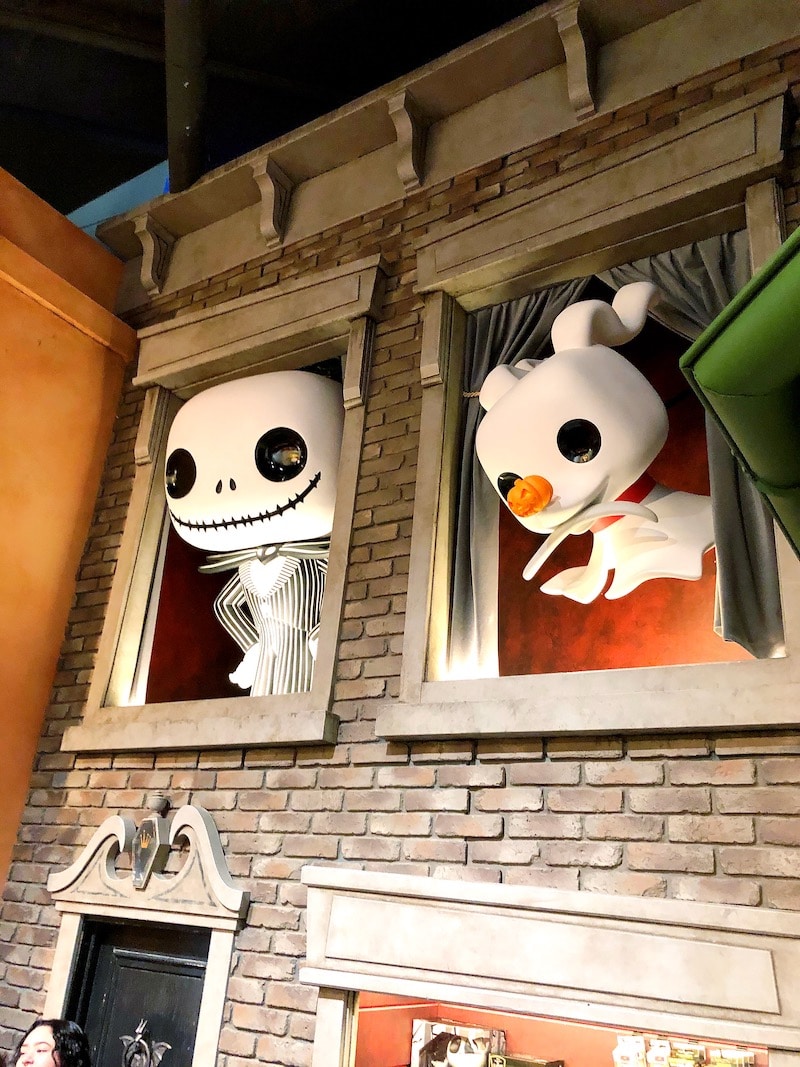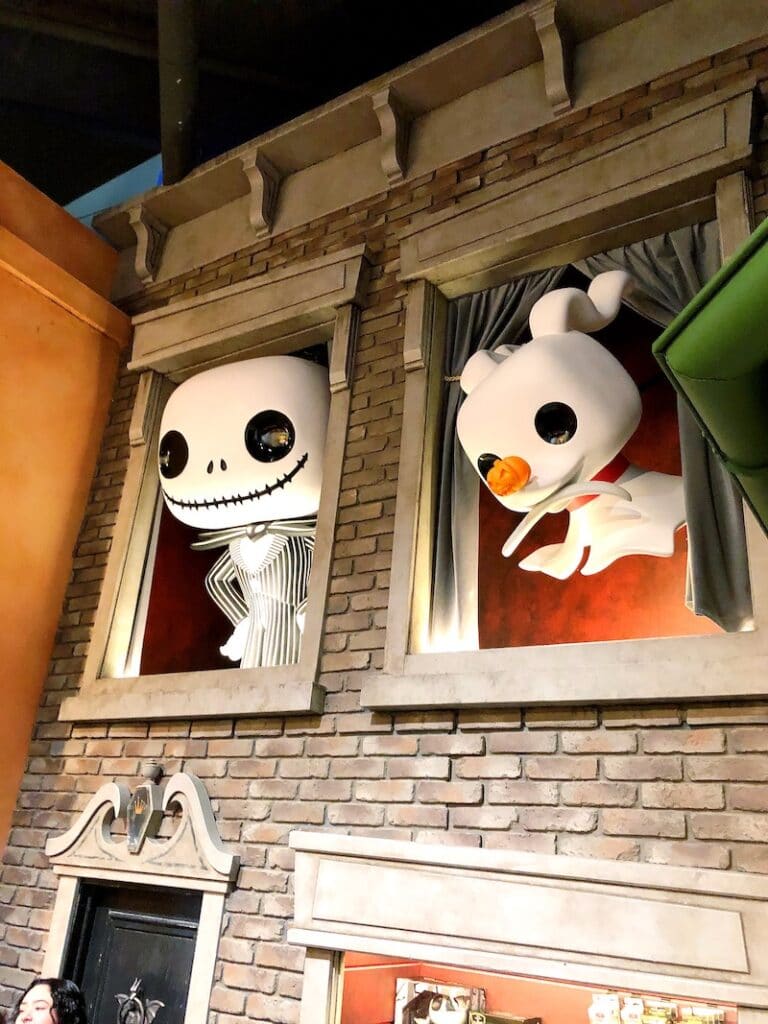 The streets are paved with faux pebbles and enormous buildings surround you making you feel like you're in a story book.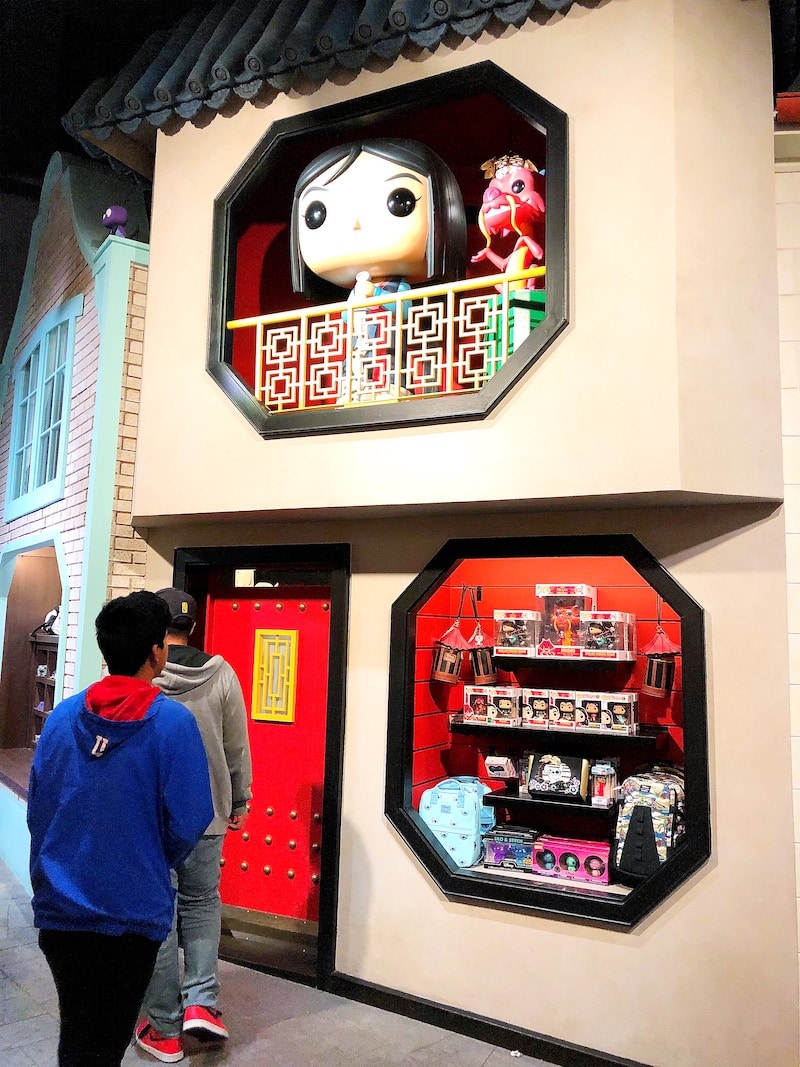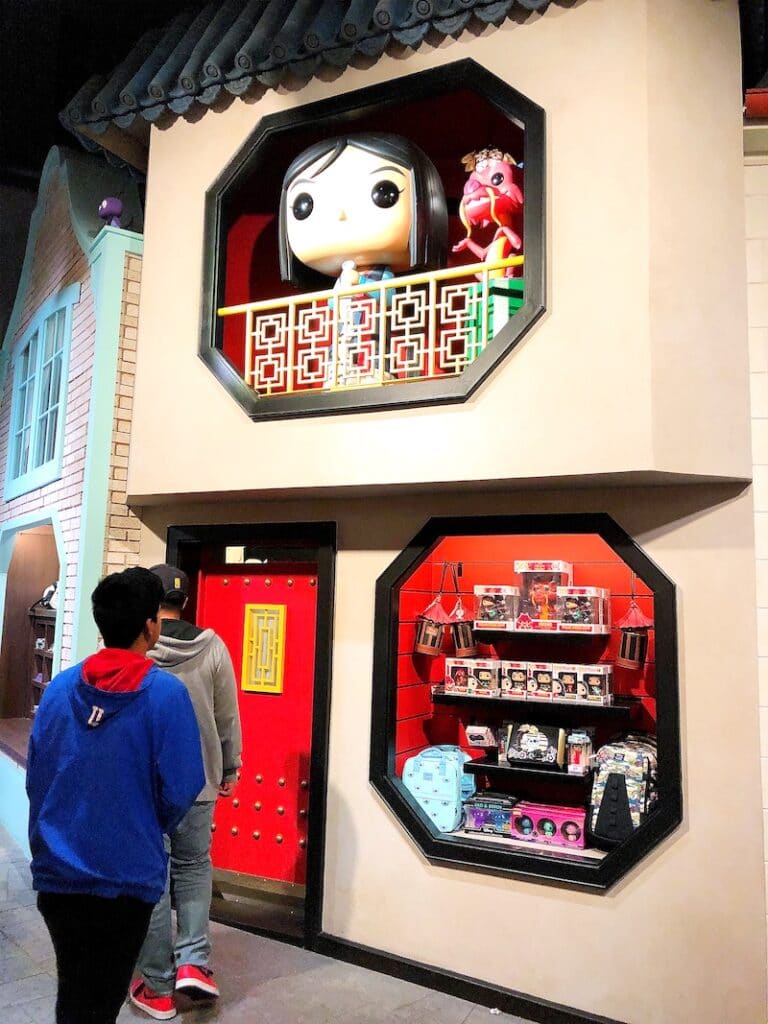 There's also merchandise lining the streets, featuring some of your favorite Disney characters… and villains!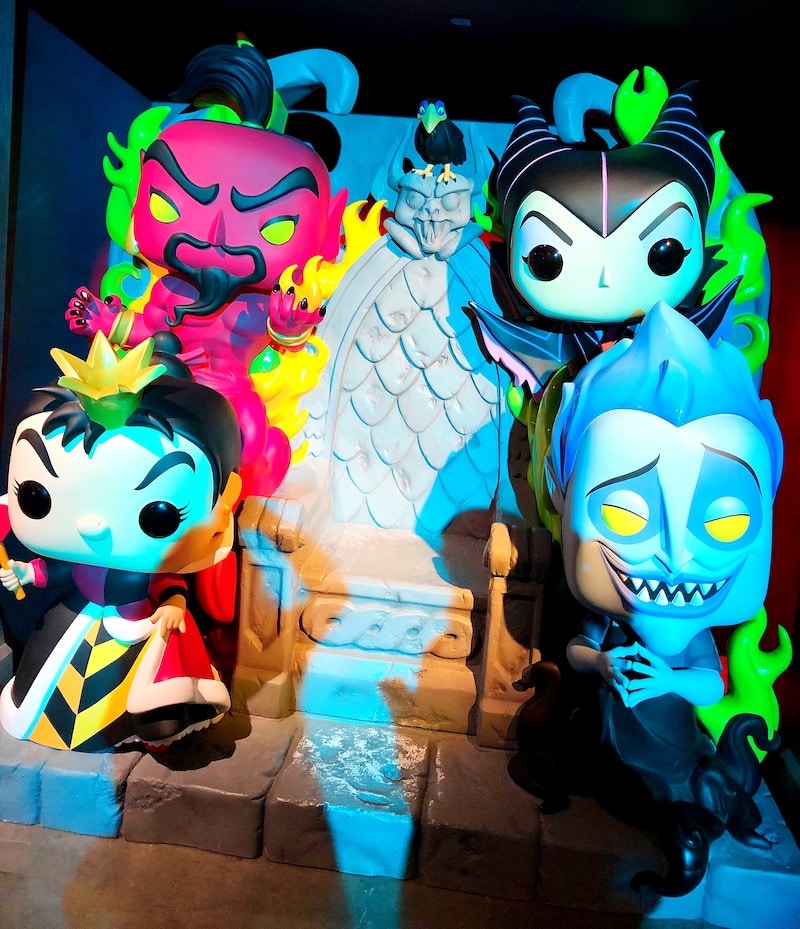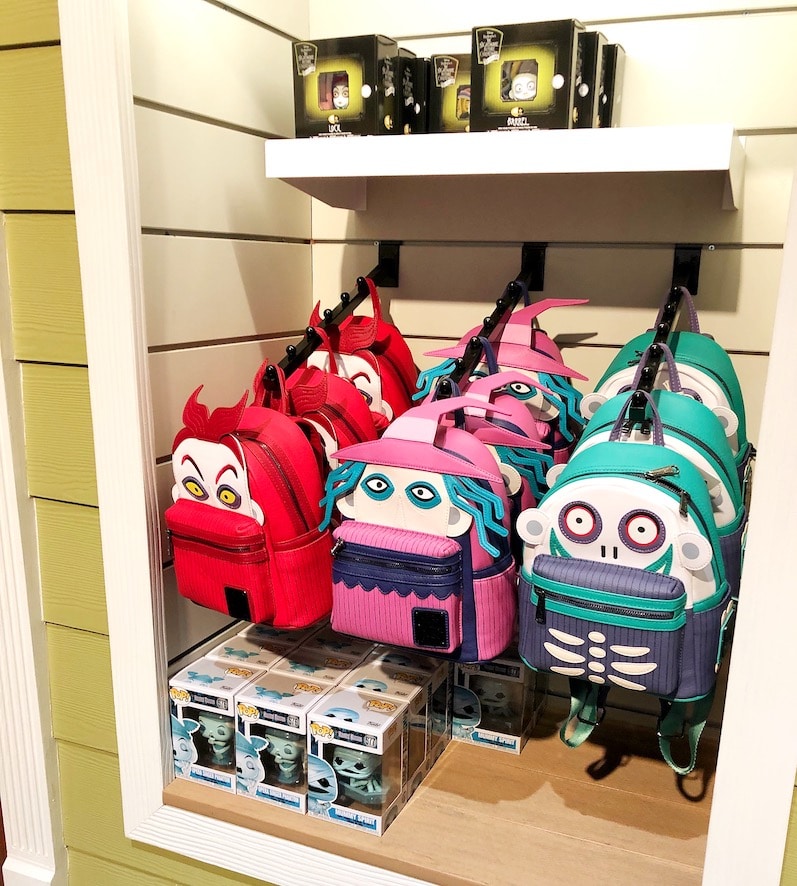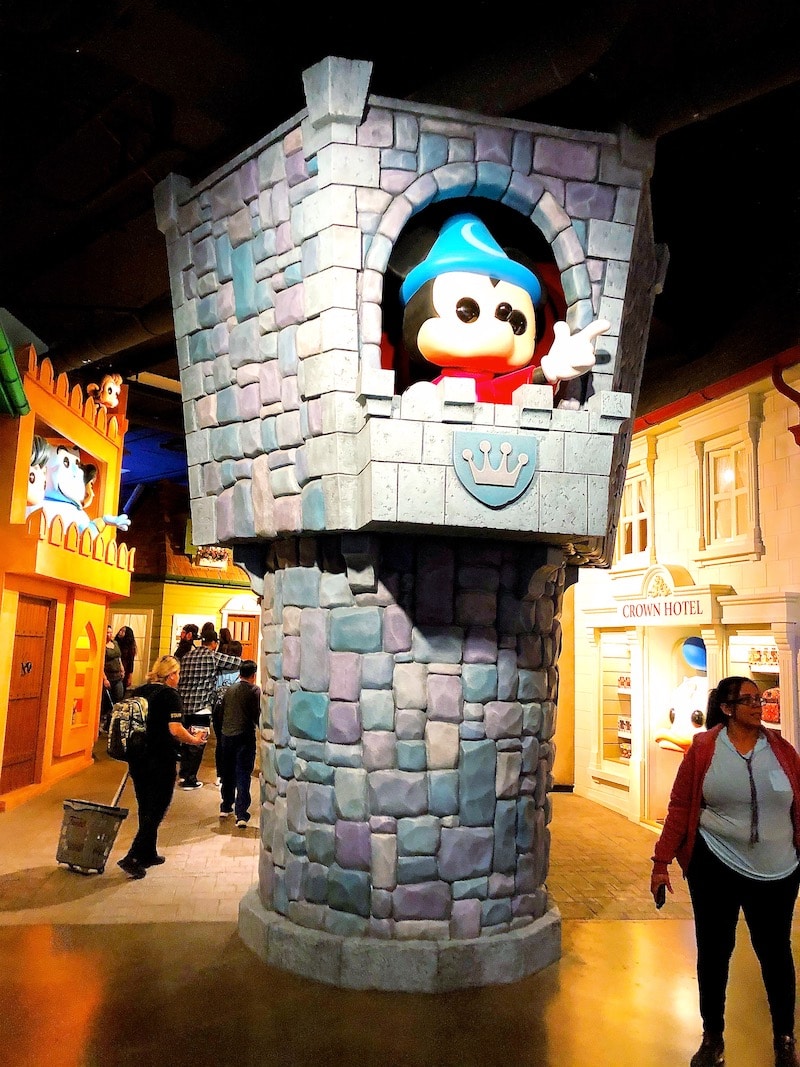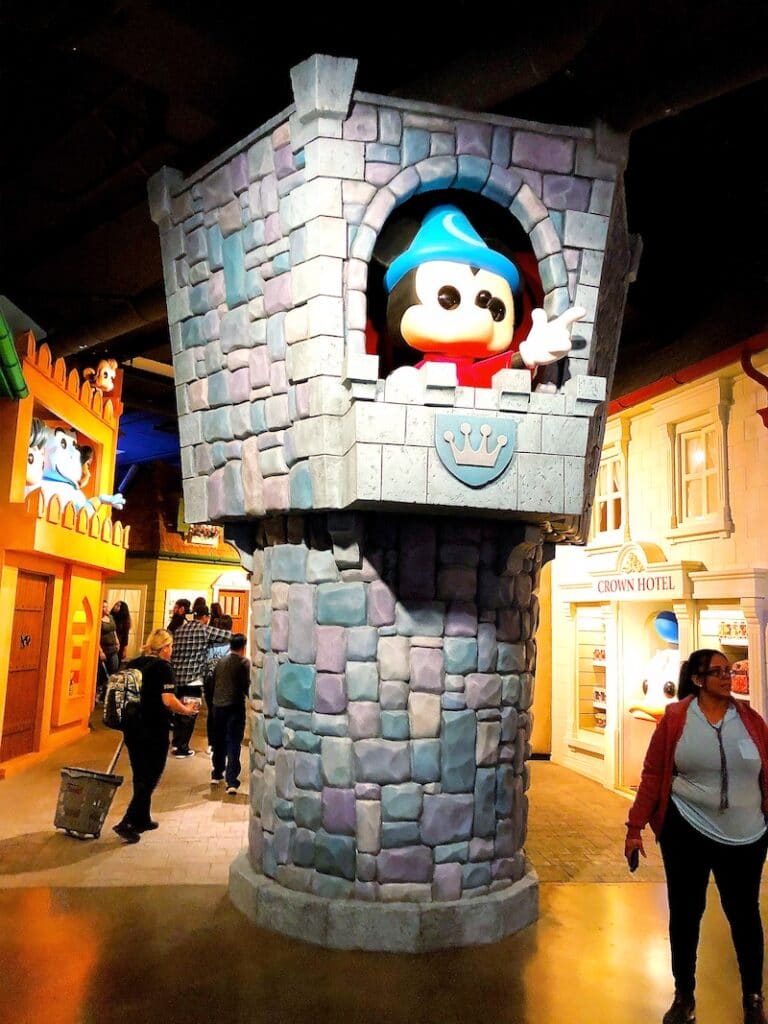 POP Factory where you can make a custom Funko POP figure
Finally, what truly sets this store apart is this space where you can make your very own Funko POP! figure.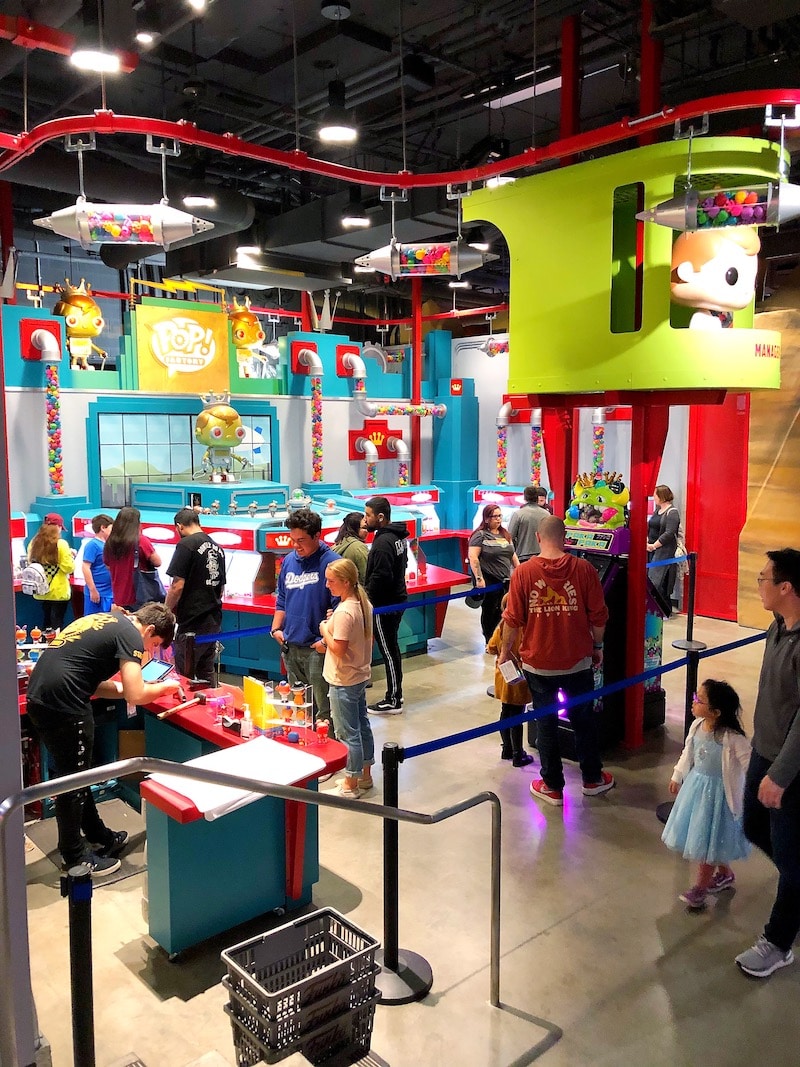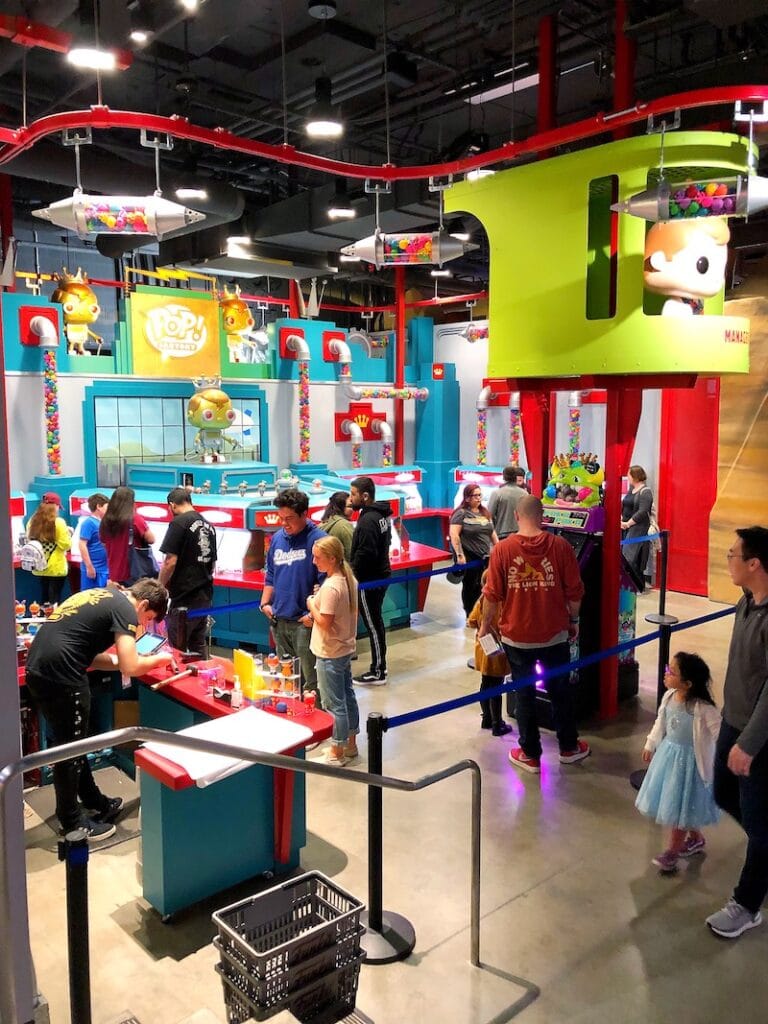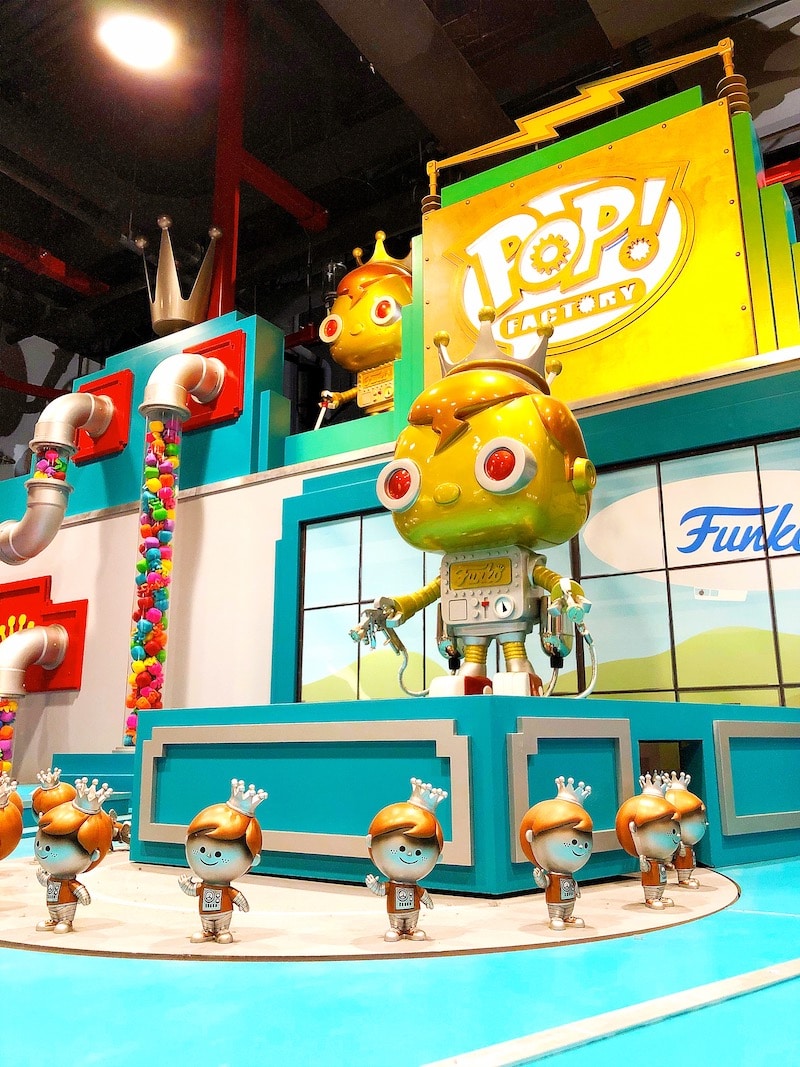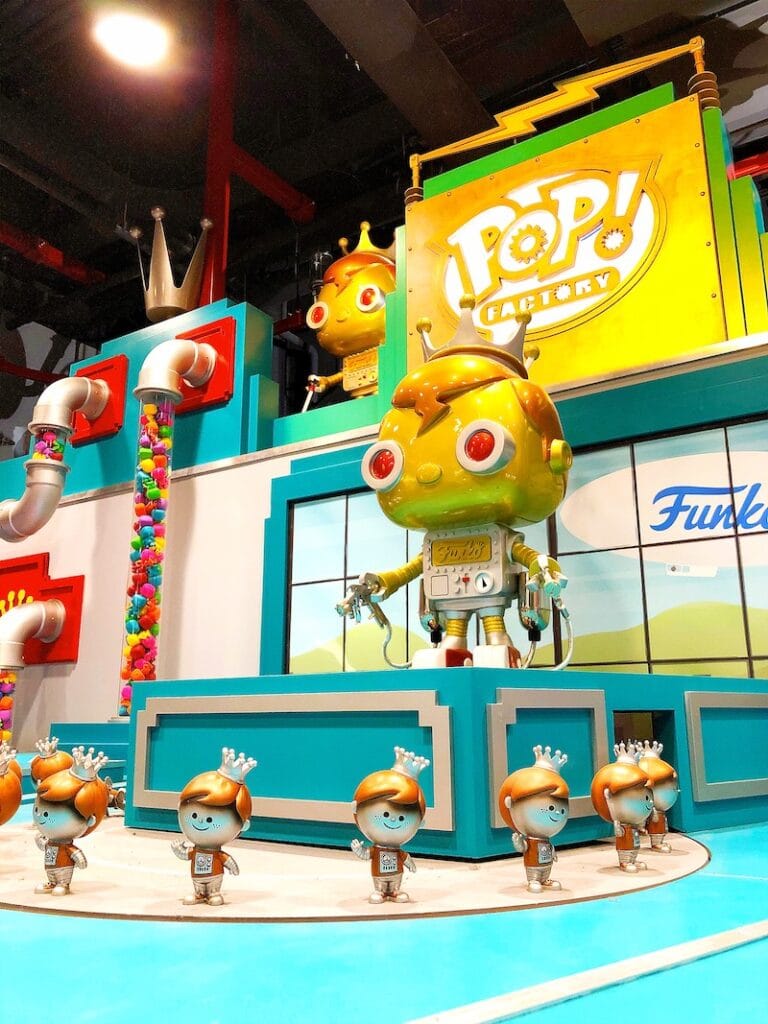 You have two options to make your own figure – either choose Freddy Funko, or a Monster POP! figure.
Cost: The cost of each figure is $15
Time: It takes about 20 minutes to customize your Funko POP figure and put together.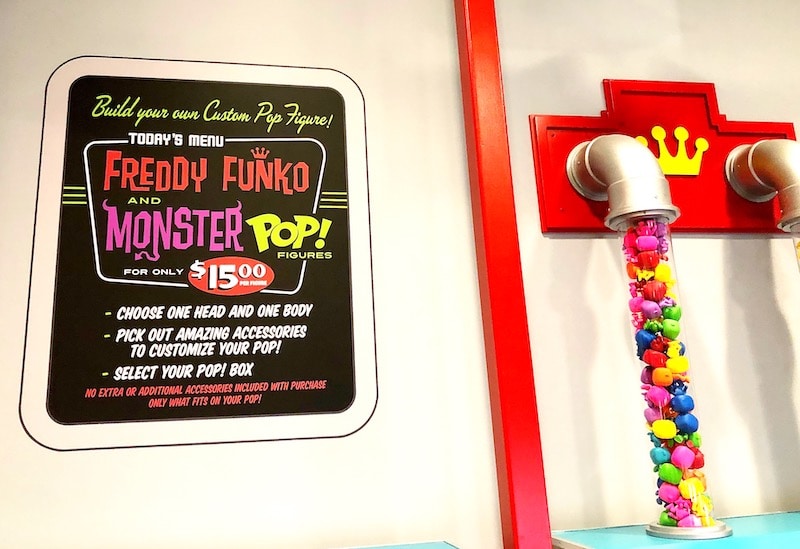 The space is split into two different areas. You start off by choosing a head and a body and then you go down the line… like a little Funko POP! factory.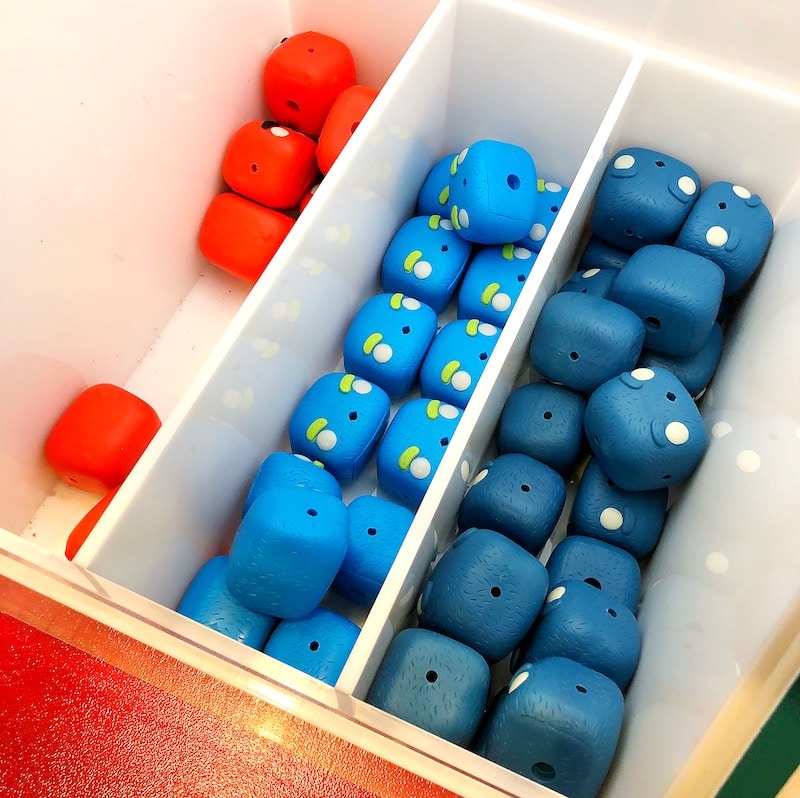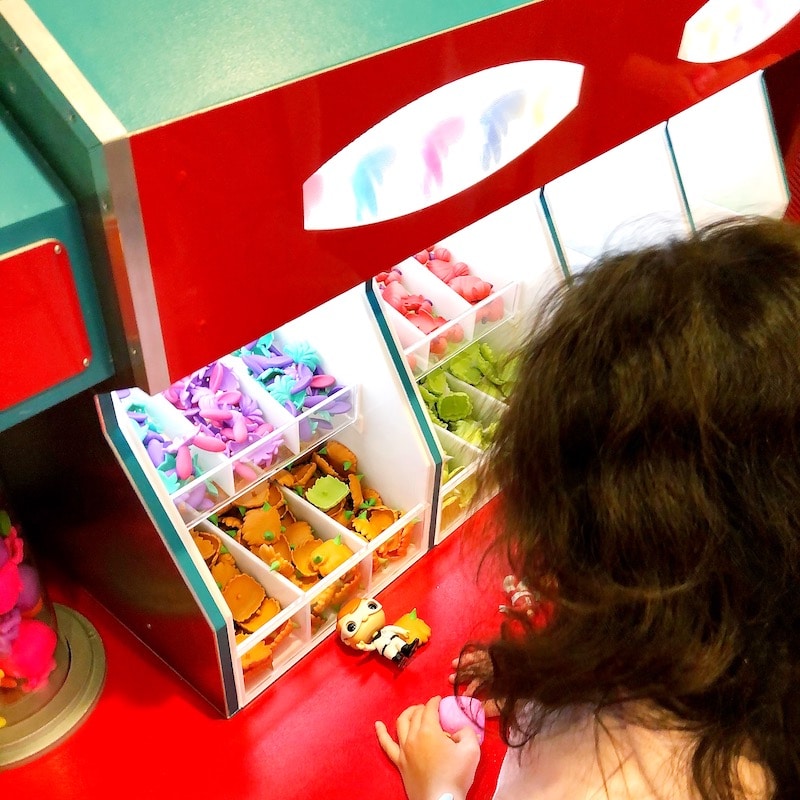 My chiclets put together a few different options until finally deciding on their final figures. This is why I'm estimating 20 minutes at creating one – there are so many possibilities!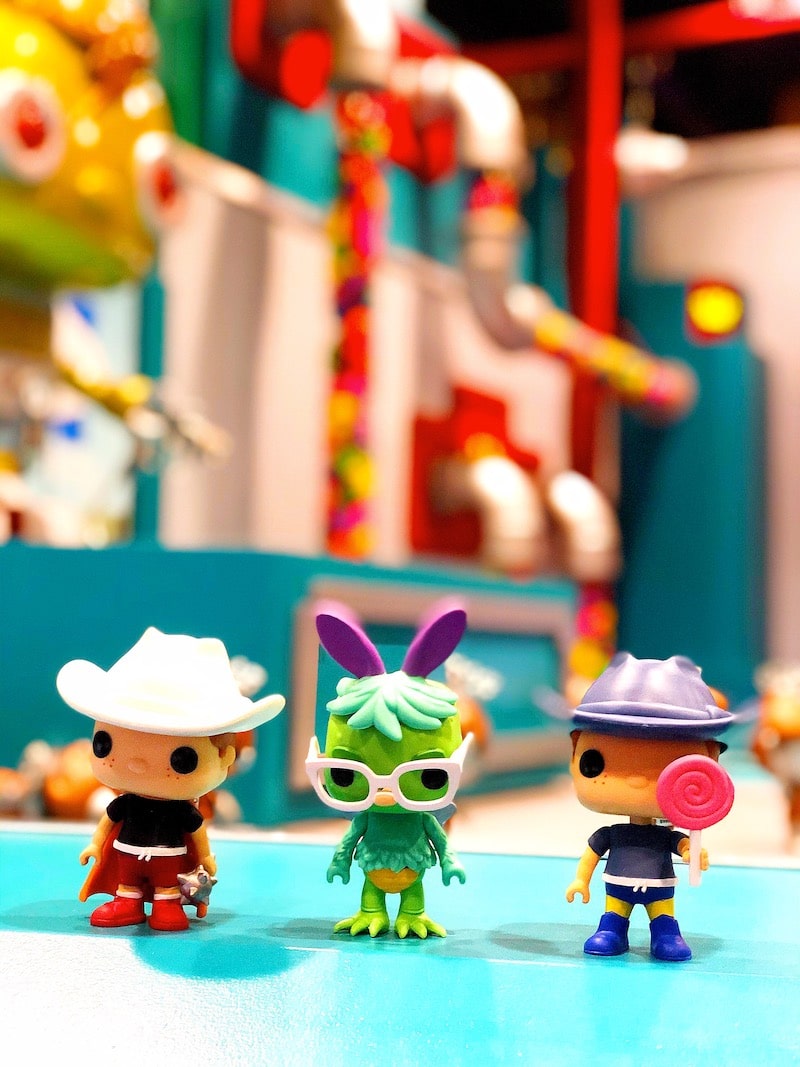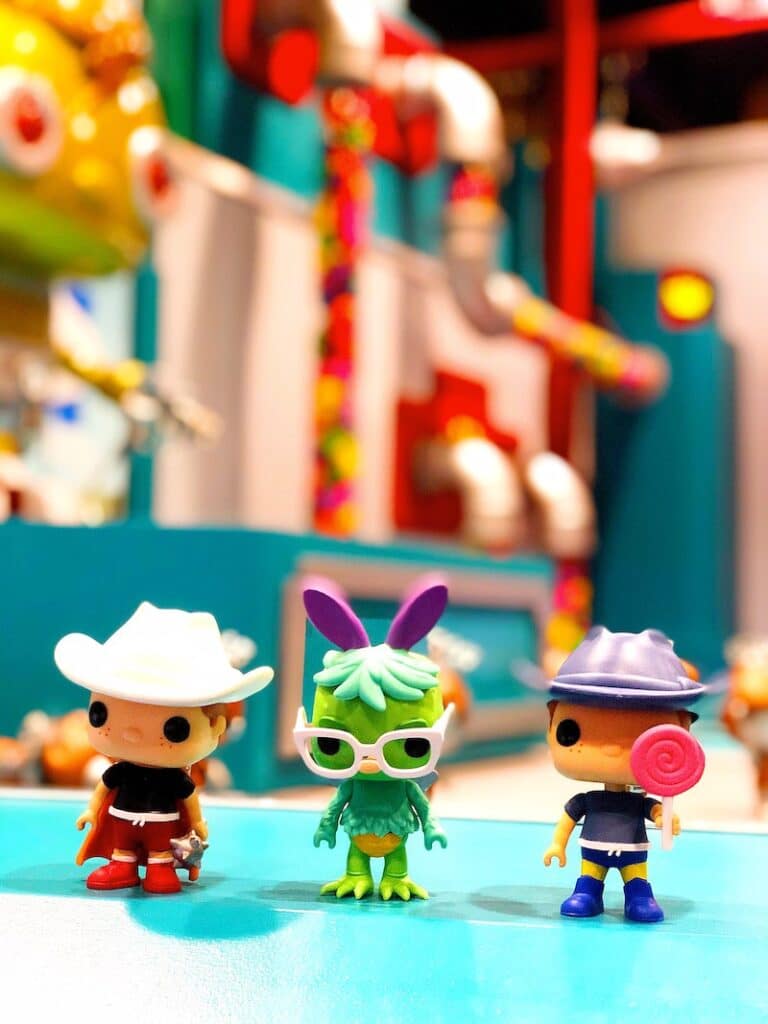 Once you put your figure together, you'll make a line to pay at the register and the person working the register will use a mallet to finish off the POP! figure and ensure that it doesn't fall apart. You'll also get a box for your figure to use as a display.
On busy days, the register at the POP! factory will also be able to finish your transaction to pay for your other merchandise. It'll help you avoid a longer line by the front entrance.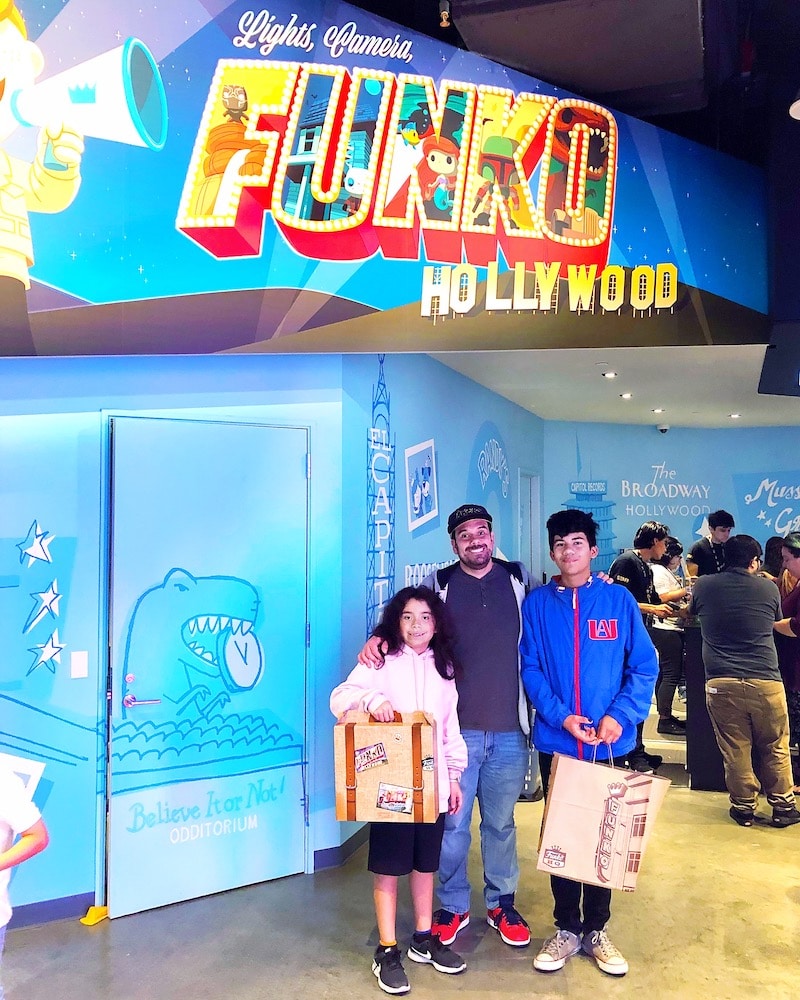 The Funko Hollywood Store is less than a year old and such a huge hit. It's fun just to walk inside the store and take pictures – but add in all the playfulness of the merchandise, and you have a fun road trip stop too!
Funko Store Hollywood in Los Angeles
Hours: Store Hours are 12pm-6pm Wednesday-Friday and 10am-6pm Saturday and Sunday.
Address: 6201 Hollywood Blvd, Los Angeles, CA 90028
I should also mention that parking is hard to find. We took an uber from our hotel because it was just easier. However, if you're driving there, we recommend parking at Hollywood and Highland or Hollywood and Vine and walking to the store.
Metered street parking is available in the area, but many sections are designated as no parking, tow away, or bus zones.
Phone: (213) 462-3600
UPDATED COVID GUIDELINES
Before coming to the store, please note the following changes made in response to CDC advisories and guidelines and restrictions set forth by California Law.
All customers over the age of 3 years old will be required to wear a mask. There will be no exceptions. If you are medically unable to wear a mask, please alert the security guard and we will send an associate to pick your items for you and you will be rung up remotely outside of the store.
Customers arriving with children must ensure that their children stay next to a parent, avoid touching any other person or items that do not belong to them.
Forms of payment currently accepted: Visa, MC, Discover, Amex, Apple and Samsung pay. NO CASH WILL BE ACCEPTED.
Customers are asked to please not kiss, hug, touch or sit in or on any of our displays.
The displays have been marked with footprints for photo opportunities. Customers are responsible for taking their own photographs.
Social Distancing in line and in each of our rooms will be strictly enforced, there may be a wait to get into some of our smaller rooms.
There will be a reduced number of restrooms available for customer use.
Originally published on June 29, 2020. Last Updated on October 25, 2022 by Pattie Cordova