It's been 30 years since the popular Little Tikes Cozy Coupe was introduced into toddler-filled homes everywhere.
Kids (mine included) love being behind the wheel of this super cute vehicle, while mamás and papás have loved the toughness of it.
However, the new 30th anniversary edition of the Cozy Coupe has taken it up a notch with a new friendly face on the front and a removable floorboard that is perfect for kids that haven't quite gotten used to maneuvering the coupe by themselves.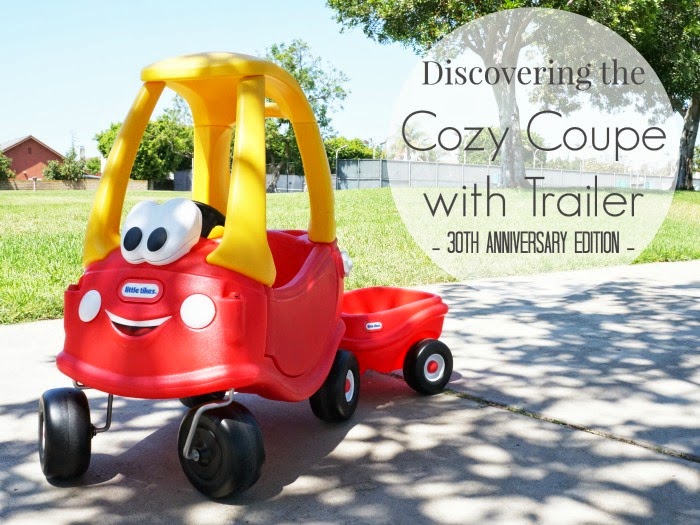 It took us about one hour to put our Cozy Coupe together – and that included the Little Tikes trailer and one or two minor mishaps during assembly. My biggest recommendation is to have a mallet with you while you put things together because it comes in real handy.
Also, it comes with A LOT of static cling so if you're putting it together on a floor that has a lot of little bits of dirt, fibers, etcetera – it WILL get on the parts of the Cozy Coupe.
I found this out the hard way because we assembled ours on our outside rug that is, apparently, full of all kinds of "nature."

Tip: Use dryers sheets to take off some of the static cling.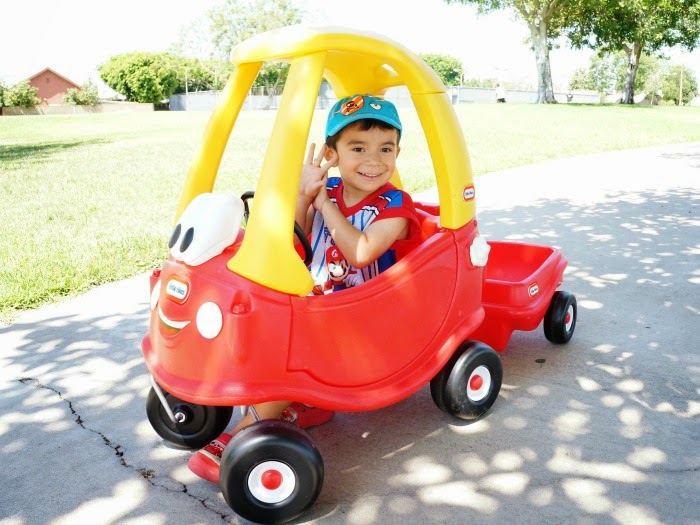 The Cozy Coupe has a weight limit of 50 pounds, but believe me, the bigger kids will try to test that limit.
My three year old is about 23 pounds and measures about 36″, so it was a perfect fit for him. He's able to touch floor when the removable floor board is off and move his way around that way.
However, he found it to be just as much fun when the floor board is in because his older brother can use the handle on back of the Little Tikes Cozy Coupe to give him push rides.
This helps him to protect his feet – especially when big brother pushes him faster than he can move his little feet.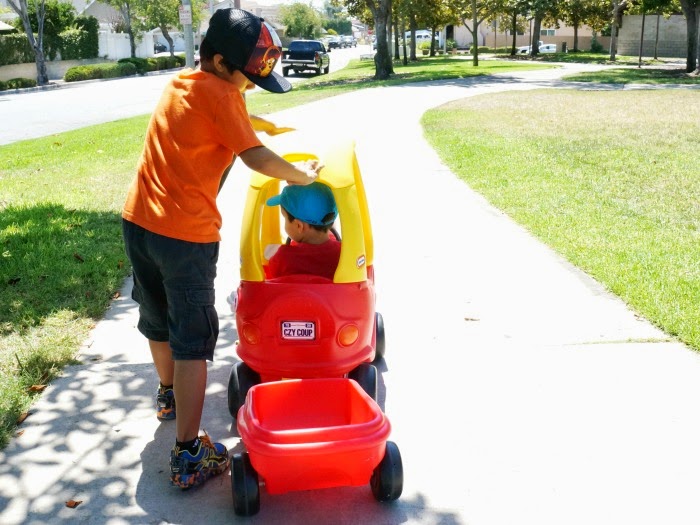 The Cozy Coupe also comes with built in cup holders in the back that are perfect for holding their water bottles and such. The seat has a high back that helps keep him upright as well.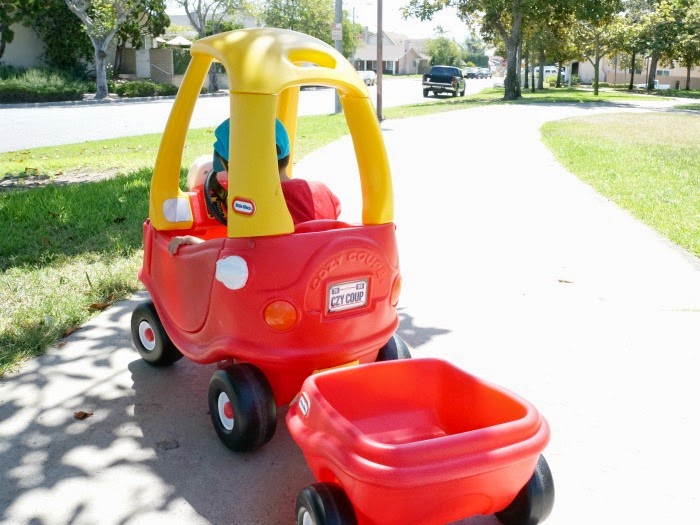 And because it's always fun to pretend play, the little vehicle has some cute features just like mamás car including a gas cap that opens and closes, and an ignition switch that moves and clicks. The steering wheel also rotates.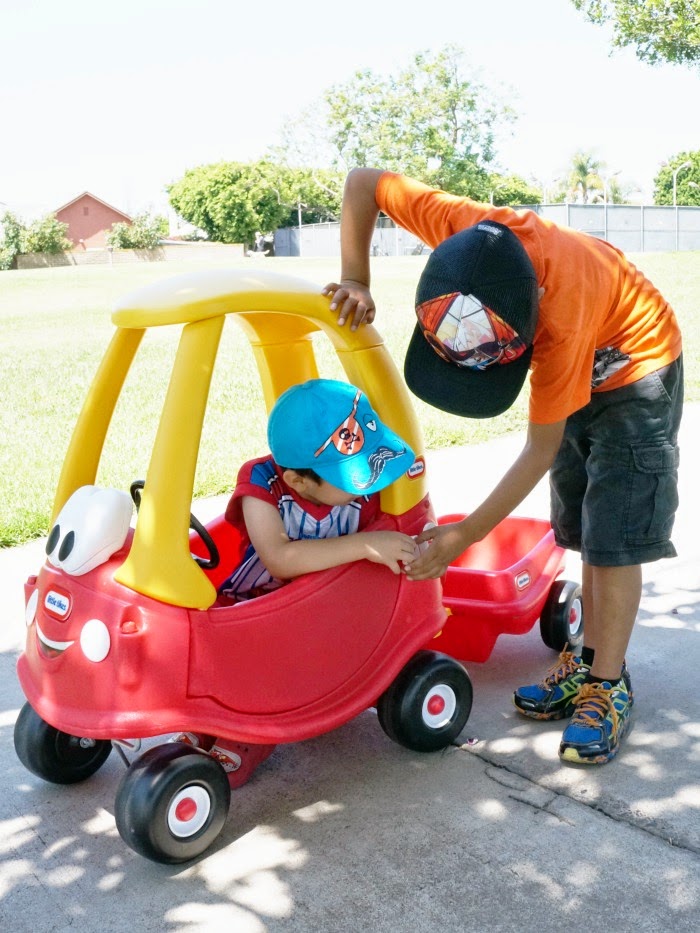 The Cozy Coupe has the classic rugged and durable tires, and the front wheels spin 360 degrees. This helps the kids to stay in control of their cars when they're maneuvering them with their feet.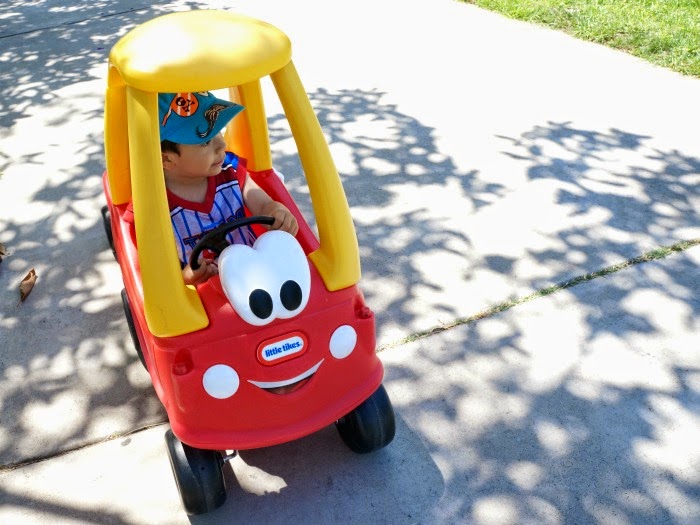 We opted to add the little Little Tikes trailer to the Cozy Coupe for even more fun. The chiclets like to add toys in there, and the occasional treasure that they find while cruising around.
The wagon is easily removable, just make sure to tell the kids not to ride in there. Because they'll try it, believe me.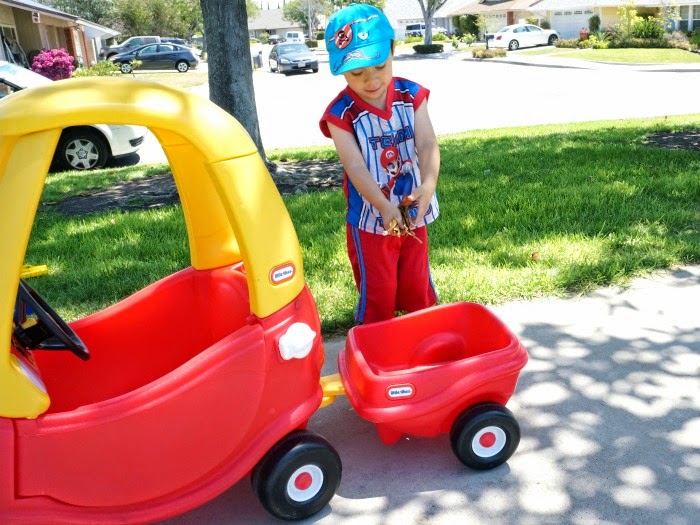 Where to buy
You can purchase the Little Tikes Cozy Coupe 30th Anniversary Edition for $49.99 and add the Little Tikes Cozy Coupe Trailer for just $32.99. They are each made in the USA, with similar material. It's a family-friendly ride-on toy that will be in your family for years to come.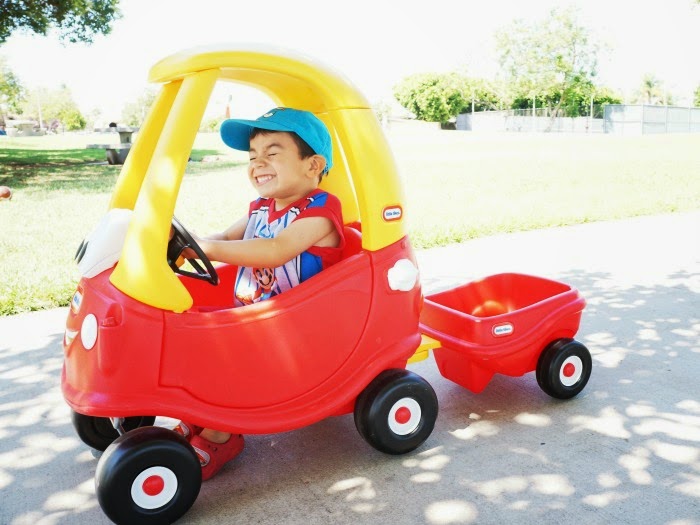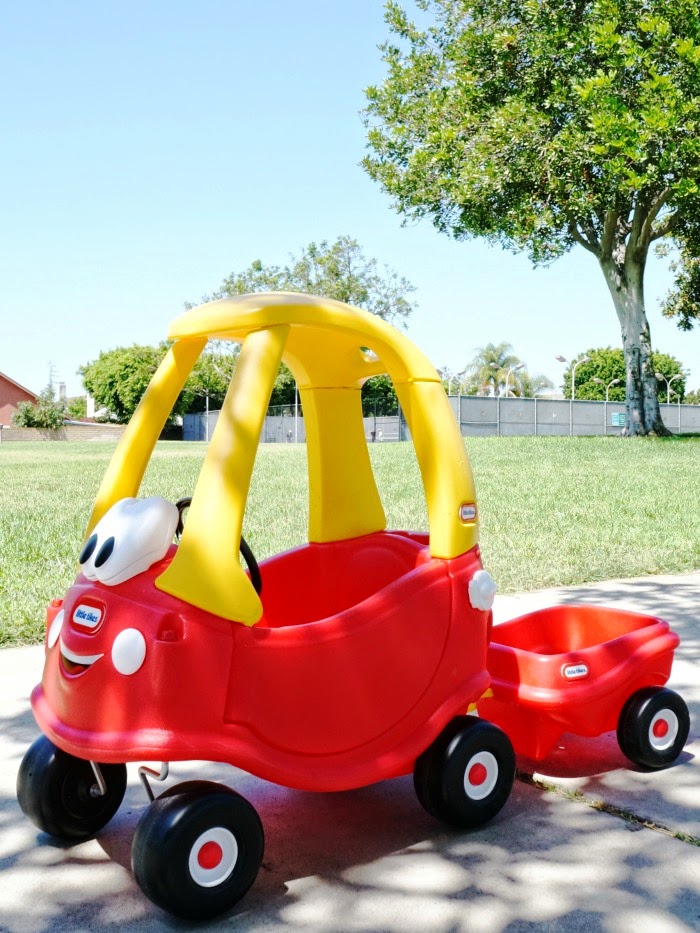 This is not a sponsored post. My family received the little tikes Cozy Coupe 30th Anniversary with Trailer to facilitate this post. All thoughts and ideas remain my own.
Originally published on September 5, 2014. Last Updated on June 2, 2021 by Pattie Cordova